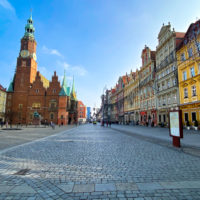 The 10 best sightseeing things to do in Wroclaw

Hier geht es zu diesem Text in Deutsch
⇨ Click here to book a city tour of Wroclaw online at best available rates! ⇦
Are you looking for some ideas what do and see in Wroclaw? We are here for you!
This list will help you to not miss the landmarks of Wroclaw and feel the atmosphere of the city. When you complete all the points from the list we guarantee you will be amazed by beautiful and vibrant Wrocław.
If you are not looking for the classic things to do in Wroclaw, we also recommend the top 10 alternative activities in Wroclaw.
Are you ready?
1. The Market Square (Rynek)
The Market Square in Wroclaw is the perfect place to start sightseeing. It is the second biggest market square in Poland (after Krakow) and definitely one of the most beautiful ones in Europe. Not kidding 🙂
The Old Town Hall of Wroclaw is the real gem of the Market Square. Even though we have been living in Wroclaw for quite a bit we are still amazed when we are passing that building. It was built in the 13th century (Gothic style) and its most representative part is the east elevation.
The Market Square is surrounded by tenement houses. It is worth to mention that despite of the fact the Market Square did not suffer much damage during the Second World War, most of the buildings were restored. Walking around those tenement houses is like time traveling. You can find renaissance, baroque, secession and modern architecture styles!
Check Jaś and Małgosia (Hansel and Gretel) – two tiny tenement houses connected with each other. Or the office of Santander Bank Polska – a skyscraper from 1931. At that time it was quite controversial as the style was a bit much for a traditional society.
The Market Square is not famous because of the best and cheapest restaurants & bars in the city but we can recommend you some good places. The first one is Whiskey in the Jar (Rynek 23-24) which offers the best steaks in Wroclaw. Karczma Lwowska (Rynek 4) or Bernard (Rynek 35) where you can try a mix of Polish and Czech cuisine.
2. The Penitent Bridge (Mostek Pokutnic)
The Penitent Bridge (Mostek Pokutnic) is a footbridge between the towers of Mary Magdalene church (Kościół Św. Marii Magdaleny). Although with 45 meters it is not the highest viewpoint in Wroclaw but the view is just breathtaking. If you want to have a look at Wroclaw from the top we highly recommend you this place. Each time when our friends are coming to the city we take them to the Penitent Bridge.
When you are on the top, try to locate all the landmarks of Wroclaw. Visiting the Penitent Bridge in daylight it is a great idea if you want so see the city. But also an evening visit is very romantic. The city lights have a special charm then.
247 steps are leading to the bridge so please be prepared to do some effort. We recommend you to have little breaks in the middle as you will have opportunity to learn about the legend of the Penitent Bridge and why it is haunted.
The bridge is open for the whole year and located at Szewska 10. Tickets cost from 5 to 8 PLN and the entrance for kids below 5 is free. Unfortunately the Penitent Bridge has no facilities for disabled.
3. Cathedral Island (Ostrów Tumski)
Welcome to the oldest and according to many people the most beautiful part of Wroclaw. This area has also a special place in our hearts as we used to live 5 minutes away.
The remnants of the first settlement come from the 10th century. Since then Ostrów Tumski has been connected with the Church. That is why you will find plenty of beautiful religious buildings.
The most important one is the Cathedral of St. John Baptist (Katedra Św. Jana Chrzciela). This Gothic building was significantly demolished during the Second World War and it took over 40 years to restore it. In the front of the Cathedral you can find a little exhibition showing how badly Ostrów Tumski was destroyed. You can compare it with the present.
When you visit the area, you also have to visit the Tumski Bridge (Most Tumski) known as lovers' bridge.
Ostrów Tumski is a perfect choice for a walk in a sunny day. You can have ice-creams during the day (Polish Lody at Bema 2). In the evening it is turning into a magical place from a fairy tale. If you go there before sunset you will have a perfect opportunity to take amazing pictures.
The best way to get to Ostrów Tumski is to have a walk. If you are in the Market Square you need to get Galeria Dominikańska first and then walk to the North. You will have an opportunity to see the Market Hall – another landmark of Wroclaw. The last step is to cross the Sand Bridge (Most Piaskowy). To make the best picture of Ostrów Tumski cross the river to catch the beautiful panorama.
We believe that trying the local cuisine is one of the best ways to learn something about the culture of the place you are visiting. Here are some recommendations from us.
Pierogi
Pierogi are definitely are symbol of Polish cuisine. Even if you know only little about Poland there is a high probability you have heard about pierogi. And there is a reason for that – because there are delicious! Our favourite one are pierogi ruskie, filled with mashed potatoes and cottage cheese.
There are many places where you could try them. We recommend Karczma Lwowska (Rynek 4), Gluten Appetit (Szczytnicka 54/1b) or Bar Pierożek (Księcia Józefa Poniatowskiego 3). More information on the both last ones are available in our article on the best street food in Wroclaw.
Traditional Polish Soup
Welcome to the soup paradise. We have a feeling that Polish cuisine and Polish people couldn't exist without soups. So you could choose between pomidorowa (tomato soup), barszcz czerwony (beetroot soup), żurea (based on fermented rye, traditionally served in bread), grzybowa (mushroom soup), rosół (broth) and many many more. In most of our recommendations you will get soups as starters.
Polish Appetizers
Apart from the main dishes we recommend you to try Polish appetizers. One of the most typical starters you can find in Wroclaw is Gzik. It comes from Greater Poland but it definitely became part of the local cuisine. Gzik is cottage cheese, traditionally served with boiled potatoes. The other recommendations for you are pickled cucumbers and herring. They taste great with shots of cold vodka. The Bar Ambasada at Świętego Mikołaja 8 – 11 is the perfect place to try Polish appetizers in Wroclaw.
Pączki
Pączki are donut like sweets but in our opinion much better. The traditional ones are filled with rose marmalade but there are much more options worth to try. A quite popular place where you can have Pączki is the "Stara Pączkarnia" chain.
5. Słodowa Island in Summer or Christmas Market in Winter
Do you want to experience the true atmosphere in Wroclaw? We have two options for you, depending on the season you want to visit Wroclaw.
Słodowa Island in Summer
When you are traveling in summer time the best way to enjoy city life is to have a beer at Słodowa Island (Wyspa Słodowa). As you probably know drinking in public is prohibited in Poland. Słodowa Island is the only place in Wroclaw where drinking is allowed. When the weather is improving (from late April), plenty of people are coming there to enjoy the sun, see their friends and drink. We have done it couple of times and it was always great fun for us. Słodowa Island is quite popular, especially for the younger generation so you need to be prepared for crowds.
The Christmas Market of Wroclaw in Winter
Christmas Market (Jarmark Świąteczny) it is one of the top reasons why tourists are coming to Wroclaw. It is not a surprise as the Christmas Market in Wroclaw is considered to be one of the most beautiful Christmas Markets in Europe. It starts in late November and lasts till the end of December. The Market Square in Wroclaw is full of stalls with gastronomy and crafts. The Christmas Market is also a great opportunity to try or buy local products from Poland. And of course don't forget to drink a hot wine.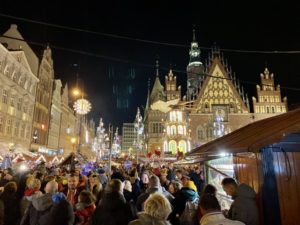 6. The Four Denominations District
It is hard to believe that in a relatively small area you can find signs of four religions. And at the same time also enjoy lots of cultural events and try the best food in Wroclaw.
It is enclosed by the streets Kazimierza Wielkiego, Św. Mikołaja, Pawła Włodkowica and Św. Antoniego. Sometimes people name the area "four temple district" or "mutual respect district" as well.
The four denominations district is only a 7 minutes walk from the Market Square away and totally worth to visit. Let us tell you why.
Churches and the Synagogue
All churches and the synagogue in the four denominations district are located very close to each other. The Polish Orthodox Church of the Birth of the Holy Mother (from the 16th century), the Roman Catholic Church of St. Anthony of Padua (from the 17th century), the Evangelical Church of God's Providence (from the 18th century) and the White Stork Synagogue (from 1829). All of them are visible remains of the multicultural history of Wroclaw.
Food, Drinks and Nightlife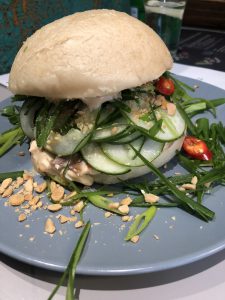 Wroclaw is for sure a perfect destination for food lovers. But if you have to pick only one area to enjoy food and drinks we recommend you the four denominations district.
Our favourite places for food are:
Read more about them in our article on the best street food in Wroclaw.
Are you looking for some drinks?
Lots of cultural Events
Wroclaw became European Capital of Culture in 2016 and still the city hosts multiple cultural events every year. For example you can join for an event called "Summer in the White Stork Synagogue". From July to August, the White Stork Synagogue is a place for many klezmer and Israeli music concerts.
For cinema lovers the New Horizons Cinema (Kino Nowe Horyzonty) is a must visit spot. The cinema organizes many festivals as the American Film Festival or German-themed movies. Most of the movies are screened in original languages or with English subtitles. Therefore fortunately Polish language skills are not required.
The White Stork Synagogue is at Pawła Włodkowica 7, check also their official homepage.
The New Horizons Cinema is at Kazimierza Wielkiego 19a/21, here you will find their homepage.
The Artistic Side
The Crystal Planet sculpture is a beautiful and meaningful symbol of unity in a multicultural world. It perfectly matches the four denominations district. As back in the times it was a place where Germans, Bohemians, Poles, Austrians and Jews used to live together.
A little bit more alternative is the Neon Side Gallery. In the backyard at Ruska 46c you can find a very special collection of old neon signs. Many years ago they were everywhere in the city. The Neon Side Gallery was recently renovated.
More information on it can be found in our article on the best hipster things to do in Wroclaw and in our dedicated article about the Four Denomination district.
7. The Odra River and Bridges of Wroclaw
There is a reason why Wroclaw is called the Venice of the North (or East) as it is surrounded by water. Wroclaw lies on the Oder River and around its four tributaries (Bystrzyca, Oława, Ślęza, Widawa). The city has over 20 islands and approximately 130 bridges which puts Wroclaw on the fifth place in Europe!
The fact the water is everywhere makes Wroclaw very charming but sometimes it brings challenges. The city has experienced many floodings and the worst one happened in 1997. It was one of the memorable moments in Wroclaw's history and you still can find signs which show how high the water was at that time.
Apart of multiple bridges and islands, Wroclaw is the place where you can enjoy beach bars! They are opened from late April till October.
We highly recommend you to see the city from the water. You can go canoeing/kayaking, rent motor boats and take big tour cruises. There are plenty rental and marina places in Wroclaw so it's not difficult to choose the best option for you. We recommend you some places here.
However if spending some time on the water is not what you like we believe that "traditional" walks and cycling along the rivers are also great options to enjoy Wroclaw. You don't need your own bike as it's possible to rent a bike or electric scooter almost on each corner. Click here for more information on how to get around in Wroclaw.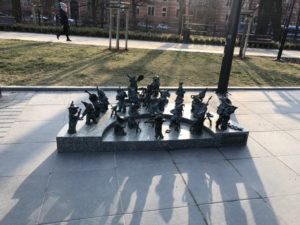 Of course it is impossible to miss the symbol of Wroclaw – dwarfes ("Krasnale" in Polish). There are plenty of them, especially in the city centre.
The history of the dwarfs started in 80's. The "Orange Alternative" Polish anti-communist underground movement decided to fight with the government by painting graffiti on city walls. The first monument of a dwarf was placed in 2003 and after over 17 years we have almost 400 hundreds of them.
Each dwarf has its own character and look. You can find potato couch dwarf, musician dwarf and even dwarf prisoner, just to name a few. Hunting the dwarfs is a quite big thing in Wroclaw so you can find a map with all of them in tourist information points.
There is also a website dedicated to dwarfs, where you will find the "Go Wrocław Krasnale" application. This is a dwarf version of PokemonGo 🙂
9. Visit the Landmarks of Wroclaw
Wroclaw has much more to offer than you expect so we would like to say a few words about the main landmarks which are worth to visit.
University of Wroclaw (Uniwerystet Wrocławski)
The main building of the University at pl. Uniwersytecki 1 is one of the most beautiful examples of Baroque style in Poland. It is decorated by multiple sculptures and amazingly illuminated at night. If you want, you can also go up to the Mathematicians Tower for a nice view.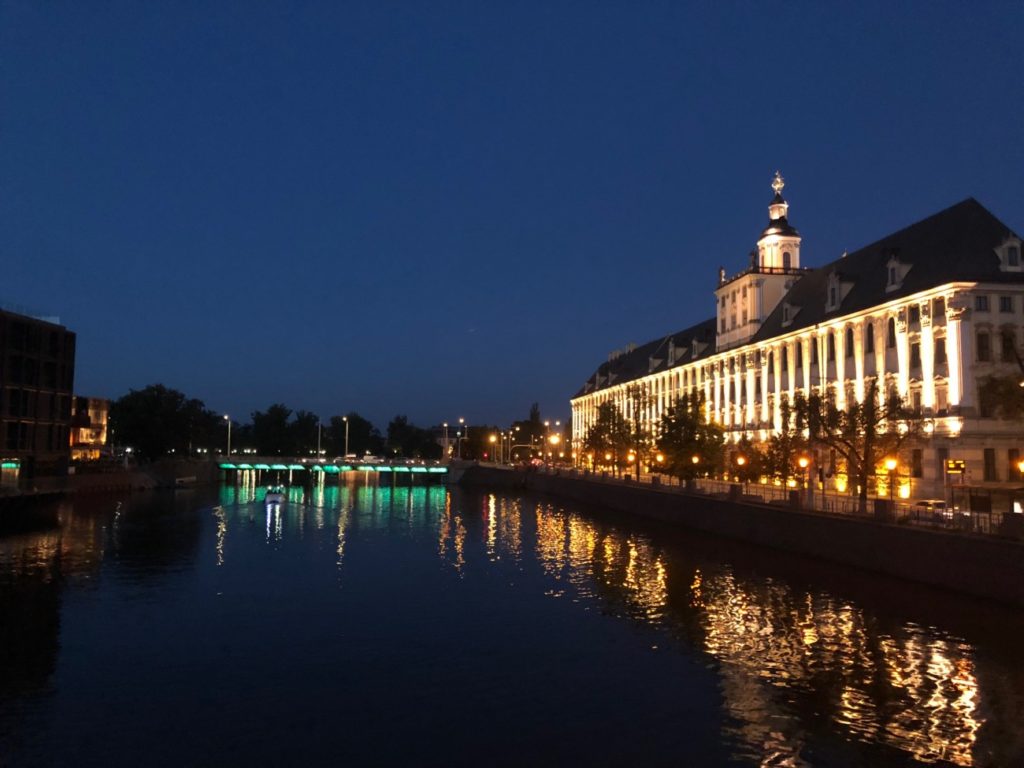 Raclawice Panorama (Panorama Racławicka)
Wroclaw has many great museums with amazing collections but if can see only one painting it should be the Raclawice Panorama at Jana Ewangelisty Purkyniego 11. It is an cycloramic painting showing the Battle of Racławice. It gives you the feeling you are in the middle of the real battlefield. The museum is very popular, therefore we recommend you to book the ticket in advance. You can do it on their official website right here.
Wroclaw Market Hall (Hala Targowa we Wrocławiu)
Welcome in the 19th century market hall at Piaskowa 17. In the middle of the stalls you can find gems like the Cafe Targowa or enjoy a great selection of tea at Herbaciarnia Targowa. Also if you want to have a good and reasonable priced lunch, this is a good choice.
Centennial Hall (Hala Stulecia)
It is listed as a UNESCO World Heritage Site and definitely deserves the recognition. The Centennial Hall hosts cultural and sports events so if you are in Wroclaw check their website to find out about ongoing exhibitions, concerts etc.
We recommend you stay a little bit longer in this area to visit Pergola with the popular Multimedia Fountain and the Japanese Garden.
More information about the Centennial Hall is available in our article about the UNESCO sites in and around Wroclaw. There you also will find out why the construction workers were afraid…
It is located at Wystawowa 1 and you can reach it best by public transport.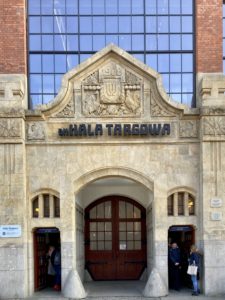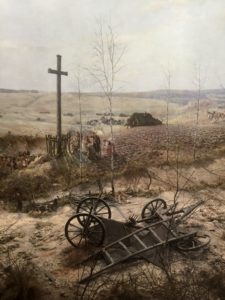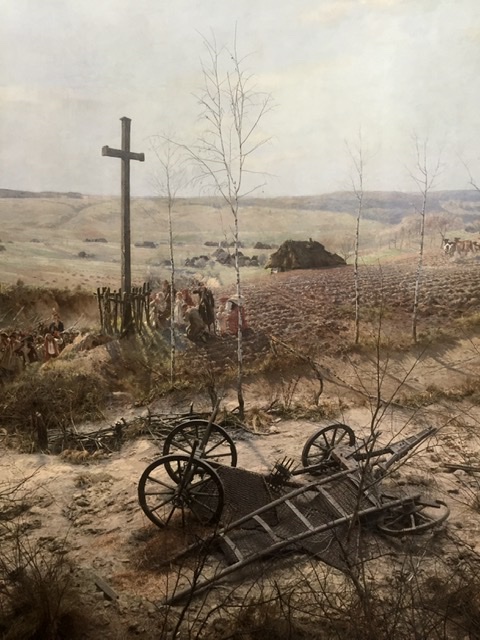 10. Join a free walking tour
You still don't have enough of Wroclaw? That's perfect because our last advice for you is to do a free walking tour.
Usually when we are traveling around the world we always try to join a free walking tour. In our opinion professional guidance from passionate people is a perfect opportunity to listen to insiders. We are convinced it will help you to learn more about the city.
So if you don't have any friends living in Wroclaw, participating in a free walking tour is the right thing to do. Thankfully Wroclaw is well prepared for tourists. Apart of classic tours around the Old Town, you can join for tours of Jewish traces, the Second War World, dwarfs and food tours. Multiple languages are available, most popular are Polish, English, German and Spanish.
And if the weather does not support a free walking tour or you just prefer a more classical tour, we also have a recommendation for you. In Wroclaw you can find little electric cars that offer tours – with the advantage of being protected against rain. Depending on the time of booking you might even be able to catch one of these 2 hour tours for less than 40 PLN. The latest schedules, prices and more information can be found here. And let us be honest, for the free walking tour you would have paid the same in tips anyway 😉
If you are interested in more alternative places, you should check the Nadodrze neighborhood. Łokietka 5 – the infopoint for Nadodrze organizes great free walking tours in the district. They are not on regular basis but you will explore Wroclaw from a different perspective (for example filmmaking in Nadodrze).
We hope that you enjoyed our article on the things you must see in Wroclaw. If you still can't get enough, you also should read about the top alternative and hipster things to do in Wroclaw.
Please help us and other visitors by leaving feedback in the comment section below.