Diesen Text gibt es hier auch in Deutsch
When is the best time to visit Wroclaw?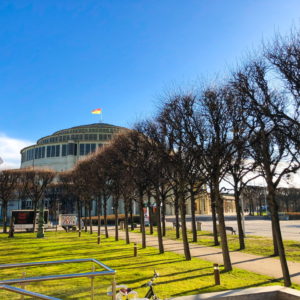 You want to travel to Wroclaw but not sure what is the best time to visit Wroclaw? We will help you out with decision making. We will not only share some data with you. Much more useful, we will show you a picture of every month. With that you will get a better feeling of your personal favourite months to visit Wroclaw.
In general there is not really any "no-go" time and every season has its reasons to go to Wroclaw. If you are more outdoor person, you will feel more comfortable in the hot summer for sure. Actually Wroclaw is the hottest city in Poland! But if you love Christmas markets or winter landscapes, even skiing or mountains, you will love the winter.
We hope that you are not disappointed that we don't tell you the best two or three months ever. It will be different for all of us. Just have a look for yourself and find your personal best season to travel to Wroclaw. Let us start with the best time to visit Wroclaw!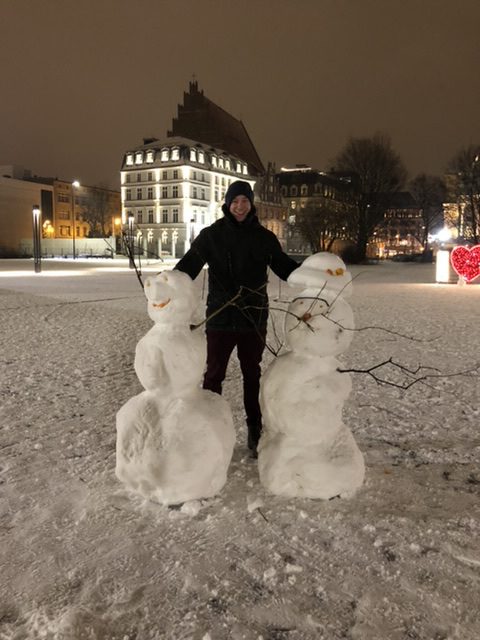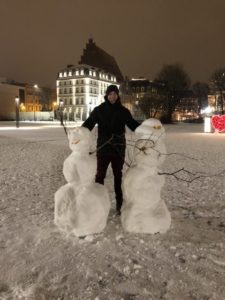 We should actually start with summer to break the rules, but let us stick to the classical calendar and start with January. It is the cold and dark Polish winter. That means temperatures around 1 degree and often below zero. Snow used to be a frequent guest in January, at least before global warming started to show its face more and more…
The best activities for Wroclaw in January are:
Let us be honest, February is not much different from January. The sunset is not at 16:00h anymore and days are slowly getting longer. Temperature is going up to 3 degrees, wow! The same things from January are still enjoyable and nothing special to report for February.
But we should agree that February is probably the best month to visit some of the great museums in Wroclaw! Here in the picture you see the "Centrum Historii Zajezdnia". It gives you great insights on the history of Wroclaw and Poland from 1939 to the present.
We also recommend a visit in the contemporary museums, on which you can find more information here in our article about the alternative things to do in Wroclaw.
Another important event is the so called "fat thursday" which is a traditional feast before the Lent starts – the time of fasting. Expect to eat large quantities of sweets – you can also get the original local crossaints from Poznan (Rogal świętomarciński) in Wroclaw these days…
Actually we have been to Auschwitz in Winter too and if you have not been, it is something everybody should see once in their lives. Here some day trip options from Wroclaw to Auschwitz.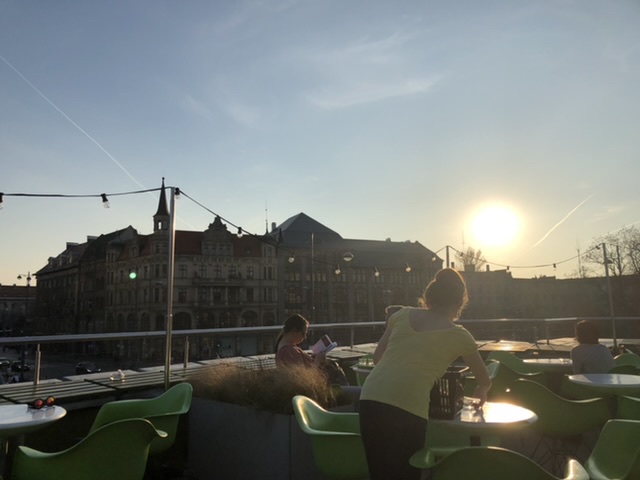 In March the temperature is slowly improving, now we are reaching up to 8 degrees during the days. Maybe on one day or another the sun will even come out a little but. Certainly you won't need a hat and gloves in the evenings outside anymore. Officially, in March the winter ends!
If you are lucky, you already can enjoy reading a book outside. Here in the picture you see the view from the roof top of the cafe borówka in March.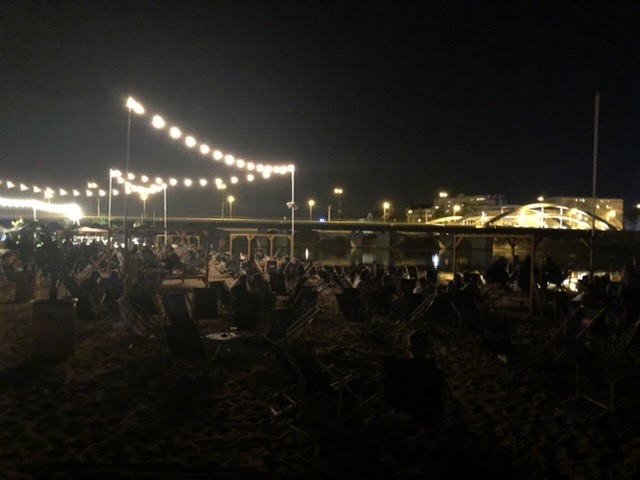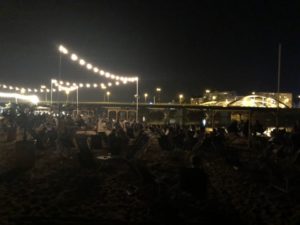 April does mark a very important milestone of the life in Wroclaw. Not only the temperature is now rising up to 13-14 degrees. Much more important, the first beach bars are opening end of April! In the picture you can see how crowded it gets already in late spring April evenings.
Your body will be full of happiness when the first day of sun makes you find your old sunglasses from last year.
Most likely in April there will be Easter Holidays too. Be aware that in Poland those holidays are still very important. Many people visit their hometowns and families. That means that on the Easter weekend itself, many cafes and restaurants are closed. The city itself is very empty, so depending on your preferences this can be a perfect time to visit Wroclaw if you like it quiet. If you like the buzz, probably don't go over Easter holidays…
If you are a fan of Jazz, in April you will be able to visit the cool "Jazz nad Odra"-Festival. And for craft-beer lovers, there is the Beer Geek Festival end of April.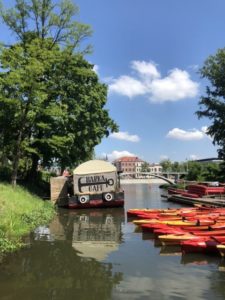 In early May Wroclaw is celebrating Majówka.
This is the long weekend resulting from the workers holiday on 1st of May but also the 3rd May which is the constitution day in Poland. On those days the city will be full of students which enjoy temperatures of 18 degrees in average.
We recommend one of the free walking tours in May, as the weather is great to explore the city. Not too cold, but also not too hot that you just want to stay in a beach bar or beer garden outside with a cold drink. But be aware, checking the May pictures we had, it also can be the month of the first sunburn of the year 😉
Another great option is to have a little cycling trip around the city. Best for that are the cycling paths just next to the Odra river. Of course also the canoeing season has started by now. And the time for romantic picnics too! More on the bike rental options in Wroclaw are available here.
End of May also the St. John's Market starts, which lasts till end of June and is very similar to the Christmas Market!
As you see, the main thing in May is to go outside and enjoy the improving weather, no matter how and where you do it.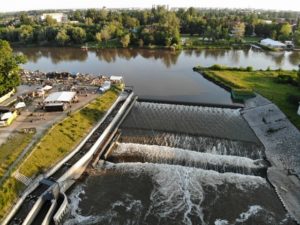 June is probably the month where tourists are starting to come into town. You will hear more and more German tourists now when you have a walk in the city centre. Especially from the Eastern parts of Germany and from Berlin, Wroclaw is a popular destination due to the good and affordable connections by train and bus.
The three hottest months of the year are starting with 22 degrees in June. Most travel guides say the best time to visit Wroclaw starts now!
The sunset is reaching its peak now at around 21:00h and June brings the longest days of the year. Those long days are calling for great opportunities on outdoor activities. Some of us wish that it would be June all year round 😉
We recommend: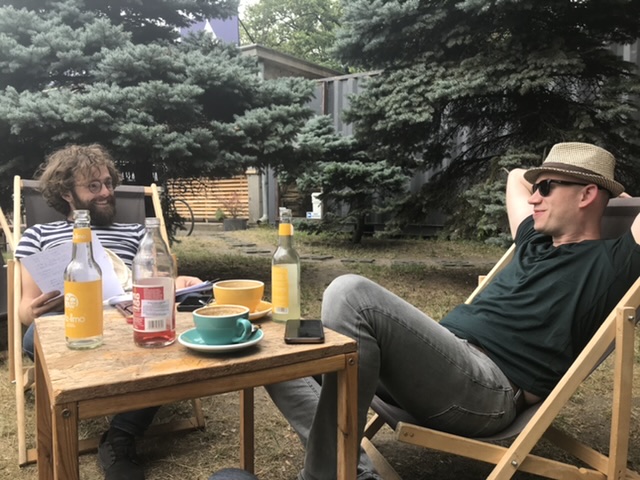 In July and August the temperature is reaching the top levels in Wroclaw. People spend most of their time outside and enjoy life.
What about one of the amazing parks in Wroclaw? We recommend the Szczytnicki park which is the largest in the whole city. At the corner you will find Mała Czarna, one of the best cafes in Wroclaw.
As recommended in our article on the best things to see in Wroclaw, the popular festival "Summer at the White Stork Synagogue" takes place in July and August. There are also plenty of Jazz concerts and events as part of the Vertigo Jazz Summer Festival, in multiple outdoor venues.
Keep in mind that Wroclaw is the hottest city in Poland. That means in July and August the temperatures can hit up to 40 degrees! Make sure you don't forget to drink enough (water)…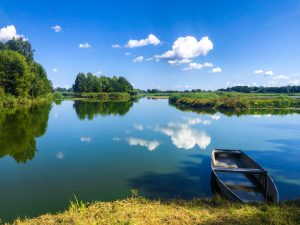 August is the perfect month. With 23 degrees in average also the hottest month in Wroclaw. The best you can do is to stay outdoors as much as possible and enjoy the vibrant city life. Our June and July recommendations are still valid here.
But even if you want to escape from the busy city and connect with nature, this is the perfect month for it. We recommend a daytrip, for example to the Barycz Valley Landscape Park which you can see in the picture here, less than one hour away from Wroclaw.
August is certainly one of our personal favourite months in Wroclaw!
The weather is also perfect for a trip to the famous peace churches very close – click here to see some tours to them.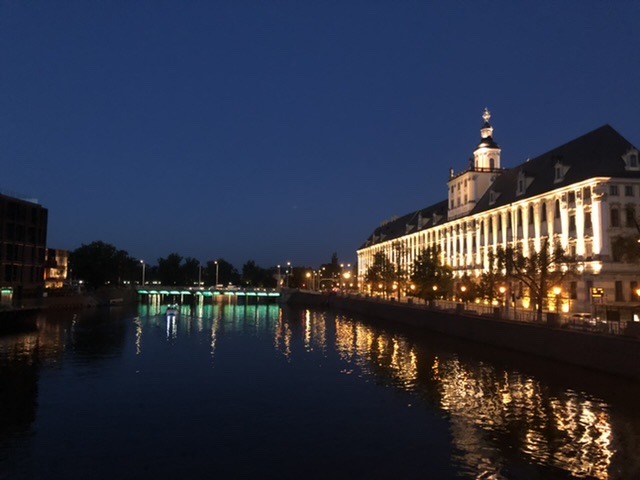 September is hitting 19 degrees in average and temperatures are getting down again. But we refuse to talk about the end of summer as September is still a great month in Wroclaw!
Not only because of the annual Wroclaw Dwarf Festival which takes place. September is also the last month where you really can enjoy the beach bars outside. It is also a great month to explore the alternative areas in Wroclaw, especially Port Miejski. 
The Kinomural festival in Nadodrze usually takes place in September too, check more details on that link.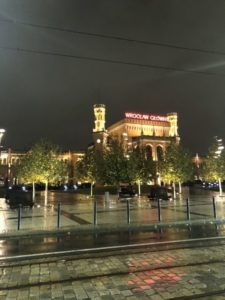 Summer is slowly saying good bye to us all. With 14 degrees in average you still will catch some very nice days. But leaves falling down from the trees will confirm what you do not want to believe. It is autumn and summer is gone. Just from our personal perception, October can be quite rainy.
Typically in October we have two events in Wroclaw that are very popular among locals. First of all the American film festival with lot of screenings. Tickets are selling out fast, so chop-chop! The second one is the WROsound festival, focussed on indie electronic music. In 2019 we went and saw Michael Kiwanuka singing (in the rain…).
Of course some of the indoor ideas we talked about in February are a great option for rainy days too. Visit some of the museums, enjoy cinema evenings, board game events, and enjoy some of the countless indoor activities available in Wroclaw. Maybe it is also a good time to start buying the first Christmas presents? According to unofficial sources, Wroclaw has the highest amount of shopping mall square meters per inhabitant in Europe…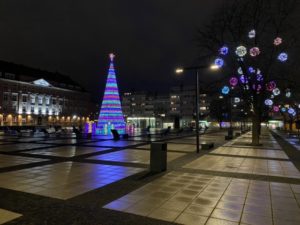 The supermarkets are already selling Christmas chocolate since Easter… But in November Wroclaw is finally getting ready for Christmas. The days are already quite short and sunset is around 17:00h.
To counter the early sunset, the first colourful lights will be installed in the second half of November. The missing daylight will just be replaced by flashy lights everywhere. With around 7 degrees in average you should definitely bring a warm coat for the evenings.
Another highlight is that the popular Christmas Market of Wroclaw is opening! More on that in December…
Important to mention is also the National Independence Day that Poland is celebrating every 11th November since 1918.
When the Christmas market is not open yet, of course a Polish beer tour is always a good idea. Click here to see availabilities.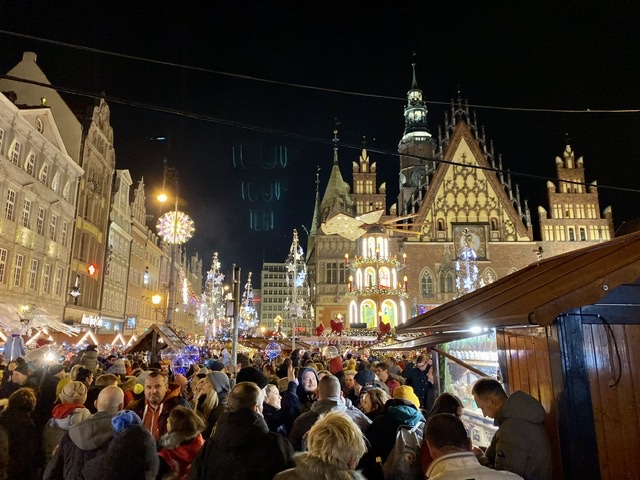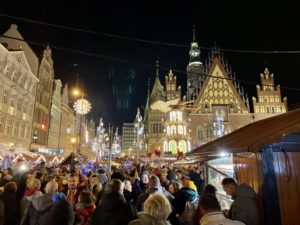 It is hard to say if Wroclaw is more crowed with tourists in the hot months June, July and August or in December. Everybody loves the Christmas Market in Wroclaw and there is a good reason for that.
Like in June, you can hear a lot of German conversations again as in December plenty of tourists are coming into town! Of course not only Germans, but somehow we find that still most visitors are coming from the direct neighbours. Also many Polish people from all over the country start their pilgrimage to the popular Christmas Market in Wroclaw.
Not only as a local you can heat up from cold 3 degrees in average with some mulled wine. There are plenty of stalls selling regional products, from handcrafted souvenirs over alcohol to lots of food. Our special hint is to take some of the mugs in form of a shoe. In 2019, the stalls were running out of them so quickly that the old ones from 2017 had to be taken. A huge black market evolved for the 2019 mugs and prices between 100-200 PLN for the latest Christmas market mug were the minimum…
You should not miss:
Oscypek – smoked cheese made of salted sheep milk, originating from the Polish mountains
Mulled Wine – in many different flavours
The local artists selling their products in the stalls
We hope that our calendar of Wroclaw helped you with figuring out the best time to visit Wroclaw. As mentioned a few times, it is definitely always a great idea and you won't regret it!
What about checking out the best places to stay in Wroclaw now and booking a nice trip?
Do you have some comments on this article? Help us and also help other visitors by leaving your feedback in the comment section below!