Diesen Text gibt es hier auch in Deutsch
Have you seen these bizarre things in Wroclaw?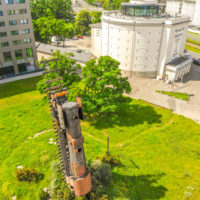 Probably you know the feeling when you visit a new city, stroll around, and suddenly you see something strange which does not explain itself in the first moment…
Of course also Wroclaw has a couple of quite bizarre (or should we say unique?) things that might raise some questions about the background of these objects. Some of those things are easily overlooked, but as you are reading these lines, you already found our alternative guide to Wroclaw!
Let us explore another face of Wroclaw today and check the most bizarre things to see in Wroclaw!
1. The Do It Yourself Crucifix
We start our list with the Do-It-Yourself-Cricifix!
Made by Eugeniusz Get-Stankiewicz this controversial piece of art is actually to be found directly opposite of the Elisabeth Church! 
Apparently he got inspired during the visit of a factory where crucifixes were built.
You can find this kit not in any hardware store, but in Wroclaw at the Hansel and Gretel house, just opposite of the Elisabeth Church.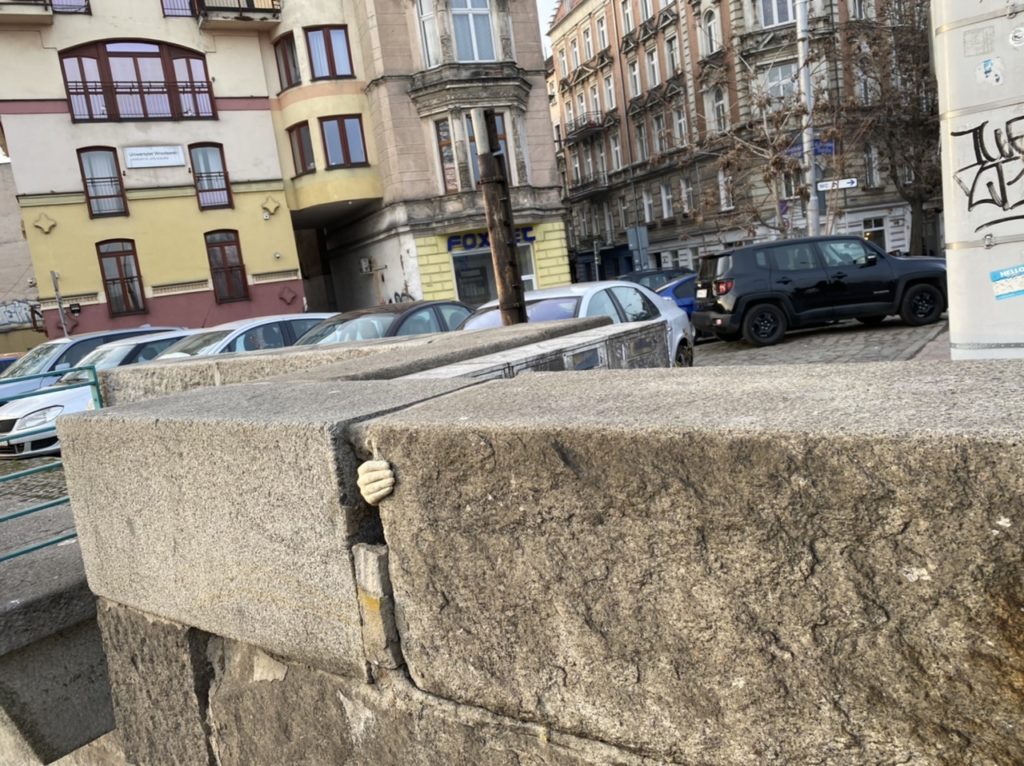 What could that be? A hand is sneaking out of the walls, just next to a bridge? 
Maybe the construction workers wanted to get rid of somebody? And this somebody tried to save him/herself? 
We have no idea as the author of this "sculpture" is not known. If you have any hints, please let us know 🙂
You find the mysterious hand at the University Bridge here.
Not every mirror that you look into responds with your face. The acoustic mirrors in Wroclaw are the best proof.
Probably 50m away from each other, you cannot talk to a second person when you face each other. But turning the back to each other, and talking into the black magic mirror, you will understand your counterpart!
Talk to the acoustic mirrors at the Boulevard of Physics, close to the Museum of Geology.
4. The Anonymous Pedestrians
Well, on the picture here you can only see one half of the Anonymous Pedestrians.
They go into the underground – like many people did during the martial law in the 80's. And luckily, on the other side they also get out again. 
One of the most innovative sculptures of Wroclaw and certainly one of our favourites!
Find the sculpture which is also "Passage" called at Świdnicka/Piłsudskiego 56.
Well, why would a water tower be bizarre? Because of its unique design, this example is probably the most sophisticated water tower in the world!
It was built in 1903-1904 after a design by Karl Klimm and already had an elevator back then. On sunny days you can even see the mountains from here – but unfortunately at the moment there is no option to access it. 
Still it is worth to visit this masterpiece. If you like architecture, be aware that you will find it together with 24 other impressive buildings in our article about the most impressive buildings of Wroclaw!
Navigate to it here: The probably coolest watertower in the world.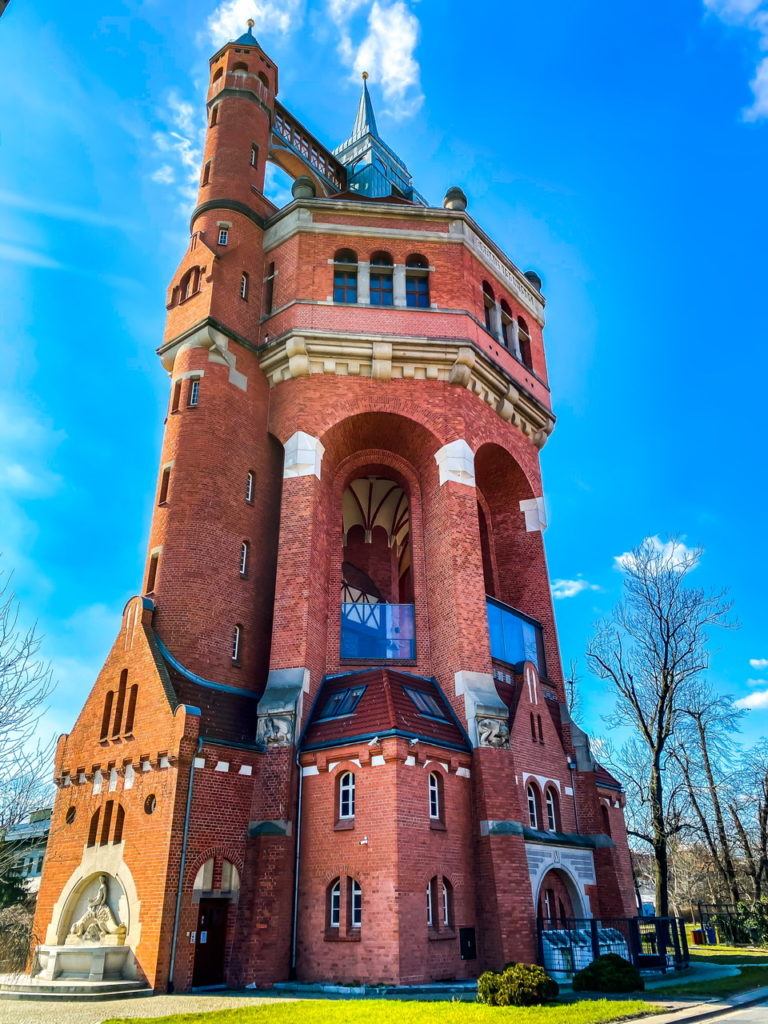 6. The Sculpture of Waiting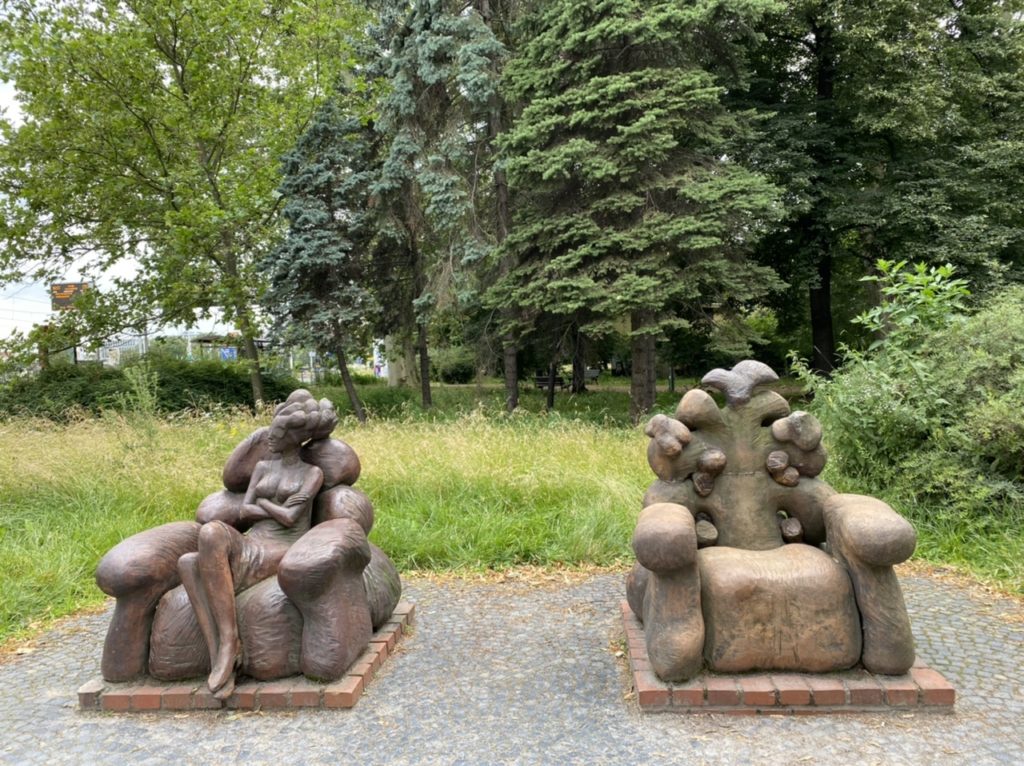 Do you have any idea how much time we waste in our lives by just waiting for something? Or someone?
Exactly, it seems to be a lot. That is why in Wroclaw you find the sculpture of waiting. The lady on the left looks already a bit annoyed that you arrived too late! But still you are invited to have a seat and take a picture with her…
Find this sculpture named "Oczekiwanie" just opposite of the National Museum.
There are basically two main railway stations in Wroclaw. One if you want to plan a trip to Wroclaw, and another one if you prefer going via air. 
No, not the airport! But instead the train to heaven. A great contemporary sculpture, just in front of the contemporary museum which was a former bunker. 
Click here to depart with the train to heaven...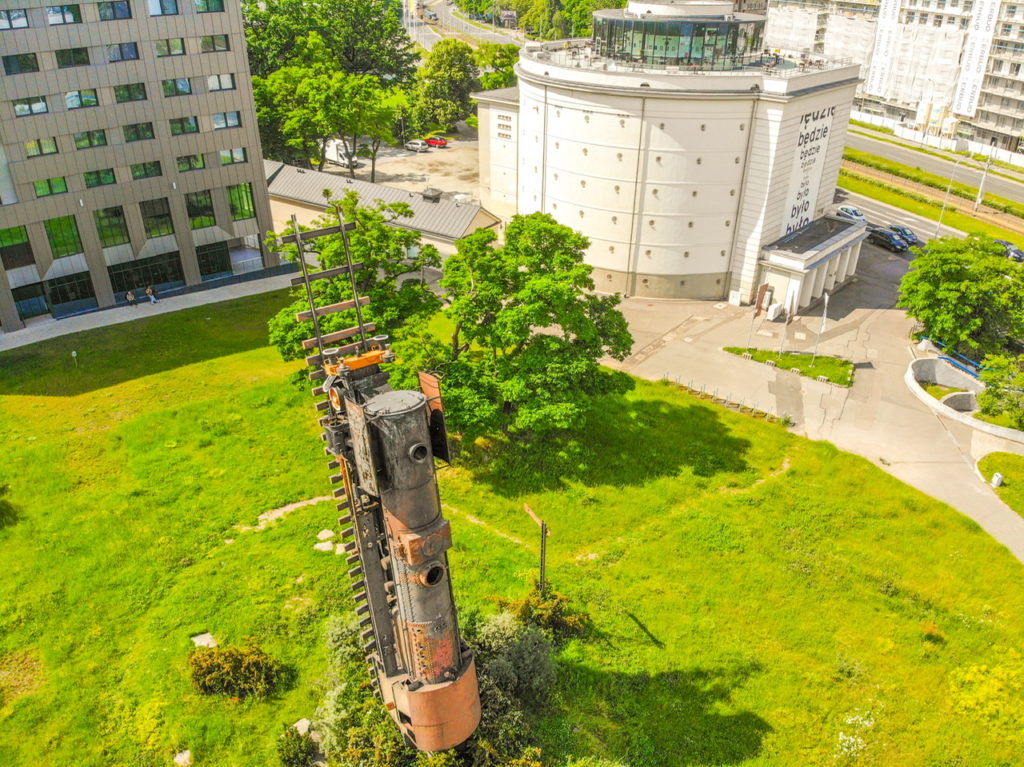 Igloos do only exist at the North Pole? Well, if you believe that, you have not been in Wroclaw! 
We do have a regular igloo house, which was built in 1960-1963. As people are living there, we respected the privacy and did not make any pictures. If you have contact to the owners, please let us know and we will try to get in friendly contact with them 🙂
So far, you can have a walk to Stanisława Moniuszki 33 to see the building, very close to an amazing coffee place named "Mała Czarna" that we recommend here in our post on the best places for coffee in Wroclaw!
10. The Monument for the Slaughtered Animals
Animal rights are an important topic nowadays and for sure there is a reason that Wroclaw has so many great vegan and vegetarian restaurants.
But even better… In a place where in the past animals were slaughtered, now they got their own monument which reminds of those times. 
Don't miss the chicken which is not on the picture…
Here you can navigate to Stare Jatki.
11. Solpol (demolished in 2022)
12. A gigantic cruise ship in Wroclaw?
We continue with the same architectural style… Did you know that there is a gigantic titanic look-a-like building in Wroclaw???
Well, you really have to go to the Psie Pole to see it, a district in the very north. But indeed there is a building which was clearly "inspired" by the Titanic. 
Let us keep the fingers crossed that there won't be any ice…
Here you can navigate to Kiełczowska 51.
13. The potato vending machine
Who does not know that feeling? It is late night again, and you are getting a little hungry. But the fridge is empty and all the convenience stores around are already closed…
Here is the final solution, there is certainly no need to worry at all – with the potato vending machine! From farm to table… eeehm to the vending machine you can find tasty potatoes 24/7 here in the "Ziemniakomat".
The only downside if you ask us, that currently it does not accept any cards and you have to bring some coins with you. 
Enjoy it!