Diesen Text gibt es hier auch in Deutsch
Where to celebrate New Year's Eve in Wroclaw?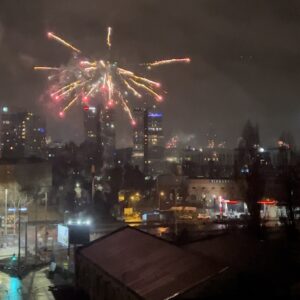 As the clock strikes midnight and a new year approaches, there's no better place to celebrate it than in our beautiful city of Wroclaw. Known for its charming atmosphere and lively spirit, Wroclaw offers a variety of exciting ways to ring in the New Year. In this post, we'll explore some of the best things to do in Wroclaw very specifically on New Year's Eve, with a focus on partying and celebrating in style.
In the past weeks we have received a lot of mails asking us that question, so it seems that you out there definitely want to know more about it! Although we won't be able to compile a full list of events, we will share the best ways to celebrate and point out where you can find more information and events.
1. Listen to a New Year's Concert or go to the Opera
If you like New Year's concerts, in particular the famous Vienna New Year's concert, you should consider the Wroclaw edition of it. On the 31st of December, the National Forum of Music is hosting a beautiful classical concert. They say: "The distance of four hundred kilometers between Wrocław and the capital of Austria will not matter at all on this special night: the National Forum of Music will move to Vienna's Ringstraße, and water from the Danube will flow in the Odra river bed!"
You can find the details about the event here on their homepage.
If you like operas, then you should also check out the Silvester Gala at the Wroclaw Opera which is "Opera Italia" for New Year's Eve 2023, starting at 22:00. And on the 1st January 2024 there is a New Year's Concert at the Opera in the evening – details here.
2. Take part in a New Year's gala and check out the events in Wroclaw
If classical concerts are not made for you, then probably a traditional New Year's gala could be an elegant way to celebrate the New Year! Some of the best clubs in the city turn into party hubs, hosting DJ sets, live music, and themed events.
You certainly will have more opportunities here to dance compared to the traditional concerts.
There are a couple of locations which are hosting these type of events and we found this selection here to be most useful – so suit up and enjoy:
3. Go Bar-Hopping in Wroclaw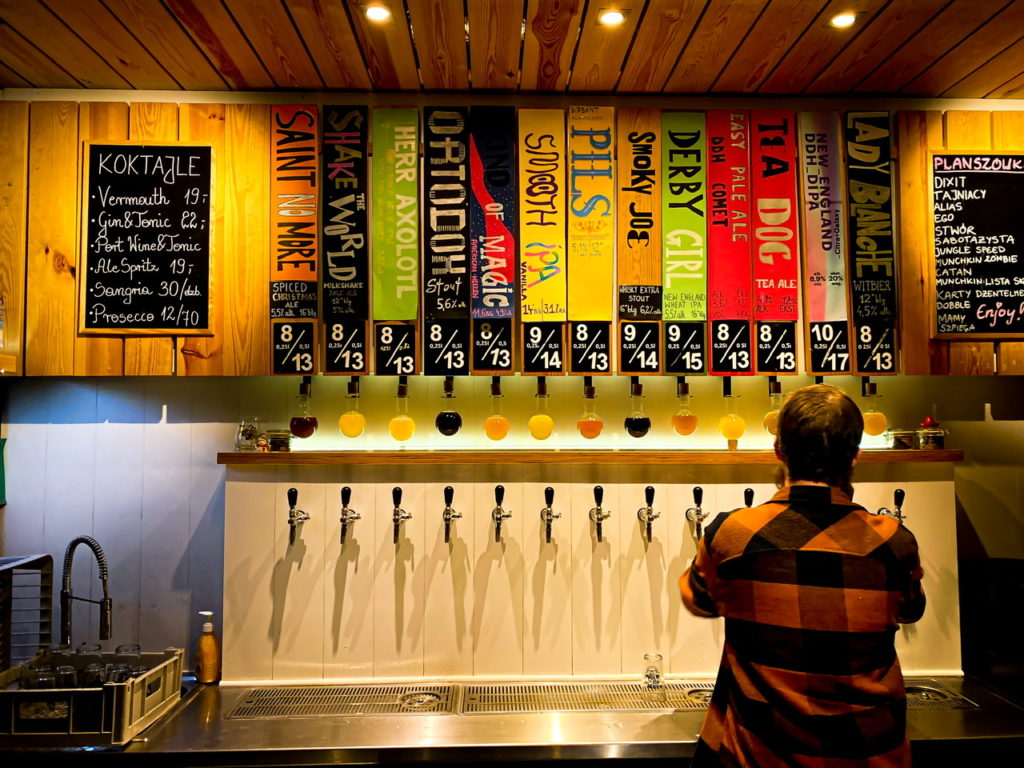 4. Dance in the clubs of Wroclaw
We mentioned plenty of times in our blog that Wroclaw is a young city, and that means a lot of nightlife and clubbing!
If you are into techno parties, check out the events in Transformator, Ciało and Tamka – this is where our local techno friends go.
For more alternative or feel-good dancing music, check out Nietota, Mañana Cafe and Czarny Kot.
We have linked their pages above so you can check the latest information on New Year's Eve Events in Wroclaw directly.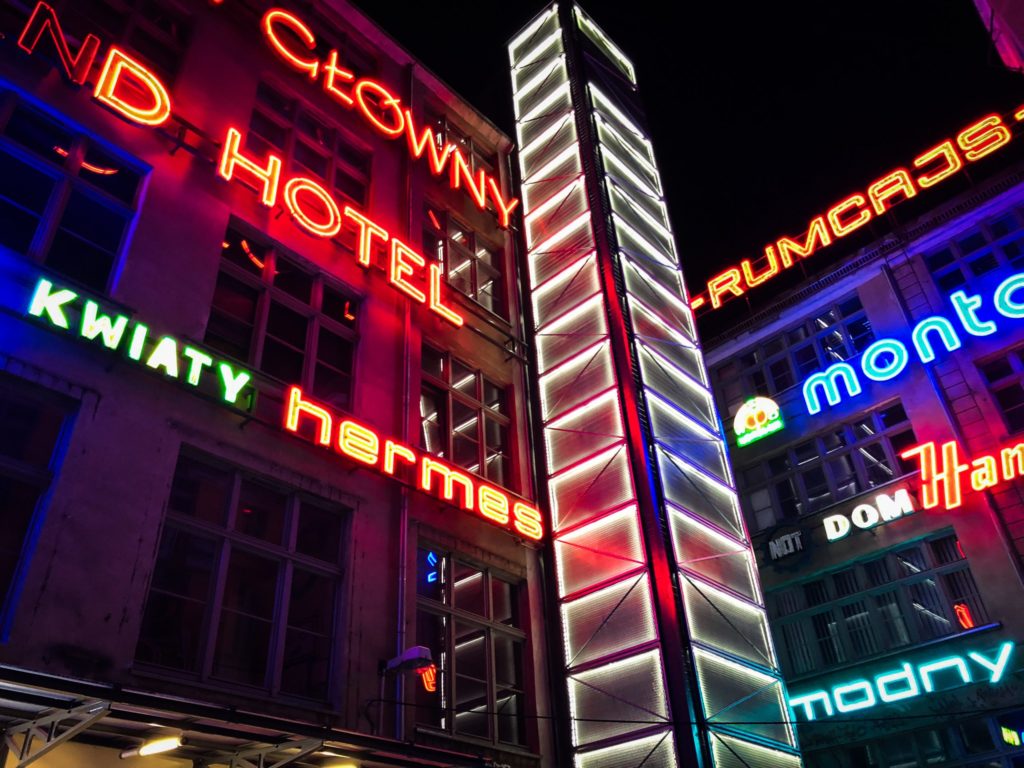 5. Get around the historic and illuminated old town
We already had a few more party recommendations, but for sure some visitors also do enjoy a more chilled evening.
Even though the city centre might be quite busy with plenty of people strolling around, just walking around a bit in the old town and admiring the illuminated buildings is always a great idea!
And you can decide for yourself if you want to stay out still at midnight, or observe the fireworks from your hotel room 🙂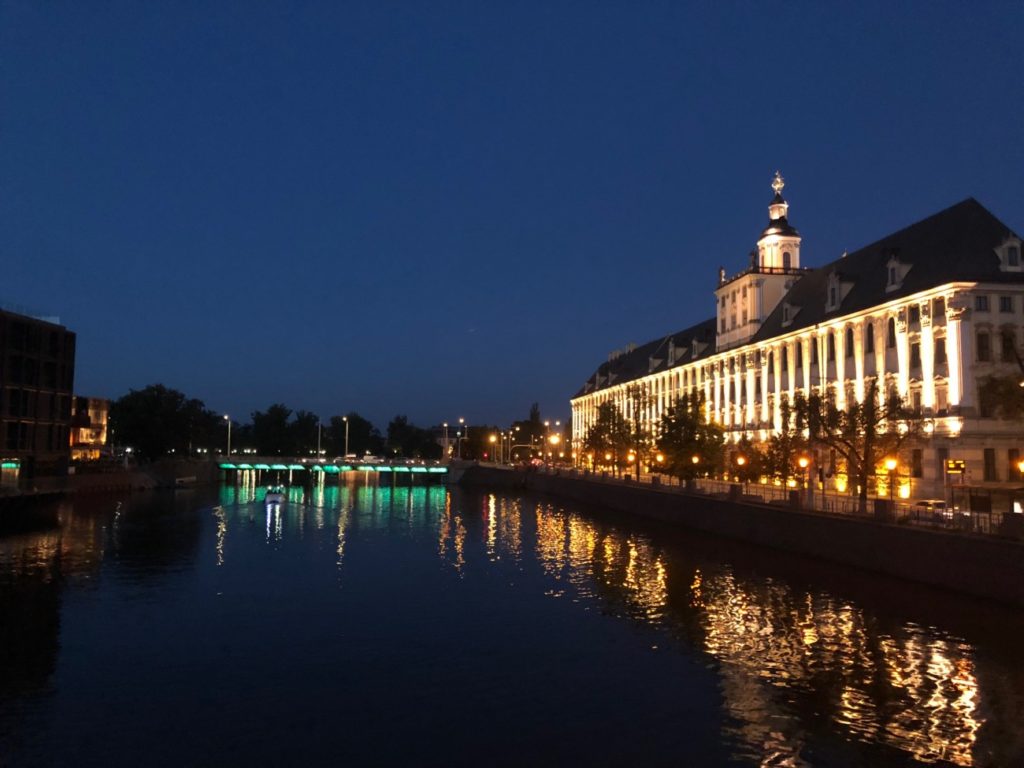 6. Visit the Wroclaw Christmas Market
One of the main reasons why we are getting so many visitors in November and December in Wroclaw is the amazing Christmas Market!
It got listed in many rankings as one of the best Christmas Markets in Europe, and we definitely can confirm that! It remains open till 7th January 2024, so even when you stay a few days after the New Year's Eve in Wroclaw, you will be able to enjoy it.
Here we have prepared a bunch of useful information about the Christmas Market in Wroclaw!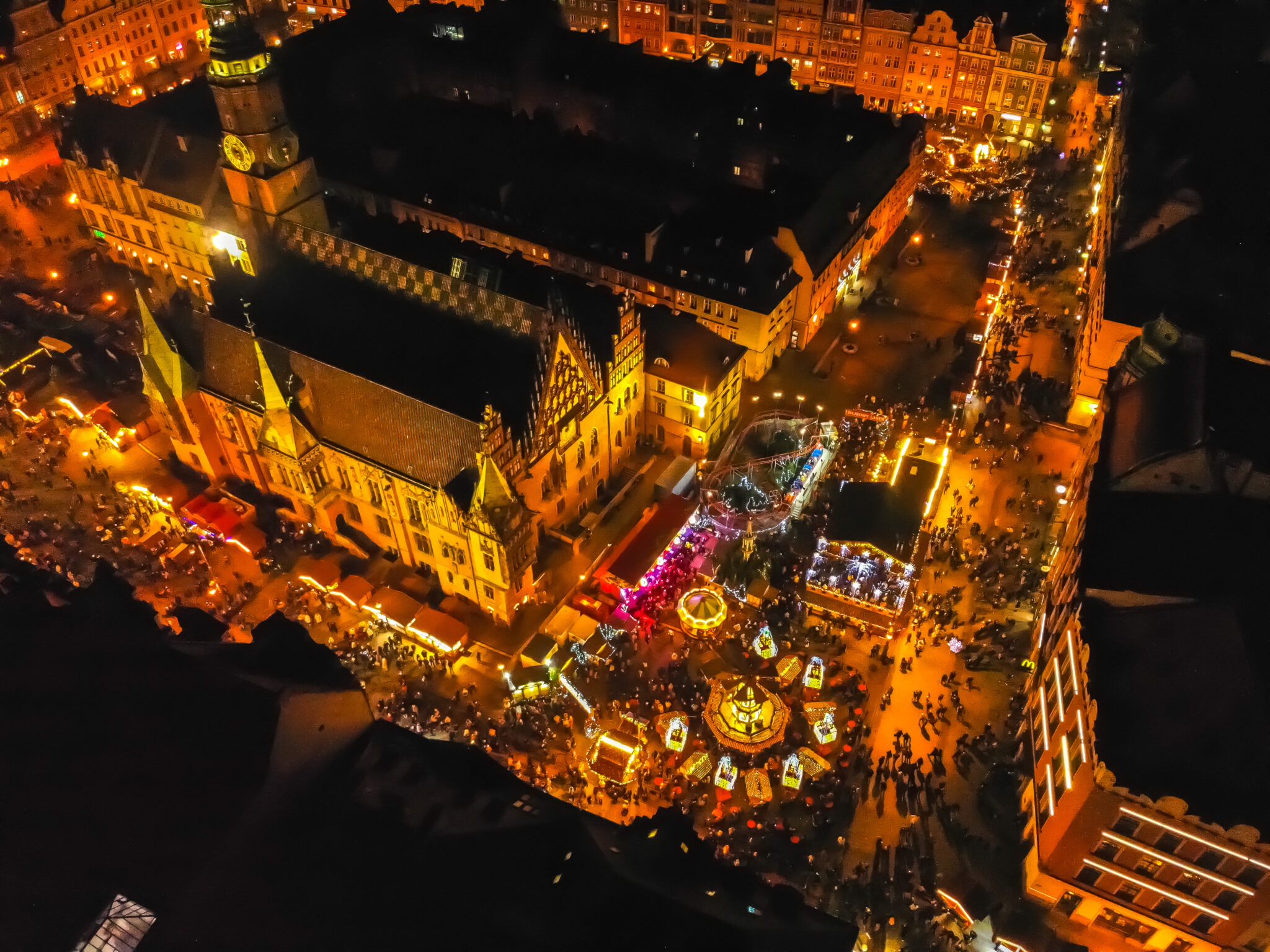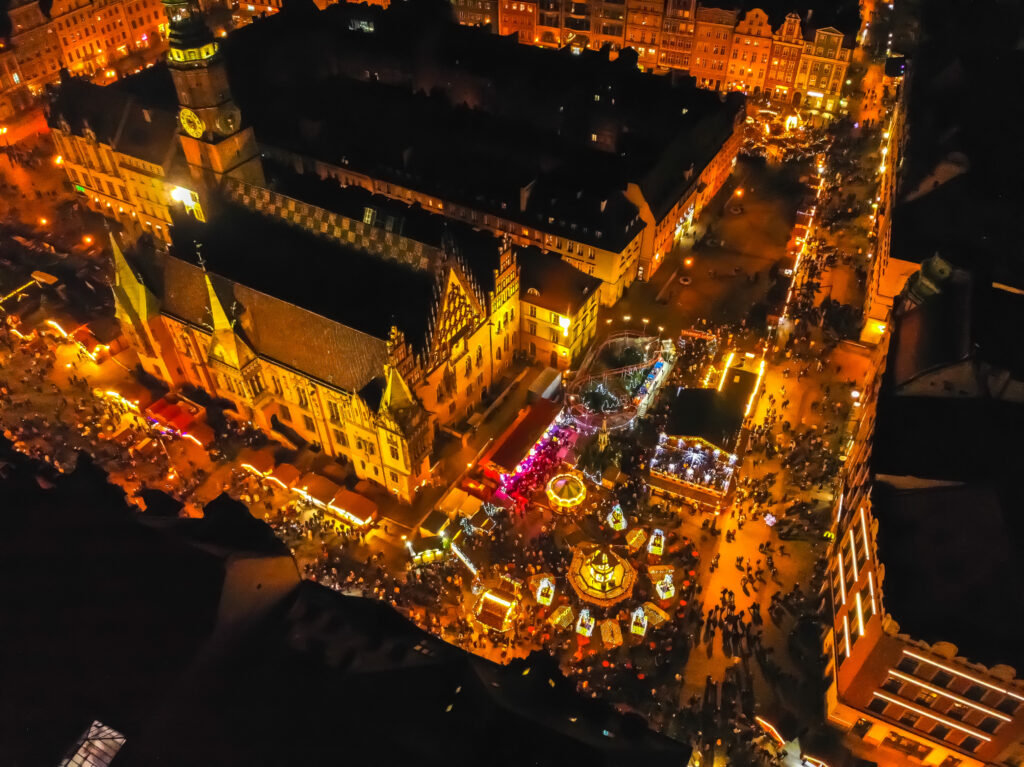 7. Enjoy a fine dining dinner experience
You prefer to spend New Year's Eve in a really nice restaurant and enjoy some true gourmet cuisine?
No problem! In Wroclaw we have a couple of really amazing places, which you can discover.
Check out our blog post about the best fine dining restaurants here first. And then you can individually check if the restaurants you like most have a special dining offer for the night of Silvester.
In the picture you see IDA Kuchnia i Wino, last year they had a degustation menu – a super tasty four hour dinner experience!
As you can imagine, it is quite important that you book in advance. Many of the more upscale restaurants are very busy in the whole month of December due to business dinners and parties, so even if you arrive earlier, keep this in the back of your mind.
8. Stay at the top for the best view in Wroclaw
Other great places to stay in Wroclaw for New Year's
If you are looking for options to stay in Wroclaw for New Year's, then of course there are plenty of other accommodations available. We have our post with hotel recommendations for Wroclaw here and the apartment recommendations for Wroclaw here.
And yes, you should book early in advance when you want to stay into the New Year in Wroclaw! Here on the map you can see the prices per night just for the one night from 31st December to 1st January and find the best options:
9. Get out into a cabin with friends and family
10. Learn about Polish New Year's customs
There are a couple of Polish customs you might be interested in, and we think it is good to share some of them 🙂
By the 31st December, you should have finished ongoing arguments, for example with friends and family, to have a peaceful start into the new year.
That is why you also should wake up early full of positive energy! And most important – how you spend New Year's, this will be how the rest of the year is going to be for you.
In your case, spending New Year's Eve in Wroclaw could therefore mean that you might spend the rest of the year in Wroclaw 😉 Or at least come back again!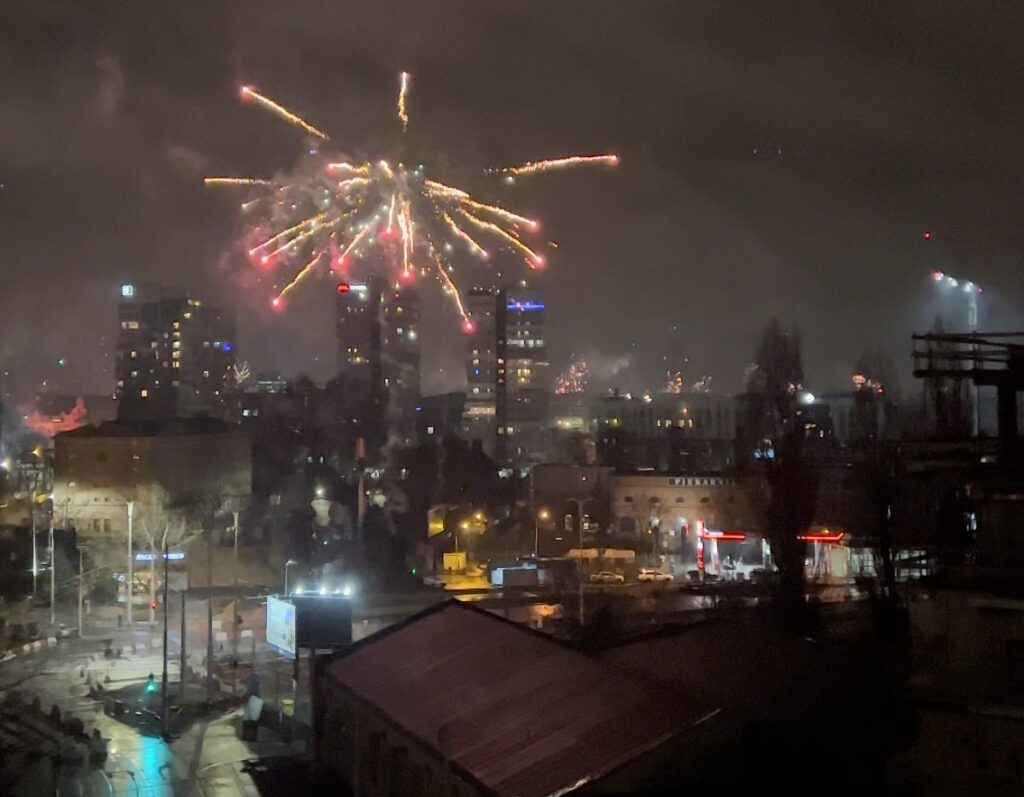 Where to watch the fireworks in Wroclaw?
Well, before Covid we used to have a big open concert stage at the Market Square with a lot of program. Unfortunately, that does no longer exist. In Wroclaw, there is also no "public" or "official" firework show. Still you will see a lot of fireworks in the sky as many individuals still celebrate into the New Year this way.
For a nice view we recommend you the Oder promenade, the Słodowa Island, some of the main bridges or obviously any tall building like the Sky Tower mentioned before. And when it comes to New Year's Events, certainly from the private rooftop terrace of the Bridge Hotel you have an amazing view – check it for yourself in the picture here!
---
Cheers to a fantastic start to the year! We hope that you enjoyed our recommendations for ways how to celebrate New Year's Eve in Wroclaw!
If you found any other nice ideas for New Year's Eve or great events, please feel free to add them in the comment section below under this post!
Thanks to the Bridge Hotel that we could use their official picture!