The best Pubs and Bars in Wroclaw's Nightlife

Hier geht es zu diesem Text in Deutsch
⇨ Click here to book a city tour of Wroclaw online at best available rates! ⇦
Wroclaw is a city full of great nightlife. This article about the best bars in Wroclaw will introduce you to the best places to get the nightlife started.
You might know that depending on the source, around 20-30% of the population in Wroclaw are students. That said, almost every day – even during the week – there are plenty of great opportunities to party in Wroclaw.
In this post about the best bars and nightlife in Wroclaw, there will be hidden cocktail bars, cozy spots full of candlelight, a former prison, a street full of pubs underneath train tracks and much more. We hope you are ready to party in Wroclaw now!
Mleczarnia is one of our all time favourite spots in Wroclaw and here is why. It is the perfect place at any given time of the day! No matter, if you are looking for breakfast in the morning, a coffee in the afternoon, a beer in the evening or drinks in the middle of the night.
The cozy candlelight that you find at Mleczarnia makes it a very special place all the time, with a soft romantic touch. In addition, quite often Mleczarnia was one of the last places still open very late during the week – so give it a try. 
Frequently there are events like comedy nights, concerts, and of course we have celebrated already a few birthday partys in their vaults. Try their MLE beer from the tap.
If you don't make it home for some reason, check out their integrated hostel which we recommend in the best places to stay in Wroclaw. 
Enjoy the cozy candlelights from Mleczarnia at Pawła Włodkowica 5, in the middle of the four denomination district. There are also plenty of other great restaurants and pubs around, therefore it is the perfect spot to either start or end the night 🙂
If you are looking for a pub where the beer is decently priced and you get a real local atmosphere, you should not miss Przedwojenna ("Prewar"). It really reminds us of prewar-times as the decoration mainly consists out of photographs from the old times. 
Due to its popularity on the weekends it gets crowded quickly, but in summer time you also can enjoy a beer outside on their terrace.
And if you are getting hungry, you have the opportunity to try some local Polish cuisine, like Gzik (Cottage cheese with potatoes) or Tartare (seasoned raw meat).
Visit this very popular pub in the city centre at Świętego Mikołaja 81, just a few meters away from the market square and right opposite of St. Elizabeth's Church. That is very convenient: Drink first and confess after.
If you are into beers, we recommend you this beer tour of Wroclaw.
3. Szklarnia Cocktail Bar
Did you ever have drinks in a greenhouse? Not yet? Then this is the perfect opportunity for you. Szklarnia litarally translated means greenhouse and actually it is one. 
In a very hipster-ish design with bicycles on the walls, you can enjoy some great cocktails here, but also just enjoy a pint of beer. On the weekends the volume of the music inside might not support to have a lot of deep conversations, but for sure to party. The soft electronic beats are awesome. During summer time you can enjoy a great backyard outside where it is easier to talk over a drink.
Get some great drinks in your new favourite greenhouse at Ofiar Oświęcimskich 19, located in the city centre. If it is crowded, just one door further you will find Kontynuacja, which is one of our craft beer bar recommendations.
After having drinks in a greenhouse, the next question might be a bit tricky or offensive… Nevertheless, we have to ask you: Have you ever had drinks in a prison? Well, if not, here is your opportunity to have drinks at least in a former prison.
Motyla Noga is a quite alternative and young place to have some good beers. Of course during summer, the whole yard serves as a beer garden. This might have been different some years back, when it still was a prison. Don't miss the little prison dwarf outside of the walls.  
If you are getting hungry here, you will certainly get the best Tartare of Wroclaw – give it a try. The fries are amazing too and perfectly crunchy here. 
Get ready for your prison experience at Więzienna 6, also located in the heart of the city. And don't be afraid, most likely you will be released again without any problems (if you pay for your beers).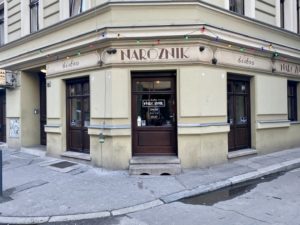 You might have read already about the Berlin-Kreuzberg of Wroclaw, which is the Nadodrze district. This cool place named "Bistro Narożnik" has great vibes and is one of the first places where you could get craft beer from the tap in Nadodrze. 
Literally translated, Narożnik means "at the corner" and you might have guessed it, this is exactly where it is located. Normally not a lot of tourists get lost here, so if you are looking for a true local experience, you are very welcome.
Be a withness of the transformation happening in Nadodrze at Ludwika Rydygiera 30. If you go here, don't miss to see the Heart of Nadodrze which is just 2 minutes away.
Meet this cool underground pub which is typically full of students. The name Czeski Film has a special meaning in Polish language. It means as much as "I do not understand anything, this is like a movie from the Czech Republic to me". Maybe this is how you will feel after too many drinks? 😉
Similar to Motyla Noga, this is one of the alternative places in Wroclaw where you will enjoy your beer or nice cocktail with some music from The Black Keys, Muse, Nirvana, Red Hot Chili Peppers, and many more artists from this direction.
The bar is beautifully decorated with the spirits sorted by colours, softly illuminated and put into old wooden boxes. And if you happen to sometimes work from a café… There is one connected upstairs, so right after your work you just need to get down the staircase for some after-work-drinks.
The vaults from Czeski Film are waiting to be discovered at Kiełbaśnicza 2.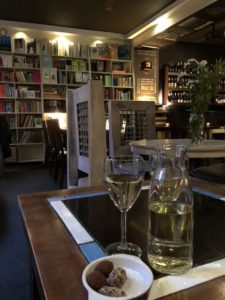 We have another romantic suggestion for you. Cocofli is a speciality cafe during the day where you can order excellent coffee.
However, in the evening it turns into a winebar with cozy seating and candlelight atmosphere. In addition, a little bookstore is integrated here which makes you truly feel like at home.
Don't miss out the chocolate truffles with your glass of wine.
Enjoy a good glass of grape juice at Pawła Włodkowica 9, where you will find Cocofli – in the middle of the four denomination district. Again, if it might be crowded, in this area there are plenty of other cool pubs, for example Mleczarnia is just a stone's throw further.
8. Incognito Cocktail Bar
An interesting concept of cocktail bar can be found at the Incognito cocktail bar. First of all, let's start to talk about the entrance. When you arrive in front of their door, you will just see a coffee place. Can that be right? Yes, it is.
Read it again, the cocktail bar is incognito – which means it is hidden! Just walk into the cafe and at the corner in the left end you will see some stairs leading you down towards the vault.
Finally arrived without even the need to say a password or do some other weird secret agent stuff, the next surprise is waiting for you. There is no menu! You will just be asked by the waiter what kind of flavours you like. Based on that you will receive an individual cocktail… Good luck! But no worries, so far we only made good experiences 🙂
Feel like a secret agent, passing through the coffee shop downstairs to the hidden cocktail bar at Plac Solny 11. Actually lately a sticker was added on the door that you should go downstairs – it seems that some potential customers wanted to get cocktails, saw just a coffee place and then went somewhere else 😀
Paka Pub is a little hidden gem in Wroclaw and rarely part of any tourist guides. That is why we need to ask you to keep it as a secret 😉 It is a real local place where not a lot of tourists were seen by us so far.
It is a typical small and cozy pub with a decent selection of good Polish beers. As the interieur includes a huge salamander at the wall, we sometimes are joking that this is the local Art Cafe Kalambur which you might have heard about already (if not, scroll down a bit!).
The atmosphere is very friendly and if you try to order in Polish, a little smile for you will be almost guaranteed 😉 We have the feeling that here the bartender is really taking care of the guests and it is a great example for Polish hospitality – but of course you still will need to pay 😉
Meet real locals at Nożownicza 12 in this very cozy and alternative pub. In 2020, we paid 8 PLN for a large beer which is definitely a fair price.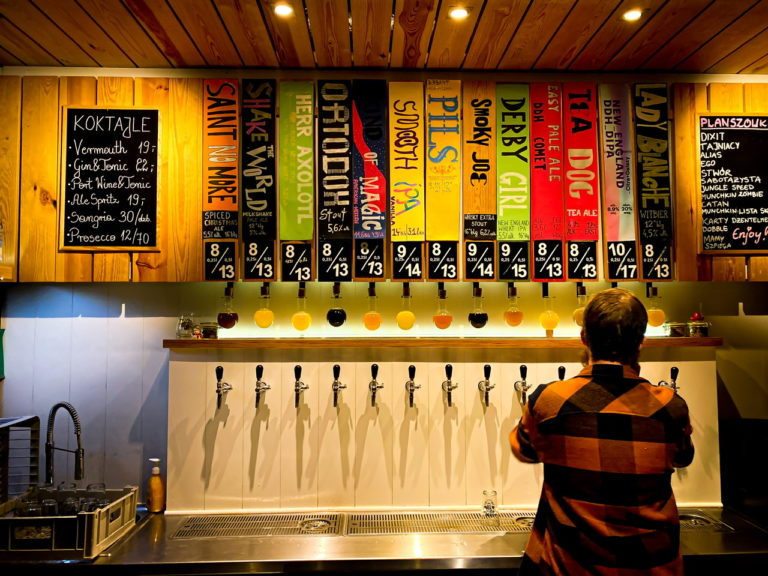 If you are in the city centre, and you are looking for a perfect combination of super tasty beer and good vibes, AleBrowar is the place to go.
We counted 13 different beers from the tap, including very special ones. Have you ever tried a milkshake pale ale? We can almost guarantee that for every taste they have a beer available, from basics to quite experimental stuff.
No reservations are possible here, but a little hint from us if AleBrowar appears to be crowded and you are almost about to leave… There is a quite hidden area in the basement as well. Once we saw people leaving again as they thought its too full, but we had all the basement for ourselves!
Already recommended in our article about the best craft beer places in Wroclaw, still in the middle of the four denomination district at Pawła Włodkowica 27.
If you are eager to learn more about Polish beers – check out the beer tour of Wroclaw here.
No list about bars in Wroclaw would be complete without the Art Cafe Kalambur. This probably is most known among tourists, but still it just is a great place for drinks and events.
Usually a lot of people from the artistic scene in Wroclaw are hanging out here. Watch out for famous musicians, writers, actors and any other sort of artists. Students are also frequent visitors for many decades here. It is fair to say that Kalambur certainly is one of the best bars in Wroclaw.
Check out the latest schedule on their facebook page as well. You might want to see a cool concert or performance here, it is really worth it!
Meet one of the most popular and artistic pubs in the city centre at Kuźnicza 29A.
12. Nasyp (The Embankment)
Our final recommendation is not about a single pub, it is much more about a very special area in Wroclaw. Nasyp literally translated means the embankment. It is a street named Wojciecha Bogusławskiego which is very close to the main railway station. All trains coming into Wroclaw or getting out are passing here.
What makes this area so special is that you will find around 25 pubs and restaurants underneath. In all of them you can feel the vibrations from the trains which catapults you somehow into a different world. Actually the first times you hear the trains above you, it might even be a bit scary.
We really like the Swing Pub at Wojciecha Bogusławskiego 75 and Pizzeria Si at Wojciecha Bogusławskiego 89. If you are looking for one of the most decent priced, it might be U Augusta at Wojciecha Bogusławskiego 7.
But just stroll around and do some bar hopping, maybe you want to take the challenge and visit all of those cozy pubs in one evening 😉