Diesen Text gibt es hier auch in Deutsch
The best Beach Bars in Wroclaw (2023 Update)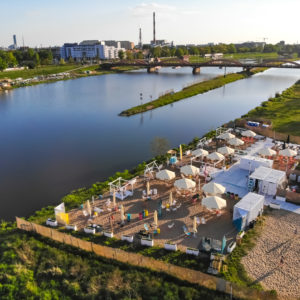 Some people might say that you can find the best beaches in Poland around the Tri-City area of Gdansk, Gdynia and Sopot. Of course today we are going to expose these people and will tell you: That is fake news! You believed that Wroclaw has no beaches? Well, you are right and wrong at the same time 😉
In this post, we will tell you why there is no need to visit the coast of Poland if you want to enjoy a cold drink, build some sandcastles and take part in some Yoga classes at the beach. Although there is no direct access to the Baltic Sea from Wroclaw, there are a couple of really lovely beach bars. And in them, we guarantee you a feeling of holidays!
By the way, if you visit the city outside of the beach bar season, here you find our favourite bars and pubs in Wroclaw.
Just for you, our lovely readers, we enjoyed some cold beers in the sunny beach bars in Wroclaw. As a result of that, today we are sharing our favourite outdoor bars of Wroclaw – let us get started!
Updates on the 2023 Season
We have asked some of the beach bars regarding the opening dates for 2023 and with our latest updated today, most of them are already open.
As of our latest update (May 2023) all beach bars are open now. Cheers!
Just in the north of the alternative Nadodrze district, the "Basen Beach Bar" is waiting for your visit. Basen translates into pool, but you will not find any – please don't be disappointed 😉
However, it is one of the most laid-back beach bars in Wroclaw. A great place just to chill and enjoy the water around, very family friendly as well.
Sometimes there are events and live performances, but we would not say that people come here to party hard.
Just at the Bridge "Most Trzebnicki" in the northern parts of Nadodrze you will find the Basen Beach Bar before crossing the bridge on the right side – if you are coming from Nadodrze or the city centre.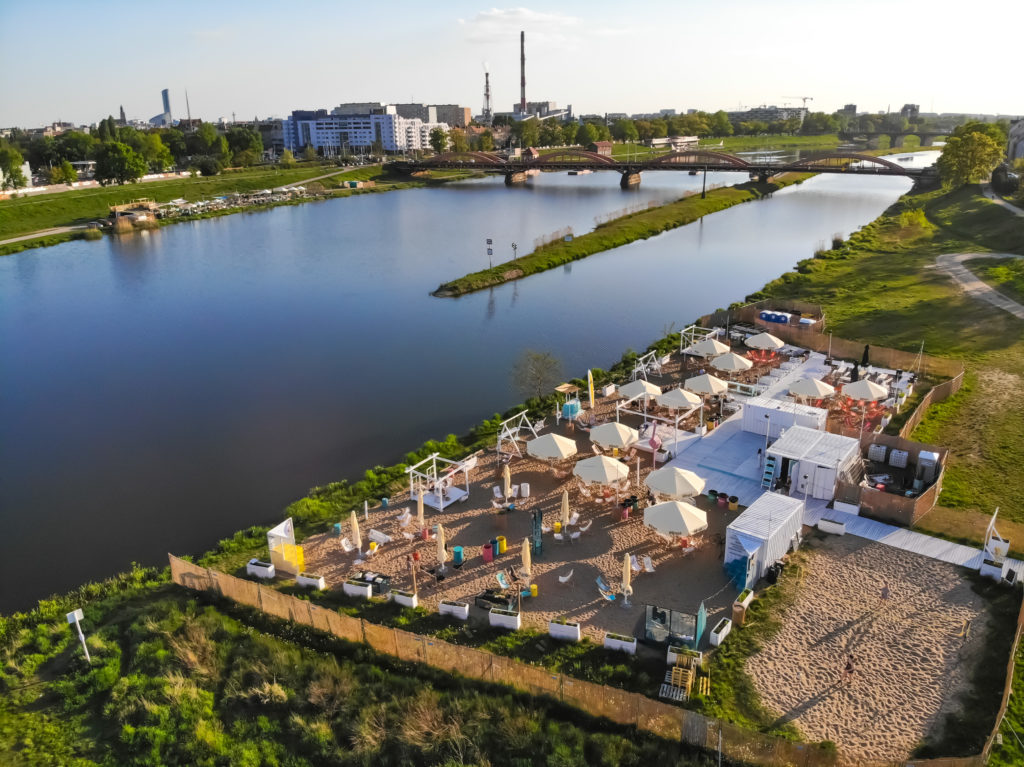 As we are committed to the truth, we need to tell you that while we went through our beach bar pictures, actually lots of them were taken in the darkness. Time is flying in the beach bars of Wroclaw and suddenly you find yourself in the darkness… True story!
Stara Odra is a very solid choice and we have lot of great memories there. As most of the bars light up a couple of bonfires in the evening, you won't be freezing in the night. We recommend to enjoy their little cocktail truck 🙂
In terms of food universally we can say for all beach bars that you won't be starving. Here at Stara Odra you have some cool food trucks, but we need to warn you… If there is a Vietnamese Hot Dog truck, this is probably the most spicy food we ever had, be careful 😉
Just on the other side of the Trzebnicki Bridge, the Stara Odra Beach Bar is located at the opposite of the Basen Beach Bar. Depending on which one is closing first, you can just hop over the bridge to get a final round.
The ZaZoo Beach Bar is definitely the most popular one in Wroclaw. The location is beautiful and you are truly surrounded by water. In case you rented a kayak from the city, you can perfectly stop here for a cold refreshment – there is a small pier.
A separate area of course features some street food trucks. And of course as in most of the beach bars, some live DJ sets will provide a nice background tune on regular basis. 
Oh, and it does not matter if you are more a sand or grass person, you can choose between these different areas to sit and chill.
Literally translated "za Zoo" means behind the zoo. Now you can guess where to find the ZaZoo Beach Bar… Correct, just behind the zoo! In very close proximity to the Centennial Hall as well, just to mention it in case you want to combine a visit. 
4. Prosto Z Mostu Beach Bar
The Prosto Z Mostu Beach Bar is kind of allrounder for all kind of guests. One the one side you have a large sandy area to relax. The other half does not use sand as ground and is fully covered by large umbrellas to provide some shelter from the sun.
As part of the sand area a huge volleyball field is inviting the sports folks to do some fitness and keep their bodies in shape. That means you can choose between spending a lazy or active beach day yourself, all alternatives are available 😉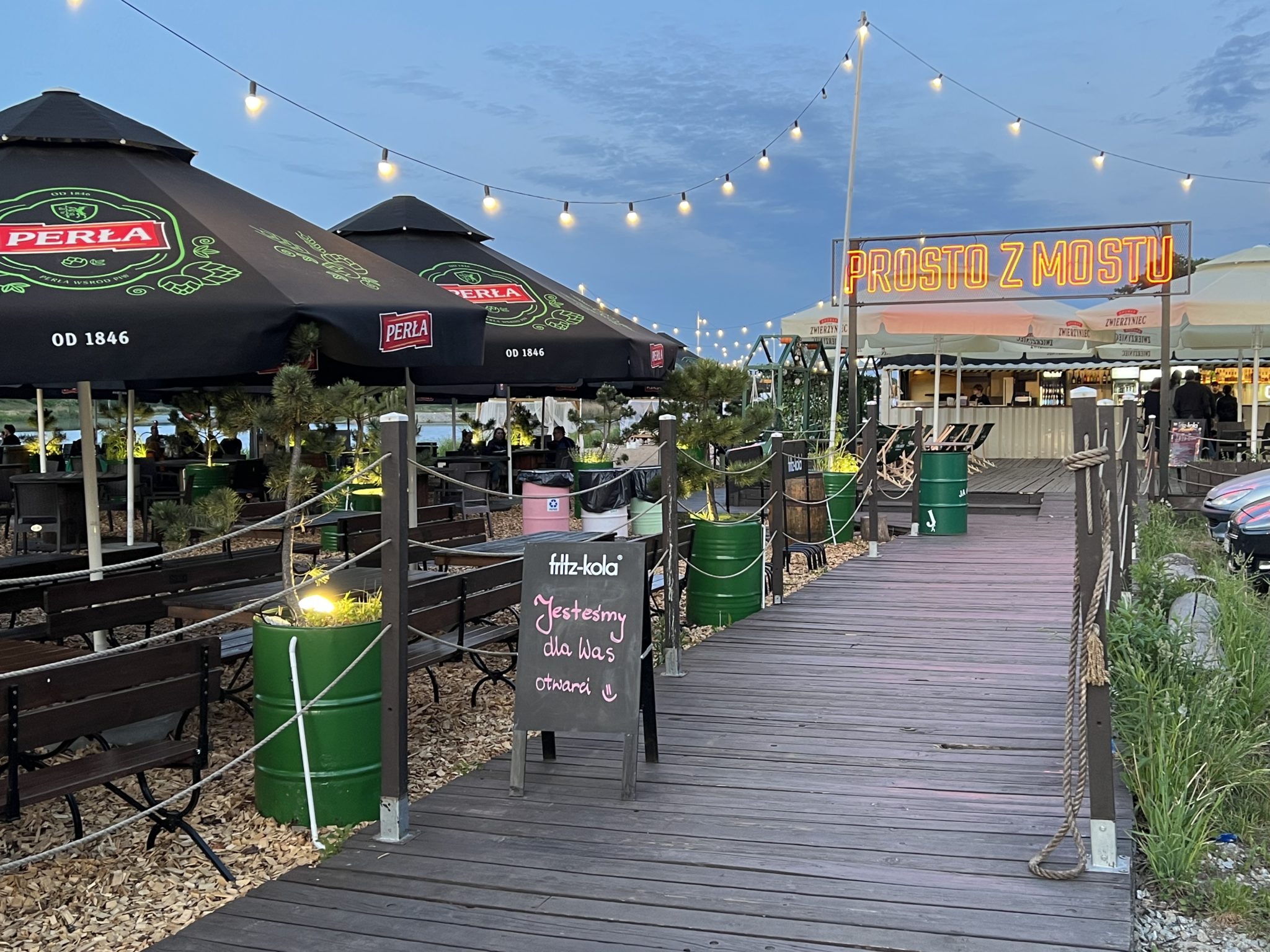 There seems to be a rule that all beach bars must be located just next to a bridge. Maybe it is just a coincidence in Polands city of bridges that Wroclaw definitely is, but Prosto Z Mostu is waiting for you just next to the Warsaw Bridge ("Most Warszawski"). 
If you do beach bar hopping, you can have a nice 15-20 minutes walk from our both first recommendations (Basen & Stara Odra) along the Odra River.
5. The Floating Bars at Słodowa Island
Normally, the Słodowa Island is the place where all students and party people are meeting in the summer to spend some great time outdoors – since this is the only place in Wroclaw where you can have a beer legally outside. 
However in summer there are around 3-4 floating bars attached to the island which are inviting you for some nice drinks. We recommend Barbarka to enjoy a perfect view at the University building while just enjoying life and taking a rest.
As you can see on the picture it already had gotten late when we took it… Instead of dark black sky, you will have the fresh (?) water from the Odra around you, while you can chill in the sand. 
The little hill of euro-pallets gives Odra Pany a little bit of hipster touch which we really like. Some chairs are inviting to relax underneath some big trees that are beautifully illuminated in colourful neon lights at night. 
Some time ago, they were located in an urban location in the city but with the season in 2019 Odra Pany moved just next to the ZaZoo bar. Although the name does not suggest that it is behind the zoo, it is there too 😉
They also rent out SUPs if you want to chill a bit on the water itself – the following picture was taken from one of the boat trips in Wroclaw, so we finally have a day light picture too!
One of the largest beach bars in Wroclaw, although the location is a bit more remote. It is located just next to the Millennium bridge in the western part of Wroclaw. 
Besides the regular stuff like street food trucks, volleyball, etc. this one is nicely embedded in nature, the Odra very close on one side and a Forrest on the other end.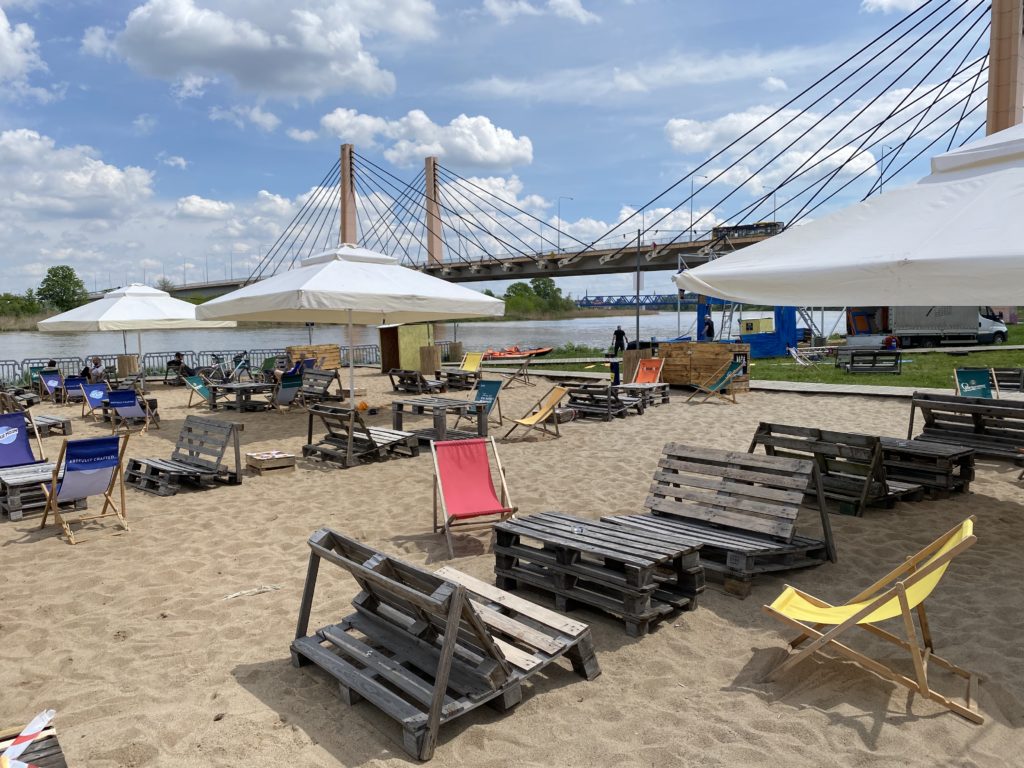 8. Forma Płynna Beach Bar
Also very nice and cozy is the Forma Płynna Beach Bar which is not too far away from the Grunwald bridge and hence relatively close to the city.
Although there is no sand and real beach atmosphere, you can definitely relax, sit very comfy next to the river and enjoy a cold drink.
Great for families too, as there is a huge bouncy castle for kids to jump around. The parents then may just chill in a hammock and be lazy 🙂
A quite diverse event schedule is making sure that you never get bored here, for example we watched the European soccer championship here (well, at least the first half as then it started pouring rain like hell….)
The latest addition in the Beach Bar scene in Wroclaw is the Marina Kleczków north of the city which opened in 2021.
This is definitely one of the most beautiful places to watch the sunset and later at night, the illuminations and little torches are creating a magic atmosphere.
For sure already one of our new favourites!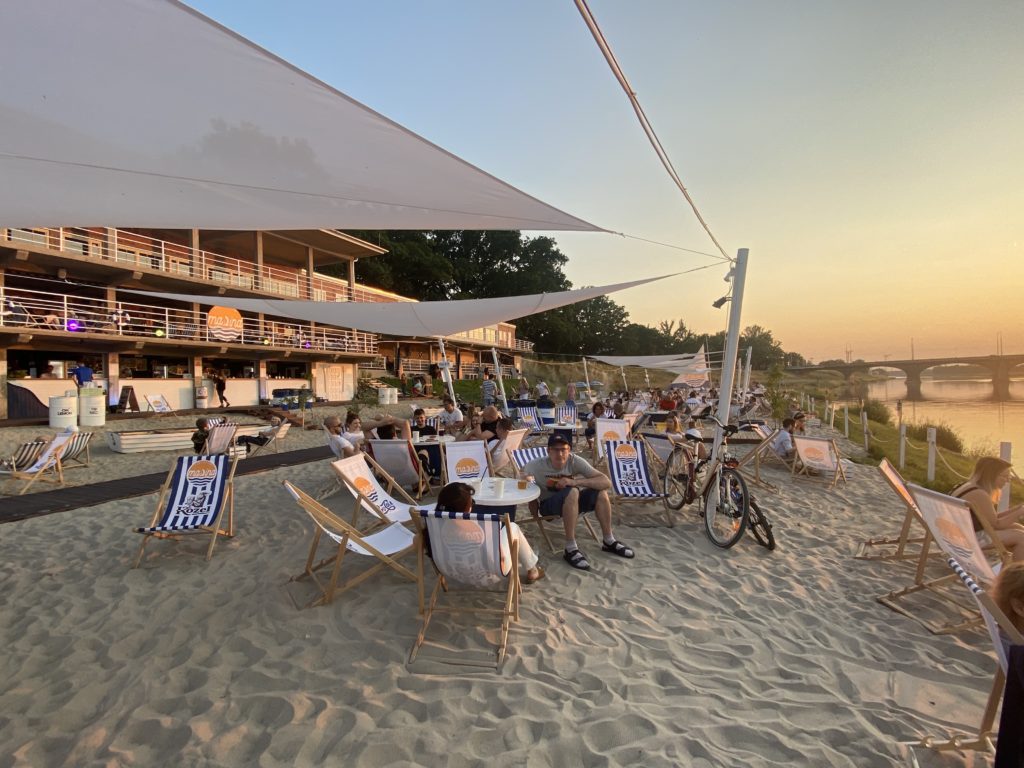 … or jump on the partyboat!
Starting in the 2023 season, we will have a new type of floating pubs – the party boat on Saturday evenings!
There you pay a fixed amount and then get a flatrate with all drinks included, plus a DJ taking care of the music – it is kind of floating club 🙂