Diesen Text gibt es hier auch in Deutsch
The 10 best places for street food in Wroclaw
⇨ We made a pre-selection of the best AirBnBs, Hotels and Hostels to stay in Wroclaw, no matter if you look for budget options or some luxury - check out our post with recommendations here ⇦
Wroclaw is full of great street food and the worst challenge is that the human body has certain limitations. It is impossible to prepare a selection of all our favourite places as there are so many. Unfortunately we need to limit ourselves to the top ten of best street food places here.
Another great thing to do in Wroclaw are the street food truck events. They are organised in different locations throughout summer and great opportunities to try different snacks.
If you want to invite your better half for a fancy dinner, also check out our recommendations for the best fine dining restaurants in Wroclaw! And if you are looking for street food tours, here is more information.
For now, enjoy reading our recommendations for the best street food in Wroclaw!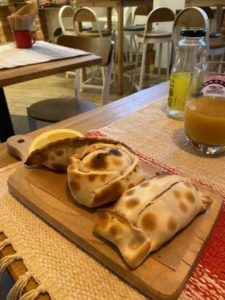 We kick off the best street food in Wroclaw with a place that has earned our trust immediately. At Pampa you will find amazing empanadas made in the typical wheat-based Argentinian style. The taste is just perfectly flaky and savory.
We already tried all of them and we loved them equally, so we cannot even tell you which are the best. But we can recommend you to have a real mate tea here. Enjoy some sweet Alfajores for desert if you still have space!
Pampa is waiting for you at Podwale 19/1A and is located just at the border to the four denomination district, not far away from the city centre and also very close to the plac Jana Pawla II.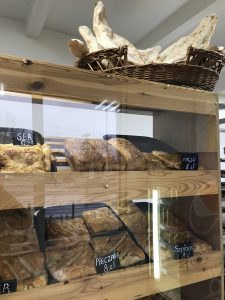 We are heading east now, much more east than Poland, and we end up in the beautiful county of Georgia. Not only the oldest traces of winemaking can be found in Georgia, but also today their food culture is pretty much unspoiled. When we were in Georgia we realized that in very few countries the traditional food is still so dominant and that is just awesome.
You can taste a piece of Georgia in shape of their national bread creations at one of the Tandyr House locations in Wroclaw. Get it plain and enjoy it at home with some dips, or get a tasty filled version with for example cheese and mushrooms.
The bread is baked inside on a big oven, where it is sticked to the wall, you will see it. With their three locations, one always will be close.
#1 at Stanisława Dubios 14 in Nadodrze
#2 at Tadeusza Kosciuszki 83 close to the main train station
#3 at Ruska 50 close to the city center and four denominations district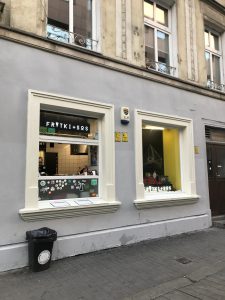 When you visit the Frytki + sos window, you will not just get some fries, you will get the best fries in Wroclaw! 
Try the sweet potato fries ("Bataty") with one of their home made sauces, we recommend the mango one but check out which ones are available on that day.
There are two locations in the city:
#1 is at Oławska 6 in the middle of the city centre
#2 is in the four denominations district at Świętego Antoniego 14
This might not be the classic street food place, however we love Gluten Appetit so much that it has to be part of this list. 
Why it is not the classic street food place, you ask? Because it is actually a quite hipster-ish designed restaurant which is open during the day. It is perfect for lunch or a little afternoon snack. They are serving traditional Polish food in a very modern interpreted way. 
You can get the typical Pierogi here but for example during the season filled with pumpkin. What we recommend is "Pyzy" which are similar to dumplings. Our favourites are with goat cheese, cranberry and walnut granola. Mhhhhh.
There are two locations, but for a city trip we mainly recommend the first one, unless you want to get lost in a huge shopping mall 🙂
#1 is located at Szczytnicka 54/1b in the Grunwald area, not far from our coffee recommendation Kawalerka
#2 is located in the huge Magnolia Shopping Mall at Legnicka 58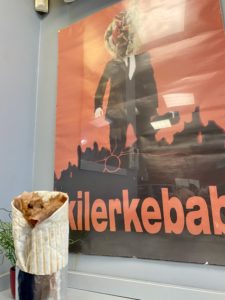 When you have been to Sultan Express Kebap, you will understand that their great kebap is just super tasty and there is not a lot to argue about. People are only sad about the fact that they just open their doors on weekdays from Monday to Friday. But on those days you will be welcomed with modified movie posters where a kebap took the main actors role…
Also the most popular local food blogger in Wroclaw has visited them and officially certified their awesomeness.
Have the best kebap in Wroclaw at Jedności Narodowej 62 in Nadodrze.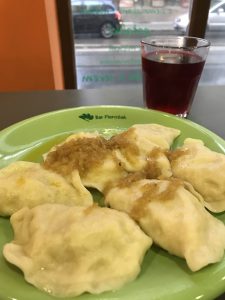 Of course when you visit Poland, you have to eat Pierogi. Well, and around the Market Square ("Rynek") you will find plenty of places that will promise you the real and traditional Polish food. 
However, we recommend you to go a little bit outside of the city, just 5-10 minutes and enjoy the best pierogi not only at a very fair price but also made with love. You will see that when you get in and have a look into the kitchen just behind the counter. 
Try the pierogi ruskie and have a kompot with it. If you have not had kompot yet, it is a sweet drink based on cooked fruits.
Located at Księcia Józefa Poniatowskiego 3 in Nadodrze, it can be combined perfectly with a walk on Island Słodowa or Ostrów Tumski.
7. Osiem Misek (Eight Bowls)​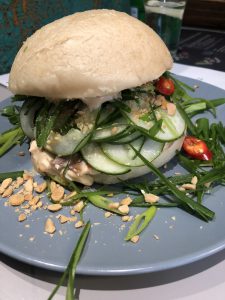 Eight bowls is not only the name of this nice place, it is also the wish you have about the amount of food to eat. You will find fusion cusine between Asia and Poland here and it is super good, believe us.
Our all time favourite is the pulled pork bao bun with peanuts, cucumber, the best mayo ever, spring onions and fresh chili. The waiting time is usually 30 minutes but definitely worth it.
The main restaurant location is at Pawła Włodkowica 27 in the four denomination district, just 10 minutes from the city centre.
As they started as food truck, and then later got the restaurant, you also still can visit their street food truck in the Grunwald / Manhattan area. To find out where exactly check out our article on the best alternative and hipster things to do in Wroclaw.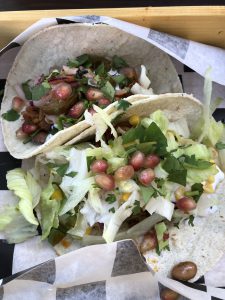 We have to admit that after travelling in Mexico, it is very difficult to find any taco in the world outside of Mexico that comes even close to the real taste of these little treats… 
But still we believe that at Tacos Locos you can find the best tacos in Wroclaw, especially the vegetarian options are amazing. The cilantro always tastes super fresh and the pomegranade you get with some options is just the little diamond in their tacos.
Find them at Wojciecha Cybulskiego 1 located right between city centre and Nadodrze district. It is also a popular option to have some bite here after enjoying some beers outdoors on Słodowa Island during summer time.
We stay in the same area, to be exact actually we just go one door futher now, entering Pizza Pany. Like many restaurants in Wroclaw, they started as street food truck and then upsized into a full restaurant. 
There are plenty of really outstanding pizza places in Wroclaw, but this one deserves a spot in our top 10 of best street food due to their creativity. Every month you can find a signature pizza, and one of the reasons to visit Wroclaw in October is their pumpkin pizza.
Try it out yourself at Wojciecha Cybulskiego 1, which still is right between city centre and Nadodrze district.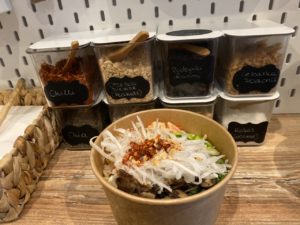 Hawaii arrived in Wroclaw! Enjoy some pretty cool bowls with warm rice and then choose all the ingredients that you love in a subway-sandwich style manner. The classical salmon or tuna marinated in a little bit spicy way is awesome.

This is one of our favourite lunch places. The choice of toppings, addings, fillings, sauces, etc. is just amazing, so let your creativity go! Or if you are not as creative, just go for their suggested combinations 🙂
This little enclave of Hawaii can be found at Świętego Antoniego 27/29 right in the middle of the four denominations district, 5-10 minutes away from the city centre.
Bonus: Woo Thai Street Food
We always get to the same problem… There is a list of the 10 best things and suddenly we realise that we forgot something very important and obvious. That is why now we just start to name these ones "bonus" 😉
Same here. How could we not mention Woo Thai Street Food? Not only the best Pad Thai in Wroclaw, also the curry dishes are amazing here.
With that we mean: The level of spiciness truly is Asian. Who loves spicy food, will feel very comfortable here. 
There are different branches in the city, and here we are sending you to the one which is closest to the old town: Navigate to Woo Thai Street Food at Rybacka 11