Diesen Text gibt es hier auch in Deutsch
The 2022 Christmas Market in Wroclaw
One of the most popular events of Wroclaw is certainly the Christmas Market. The fairytale atmosphere attracts not only a lot of foreign visitors from Germany, Czech Republic and Ukraine. Also the Polish people from all over the country love it and start their pilgrimage to Wroclaw in late November.
In this post, we will provide you an overview of the Christmas Market, including opening hours, the areas where it takes place, which local food you should try, where you will be able to buy nice souvenirs, where to stay and of course most important: 
A short update for 2023:
There will be another St. John's Market in Wroclaw in 2023, which will take place from 19 May 2023 to 27 June 2023. We'll be in touch again with more details, including more details about the Christmas Market this year.
When will the Christmas Market open in 2022?
The Christmas Market 2022 will be open from 18th November 2022 to 31st December 2022. These dates were confirmed and won't change anymore in normal circumstances.
The opening hours are:
On regular days from 10-21h
On 24th and 25th Dec closed
On 26th December from 13-21h
On 31st December the shops will close on 17h and gastronomy at 2am
Will the Christmas Market in Wroclaw happen in 2022 due to Covid-19?
We are happy to provide you with a very precise answer: Yes, it will happen! As mentioned before, even in 2021 with the covid pandemic still going on, the market was going ahead as planned.
There are no official restrictions in Poland anymore, the pandemic has officially been ended. And when it comes to the war in Ukraine, we wrote a more extensive blog post on the impact of Wroclaw here.
Of course, nobody knows if new variants of covid might come up,  or also even very likely after what all happened during the last two years: Aliens could finally be landing on earth 😉
In case of that or any other changes: We will keep you up to date on the latest development in our newsletter and on our facebook page! And the market has now definitely opened in 2022, we were able to witness it.
If you plan to visit Wroclaw during the Christmas Market, we recommend you to book a stay that is refundable in case something unforeseen will happen, so you will be on the safe side. 
Will there be Christmas lights in Wroclaw?
A question which we got quite frequently is, if the market will happen at all, given the high energy prices, and if so, if there will be the illuminations.
So far, the city has made the decision to cut down the lights to the main market square only – in other parts of the town there will not be as much as we were used to. In addition, bridges and some buildings will be only illuminated up to 10pm in the evenings. The big Christmas Tree will be illuminated after the 6th December.
As side note: the big New Years Party which used to happen every year at the Market Square, will NOT take place in 2022.
We will let you be the judge if it feels really like less lights – here comes our drone overview picture from 2022!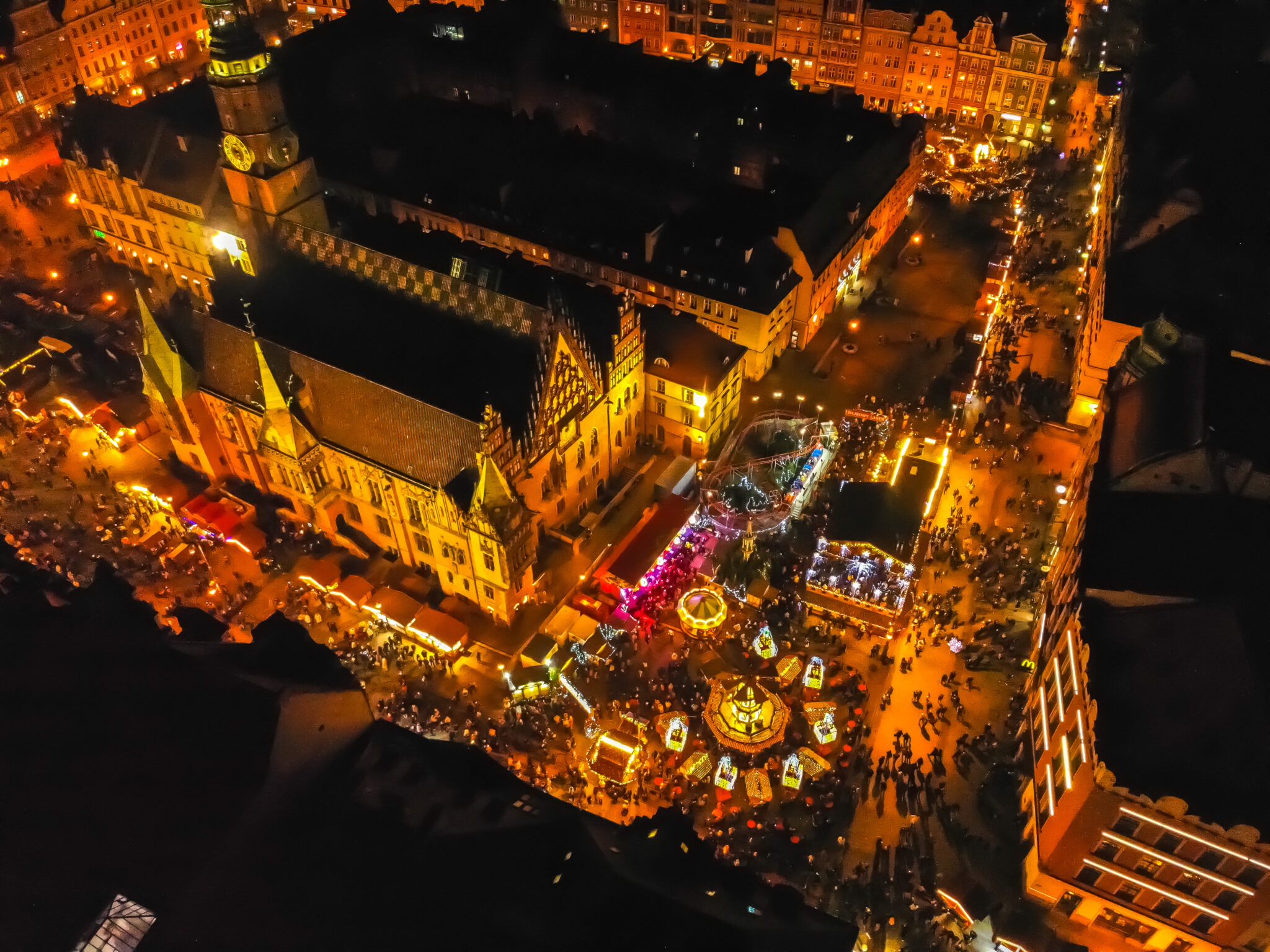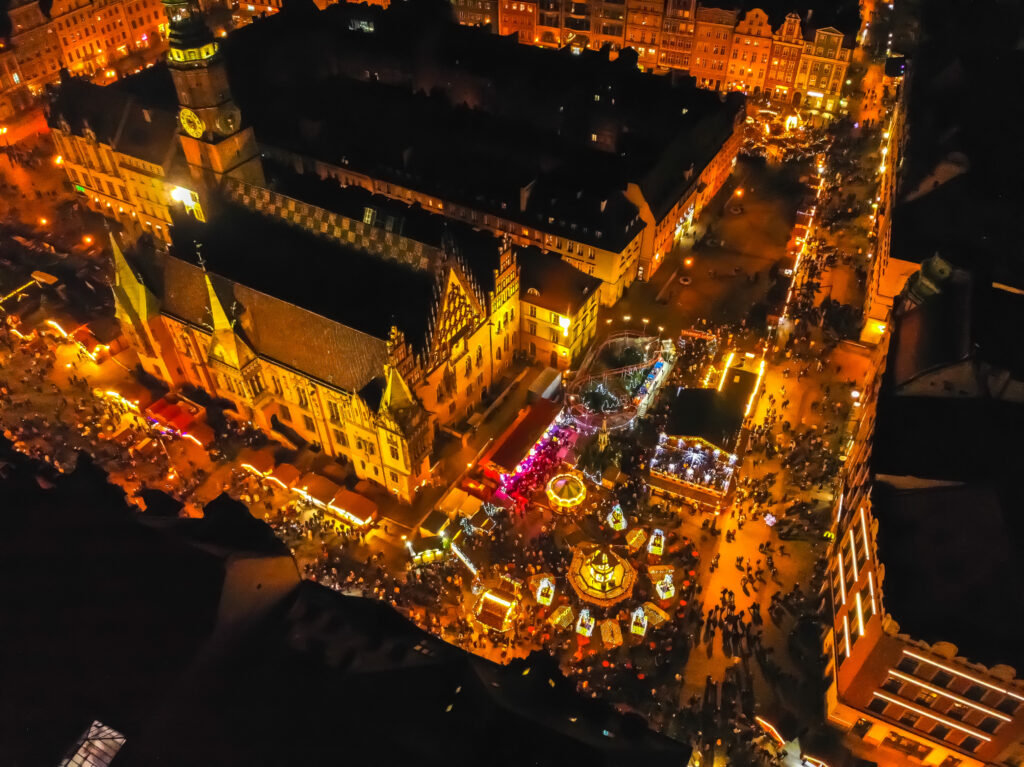 Where will the Christmas Market take place?
No Cookies? No Problem!
The Christmas Market in Wroclaw will be taking place in four main areas:
The Market Square (Rynek)
The Salt Square (Plac Solny)
Świdnicka Street
Oławska Street
Believe us, it will be hard to miss it and all four areas are connected with each other. And needless to say that a lot of small businesses have their own special Christmas events, offers and products. 
You cannot escape Christmas, don't even try! 😉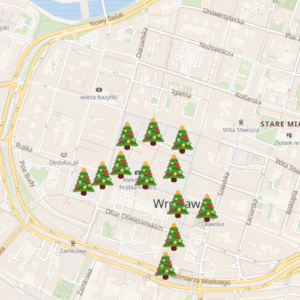 What food and drinks should I try at the Wroclaw Christmas Market?
Of course you will have plenty of opportunities to try the local and regional cuisine.
We strongly recommend to try Oscypek. That is a special smoked cheese from the polish mountains you won't find anywhere else than in Poland. It comes with cranberries and is super delicious! You see it on the picture.
You prefer the classics? No worries, you will be able to find plenty of sausages, bigos, skewers, potato pancakes and more typical dishes from Poland. 
Or should it be international? Churros, Fries, Langos, Sweet chestnuts, Crêpes, Chimney Cake and much more will be waiting for you. 
Did we mention the mulled wine already? How could we not! There will be many, many different flavours to try, so you better plan some more time! And do not miss the tasty honey based alcohol!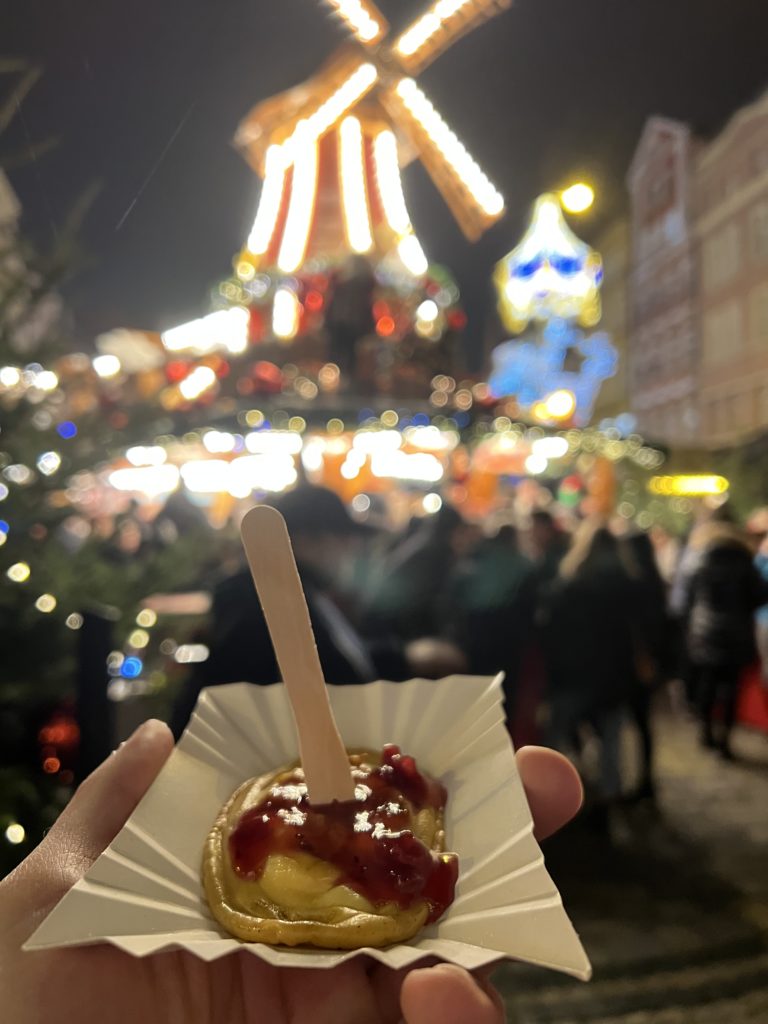 During the season last year (2021), the price for a mug of mulled wine was 15 PLN by the way, plus a deposit of 15 PLN on top for the mug which will be returned if you manage to bring the mug back 🙂 Be aware that for the mulled wine they only accept cash, it seems easier to handle with the deposit – but you can return them at any stall.
To our surprise, the price for mulled wine is still the same in 2022 while the deposit for the mug has increased from 15 PLN to now 20 PLN. Let's see if they will be running out of the mugs for this years edition soon 😉
And a secret hint from us which actually is not secret: If you don't fancy the special mugs in shoe design, you can get the mulled wine for around 9 PLN from most restaurants and bars around the Market Square… Or you get the shoe mugs and have them refilled elsewhere…
Don't get scammed by the meat skewer stall
In the past years there always was one very special stall, selling meat skewers for only 11 PLN. But unfortunately they did not make very visible that it was 11 PLN per 100 grams! That meant for just one normal sized skewer they easily charged more than 50 PLN. Watch out for that one 🙂
What to do at the Christmas Market?
In case this is your first time in Wroclaw, we have to recommend you our blog post about the best things to do in Wroclaw here! That is a quite extensive collection of our top recommendations 🙂
If you don't like crowds…
In the next two pictures you can see the crowds of a normal Saturday evening, as we already wrote, we recommend a visit during the weekdays.
But there is also a small, cosy "side" Christmas market at the Opera House, which is open from 3. to 23. December from 12-20h. It is of course smaller, but also much less crowded and should therefore not go unmentioned here.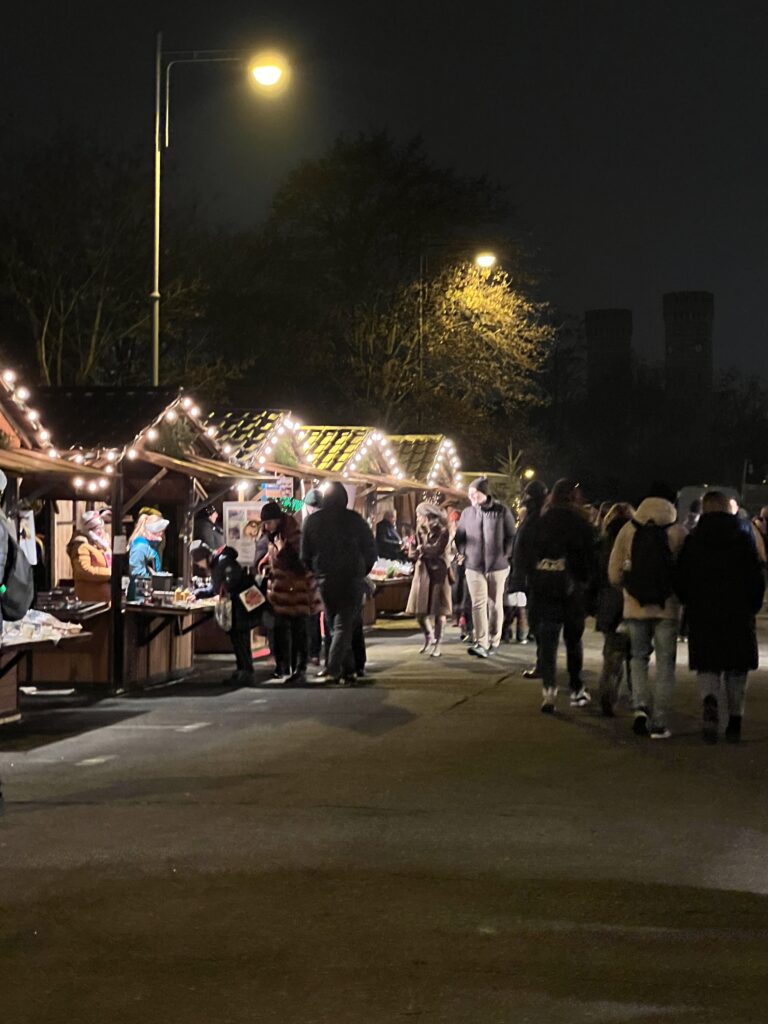 Hidden Gems: Illumination Parks in Wroclaw
We have two recommendations for real hidden gems, related to the Christmas Market in Wroclaw as well. If you like lasershows and illuminations, or are coming with kids, these are for you. Also in case you want to move a bit more off the crowds, these spots are quite off the track for regular visitors.
The first option are the illuminations at the Castle Topacz (Zamek Topacz), around 15-20 minutes by car south of Wroclaw. You will find trains, castles, animals and lots of other objects beautifully illuminated. Even a real travel around the world is waiting here to be taken…
The second recommendation is the Botanical Garden just next to the Cathedral island. During winter time it is beautifully illuminated and in addition on the weekends (Fri-Sun, after 16:30h, open after 9th December 2022 till mid-February) there are laser shows and projections – great stuff! On our Instagram-Channel you can find a small video of the show here (yes, there is fire!), so follow us in case you don't yet.
Where to buy souvenirs in Wroclaw?
Good question! You need to be aware that the Christmas Market is probably one of the most expensive places to buy souvenirs. 
The sellers need to pay a lot (really, a lot!) for their licence to sell on the market. You will pay that eventually! This was also the justification for the expensive meat skewer stall, confronted by the local newspaper, they just said that they have to pay so much rent and that is why they are so expensive…
We recommend to check out the Old Butcher's Stalls ("Stare Jatki") where you find local galleries which operate all year round from there. Well, on the picture they look closed because we got up early to make some pictures 😉
Of course the cold winter time is also always a great opportunity to buy some nice calendars – like the ones that we created here 😉
What about a risky investment?
If you like to invest and you look for some insider information… In 2019 the special mulled wine mugs (in shoe-form, with special edition every year) were traded very successfully. Many people did not return them despite the deposit and were able to sell them online for more than 100 PLN. 
As the stalls were running out of them already very early, they had to take some leftover mugs from previous years. Quite grotesque and funny at the same time to drink from 2017 mugs in 2019 🙂 
In 2022, there are even huge mugs where two people can step inside and take pictures. And it seems, that at least for now, there are still enough available to take back home… This year the deposit is 20 PLN.
Where to stay during the Christmas Market?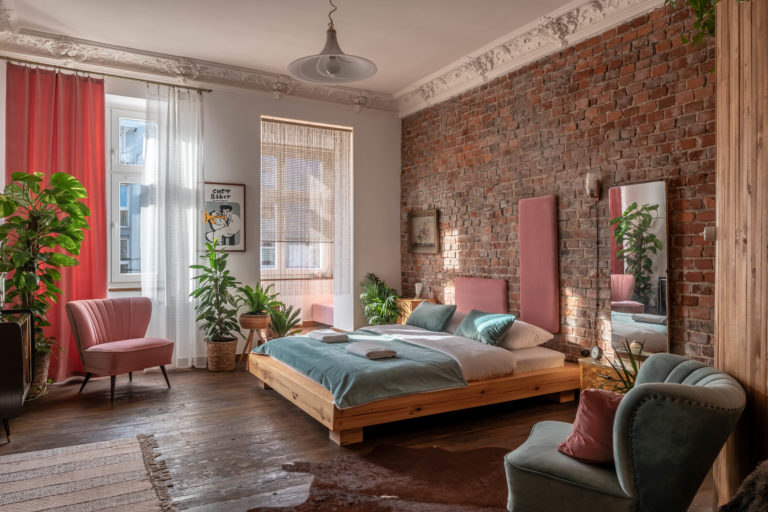 If you prefer to have your own space in an apartment, you will be able to find our specific recommendations here. In this post we made a pre-selection of amazingly located apartments for couples, groups, budget travellers and luxury stays.
If you decided to stay in a hotel, we have our pre-selection here with some luxury hotels, budget hotels, wellness hotels, romantic hotels and many more: Here are our personal hotel recommendations for Wroclaw.
UPDATE from November 2022:
As last year we had some capacity issues, we will keep you updated on the booking situation in Wroclaw here. For now there are enough rooms end of 2022 available, but some hotels already jumped to crazy prices of more than 5000 PLN per night! So book ahead to be on the safe side – currently there are enough regular priced hotels available.  Click here to see which places to stay are actually still available on Booking.com.
And here we have an overview map of Hotels in Wroclaw for you where it is easy to find central and nice locations close to the Christmas Market:
The English Edition of our alternative travel guide to Wroclaw!
After the success of the German edition, we have decided to create our guidebook in English as well!
The good news is, that for the Christmas Market 2023 in Wroclaw it is available – in February 2023 we have shipped the first copies.
Join our journey through 100 extraordinary places in Wroclaw and discover the city from a new perspective with us!
Where to find more information about the Christmas Market in Wroclaw?
We recommend you the official page of the Wroclaw Christmas Market here. There you will find the latest updates and event schedules too. 
On the left side you will find a nice video from a previous year which gives you a feeling about the amazing atmosphere. Just the smell of cinnamon and mulled wine is missing.