Diesen Text gibt es hier auch in Deutsch
How to get to Wroclaw – the best options by car, train, bus and flight
You want to know how to get to Wroclaw? In this article we will tell you about all different options to travel to Wroclaw. There are hundreds of options from the large cities around like Berlin, Prague, Dresden, Krakow and Warsaw. We will review all of them in more detail but of course also check out other origins. 
Wroclaw has its own international Airport (IATA Code: WRO) with a huge selection of low cost flights and connections to the main hubs from the major network airlines.
Let us take it one by one and go through all options to get to Wroclaw by car, flight, train and bus. We promise that we will find a good choice for every budget.
Taking the train to Wroclaw
Getting to Wroclaw by train is not only one of the most ecological options to get into Wroclaw. It is also a very comfortable one, of course depending on where you are coming from.
The main train station in Wroclaw is named "Wrocław Główny" in Polish. By arriving here you will already see one of the architecture landmarks of the city. The building itself looks like a royal castle and used to be the largest German railway building of its time. Till today it is still not clear why the architect designed a gothic style building as typically neo-Renaissance or classicist were most common.
In addition this is one of the few train stations in Poland that have not turned into a shopping mall yet. (But no worries, there is a shopping mall connected with the bus station if you have the desire to go shopping).
One more important remark: You should not buy any food at the restaurant Tradycja. This is the first one on the left after getting into the main entrance. The food has really bad quality and is overpriced.
Trains from Germany to Wroclaw:
There are two main connections from Germany, one coming from Berlin and the second via Dresden and Görlitz, we are checking these in more detail now.
The Berlin-Wroclaw Connection
From Berlin to Wroclaw there is a daily connection departing at 18:52 from Berlin main train station. Taking that option, you will be arriving at 22:58 in Wroclaw (4:10 travel time). Actually it is the night train from Berlin to Vienna and Budapest, which also stops in Wroclaw. Be aware that this connection will no longer be available after 10th December 2023 as then the routing will be via Prague instead of Wroclaw.
On the weekends, there is an additional culture train between Berlin and Wroclaw. It is very special as you can enjoy cultural events like concerts or readings during the journey. Check out the VBB Culture Train Homepage here. The best updates for events are available on their Facebook Page. We have taken the train multiple times and wrote more about our experience with the culture train here, where you also can find a little video.
Tickets for the culture train are available online directly here on the special DB booking website.
Since December 2020 also the daily EC57 Wawel connection between Berlin and Krakow is re-established, with stop in Wroclaw. Every day you can jump on a direct train from Berlin to Wroclaw, starting at 10:52 and arriving at 15:05. The other direction with a direct train from Wroclaw to Berlin is available every day with departure at 12:57 and arrival at 17:05.
Tickets for this regular DB connections to Wroclaw can be purchased online here.
From Dresden to Wroclaw by Train
From Dresden to Wroclaw there are no direct connections anymore. However, there are multiple trains every day from Dresden to Wroclaw with just one change in Zgorzelec. They have all a perfect timing and overall travel time (3,5-4 hours) is even faster than before with the direct connection.
That connection also stops in multiple cities on the way, for example in the beautiful city Görlitz. We also have a post about things to see in Görlitz here.
Another thing to mention here is the special ticket which is available from the operator of the route (Trilex). For 40 EUR you can get from Dresden to Wroclaw and back if you purchase their special ticket here. The return ride can be done within 14 days after the leg towards Wroclaw and if there are more people, the ticket price is reducing further.
We checked some last minute trains from Dresden to Wroclaw on the official Deutsche Bahn website and saw fares of 48 EUR one way, meaning 96 EUR for both ways, therefore this special ticket provides really great savings. Unfortunately at the moment this ticket is not available from Wroclaw to Dresden and back.
Check individual connections here
We always try to keep this page as up to date as possible, however we recommend to double check the latest schedules.
If you travel from any city in Germany to Wroclaw, you best use the online timetable request from Deutsche Bahn which you can just do right here in the box.
Trains from Czech Republic to Wroclaw:
After many years of a missing link, a direct train connection is finally available from Prague to Wroclaw. After the launch in late December 2019 there will be trains on the weekend.
From Wroclaw to Prague the departure time is 5:58h in the morning with arrival at 10:27h. The reverse direction from Prague to Wroclaw leaves at 18:08h in the evening with arrival at 22:44h.
Update: Currently the route is suspended since September 2021. However, in July 2023, it got announced that there will be a new train connection starting in December 2024 between Wroclaw and Prague with even four daily trains! We will update you once more details are available here.
Trains from Austria to Wroclaw:
A daily night train is operated by ÖBB from Vienna to Wroclaw that we already tested ourselves. It leaves at 22:10 in the evening and arrives at 5:20 early in the morning at the Wroclaw main train station (7 hours travel time).
Update: This night train will no longer operate after the 10th December 2023 via Wroclaw and be routed via Prague instead. However, we will get a new daily direct connection between Vienna and Wroclaw! This will depart at 6:14 in Wroclaw with arrival in Vienna at 11:49, and in the opposite direction from Vienna the train departs at 16:10 and will arrive 21:56 in Wroclaw.
Trains from Hungary to Wroclaw:
The same daily night train operates also from Budapest to Wroclaw. It leaves at 19:30 in the evening and arrives at 5:20 early in the morning at Wroclaw main train station (9:40 hours travel time).
Trains from Slovakia to Wroclaw:
The same daily night train operates also from Bratislava to Wroclaw. It leaves at 22:10 in the evening and arrives at 5:20 early in the morning at Wroclaw main train station (7 hours travel time).
Trains from Poland to Wroclaw:
Of course there are multiple domestic connections with all major cities in Poland to Wroclaw. They can be booked only 30 days before the travel date via the website from PKP Intercity which also is available in English.
Here we will provide you a quick overview of cost and travel time for the most important Polish cities around Wroclaw:
Warsaw to Wroclaw (IC Train takes around 4:30h, EIP Express Train takes 3:35h)
Poznan to Wroclaw (IC Train takes around 2:30h, now only 1:20h)
Katowice to Wroclaw (IC Train takes around 2:10h)
Krakow to Wroclaw (IC Train takes around 3:30h, now only 3:00h)
Gdansk to Wroclaw (IC Train takes around 6:00h, now only 4:45h)
Lodz to Wroclaw (IC Train takes around 3:30h)
Czestochowa to Wroclaw (IC Train takes around 2:00h)
Trains from Ukraine to Wroclaw:
Actually there is a direct night train connection from Lviv to Wroclaw which leaves at around midnight from Lviv and arrives around noon in Wroclaw. However, we were not able to validate how tickets can be bought, so you might need to check with your local office at the train station if they can buy tickets.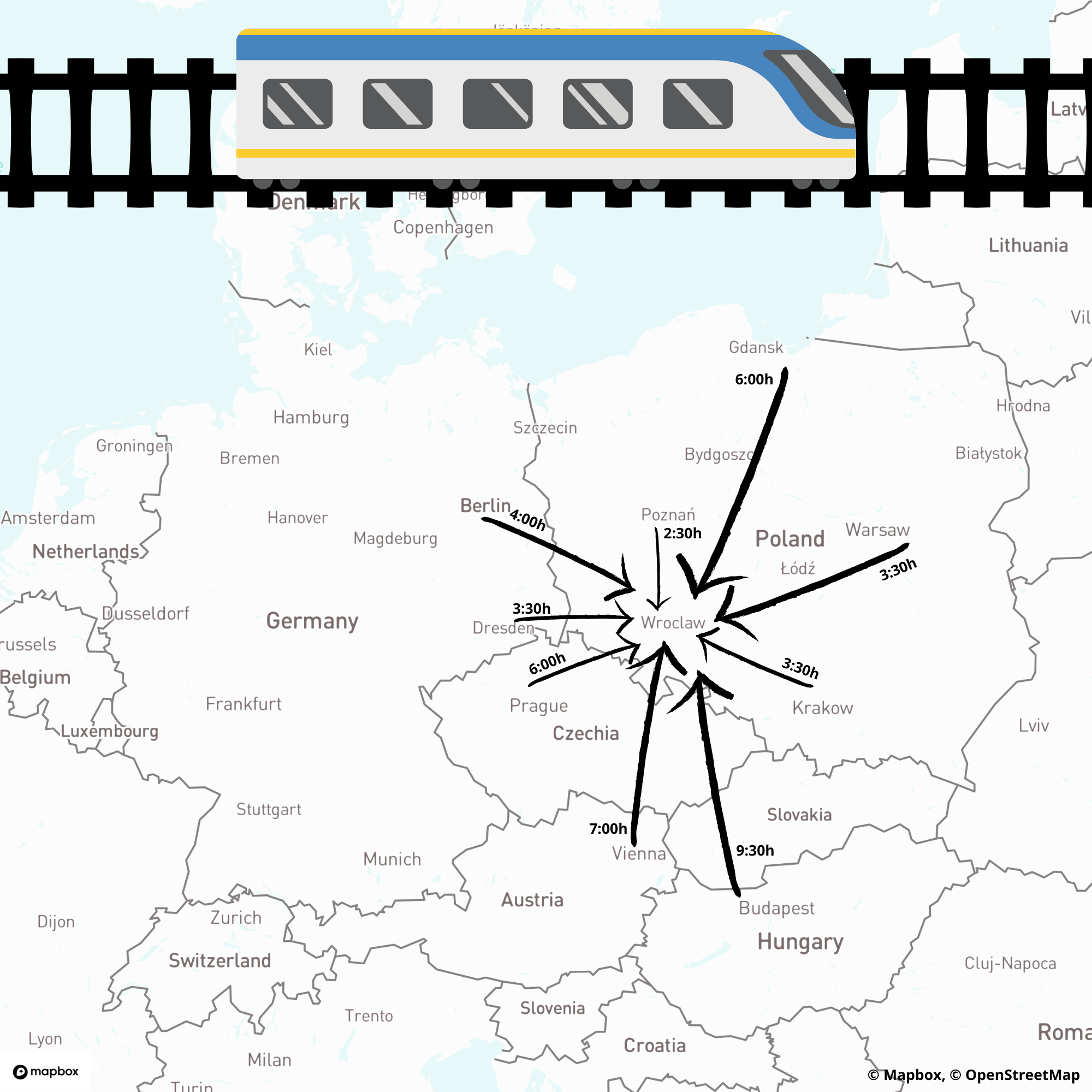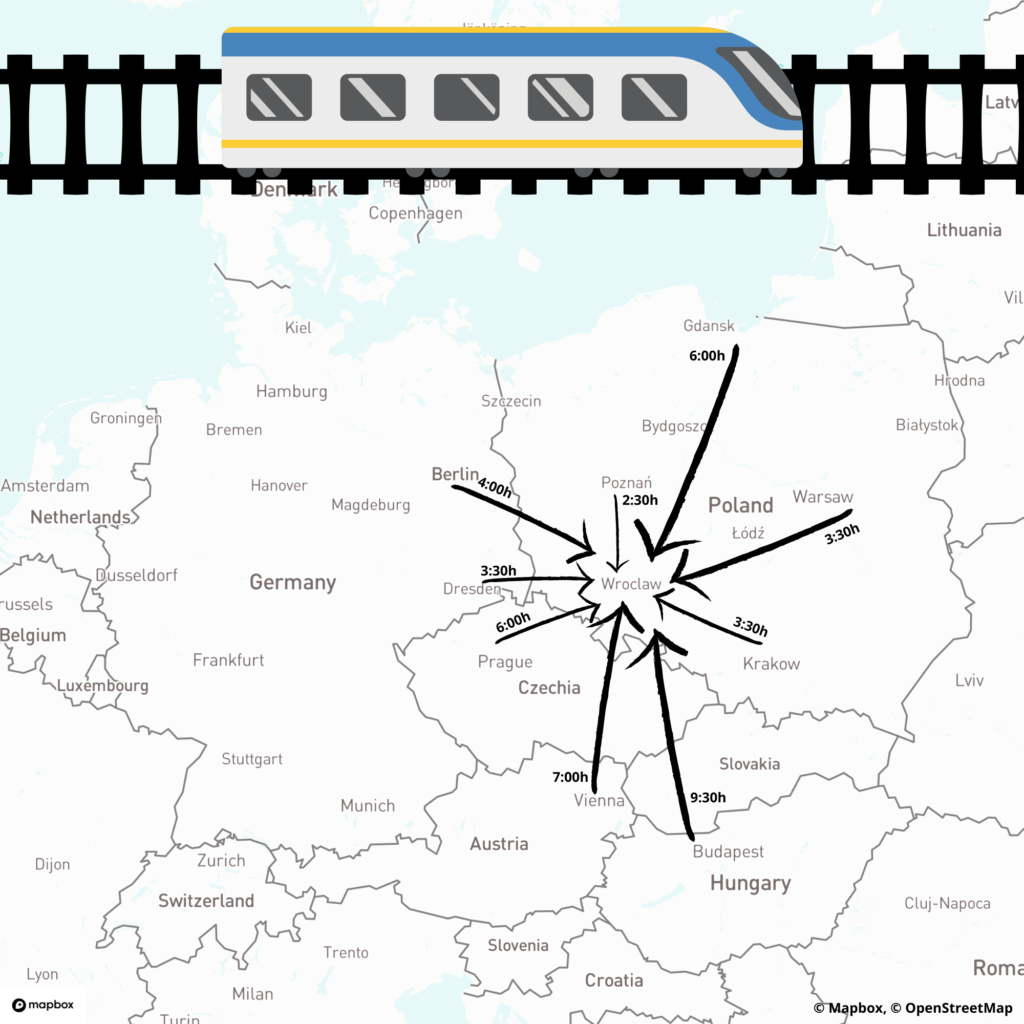 At the moment, we have the following airlines with direct flight connections into Wroclaw International Airport:
Low Cost Airlines:
Regular Network Airlines:
SAS Scandinavian Airlines
Air France / KLM
For most routes, the low cost airlines do not have daily flights but are less expensive (check your luggage policy though!). The network airlines on the other hand operate daily flights. They are more expensive but connecting every large city in Europe via their hubs.
In Wroclaw actually most flights are operated by Ryanair and Wizz Air. As finding the best fares can be tricky, we recommend the comparison tool from Opodo here. They have both the network airlines but also the cheap airlines like Ryanair. In many cases actually a combination from Eurowings and Ryanair is less expensive than both flight legs with one airline, but find it out for yourself.
On the website from Wroclaw Airport you will also find a timetable ofall direct flight connections to Wroclaw – click here.For example, in 2023 the first intercontinental direct flight from Wroclaw to Seoul (Korea) has been announced.
If you fly to Wroclaw and arrive at the airport, we recommend you to check out our article on the best ways to go from Wroclaw airport to the city centre for more details.
If you need a rental car at Wroclaw Airport, we recommend to check MietwagenCheck/DriveBoo here. Of course you could book directly with Sixt or the other large companies… But especially in Poland and Wroclaw we made quite good experience with this rental car comparison tool – we were able to find cars for only 5,99 EUR per day!
Driving to Wroclaw by car
Thanks to the European Union, most of the roads to Wroclaw have significantly improved over the past years. Here you can find the distance and travel time from what we consider the most significant surrounding cities.
We also recommend you to check BlaBlaCar as frequently we could find very cheap options by using carsharing. In addition, this would save you the hassle of traffic jams in the city. It also will be a challenge to find a parking lot as free parking is not available in the city centre.
From Germany:
Berlin to Wroclaw – 4:15 hours (346km)
Dresden to Wroclaw – 3:00 hours (270km)
Görlitz to Wroclaw – 2:15 hours (174km)
Leipzig to Wroclaw – 4:00 hours (382km)
Nuremberg to Wroclaw – 5:45 hours (577km)
From Czech Republic:
Prague to Wroclaw – 4:00 hours (332km)
Ostrava to Wroclaw – 2:45 hours (242km)
From Poland:
Poznan to Wroclaw – 2:30 hours (172km)
Warsaw to Wroclaw – 3:30 hours (348km)
Lodz to Wroclaw – 2:15 hours (216km)
Katowice to Wroclaw – 2:20 hours (200km)
Krakow to Wroclaw – 3:15 hours (272km)
From Austria:
Vienna to Wroclaw – 6:00 hours (536km)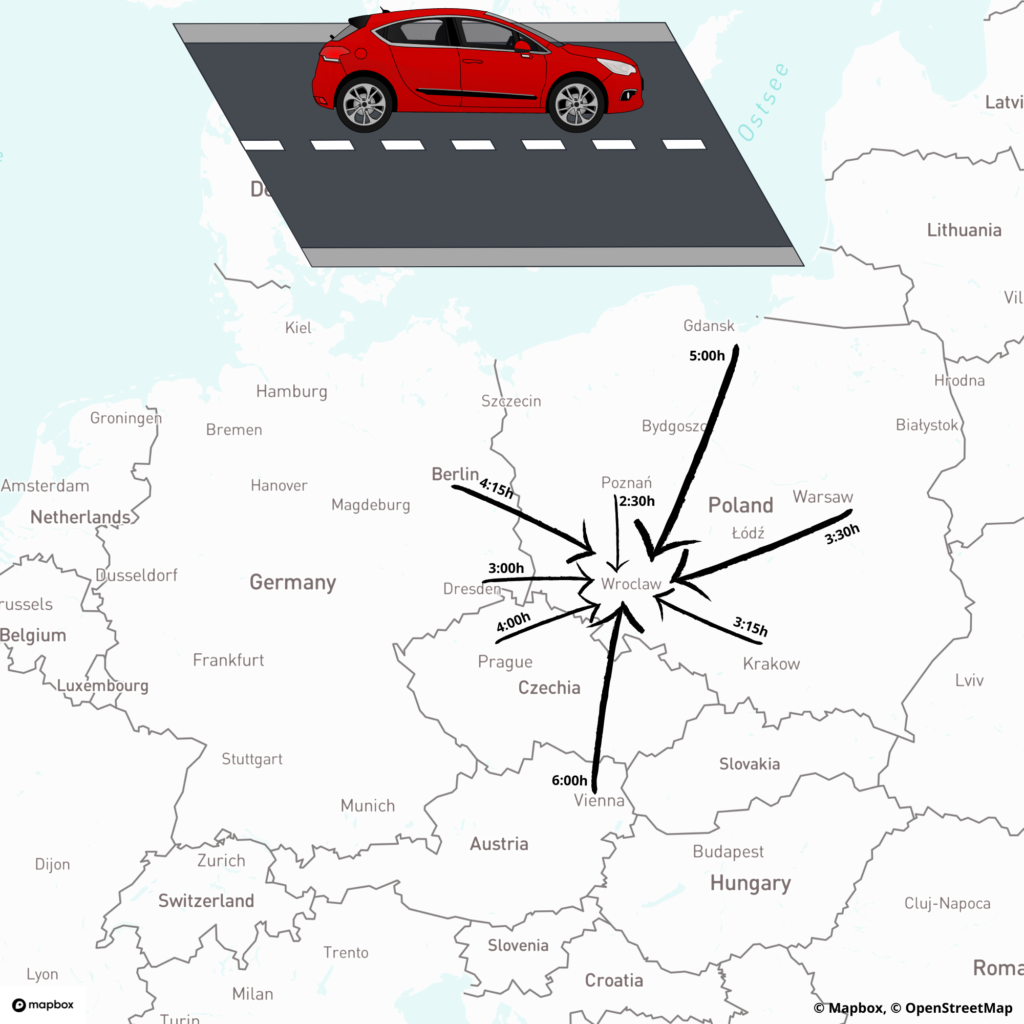 Travelling by bus to Wroclaw
Earlier we already told you that the main train station in Wroclaw is one of the few without integrated shopping mall.
The opposite is true for the main bus station ("Dworzec Autobusowy") as it is located in the basement of the Wroclavia shopping mall. That is why a lot of people departing from Wroclaw are confused when they end up in a shopping mall instead of the bus station. No worries, you are at the right spot, you just need to follow the signs and then get downstairs.
Very often people also ask "what does Wroclaw DA mean". It is the short version for Wroclaw Dworzec Autobusowy. You are welcome.
The bus connections from Wroclaw are very frequent, but after the consolidation of the bus market in Europe, the main operator here is Flixbus. The exception of other bus operators is mainly on some more local and domestic routes.
The travel time always depends on the time of the day. In addition a few cities like Berlin or Prague have multiple departure stations.
Here are the most popular bus connections to Wroclaw with approximate travel time.
From Germany:
Berlin to Wroclaw (4 to 5 hours)
Dresden to Wroclaw (3,5 to 5 hours)
Leipzig to Wroclaw (6 to 7 hours)
From Czech Republic:
Prague to Wroclaw (4 to 5 hours)
From Poland:
Poznan to Wroclaw (2,5 to 3 hours)
Gdansk to Wroclaw (7,5 to 8 hours)
Lodz to Wroclaw (3 hours)
Katowice to Wroclaw (2,5 hours)
Krakow to Wroclaw (3 to 4 hours)
Warsaw to Wroclaw (4,5 to 5 hours)
Click here to check the FlixBus Homepage for latest fares and connections.
If you really like to take the bus to Wroclaw, there are even direct international long-distance connections overnight. Here is the overview of the most popular routes.
From Belgium, Netherlands and Germany:
Brussels to Wroclaw (16,5 hours, with stops in Maastricht, Mönchengladbach, Krefeld, Duisburg, Essen, Dortmund, Halle, Leipzig, Dresden, Görlitz, Zgorzelec and Boleslawiec)
Düsseldorf to Wroclaw (12 hours, leaving at around 22:00h and arriving at around 10:00h)
From Denmark:
Copenhagen to Wroclaw (12,5 hours, leaving at 21:00h and arriving at 9:30h)
From Austria:
Vienna to Wroclaw (7,5 hours, leaving at 13:00h and arriving at 20:15h)
From Ukraine:
Kiev to Wroclaw – just announced, more details to come
Click here to check the FlixBus Homepage for latest fares and connections.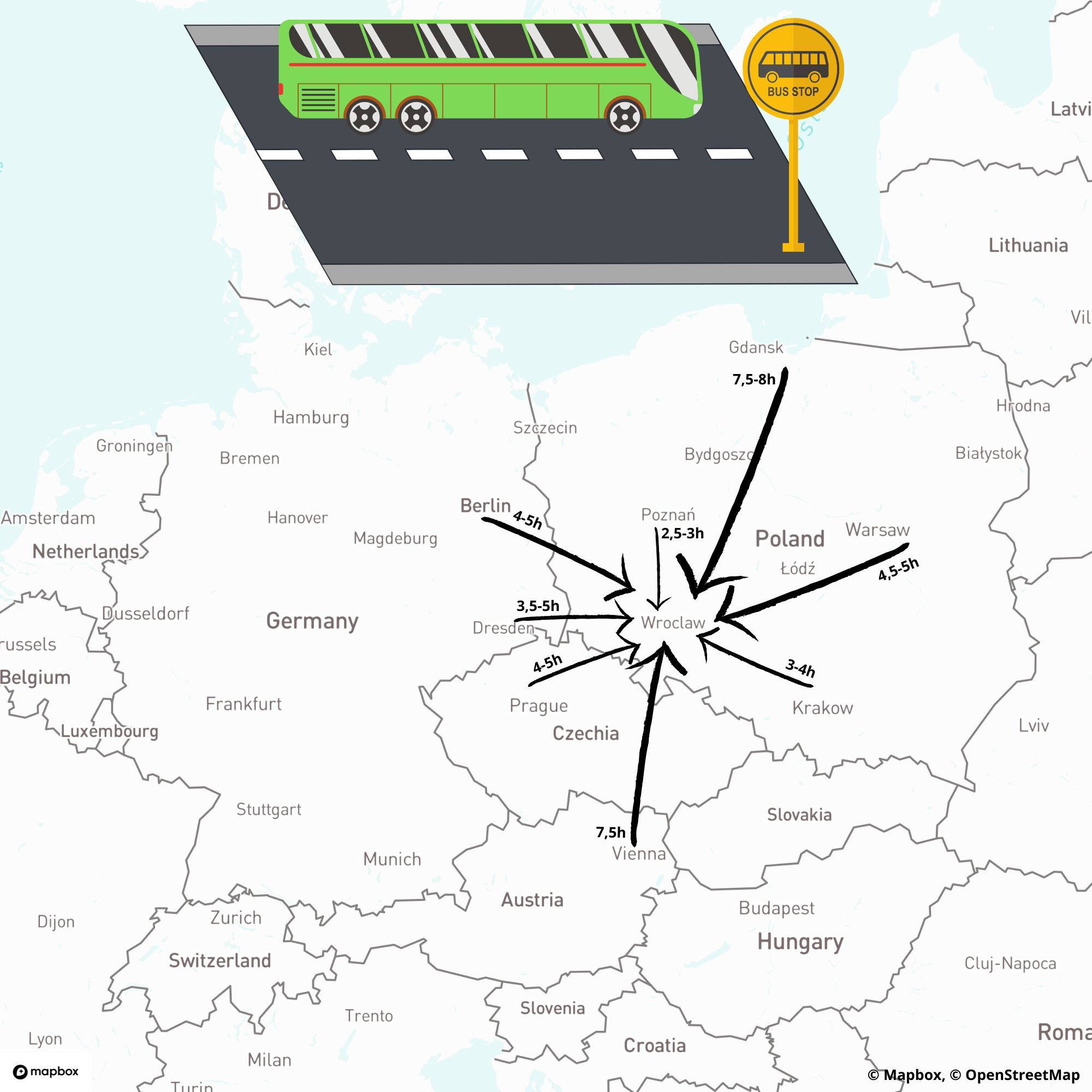 We hope that we could give you a first overview of all options to travel to Wroclaw. Of course we try to update this post frequently and anytime we get aware of any changes, we will do so.
Did you already check for a good hotel, hostel or apartment in Wroclaw? Here our recommendations.
Maybe you are also interested to learn about the things you should avoid in Poland?
Another website that we recommend for travelling in Poland is E-Podroznik. It combines train and bus options and shows you the available fares. 
Please help us and leave a comment in case some information is outdated, that we can update the post again. Also if we missed some important information, let us know and we are happy to add it.
After arriving in Wroclaw, check also out all the best things to do in Wroclaw!