Diesen Text gibt es hier auch in Deutsch
The 10 best hipster things to do – alternative Wroclaw
⇨ Here are some amazing hotel deals for summer 2021 in Wroclaw at the moment, some hotels as low as 30 EUR per night - with free cancellation just in case! ⇦
Here we will tell you the secrets about the most alternative things that you must see in Wroclaw. As locals we know the hipster vibes of the city much better than any travel guide.
Our recommendations here are truly the things that we enjoy ourselves. We spend a lot of our time in more alternative parts of Wroclaw (when we are not travelling ourselves). Now let us explore the hipster side of Wroclaw together!
But don't panic if you are just looking for the "classic" things to do and see. We will provide you also with that information in our "sister article" about the best 10 classic things to do in Wroclaw.
The port miejski in Wroclaw was built from 1897-1901 as a city port. However, most of the infrastructure is not in use anymore today, only the rail connection is still working. In general around the port area you will just find a few companies operating today.
The vessels you see in this part of the Odra river around the port mainly carry coal for the power plant close by. Also the conveyor belts for the coal look very much like they scream for pictures.
You can freely access the port area and walk around, at least we never had problems and sometimes met other people too. It is the perfect spot for instagrammers and photographers looking for lost places, abandoned buildings or unique urban areas.
Best way to get here is to take a tram to the station Kleczkowska or have a half hour walk from the city centre.
In the heart of the Grundwald student district and just in front of the "manhattan skyscrapers" you can find this little lovely hidden gem of alternative Wroclaw.
Somebody just started to put up a street food truck and that is how it started. Last time we checked it, we found tex mex food "Panczo" and "Osiem Misek" with Asian fusion cuisine. We also recommended them in our article about the best street food in Wroclaw. Certainly most important is the craft beer truck from Kontynuacja.
Covid-Update from September 2020: Currently the street food area does not operate, but to explore something similar and very, very local and off the beaten path, we recommend you a visit at Nasyp.
Right behind the food area, you will find one of the coolest vintage shops in Wroclaw. You better have some space left in your luggage!
You will run into this hidden gem when you navigate to the tram station "most Grunwaldzki". Also walking which takes just 30 minutes from the centre is a good option.
In front of the manhattan like skyscraper you will see the spot quickly. Click here to navigate to "Craft na Manhattanie".
3. Visit the contemporary museums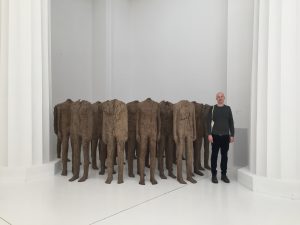 There are plenty of cool museums in Wroclaw, but we have to insist on two museums you MUST visit.
They always have such amazing contemporary pieces in their exhibitions. Very likely you will also find quite controversial art, so if you are into it, you will love both of them.
But not only the exhibitions of those two contemporary museums are worth a visit. The buildings themselves are landmarks of alternative Wroclaw and you can't miss them.
MWW – Wroclaw Contemporary Museum
The first one is the Wroclaw Contemporary Museum ("Muzeum Wpolczesne") at Plac Strzegomski 2a.
When you see a huge train that comes out of the ground directly heading towards the sky, you are at the right spot. That train to heaven is actually the largest public artwork in Poland and has a weight of around 90 tons. You will most definitely find some weird things here! We were afraid to put some pictures of exhibits online, you might find out why… Here is more information on their website.
When you get into Wroclaw by plane and take a car to the city, this museum is on the way from the airport to the centre. It is hard to miss the giant train en route.
After the visit you can enjoy a coffee in the roof top cafe with a great view of the city. The cafe is accessible without buying a ticket for the museum and totally worth it alone.
The Four Domes Pavilion
The second contemporary museum that we recommend is the Museum of Contemporary Art. The second name is four dome pavilion, in Polish "Pawilon Czterech Kopuł". The building has, you might have guessed it already, four domes. It is as interesting as the exhibitions itself and full of natural light.
Meet this beautiful piece of architecture at Wystawowa 1. One of the highlights is the permanent exhibition of Magdalena Abakanowicz which is in the picture. Apart of her works, you will have the opportunity to see other internationally recognized modern artists. Check their website for latest information. 
Games & Computers of the past era
We have one more thing to recommend here, although it is not a contemporary museum. In Wroclaw we have the museum of "Games and Computers" of the past era. This is a truly unique and hidden gem that we have never seen in any other city.
You will find anything from a classic pinball game over Nintendo, Sega, old MS-DOS games, Apple, Commodore 64, a race simulator and much more. Easily you can spend a few hours here with the games from the past. Here is the link to their website and if you want to navigate there, click here.
More museums in Wroclaw
Of course these are just the "unique and alternative" museums, but we also wrote an own blog post about the 15 best museums in Wroclaw, which you find here.
4. Enjoy the beach bar life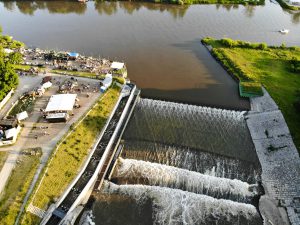 You have not heard about the beaches in Wroclaw because you always thought the city does not have any access to the sea? You are both right and wrong. Wroclaw might not be the best starting point for sailing adventures on the ocean, but Wroclaw has the Odra river. 
Typically the beach bar season starts in late April and then lasts till October. Every summer the beach bars are open where you can practise yoga, built sandcastles, see free concerts, enjoy some drinks, meet nice people, experience a romantic sunset, get wasted, show your body, and much more!
Of course we have created a list of our favourite beach bars in Wroclaw, which you can find here!
And if you are more into the regular nightlife, here are our favourite bars of Wroclaw.
If you want to learn more about the Odra river, we recommend the Odra Centrum, a floating house which is a cultural educational center!
5. Check out the ugliest building in Wroclaw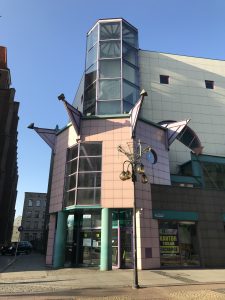 Designed by the Polish architect Wojciech Jarząbek, the undoubtful most ugly building in Wroclaw waits for you at Świdnicka 21-23. It is named Solpol and used to be a department store. It took the architect just less than one week to design it. If you believe this is a record, be aware that it was built in just 114 days.
Taste is a subjective thing, but this building somehow is uniting Wroclaw. We personally have not met anyone with a different opinion on the most ugly building in Wroclaw. Still, that does not mean that everybody dislikes it.
In the past years, several attempts have been made to declare it as a monument because of its unique style. On the other hand there are also countless ongoing discussions about demolishing it. The latest status is that eventually it won't be declared as historic landmark.
Now it is up to you to prepare your own verdict!
6. Take a different perspective and explore Wroclaw from the Odra river
From people who love canoeing, you can expect at least one recommendation about paddling in Wroclaw. But frankly, even if you never tried canoeing or kayaking, you should give it a try!
It truly will enhance your view on a city in a way that you never saw before. Of course this is even more true for Wroclaw as the city of bridges. And yes, this beautiful and peaceful picture was indeed taken just in Wroclaw city!
There are plenty of options where to rent a kayak or canoe. We will recommend two kayak rentals to you.
The first one is close to the zoo called "Przystań Zwierzyniecka". If kayaking is not yours, they also have swan boats. That means, if you are heading for a romantic trip, this is your choice.
The alternative is "Zatoka Gondoli" at Jana Ewangelisty Purkyniego 9 which is closer to the centre.
Where to rent a kayak in Wroclaw
From the zoo you will see more nature and some hidden street art under bridges. From Zatoka Gondoli you can explore the famous bridge "Most Grunwaldzki". But also paddle into the Oława river where you will find the only house boat in Wroclaw.
For beginners we recommend the zoo option though, as you will not have a lot of regular boat traffic on that part of the city. But you will see some beautiful bridges with street art underneath. Even better, you also have a beach bar within reach for a drink after. We heard rumours about people who go beach bar hopping by kayak / canoe, but of course only with non alcoholic drinks 🙂
7. Visit the Polish Poster Gallery
Posters and Poland, not only both begin with the same letter, there is a much deeper connection that you might have no idea about yet.
During communist times most of the popular movies from the West were not available in Poland. Some were released many (really, many many!) years later. And back in the times, the movie industry was not as globalized as today. That is just another reason why Polish artists begun to create their own movie posters for the local market.
It was quite common that the artists had no idea what the movie actually was about. They were asked to design a poster based on the title of the movie. And of course, the titles also were "slightly" different from the originals. As example, "Terminator" was not released with this title – but as "The Electronic Murderer". Just imagine an artist who is creating a poster, knowing it will be for the movie "The Electronic Murderer" but nothing else.
However, the poster culture is not limited to movies at all. Poland has various great poster artists with Ryszard Kaja being one of the famous ones.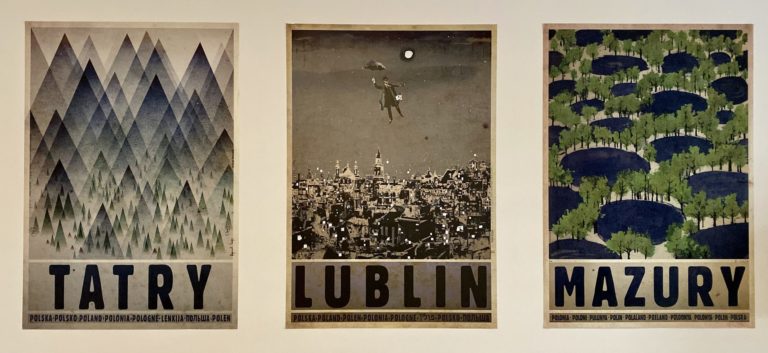 8. Taste Browar Stu Mostów and get lost in the craft beer scene
In the past years, in not only Wroclaw but Poland in general the craft beer scene has expanded significantly. You will find lot of experimental flavours, but also high standard "classic taste" craft beers all over the country. Microbreweries in Poland get very successful and are expanding more and more. During our last trip to Dublin we even found found craft beer from Wroclaw in one of the first pubs we went to.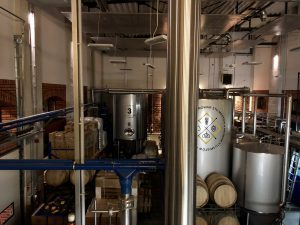 Therefore it is a must to visit some of the craft beer pubs in Wroclaw, but the most unique one is Browar Stu Mostów. Literally it means the brewery of hunderd bridges. That is a strong love message to Wroclaw as the city is considered to be Venice of the east because of all the bridges.
Besides their own beers you also find a tremendous selection of other imported beers. From their pub and restaurant area you will see the production process as visible in the picture.
The food is also amazing and worth a visit! We strongly recommend to start with the malt pretzel. From their changing main menu we believe it is impossible to make a wrong choice.
The location at Jana Długosza 2 is a bit outside, but just a tram ride away. Alternatively it is a beautiful walk along the Odra river from the Nadodrze district.
Craft Beer in Wroclaw Old Town
If you prefer to stay in the city centre, we recommend you those places for craft beer:
More about the best places for craft beer in Wroclaw here in our article about it.
If you are up for a guided beer tour to experience the Polish scene, click here for latest available dates and the best online rates.
10. Visit the Neon Side Gallery and join numerous free cultural events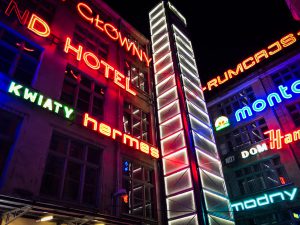 Let us start with the Neon Side Gallery. This gem is a little hidden backyard that serves as a graveyard for old neon signs.
For many years in this spot a company named "Reklama" was based here. They produced those sort of neon signs, but there is no direct connection to the collection you will find today.
In 2005, Tomasz Kosmalski bought the first piece of neon and started the collection that today is managed by the foundation he created.
You can find this unique place which sometimes also is labelled as neon graveyard in Ruska 46c. It is very close to the city center and just a 5-10 walk away, right in the middle of the four denominations district.
Free cultural events
As the neon gallery is hosting countless cultural events, we would like to share the fact with you that the whole city of Wroclaw is full of free cultural events.
Before your stay you definitely should check what is going on in the city during your visit.
Just as example, in this backyard every Tuesday evening a free comedy open mic show in English takes place. If you are brave enough, you will find yourself on the stage very quickly. Even if not, it can be good fun to listen to some uprising international comedian stars here. More on the open mic nights with latest schedules and exact location can be found on the website from World-Wide Comedy.
We can also recommend you to check if Sofar Sounds is organising a secret concert in a special place. You need to apply for a free concert ticket and one day before the concert you will get the location.
Also make sure to get the latest copy of the local culture magazine. It is updated every month and includes all dates for concerts, exhibitions, events, etc. You can find it in most cafes as free copy to take and it is available for download on their website if you click here.
11. Stroll around a very local flea market
We lied to you! We were supposed to have only the 10 best alternative things to do in Wroclaw… But lately we discovered the "Świebodzki" market and could not resist to add it here as number 11.
Every Sunday from 6am to around 3pm you can explore a real local polish flea market at Robotnicza 2. This flea market is quite special as it is located in an old train station. The more you walk, you will realise  that at some point you left the official part and regular people are just selling their stuff on the railway tracks. 
You can find anything from clothes, vegetables, furnitures, books but also a bit of used and weird stuff. The prices here are very low, and for sure that is one of the reasons it is highly popular amongst locals. 
If you like local markets, we have much more information for you! We wrote about the best local markets in Wroclaw here – where you can not only find flea markets but also regional food markets where you get breakfast from the farm to your table.