Diesen Text gibt es hier auch in Deutsch
More than just bus and tram – all about public transport in Wroclaw
Reading our article about public transport in Wroclaw is the first good choice to make. Why? Because it means you probably decided to visit Wroclaw without car. And that is one of the best decisions you can make to get around in Wroclaw. Believe us, there is always traffic jam and you won't find any good parking spots. 
We are going to tell you all the secrets about public transport in Wroclaw here. Why secrets, you ask? Because some things in public transport are a little bit special. At least we have not seen them in this way in other parts of the world.
We will evaluate all the options to get around in Wroclaw. For example electric scooters, citybikes, ridesharing applications like uber, but also carsharing if for any reason you really need a car. Let's get started…
The public transport in Wroclaw is really easy to use, but there are two things which are probably not very common. Let us start to tell you about the connections itself and then we will tell you about what you really should know before using public transport in Wroclaw.
The city is well connected with bus and tram lines, and we promise you can reach every destination with it very conveniently. The information available in Google Maps is quite accurate.
Still we recommend you to use the local application for bus and tram schedules in Wroclaw. It is called "Jakdojade" and also available in English. Jakdojade will tell you the best how to get from A to B by public transport in Wroclaw, we promise you. You find the look and feel in the screenshot.
How to buy a ticket for a bus/tram in Wroclaw?
Now why would you need to ask yourself the question how to pay for a tram in Wroclaw? Because in Wroclaw it is quite different from other cities and countries.
The first option is to find a little kiosk or ticket machine outside and buy the ticket there. But not at all stops one of those will be available.
That is why we suggest to buy a ticket on the tram/bus directly. BUT there is one catch. You cannot buy the tickets from the driver and there is also no traditional ticket machine you know from anywhere else. There are just little screens as in the picture here. You can buy the tickets only with a contactless credit card on the tram/bus!
If you do not have one yet, we recommend the free N26 card to pay in Poland. You can order it from home, no need to go to any office for validation and the process takes less than 10 Minutes. But the best part is that there are no charges for paying in PLN, the real daily exchange rate will be used.
And there is another important information. After paying for your ticket you might expect the paper ticket to come out. But nope, nothing will happen. And that is very right so. Everything is paperless and when you see the confirmation on the display, just have a seat and enjoy the ride. In case of a ticket control you will show your credit card and your purchase will be validated.
You can also buy the tram tickets on apps like Jakdojade or UrbanCard, but actually for single tickets we do not recommend it as you need to enter the wagon number, using the terminals in the tram is much faster for us. Only for weekly tickets they are great, we tell you why further down.
How to find the right bus/tram ticket in Wroclaw?
We are getting to reveal our secret on how to buy a cheap ticket for the tram and bus in Wroclaw. In the standard screen of the ticket machines, you will see the basic ticket for 4,60 PLN. Just touch the button for "more options" and suddenly you will find a 15 minutes ticket! 15 minutes is sufficient for most cases and the fare with only 3,20 PLN is very cheap and much better than the regular choice.
Update: Now on the main screen most trams will show the 15 minutes ticket directly!
There are more tickets available, and if you stay longer, also the multiple day tickets in Wroclaw might be interesting. Here is a little overview of the current fares, valid as of January 2023:
15 Minutes: 3,20 PLN
30 Minutes: 4,00 PLN
60 Minutes: 5,20 PLN
90 Minutes: 7,00 PLN
24 Hours: 15,00 PLN
48 Hours: 26,00 PLN
72 Hours: 32,00 PLN
168 Hours (7 Days): 54 PLN (read below how to get this cheaper!)
Single Ticket (no matter how long, but no stopover allowed): 4,60 PLN
Taking the tram in Wroclaw for free
If you happen to be above 65 years old, you do not need any ticket at all within the MPK bus and trams in Wroclaw – you are lucky enough to get around for free! This rule applies also to non-Polish citizens, we could eyewitness it on our own. During a possible ticket control, you just need to show an official document.
Same goes for children – children up to 7 years old can take the public transport in Wroclaw for free.
For all others who do have the wrong age, there are still two dates where public transport is free:
On the 22. September which is the car-free day in Wroclaw
The last Saturday of August – but you need to carry a book or E-Book due to the European Night of Literature (our alternative guidebook to Wroclaw does qualify!)
Get a discount on the weekly tram ticket
If you use the app Jakdojade or UrbanCard to purchase the 7-days-ticket, you just pay 38 PLN instead of 54 PLN – because then the ticket is personalised and can't be used by multiple people. We recommend this option when you do not need to share the ticket, as the fare is unbeatable for one week of public transport… Thanks to Marc-Oliver from the No Cash blog for pointing this out to us! You just need to have a Polish phone number, otherwise it won't work due to restrictions from MPK Wroclaw, the local public transport operator.
Enjoy your ride with the best fare!
Schematic maps of the tram network in Wroclaw
Unfortunately there is not really a good schematic map of the whole city network of trams in Wroclaw. Online you can find a slightly overloaded version here, but not in the trams. This might be useful in case you want to plan your journey, check alternatives if you get stuck, and in many other cases.
Thanks to the reddit user ArtsfohUtrecht we can share the following self-made map which can be very useful! Just click to enlarge it – this is the latest update from May 2023, which unfortunately already is outdated again for these reasons:
Please be aware that currently the circle lines OP and OL are suspended due to the construction and renovation works of the main street in Nadodrze (ul. Pomorska). After these works will be completed (probably in 2024) the lines should be re-activated.
On the 3rd September 2023, a quite extensive redesign of the public transport network in Wroclaw came into operation. Many lines and connections have changed
We hope that soon there will be a new update of this map, if not, we will remove it again.
2. The new touristic tram and bus (2023)
This year, in 2023, a new service has been launched for tourists! From the last weekend in May to the first weekend in September, the city will be operating special touristic trams and busses.
They will connect the main things to see in Wroclaw and be a new convenient way to get around in the city, below we have the exact stops.
The routes will be even carried out with historic vehicles, so that is just another reason to try it out, for both the tram and the bus lines. 
To buy the ticket (regular tram fares apply, no extra charges!) you can either use the regular machines on the tram as we already showed you above, but on the touristic trams there also will be a conductor available to purchase a "hardcopy" ticket. 
Operation days:
Saturdays, Sundays and public holidays
Timetable:
The first bus leaves at 11:45 and runs every 1,5 hour till 18:00 while the first tram is leaving at 12:00 and runs every half hour till 18:00
T tram line
Opera – Arkady Capitol – Dworzec Główny PKP – Wzgórze Partyzantów – Galeria Dominikańska – most Grunwaldzki – pl. Grunwaldzki – Zoo
Zoo – pl. Grunwaldzki – Szczytnicka – most Pokoju – Galeria Dominikańska – Szewska – Grodzka – Kazimierza Wielkiego – Widok – Opera
Bus Line B
Centrum Historii Zajezdnia – pl. Legionów – Opera – Szewska – pl. Bema – Sienkiewicza – most Pokoju – most Oławski – Hydropolis
Hydropolis – Na Niskich Łąkach – Traugutta – Galeria Dominikańska – Opera – Arkady – Sky Tower – Centrum Historii Zajezdnia
There is a big chance that we all got scammed a few times in our life by taxi drivers taking advantage of our non existent local knowledge. Well, here it is not different than in any other place in the World. Generally taxis are safe to use, but most likely you will end up paying a little bit more than necessary.
That is why we always recommend to use ridesharing applications in Wroclaw. They are cheap, convenient and the risk of getting scammed is almost zero. Typically you will not need to wait longer than 5 minutes to be picked up.
Currently there are three ridesharing applications that we are using in Wroclaw:
Save 10 PLN on your first ride with the coupon code GQ4JT
Save 10 PLN on your first ride with the coupon code mirko216ue
Save 20 EUR on your first ride with the coupon code mirko.see
If you prefer a classic taxi service, we recommend you two companies. Wicar Radio Taxi (+48 725 717 171) and Ryba Taxi (+48 713 067 067). All of them have applications available for your phone. If you prefer to pay by credit card, it won't be a problem and is accepted. But just to be sure, tell your driver in advance.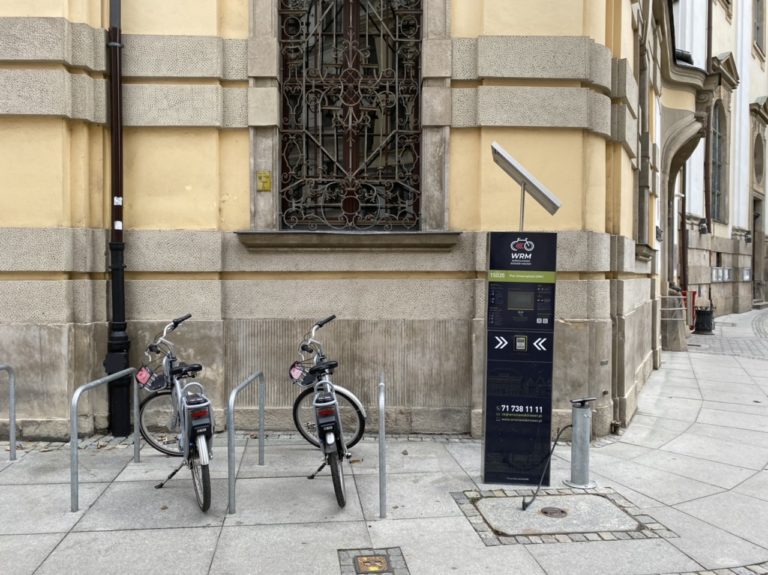 One of our favourite options to get around with public transport in Wroclaw is actually the citybike system. As in the main part of Wroclaw almost everything is within walkable distance, the bike is a good choice to stay active and arrive a bit faster. The advantage of the citybikes in Wroclaw is that the rental and return area is really huge. Even very remote parts of the city are connected and it is possible to return the citybike almost everywhere. In addition, the first 20 minutes are always for free! And let us be honest, normally you don't ride more than 20 minutes if it is just about getting to your destination. After the first 20 minutes you just pay 2 PLN up to one hour and 4 PLN for every additional hour. You find regular bike stations but another great thing about the Wroclaw bike rental system is that you actually can return them everywhere. There is no need to return them to a station, but you pay 5 PLN for this "anywhere return". On the other hand, you will also get a credit of 3 PLN if you take a bike not from a station but return it to one. During summer time this is an amazing way to cycle to a beach bar and just leave the bike there. Actually we have cycled to the airport and just left the bike in front of the terminal. Everything is possible with citybikes! Another important information to add: If you already have a citybike account like nextbike from another country, you can use the same one and do not need to sign up again!
Full Day Bike Rentals
In case you want to make longer trips that require a bit more
comfortable bikes
, there is a bike rental option for a whole day in the city center. If you have groups with more people, that might be a better option as well.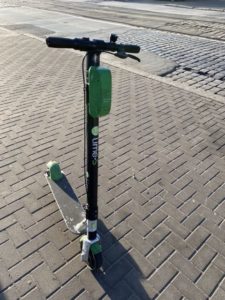 There are only two opinions about electric scooters in Wroclaw which are named "hulajnogi" in Polish language. You either love them or you just hate them! 
On one hand they are celebrated as economical and sustainable addition to public transport. But on the other hand, reality shows that most people use them instead of walking, creating just more traffic. We leave it up to you to make your own verdict.
From once four companies operating in Wroclaw, only two have survived… The green scooters from Lime that arrived first in Wroclaw are still around together with Bolt. As we find them quite expensive, we actually rarely use them.
Enjoy your ride and be careful as some cars in the city centre of Wroclaw just don't care about people with less horsepower.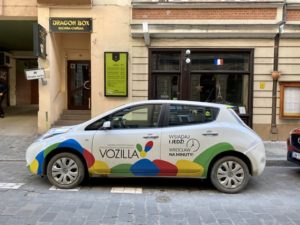 If there is a good reason why you need to rent a car in Wroclaw, you have the option to use carsharing.
When we are heading out with our canoe and end up somewhere in the nirvana, we sometimes use this option to get back home then.
As some of the offers are not really accessible to non Polish speakers, we recommend you the company "Vozilla" here. They have a registration process in English available where you can sign up easily in a few minutes. What we also like is that they have only electric cars.
The area of operation is large, getting from and to the airport is easily possible although it is 10km away from the centre. Visiting a bit more remote places like the Leśnica Castle is also very convenient by carsharing.
The city is broken down into three different areas. The more remote you go, the more you will pay.
UPDATE: Vozilla closed its operations in Wroclaw end of April 2020. The main alternatives available are Panek, Traficar and CityBee. Unfortunately they are not very tourist-friendly as services are only offered in Polish.
Alternative to Carsharing: Rental Car in Wroclaw
If you want to book a rental car in Wroclaw, of course you could just book it from the large companies like Sixt. But we have a special recommendation for you. In Poland we made the best experience with MietwagenCheck/DriveBoo and their comparison tool.
No worries, it is available in English language as well 🙂 But there several companies are connected and we were able to find cars from Wroclaw airport for only 5,99 EUR per day. So if you want to go for a cheap car rental in Wroclaw, this is the one!
You might ask yourself if there is public transport on Odra river in Wroclaw. At this time, there is no regular boat service on Odra river that is used as public transport, but the city has started a project to see if public boat lines can be established and hopefully soon we can share more on that topic.
Many companies offer roundtrips on Odra river, but it is no option to just get from point A to B in the city. On these tours, we have created a separate post here – the best river cruises and boat rides in Wroclaw.
We hope that at some point, a genius person will invent the beach bar shuttle boat which we would recommend for sure 🙂 
Yes, we had to add this. Walking is always the best option if you are not in a rush. Why? Because you will see a lot of things on the way and explore Wroclaw in a very local way. You also save the environment, promote an active lifestyle for yourself and ensure our kids will grow up in a better world 🙂
We hope that you liked your article about getting around in Wroclaw by public transport. Naturally some of the information here might change over time and we try our best to keep everything up to date. If you find something outdated or believe that something is missing here, please help us and other visitors by providing us feedback. You are invited to use the comment section below.
As you now know how to get around in Wroclaw, do not miss our articles on what to do in Wroclaw!