Diesen Text gibt es hier auch in Deutsch
Our favourite Wine Bars in Wroclaw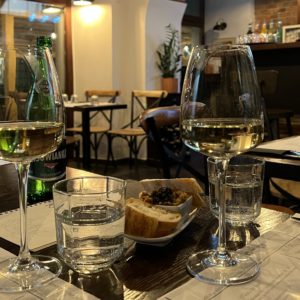 In the past we have covered some nightlife topics with drinks, cocktails and craft beer, so now it is time for a little deep dive into the Wroclaw Wine Bar scene!
When it comes to that, we have to say that we definitely enjoy some nice evenings in cozy wine bars in Wroclaw! And today you are very lucky as we are going to share our favourite wine bars in Wroclaw with you 🙂
You might also be surprised when it comes to the subject of Polish wine – something which is mostly unknown in the world today… But has started to pick up in recent years quite a bit! That is why we will also highlight the places where you will be able to try some local grapes from Lower Silesia.
1. Cocofli
We are going to start with one of our favourite places for wine in Wroclaw – the Cocofli which is located in the vibrant Four Temple District.
This is not only a wine bar, during the days it is a hybrid between book store and speciality café, but in the evenings (or earlier, if you like to!) it is one of the most cozy wine bars you will find in Wroclaw!
The great thing here is, that in terms of taste pretty much everybody will be happy with the selection. There are lots of classics from France, Italy, Spain, Germany and other popular wine producing countries, but they have a great selection of local Polish wines from Lower Silesia too.
In addition, some delicious chocolate truffles are waiting for you and a perfect addition to a nice glass, bottle, or carafe of wine.
We have not mentioned yet the super friendly staff and the fact that on the large couch it feels like the natural extension of your own living room.
2. OK Wine Bar
The OK Wine Bar is not only a wine bar as the name might suggest. Actually it is one of the fine dining restaurants which we recommend in Wroclaw – here we wrote more about it.
But anyway, here you can get (besides of excellent food) a high class selection of wines and probably also one of the most extensive choices for champagne and other bubbly drinks. However we have to disappoint you if you believe these are cheaper in Poland – they are not… But here they come with an excellent service and amazing views, perfect for a romantic dinner!
And check the amazing cheeseplate you can get along with your wine! Did we mention the absolute amazing top-notch service yet? Well, here you can navigate to OK Wine Bar….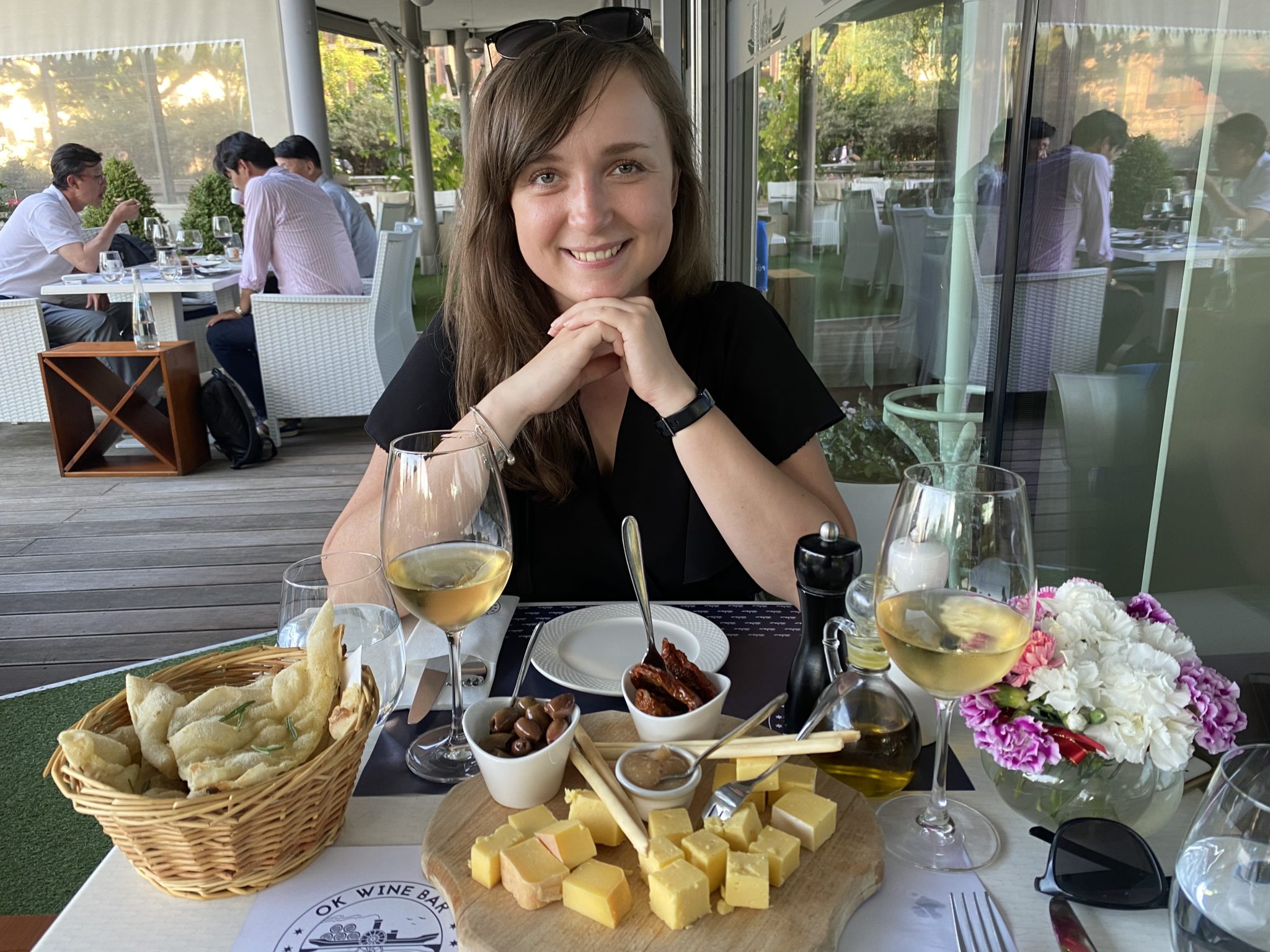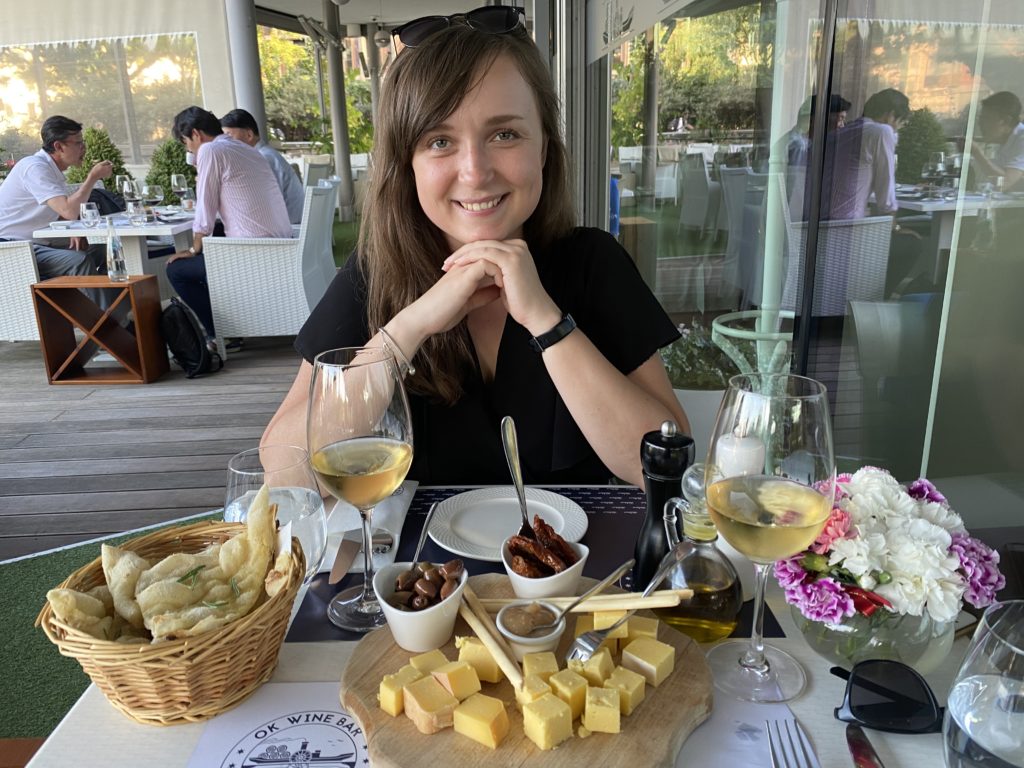 3. Pociąg do wina
We proceed with a little hidden gem as Pociąg do wina is something you definitely would not run into by any accident. It is a little cozy wine shop and wine bar in the alternative district of Wroclaw – in Nadodrze.
With main focus on Spanish wines (you can speak Spanish here without any problems by the way!) there is a decent selection of great wines from Germany and Italy too. If you have not tried some Riesling from the Mosel area in Germany, this is one of the places to do it.
As you can see in the picture, little tapas are also available and created with lots of love. Besides some olives, there are interesting combinations of baguettes which we highly recommend. We love the one with goat cheese, pistachio and quits.
Oh, and not to forget – a lot of the Spanish wines are actually available directly from the barrel. So if you have an empty bottle, just bring it and have it re-filled. During the hard lockdowns, we "sourced" quite a lot of Spanish wine from this nice place, our recommendation is the Alleja if you like white and sweeter wines.
Click here to navigate to the lovely Pociąg do wina. (Which means train to wine and is a wordplay with double meaning – it also means desire for wine…)
4. Winnica na Solnym
This recommendation is a particular great place in summer with the little hidden backyard at the Salt Square!
It is not one of the very sophisticated modern and fancy places, but feels very familiar somehow. Just close your eyes and imagine a little cozy southern country living room where you are invited by a huge family you do not know, surrounded by many bottles of wines.
Although Cocofli really had this living-room atmosphere already, we would say that Winnica na Solnym has the same but in a more southern interpretation 🙂
Visiting friends, sitting in the kitchen and enjoying a glass of wine might be the best way to describe the feeling here.
The selection of wines has a clear focus on France and Italy. A wide range from the best wine regions is waiting here for you, we really got into the natural wines.
5. Kapka Wina
Kapka Wina used to be the "La Winotheka" Wine Bar up until recently. It was on our list here before and we finally managed to visit it under the new ownership.
Actually it has evolved from the place we had described before as "very touristy" to a nice and cozy wine bar where it now is even more pleasant to spend an evening with friends!
The central location just next to the main market square but hidden in a backyard makes it a good and central choice, in summer even with outdoor seating space.
The wine selection is very broad, we enjoyed some Georgian wine here last time (it brings us back mentally to some holidays we could spend there in 2018, enjoying some wine tours and the beautiful nature!). And there are tasting events as well, for example Ukrainian wines were up next when we came, check their facebook page for the latest ones here.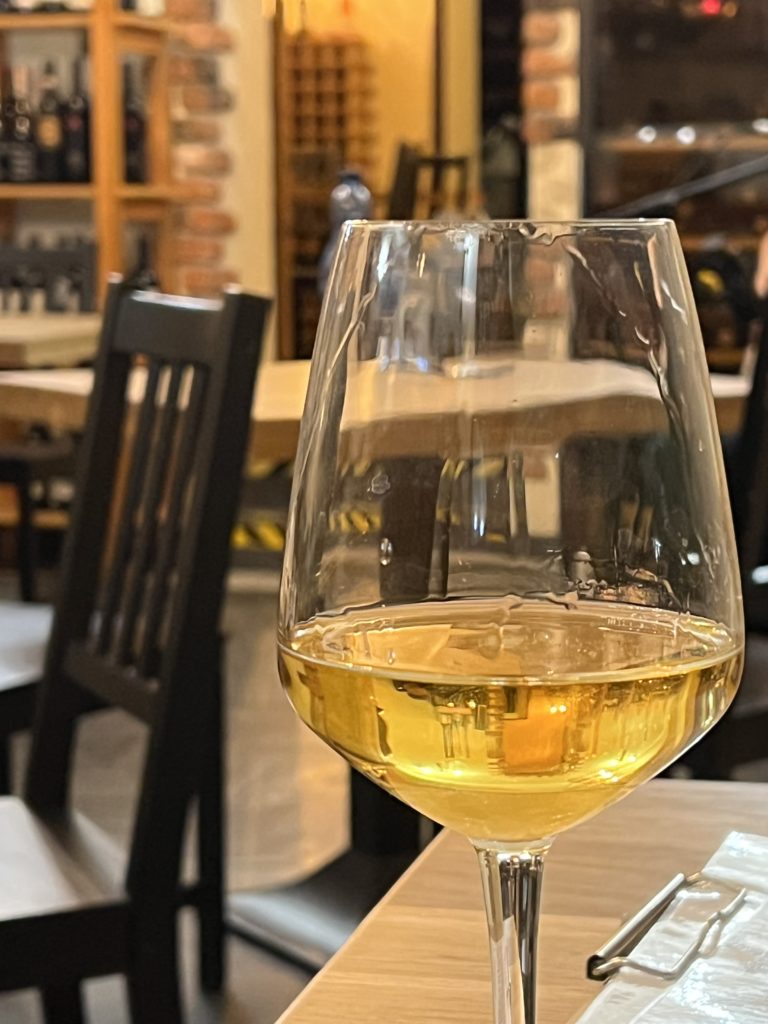 6. Pijalni Wine Bar
The second wine bar in Nadodrze on our list, and another new reason to visit this underrated area.
The Pijalni Wine Bar has just opened in 2022 and with its minimalist design the focus is 100% on the important things here: The wine and the delicious cheese plates!
In their selection they have really great wines, some from regional producers, but also a constantly changing international selection, to make sure you will have a great experience in wine tasting.
Be sure to get the cheese plate as well, it is of regional origin and you are supporting small cheese dairies in the Wroclaw area – the taste is amazing!!!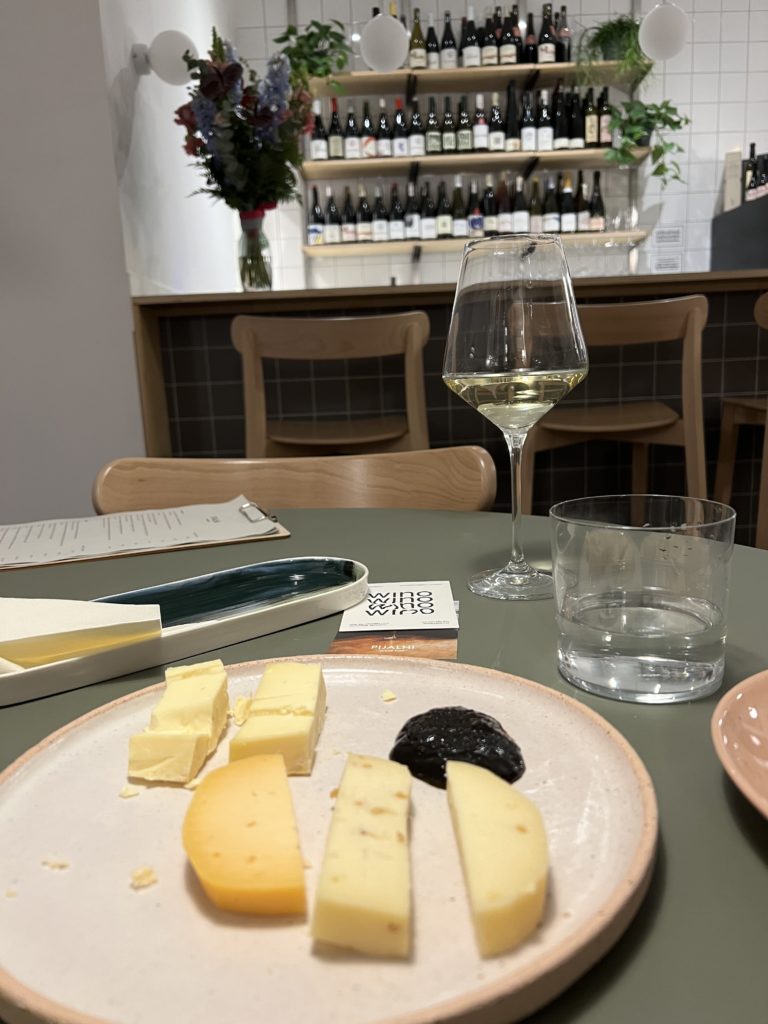 7. Moravia Wine Bar
Czech people are famous mostly because of good beers, but do you know they also are great winemakers? Our next recommendation has opened in 2023 in the Old Town Boulevard and as you might guess from the name, is pretty specialized.
The main focus are wines from the Moravia Region in Czechia. It is run by people who know that area well, one of the owners used to live there for more than a decade.
They are very good with recommending you a good fit based on your taste and preferences. Check their schedule for special events, for example tasting of the "young wines" and more.
Wineries around Wroclaw: Regional Polish Wine
And if you want to go one step further and actually visit some producers of great regional wine from Lower Silesia, that is no problem at all.
We have published a separate blog post about our favourite wineries around Wroclaw here. We really can highly recommend to visit some of them as day trip or even a little weekend get away from the city. You won't regret it 😉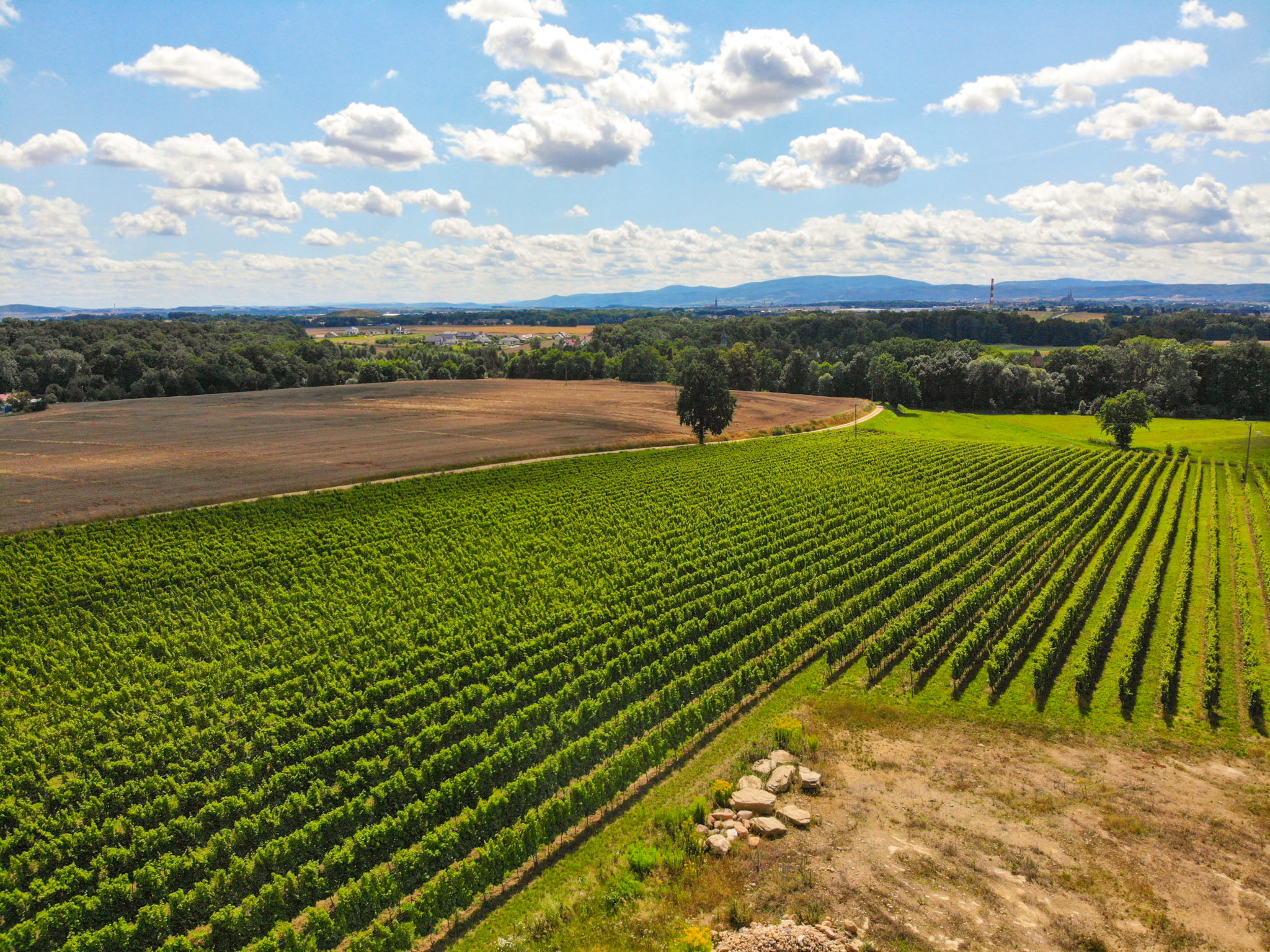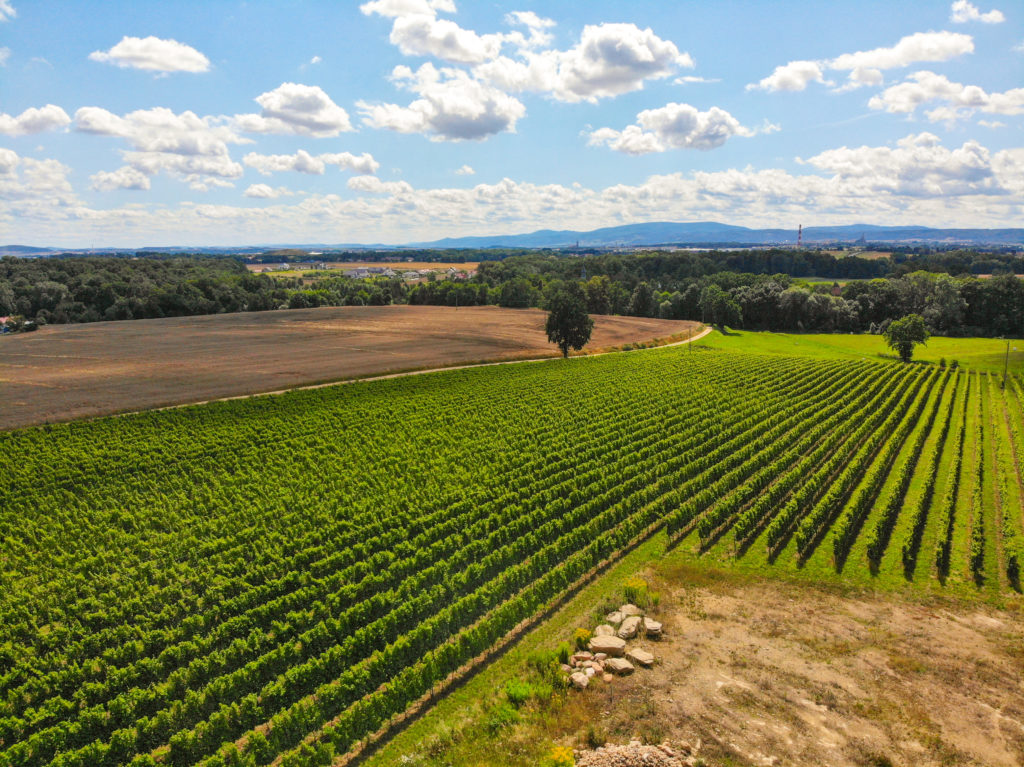 ---
We hope that you enjoyed our post about the best wine bars in Wroclaw! After so many pictures of glasses full of wine, we are sure that you got thirsty by now 🙂 If you want to check our other nightlife recommendations in Wroclaw, here you go.
And as always, if you have any remarks, comments, suggestions, maybe you know even better wine bars, please let us know that in the comment box below!