Diesen Text gibt es hier auch in Deutsch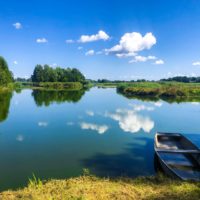 The 5 best day trips from Wroclaw
⇨ We made a pre-selection of the best AirBnBs, Hotels and Hostels to stay in Wroclaw, no matter if you look for budget options or some luxury - check out our post with recommendations here ⇦
You are looking for the best day trips from Wroclaw? We have tried all of them ourselves and will share our top favourites day trips here. 
Let us be honest, we were very surprised how close to Wroclaw we found so many hidden gems. We would not have expected something like paradise and nature within less than one hour of driving time. 
We are very excited to get started with our absolute favourite day trip from Wroclaw at the very beginning!
1. Barycz Valley Landscape Park
There is only one thing that we regret about our trip to Barycz Valley Landscape Park. That we have not started earlier to go there on regular basis! 
It is the true paradise for nature and outdoor lovers. There are so many great things to do and we have to limit ourselves here telling you about the most important ones.
Rent a kayak or canoe
The Barycz river is a right tributary of the Odra river and is 136km long. It is super diverse and the river looks completely different every few kilometers. Also the infrastructure is excellent, during our trips we found little wooden piers at most bridges and weirs. That makes it incredibly easy to get in and out of the kayak.
Multiple kayak taxi companies are available along the river. They can bring you and your kayak anywhere and most of them also rent kayaks if you do not have your own.
We recommend you to start around Milicz which is only one hour away from Wroclaw. The easiest option is to take a rental car, but also bus and trains are operating to Milicz.
We recommend this page here to check out more details about the potential kayak trips on Barycz river. Unfortunately it is available only in Polish.
Rent a bicycle and explore the lakes
After we were quite exhausted after a day full of canoeing, we stayed for a night in Milicz. One of the best things to do in Milicz is to rent bicycles and just head out to explore all the lakes. 
There are plenty of companies available for bicycle rental, some even have electric ones. We rented from a guy who actually brought the bicycles to our hotel – but as we had the feeling it was a bit overpriced we do not recommend him here.
During our last trip, we just took a route towards all the lakes you see east of Milicz. There are some small villages on the way (Ruda Milicka, Stawno, Nowe Grodzisko, and much more) where you go through but do not expect a lot of things to do there apart from enjoying the nature. Most of them do not even have a restaurant, that is why we recommend you to plan a lunch break at "U BARTKA" at Średzina 5 in the little town of Nowy Zamek. You can expect very fresh fish dishes and cold drinks 🙂
Explore Milicz as a real little Polish town
Life in Milicz looked actually pretty real to us. With that we mean that nobody actually expected busloads of tourists here, although of course you can see that the city benefits from the Barycz Valley Landscape Park.
If you decide to spend a night here, you will be able to explore some cool ruins but also experience a quite empty market square on Saturday night. What you should not miss is the beautiful church of grace which was built in the early 1700's.
We hope that all this information made you curious to see more of the Barycz Valley Landscape Park!
How to get best from Wroclaw to Milicz?
One possible option is the train which runs 3-5 times per day, here you will find more information on how to get around by train from and to Wroclaw.
Another option is the car, if you do not have your own, we recommend a rental car. With this portal here we made quite good experiences and got rental cars for just 25 PLN per day already a couple of times.
Where to stay in Milicz?
If you consider to stay overnight, we have already been at the Hotel Libero in Milicz. That was quite decent but you won't have much choice anyway 😉
Even better and directly in the nature, surrounded by nice lakes and a landscape park museum, is the Hotel Naturum, although it is not really accessibly by public transport and you definitely will need a car. Nevertheless, that is our clear favourite.
2. Peace Church in Świdnica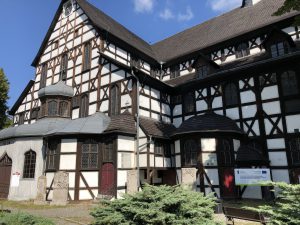 We just told you about the church of grace in Milicz and now another church? Yes, Poland actually is the country of churches. Even if you might be bored of visiting churches in every city you visit because they look all the same… Trust us, this one is different!
It is listed as UNESCO World Heritage Site and considered as one of the most remarkable landmarks in Lower Silesia. You ask why? It is the largest timber-framed church in Europe!
Now the question is, if you are really into churches or not. If you are really into it and want to make a picture of every single element, go for it. But if you typically do not spend hours in churches, we have the perfect idea for you.
If you consider going to the mountains in Karkonosze National Park, the peace church is on the way! It is perfectly easy to combine it and every time we go to the mountains… Guess where we stop!
The reason is not only the church but also the cafe which is attached to it. Have an amazing breakfast at the "Baroccafe" (Plac Pokoju 7 in Świdnica) and you will arrive at Karkonosze National Park full of energy!
If you want to read more about it and about the other peace church, check out our article about all UNESCO World Heritage Sites in and around Wroclaw.
3. Mountains in Karkonosze National Park
Just two hours away from Wroclaw you can find another paradise. This time, we talk about mountains and not lakes which is different but definitely not worse! People travel to the Karkonosze National Park from other countries to spend weeks of holidays there. Being in Wroclaw you can do it in one long day or just plan a weekend trip. 
It is so beautiful and amazing that we just want to let our pictures speak. 
A must try is the smoked cheese with cranberries that you will find at every corner!
Another hidden gem that is truly unique is the gravitational anomaly. You are asking yourself, what that means? Well, in very easy words, gravity does not apply to this magic place. You can put a bottle on the street and it will roll uphill instead of downhill. Same with cars, just remove the gear and you will see your car slowly rolling uphill… You do not believe us? Check out this article and video.
Or would you expect a church here, that has been relocated from Norway to Poland? No, we are still not kidding, we are just introducing the Vang Stave Church to you. Originally built around 1200 and then in 1842 moved to the Polish mountains…
You should consider around two hours of driving time from Wroclaw. For more information we recommend to visit the website of the Karkonosze National Park.
4. Beautiful Old Town of Görlitz in Germany
Have you ever heard about Görlywood? If not, this is the little brother of Hollywood just a few seconds beyond the border towards Germany. 
You are confused and have no idea why? We will tell you. Görlitz actually is one of the most favourite locations to shoot movies across all genres. Almost every time you will find some film teams and maybe you even will meet some famous actors!
Probably the most famous recent movie that was shot in Görlitz is "The Grand Budapest Hotel". Yes it all is a big lie, the hotel was never in Budapest! It is an empty compartment store in Görlitz, Germany. Usually it is closed but around two to three times every month it is open for public. The best part about that: You can visit it even for free – there is no entrance fee.
There is a reason for being Görlywood
The second thing about Görlitz that you should know is that it is full of old beautiful German architecture. Most likely you have guessed that already as why else would Hollywood come here? But there is more to that.
For around ten years, an anonymous donator had transferred around half a million Euros every year to the city. This enabled the city to carry out a lot of expensive renovation and restauration work. There were just two main conditions from this mysterious donator. First that his identity must remain secret (which it still is!). Second, the money may only be spent on the renovation and on nothing else.
Young people moving out and old people moving in
Another truth about Görlitz is that a lot of old German people are living here. One reason for that is the lack of perspectives for the younger people who then move to the large cities. Another reason that the cost of living is very cheap compared to the rest of Germany. Due to those circumstances, a lot of old people move to Görlitz after their retirement where they can afford to live in a palace for peanuts.
You best get to Görlitz either by train, bus or car. By car it will take about 2 hours. The train takes around 30 minutes more as currenly you need to change once. You can find more information on the train and bus connections in our article about how to travel to Wroclaw. This article is also valid for travelling out of Wroclaw and back again 🙂
Thanks to help from our friends who created "Discover Görlitz", we even have a dedicated article about reasons why you should visit Görlitz now.
Last but not least… It is worth to mention that in lower Silesia a special castle route exists! If you are into castles, you can spend two weeks travelling from one castle to another without any problems. Of course only in lower Silesia!
When we talk about the Książ Castle you should know that this is the largest one in the whole Lower Silesia region. It dates back to the 13th century and is full of history.
For example, during the second world war it was part of the secret "Project Riese". This project was so secret that still today the full purpose has not been revealed. We only know that it should be part of a gigantic underground tunnel system. Some sources believe that this should become the main residence of Adolf Hitler.
Parts of the tunnel system are open for visitors and you can book guided tours to see it. We tried it and it was worth to do.
The castle itself is beautiful, from the inside and outside. But if you expect a lot of art and expensive things inside, we have to tell you that you are wrong. The Germans took all the most valuable items when it became obvious they would lose the war.
How to get from Wroclaw to Książ Castle?
Visit this place full of interesting history just 1:20h away from Wroclaw if you take a car. There are also options by train and then taxi, but we cannot recommend this to you unless you speak Polish. When you arrive at the train station there are no taxis. You need to call one or be lucky to find any on the streets which are not very busy.
If you are just looking for an easy option to get there, you should consider a guided tour. There are some options available from Wroclaw. Latest schedules, prices and information can be found here.
We have to apologise for the pictures, but it was a very foggy day as you can see 🙂 And we still prefer to use our own and real pictures to give you a realistic impression on the best day trips from Wroclaw. Here you find some more professional pictures made from tour guides…
From Wroclaw to Auschwitz
We are convinced that you will enjoy the best day trips from Wroclaw as much as we did. Of course at some point we might add more detailled travel reports for some of them but here it already should provide you a good overview of ideas what you can do.
When you get back to Wroclaw, do not forget to check out our articles about the top things to do in Wroclaw!
Do you have some comments on this article? Help us and also help other visitors by leaving your feedback in the comment section below!