Diesen Text gibt es hier auch in Deutsch
Why Nadodrze is the best part of Wroclaw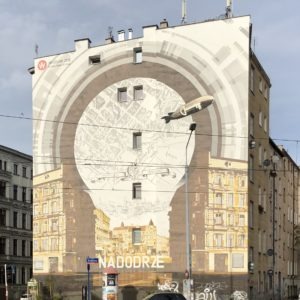 You want to know where the locals go in Wroclaw? You want to explore the best part in Wroclaw? Then we highly recommend you the Nadodrze neighborhood. 
This is the hotspot in Wroclaw for art and culture. While years ago everybody would have recommended you to better stay out of this area, in the last years it turned into one of the most vibrant districts in Wroclaw. Nowadays people often speak about it as "Kreuzberg of Wroclaw" making reference to the rapid changes happening to Berlin-Kreuzberg, transforming from a shady district into a cultural centre.
We are going to tell you the reasons why Nadodrze is so special and what you should not miss when visiting Wroclaw.  
As you might know, till 1945 Wroclaw was a German city called Breslau. Actually Nadodrze is one of the few parts of Wroclaw that were not destroyed too much during the Second World War. Thus, you will only find very few typical sovjet union brutalist architecture but a lot of old German buildings.
Unfortunately in the last decades there were financial challenges to keep all of them in a very good condition. However lately a lot of restauration work is going on, so things are improving a lot. Often it is even a problem to reach all the owners of a building, the real estate community told us.
A unique phenomenon becomes visible
As a result of this situation, German traces are becoming visible again. Due to the poor condition of some houses, the paint is going off and old German signs suddenly appear. You will see very old German company signs and advertisements like in the picture all over Nadodrze.
It is totally worth to stroll around and hunt some of those old German signs. This is how history becomes an exciting part of the present again.
We created a virtual Free Walking Tour through Nadodrze with an overview of all the signs still visible here. This can be done as self-guided walk in real or as virtual tour as we uploaded pictures tooo.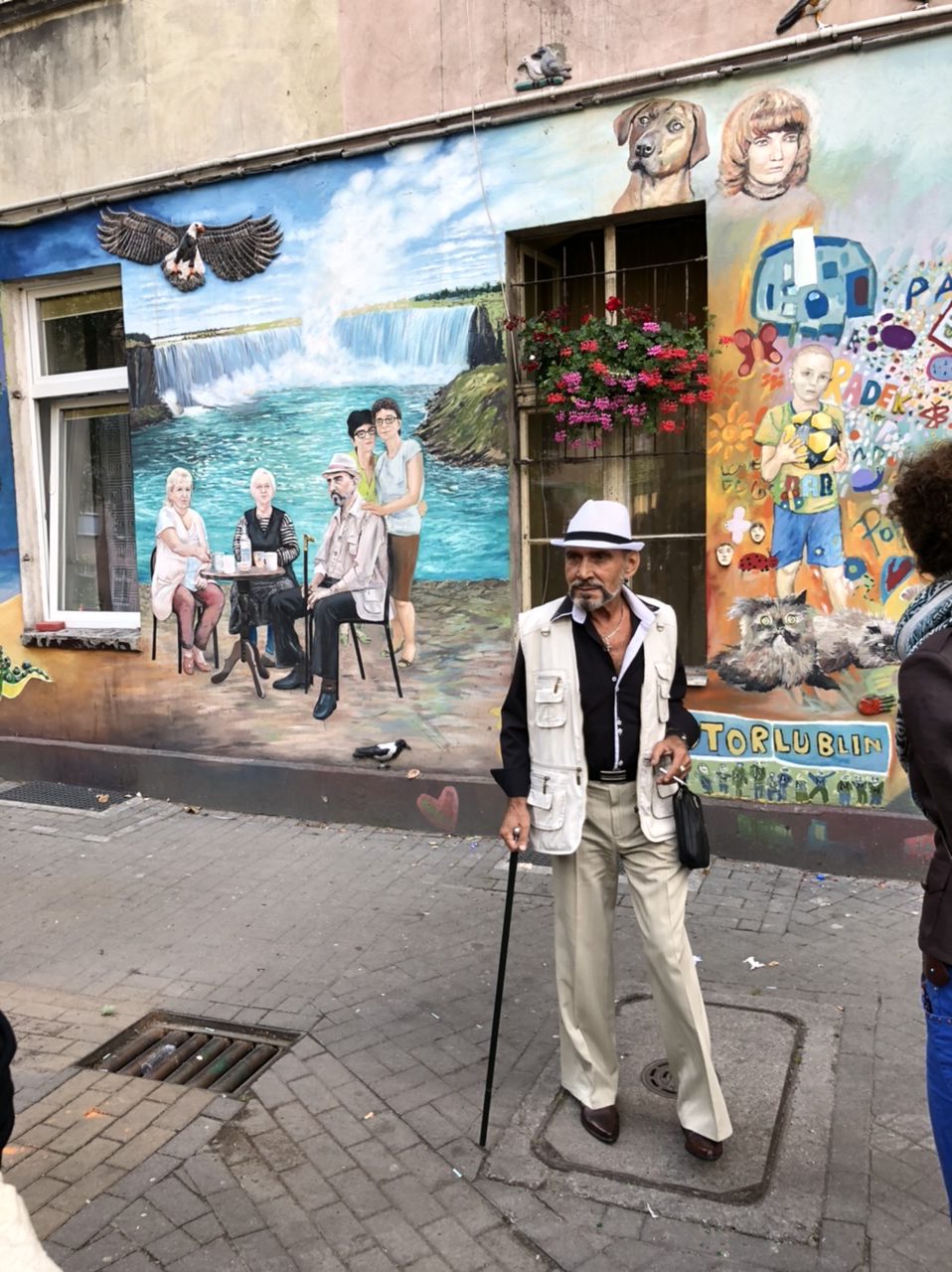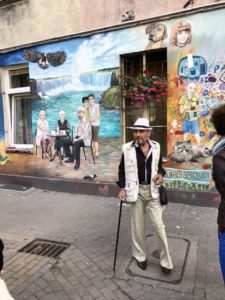 You are wondering where to find the best street art in Wroclaw? Again, Nadodrze is the answer. You can spend hours just wandering around in backyards and explore all the murals in Wroclaw. Some are really creative and also were part of revitalization projects.
For example we know that in Roosevelta street the inhabitants wanted to change the dominance of grey in their quarter. They took action and invited street art artists from all over the world to create some graffiti art on their facades. Every house could make suggestions and you will see lot of people in form of a mural that actually still live there. You find one example in our picture, maybe you detect some similarities with the gentlemen in front.
We believe that at some point we need to prepare a map of Nadodrze where you can find all the best locations for street art, wait for it….!
3. THE location for movies in Wroclaw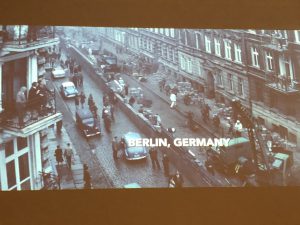 The truth is that we love Nadodrze. But you might say why trust these people with their recommendations if I do not even know them? Well, then trust somebody else, for example Steven Spielberg. He also loves Nadodrze!
How do we know? Maybe you watched his movie "Bridge of Spies"? Then we can tell you now that whenever the movie told you that the scene was in Berlin, actually it was Nadodrze! In general filmmakers love the vibes of Nadodrze, obviously because of the German history.
Now the funny story is that most people had satellite TV receivers outside of their homes when the movie was shot. But when you want to shoot a movie that will play some decades back where no satellite TV was available, you need to remove them. That is why all inhabitants of the streets got some compensation money for each satellite receiver they temporarily put inside. You have no idea how many additional receivers popped up just before that payment 🙂
That movie was mainly shot in the streets Kurkowa and Ptasia.
4. Amazing spots for coffee and restaurants
5. Artistic and cultural centrum in Wroclaw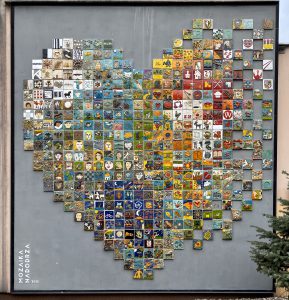 In Nadodrze you will find a lot of tiny galleries and exhibitions everywhere. But this is not everything about it.
We recommend you to visit the heart of Nadodrze, which is a mosaik forming a heart. It is made out of little tiles from people and shops all over Nadodrze. Find Mozaika Nadodrza in Paulińska 4/8.
You can also find many workshop locations, for example to upcycle old furniture or to learn sewing. What we also like is the men's hobby room that you can rent. It is not a man cave but you can perfom some cool woodwork which at home wouldn't be possible so easily.
If you are more up for concerts and alternative events, you should check out the Centrum Reanimacji Kultury. It is quite hidden in a backyard and we found it by accident when we heard a samba band playing. Only this way we figured out where the music was coming from and discovered CRK. From time to time we enjoy some concerts of uprising bands. Find it at Kazimierza Jagiellończyka 10C/d.
Talking about little galleries and exhibitions, we really recommend you to visit "Miejsce przy Miejscu 14" which is a small space that offers great and free exhibitions – check the opening hours before you go. 
In our picture you can see the "I cannot get through the chaos" exhibition from Michał Adamski, a Poznan-based photographer with focus on long-term photography projects. 
6. Night of Nadodrze and other events
A few times every year we celebrate the night of Nadodrze. What does that mean? It is one of the opportunities to get lost in Nadodrze!
Multiple concerts are all around, art galleries are open late at night, you can explore the best food and drink places and so much more.
Actually much more events are organized in Nadodrze by Łokietka 5 – the infopoint for Nadodrze. We recommend to check out their website for latest events. They also created coffee events and speciality weekends where every restaurant and cafe will prepare something very special for you.
From time to time they set up free walking tours in Nadodrze too. Still, unfortunately not on regular basis and with changing topics. It might be street art, but also filmmaking in Nadodrze. If there is no free walking tour scheduled from them, you might want to check out the regular alternative walking tours of Wroclaw here.
In the picture above and in the video below you will see the "kino mural weekend" on which several visual artists projected their art on regular houses.
7. The best location in Wroclaw
Not only all the things and places you will find within Nadodrze are amazing, it is also the best place for accommodation in Wroclaw. Check out our article on where to stay in Wroclaw to find out more.
Everything is so close from Nadodrze. You can walk over to the city centre within 5-10 minutes. In addition you will hit the Słodowa Island easily, the only legal outside drinking place in Wroclaw. Bring your own bottle or enjoy cold drinks in one of the multiple "pub boats". In summer it is packed with students enjoying life.
But even better, two beach bars are in walkable reach, just 20 minutes up north. You can choose between the "Basen Beach Bar" or the "Stara Odra" Beach Bar during the season. Here you find our overview of the best beach bars in Wroclaw!
If you are an instagram victim like we are, you should also check out the old port miejski, one of the urban highlights of Wroclaw.
8. The best ice-cream in Europe
Not only the best ice-cream in Wroclaw, but also the best ice-cream in Europe! That is correct! Since 1946! 
And we have also objective proof for this statement! According to The Guardians list of the best 20 ice-cream places in Europe, the famous "Lody Roma" is one of them. 
Find them at Ludwika Rydygiera 5 and enjoy the best ice-cream ever. We totally second the statement from The Guardian. Don't miss their most popular black sesame creation.
9. All the cute and little shops
If you like shopping outside of shopping malls, you found a little Paradiese here! Lots of small stores managed by individual people and not large companies are waiting for you – lots of stuff selected for sale with love!
We recommend the vintage store "Von Schpargau", of which you find a picture just here in the post (attention, just open from Fridays to Sundays).
But also Natura Rzeczy is a great pick because of the handmade products like soy candles, ceramics, post cards and plants. 
For jungle from the glass, you should visit Nature Concept and in case you collect Vinyl, then Duża Czarna is your place to be.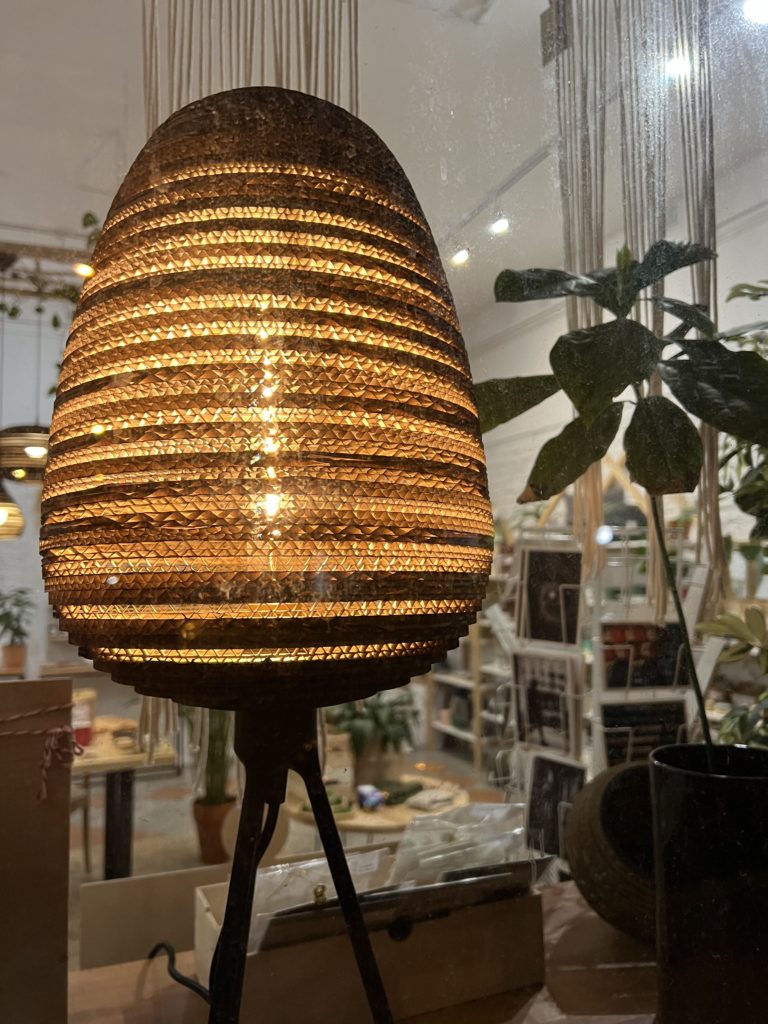 For second hand we recommend Cindy Vintage and the Bazar Miejski. And art fans will feel home at the recently opened Kuku Concept Store for sure where you find beautiful ceramics too!
If you feel you want to paint some ceramics yourself, also no problem – check out MaluMika…
And in case we can get you with an extensive selection of craft beers to Nadodrze… Drink Hala is the place to buy them! Happy Shopping!
10. The place for contrasts
Old and New, Colorful and Grey, Renovated and destroyed – Nadodrze is the place to see contrasts as nowhere in Wroclaw these are so clearly visible as here.
Perfect for photographers who want to capture these sort of opposite perspectives. It is easy to get lost walking on the cobble stone streets amongst all the old tenement houses.
A Free Audio Walk in Nadodrze!
And if you want to explore Nadodrze on your own, but get some inspiration, together with the team from Łokietka 5 we participated in recording an interactive audio walk.
Nadodrze Neighbourhood Map
We also recommend the neighbourhood maps created by Culture Zone Wroclaw.
What makes these maps so special is that they were created by the residents. There are stories and childhood memories from them, but also their favourite spots just around where they live.