Diesen Text gibt es hier auch in Deutsch
The best Craftbeer in Wroclaw
Did you know that according to RateBeer.com, the beer of the year in 2016 was brewed in Wroclaw? The scene for craftbeer in Wroclaw is growing rapidly over the past years. When we visited Dublin in 2019, in one of the first pubs we went to, we could find craftbeer made in Wroclaw. That was an easy choice for us then 🙂
Actually in Poland the situation is not much different than in other European countries. Three large breweries own around 80% of the market. That is why we want to support the other 20% and encourage you to try some of their indeed very unique creations.
In this article we will introduce you to the best places in Wroclaw to enjoy craftbeer in the most vibrant pubs. Cheers!
If you are in the city centre, and you are looking for a perfect combination of super tasty beer and good vibes, AleBrowar is the place to go. 
We counted 13 different beers from the tap, including very special ones. Have you ever tried a milkshake pale ale? We can almost guarantee that for every taste they have a beer available, from basics to quite experimental stuff.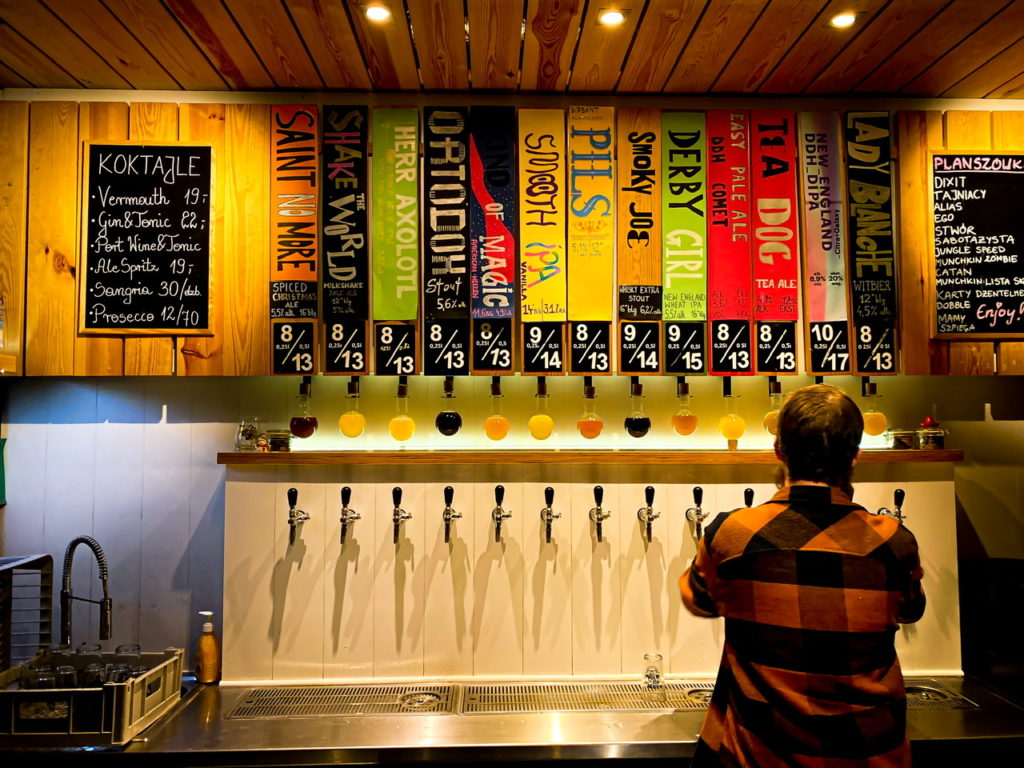 Some people say that Wroclaw is actually the craftbeer capital of Poland. We totally agree with that 🙂 Kontynuacja was one of the very first pioneers in the craft beer scene in Wroclaw when they opened in 2013.
Around 18 different beers are available at Kontynuacja from the tap. The bartenders are very knowledgable here in our experience and can advise you extremely well on the choices you are about to make. (This goes for the beer, not for any personal issues you want to discuss).
This gem is located very centrally in the old town at Ofiar Oświęcimskich 17. We also love their craft beer truck which is located in the Grunwald district just next to street food and a hipster vintage shop. Find out more about that spot in our top alternative and hipster things to do in Wroclaw.
Literally Browar Stu Mostów means the brewery of hunderd bridges. That is a strong love message to Wroclaw as the city is considered to be Venice of the east because of all the bridges.
Besides their own beers you will find a tremendous selection of other imported beers. From their pub and restaurant area you even will be able to see the production process. In 2016 one of their beers was rated as beer of the year by RateBeer.com!
The food is also amazing and worth a try! We strongly recommend to start with the malt pretzel as the cheese and onions make it magic. The quality of main dishes are way above any expectation you would have for a brewery – more on that in our article on the best restaurants in Wroclaw.
Once we were in Dublin, we found a beer from Browar Stu Mostów in the first pub we went into. That was an easy choice for us 😉
Although the brewery of hundred bridges is located outside of the city, we highly recommend a visit at Jana Długosza 2. In summer, you can perfectly combine it with a walk along the Odra river – on the way you might cross some beach bars…
Update December 2021:
Good news! 
Browar Stu Mostów just opened a second branch in the city center – with a quite similar menu to the main brewery and with no less than 20 different beers from the tap.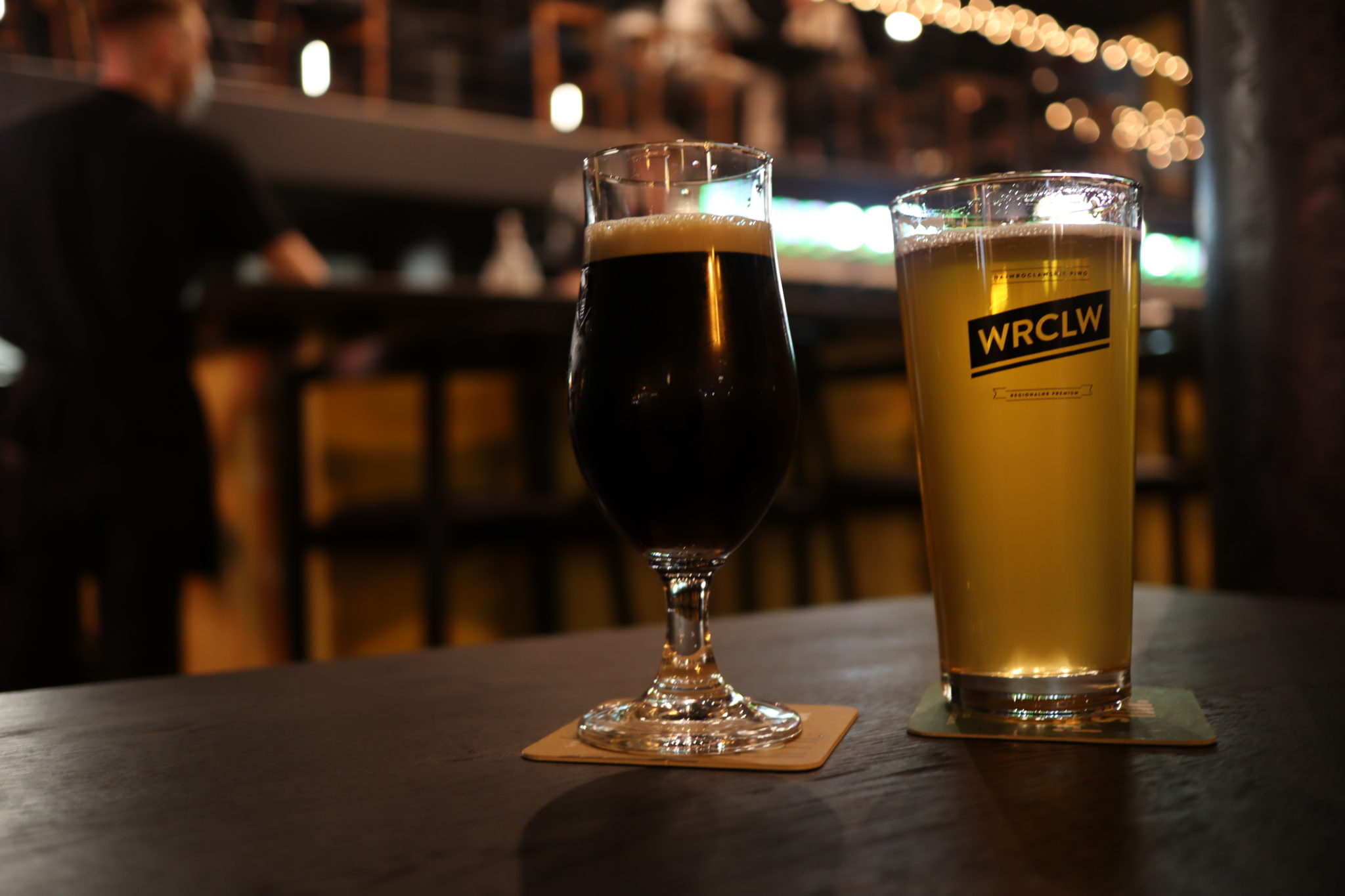 4. Targowa - Craft Beer and Food
The team from Targowa Craft Beer and Food has 12 taps with cold beer waiting for you. We would say it is not as experimental as our previous recommendations but still worth a visit. 
It is the most known and therefore most touristic place on this list. However, it is a great opportunity to combine some traditional polish food with a good beer.
During Summer it is possible to sit outside in a tent and enjoy the buzz from the market hall and surrounding sightseeing attractions. Because of its location close to the cathedral island, słodowa island and the old town the place is perfect to regain some energy after exploring the city.
Targowa Craft Beer and Food is directly in the Wroclaw Market Hall ("Hala Targowa"), but has a separate entrance at Piaskowa 17. If it is too early for beer, check out the Cafe Targowa inside of the market hall where the 2016 Aeropress World Champion is available to prepare amazing coffee for you.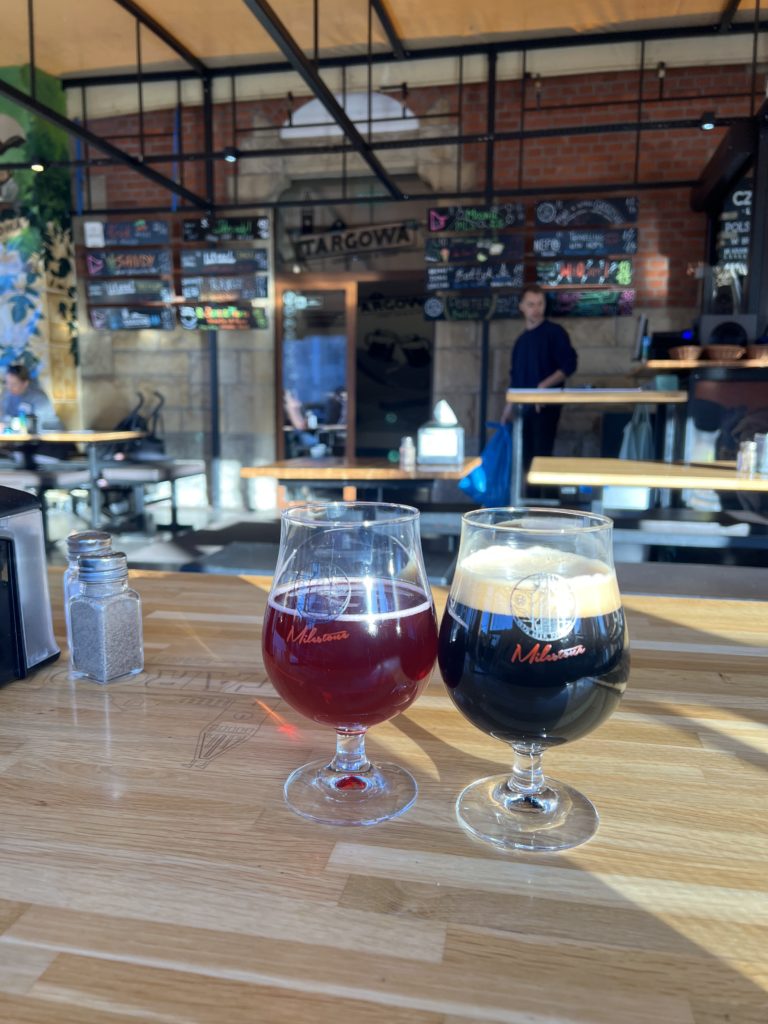 Cycling and Craftbeer? Well, this combination is certainly interesting… But if you expect well trained cyclists coming into the 4HOPS Cycling Pub after their exercise, we have to tell you that most likely this won't be the case. On the other hand, the interior is well made and a bit hipster-ish inspired by bikes. 
Craftbeer from 16 different taps is waiting to be drunken here. If you are curious about the current offer, you can actually check it online on their website.
If you are starving for food after some beers, you can stay and enjoy their food menu. It has mainly "rich bar food" in it. We have never tried the food though, so please let us know if you do and if we should recommend it here 🙂
If you do not find any space at Kontynuacja, this might be a great backup as you just walk 3 minutes more. Enjoy craftbeer from the 4HOPS Cycling Pub tap at Ofiar Oświęcimskich 46/1a. 
Pinta is a slightly out of the old town and located in the OVO building which is also an interesting and modern piece of architecture worth to see. 
With 24 beers from tap there is a great choice for everybody, and along with a nice pint of beer we highly recommend to try the fish&chips here, it goes very well with their cold refreshments 🙂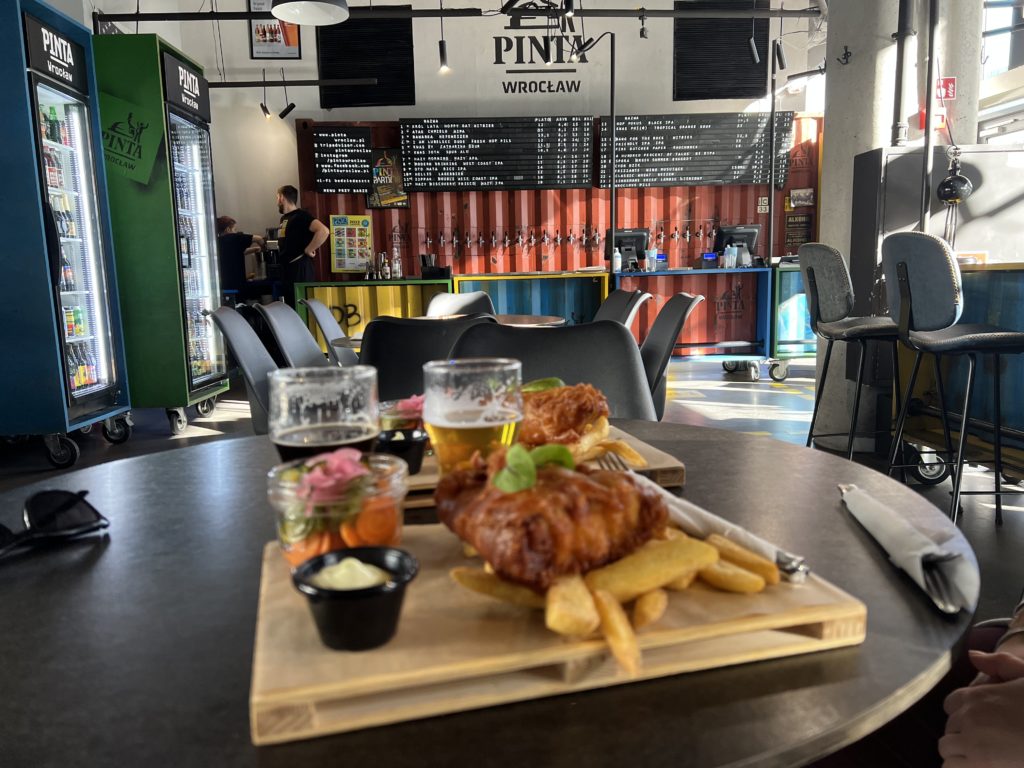 Even though Pod Latarniami doesn't have a crazy big selection of craft beers on tap, we still find it very cosy – and the selection of bottled beers is quite remarkable.
The service has always been super friendly and is even rather above average compared to various other pubs and restaurants in Wroclaw.
They serve also burgers and other small and large dishes to go with the beer, good for meetings with larger groups and having a nice time.
It's right in the old town, a 3 minutes walk from the market square in a side street.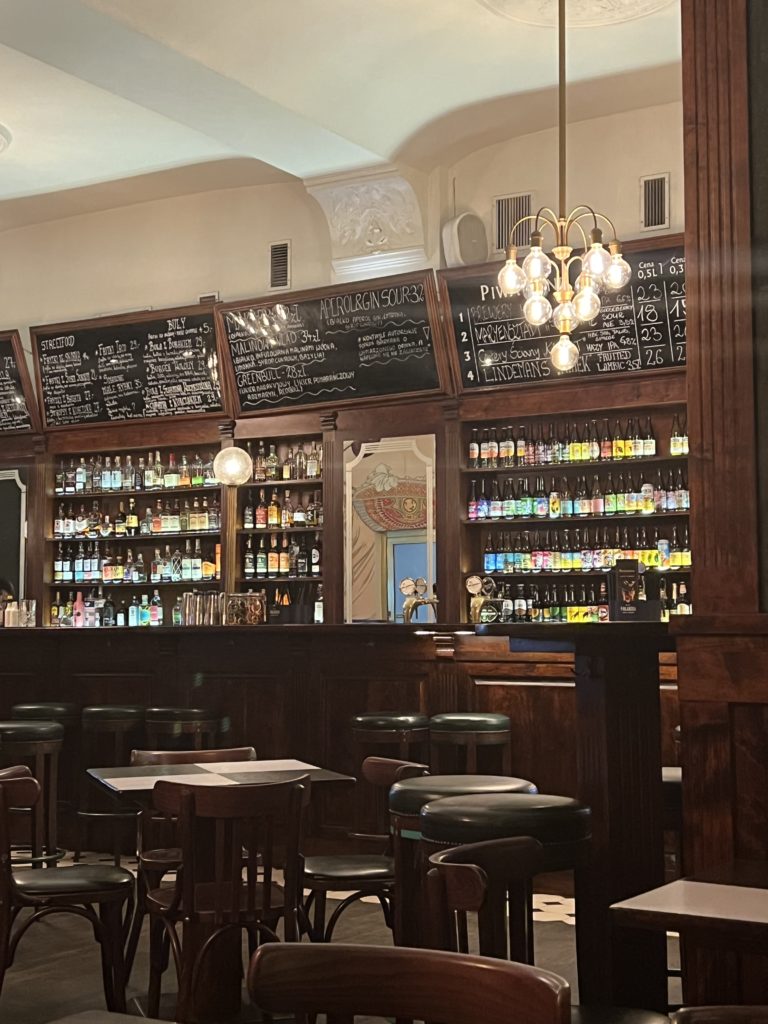 Szynkarnia is a real classic, and it's about time we finally added it to our blog!
As you can see, there are 16 craft beers on tap, but besides classics like the Belgian Kriek, there are usually a few real experiments available as well.
A special highlight here, however, is the food… In addition to regional sausage and cheese platters, one of our personal highlights here is the protein burger – with beef slow cooked for over 8 hours, chilli mayo mustard sauce and Polish parmesan cheese ("Proziak Byczek" on the menu).
In addition to the AleBrowar mentioned above, Szynkarnia is a great option in the Four Temples neighbourhood in Wroclaw.
The Wroclaw Beer Tour
Can't decide where to go? You want to get to know many different places and Polish craft beers? 
More Craftbeer in Wroclaw
By the way – every year in June, Wroclaw is hosting the "Good Beer Festival" which is a must-go-event in case you are into craft-beer.