Diesen Text gibt es hier auch in Deutsch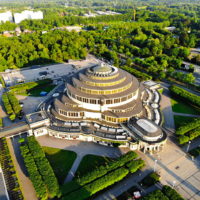 The Centennial Hall and other UNESCO World Heritage Sites around Wroclaw
⇨ We made a pre-selection of the best AirBnBs, Hotels and Hostels to stay in Wroclaw, no matter if you look for budget options or some luxury - check out our post with recommendations here ⇦
You want to visit Wroclaw and have been wondering if there are any UNESCO World Heritage Sites? Or your plan is to visit all UNESCO World Heritage Sites in Lower Silesia and you need some additional info? Either way, this article will help you!
There are two UNESCO Sites directly in the city of Wroclaw and another one is just a one hour drive away. You might have already guessed it, the first one is the famous Wroclaw Centennial Hall. The second is the Four Dome Pavilion, just next to the Centennial Hall. That is why you easiliy can combine a visit of both. 
The third UNESCO World Heritage Site that we will have a look at, are the Churches of Peace in Jawor and Świdnica.
Let's start with one of the main landmarks in Wroclaw which is the Centennial Hall ("Hala Stulecia"). We fully understand why this building is listed on the UNESCO World Heritage Site list. We love it so much that we decided use it for our logo – you may have noticed 😉
The Centennial Hall is a pearl of modernism designed by Max Berg. When it was built it was the most impressive reinforced concrete structure in the whole world. The dome is 42 meters high and 65 meters in diameter.
The innovative methods which were applied supported to build the construction in only 15 months. On 20th May 1913 the building was ready.
The construction workers were afraid
According to a documentary on German television we saw, the workers actually did not want to remove the casing which was used to support the construction. They were afraid that the building would collapse immediately. That is why the architect Max Berg had to convince a random person on the street with some gold to remove the casing. Although the documentary is in German language, the pictures are very impressive to see – you can find it here.
If you ask the people living in Wroclaw if they could imagine the city without the Centennial Hall, the answer would be "no" today. But back in time, when the building was in progress many people believed that such a bad example of architecture should never be erected. Many of them thought the experimental construction will not last even 5 minutes. Thankfully for us they were wrong.
After over hundred years, the Centennial Hall is still one of the most important places in Wroclaw hosting many cultural and sports events. Up to 10.000 people can be entertained inside the hall. Check their website to find out more about ongoing exhibitions, concerts, events, etc. 
Back to the roots
While after the war the Centennial Hall was renamed into People's Hall ("Hala Ludowa"), today the original German name is used again. And by the way, of course the only reason this beautiful building survived the war is that it served as excellent orientation point for airstrikes…
Around the Centennial Hall
Visiting the Centennial Hall is a great opportunity to check the surroundings:
The Pergola is an outdoor garden feature forming a shaded passageway – an amazing spot for pictures
The Multimedia Fountain with amazing light & music shows during summer time
The Japanese Garden – a beautiful place and great if you want hide a bit from the sun
The Iglica is a needle monument just in front of the Centennial Hall. It is 96 meters tall and was constructed by Polish Communists after the war.
The Centennial Hall was listed as a UNESCO World Heritage Site in 2006, together with the Four Dome Pavilion.
Can you imagine that in a very short distance from the Centennial Hall you will find another impressive modernist building and amazing museum at the same time? Welcome to the Four Dome Pavilion – or "Pawilon Czterech Kopuł" in Polish language.
Hans Poelzig designed this building on a square plan, crowned with four symmetrically located domes. Again, the concrete frame structure was used. What the visitors can enjoy the most is the way of using skylight windows. It makes the interior flooded with diffused daylight.
Inside you find the Museum of Contemporary Art
We highly recommend you stay a little bit longer in the Four Dome Pavilion as it is a home to the Museum of Contemporary Art (a branch of the National Museum in Wroclaw). One of the highlights is the permanent exhibition of Magdalena Abakanowicz which you can see in our article about alternative Wroclaw. Apart of her works, you will have the opportunity to see other internationally recognized modern artists.
Now we have bad and good news for you. The bad one is that there aren't more UNESCO World Heritage Sites in Wroclaw. It is quite a pity, especially as Wroclaw has lot to offer. We believe that even the old town of Wroclaw would deserve a title as UNESCO World Heritage Site.
The good news is that you need only one hour by car to get to another site! Isn't that cool?
Churches of Peace in Jawor and Świdnica
The Churches of Peace in Jawor and Świdnica ("Kościoły Pokoju w Jaworze i Świdnicy") are the largest timber-framed religious buildings in all of Europe.
What we really like about Churches of Peace in Jawor (1654–1655) and Świdnica (1657) is their history. They were results of the Peace of Westphalia in 1648. In this year, the Protestants got permission to establish new churches.
At that time it was kind of mission impossible to build them. No steeples and church bells could be build. The builders were forced to use only such materials as wood, loam and straw. In addition, they had to erect the churches outside of the city walls. On top, the construction time was limited to one year. As you can see the restrictions were very challenging. But because of that we have a great opportunity to visit very special places today!
The interiors of the Churches of Peace in Jawor and Świdnica are truly amazing. The walls are covered by polychrome. It took dozens of years to make some of the decorations!
You should also check the International Bach Festival in Świdnica and a very cute cafe which is attached to the Church in Świdnica. It is the perfect place to have an amazing breakfast and called "Baroccafe".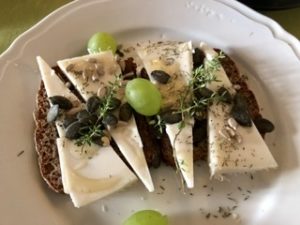 It is worth to mention that there was a third Peace church in Głogów. However and unfortunately it was burned down in 1758.
Also check out our article about the best day trips from Wroclaw, in which you will find better information on how to get there. Spoiler: Take your own car or book a tour by bus. And if you don't have your own car in Wroclaw, rental cars are really really cheap (From 25 PLN per day).
All UNESCO Heritage Sites in Poland
If you got the UNESCO World Heritage Site fever now and seeing three great landmarks in Wroclaw and Lower Silesia is not enough, we also have some more ideas for you. Here you will find all the UNESCO World Heritage Sites in the whole country of Poland.
On the pictures you see the ones that we already visited.
The other UNESCO World Heritage Sites in Poland:
Historic Centre of Cracow
Wieliczka and Bochnia Royal Salt Mines
Auschwitz Birkenau, German Nazi Concentration and Extermination Camp
Bialowieza Forest
Historic Centre of Warsaw
Old City of Zamość 
Castle of the Teutonic Order in Malbork
Medieval Town of Torun
Kalwaria Zebrzydowska: the Mannerist Architectural and Park Landscape Complex and Pilgrimage Park
Wooden Churches of Southern Lesser Poland
Muskauer Park / Park Muzakowski
Wooden Tserkvas of Carpathian Region in Poland and Ukraine
Tarnowskie Gory Lead-Silver-Zinc Mine and its Underground Water Management System
Krzemionki Prehistoric Striped Flint Mining Region
Historic Centre of Cracow
Historic Centre of Warsaw
Castle of the Teutonic Order in Malbork
Wooden Churches of Southern Lesser Poland
Wooden Tserkvas of the Carpathian Region in Poland and Ukraine
Tarnowskie Góry Lead-Silver-Zinc Mine and its Underground Water Management System
Krzemionki Prehistoric Striped Flint Mining Region
Churches of Peace in Jawor and Świdnica
We hope that you enjoyed the UNESCO Heritage Sites in and around Wroclaw as much as we do! Don't forget to check out some other very hipster things to do in Wroclaw!
If you want more information, here is the official UNESCO link for Poland.
Do you have some comments on this article? Help us and also help other visitors by leaving your feedback in the comment section below!