Diesen Text gibt es hier auch in Deutsch
Polish Wine: Wineries in Lower Silesia
Polish wine, seriously? Well, many people don't know that Lower Silesia was a thriving wine area many centuries ago.
We set out on your behalf and visited a few selected wineries in Lower Silesia in the vicinity of Wroclaw. And believe us, we were very pleasantly surprised and therefore decided to dedicate a separate blog post to the whole thing. All of the wineries presented here are within easy reach of Wroclaw – and therefore perfectly complement our article on the best day trips around Wroclaw 🙂
Around the 19th century, the entire region around the Valley of Castles in Jelenia Góra is said to have been one of the most popular wine regions in Germany back in time, with around 700 hectares of land available to grow wine. Wine producers in Lower Silesia are even mentioned as early as in the 12th century. We are very happy that courageous people are continuing these traditions nowadays!
And if you drink wine, you might like cider too… So in conclusion, we will take another brief look at the topic of regional cider at the very end.
The Winery "Winnica Silesian"
One of the first wineries in Lower Silesia that we visited around Wroclaw was the Winnica Silesian. And we were surprised, because normally you would associate years of tradition with winegrowing – but here we found a real "wine start-up", if one may say so.
The special thing is that it is still a family business spanning over three generations – but with a background in horse breeding. Traditions and start-up vibes are blending in here… The idea of the winery became a reality in 2018, when Sonia and husband Esben left the United Kingdom to pursue a career in winemaking. We'll tell you one thing in advance: we are sooo happy about this decision, because otherwise we possibly wouldn't be able to tell you about one of the greatest Polish wines we know today.
Of course, there is the possibility of wine tastings on the premises (by appointment), and there are also regular weekend picnics where really talented chefs come to visit and cook for the guests, paired with the wine menu. Over 11 hectares of vineyards are planted with a wide variety of grapes. Our personal favourites are Solaris, (red) Riesling and Cuvée.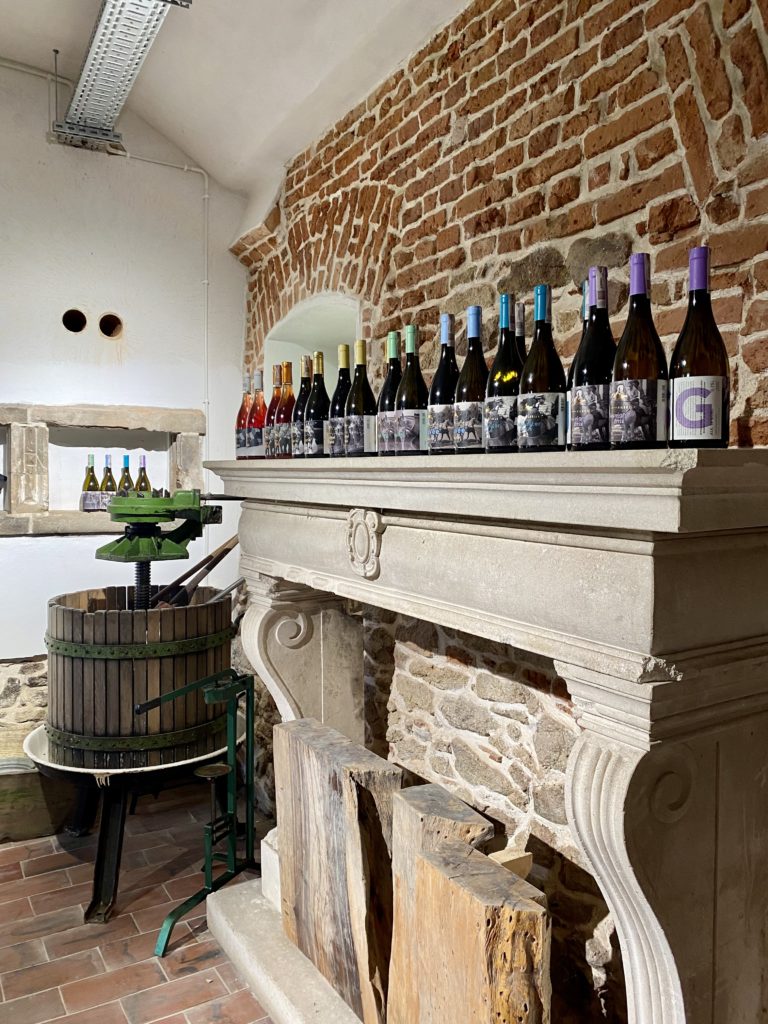 We would like to give you also a couple of practical advice, perhaps you would like to visit them or would like to receive further information about the winery itself? And if you want to order the wines, we have the right address for you, of course.
The best way to get there from Wroclaw with public transport is to take the train to the station "Bolesławice Świdnickie". From there you can reach the winery by walking in just 10 minutes. Please note: This is an on-demand stop, you have to let the conductor know that you want to get off there.
Options to order their tasty wines and much more info can be found here on the official website:
https://www.winnicasilesian.pl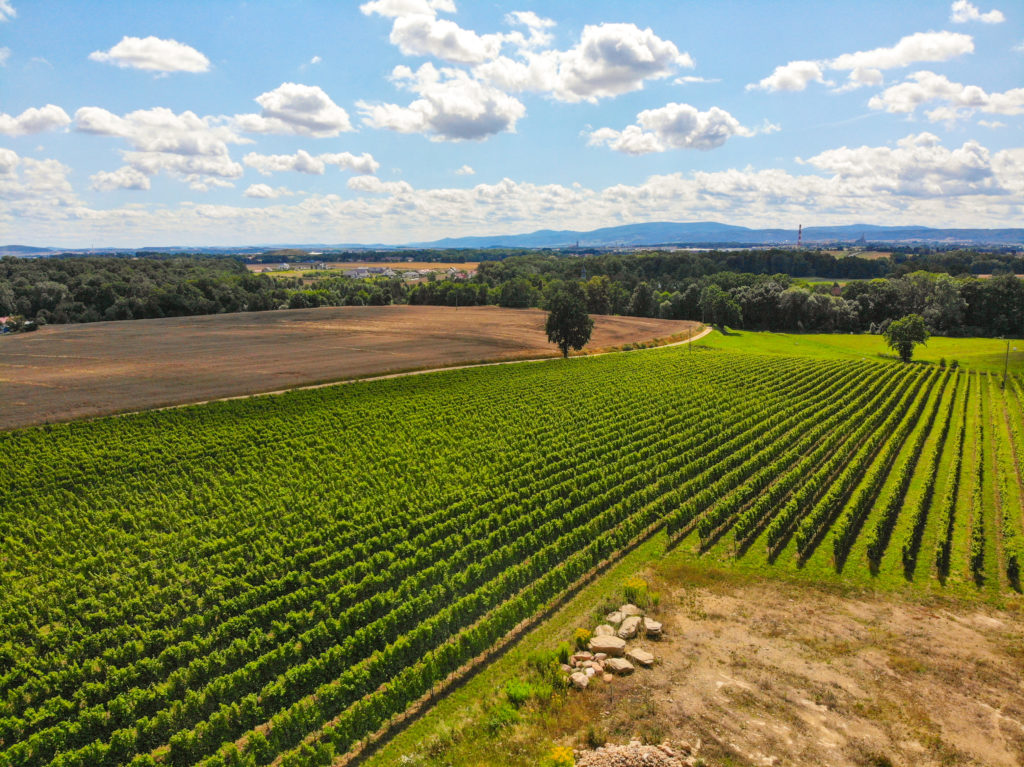 The Winery "Winnica Jaworek"
After visiting the Winnica Silesian, we drove with relatively high expectations to Winnica Jaworek, one of the first and oldest Polish wineries (founded in 2001) when it comes to truly professional viticulture. With about 20 hectares of cultivated land, it is one of the largest wineries in Poland too.
A real pioneer when it comes to polish wines!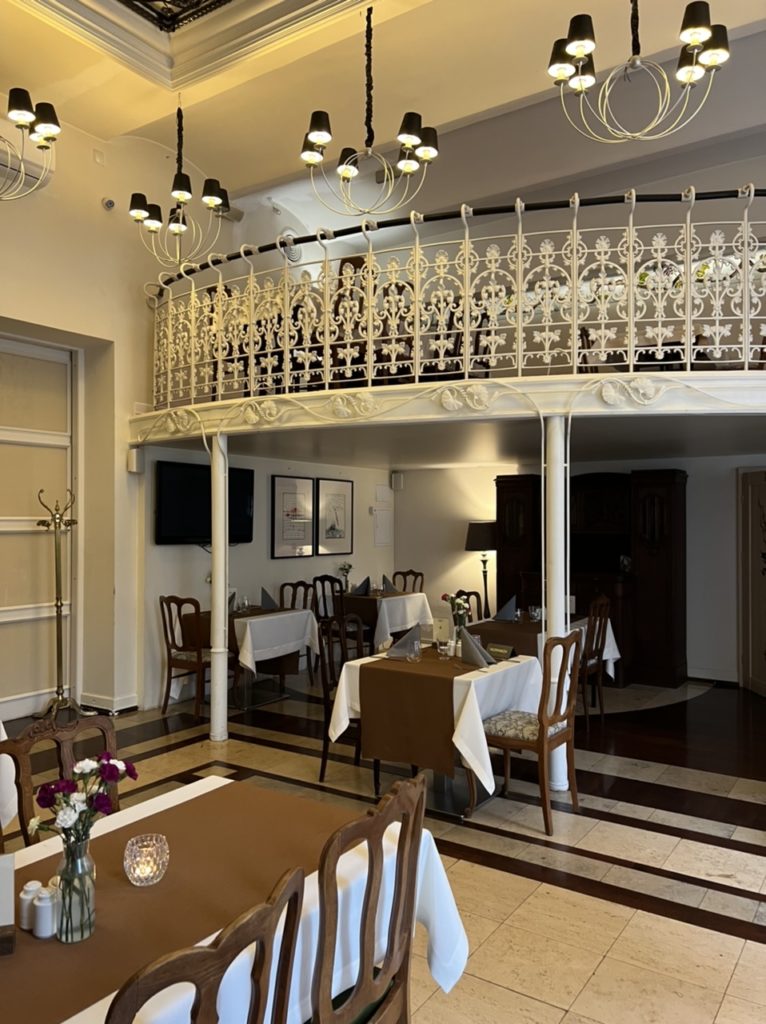 Compared to the Winnica Silesian, the Winnica Jaworek offers accommodation as well, and so we decided relatively spontaneously in September 2021 to simply spend a night in the neighbourhood and enjoy some wine with a delicious meal.
A variety of wines are grown, there is certainly something for every taste, and above all the food is really delicious and of a high standard – the service is "acceptable" we would say.
The journey from Wroclaw is again very easy. Just grab a train from the main station and get off in Miękinia. The journey takes less than 20 minutes and from the station you can walk another 10-15 minutes to the winery.
Much more information and options to order are available on the official website of the winery at:
https://www.winnicejaworek.pl
The Winery "Winnica 55-100"
After we have already been to the south and west of Wroclaw, we are now heading north – to the so-called Cat Mountains around Trzebnica. With 257 metres, it's hard to call it a mountain range, but it's definitely suitable for winegrowing 🙂
For centuries, the region has served as an excursion destination for city dwellers from Wroclaw who are looking for a short escape into nature, and consequently there are many cyclists and hikers there on weekends. And of course wine tourists as well!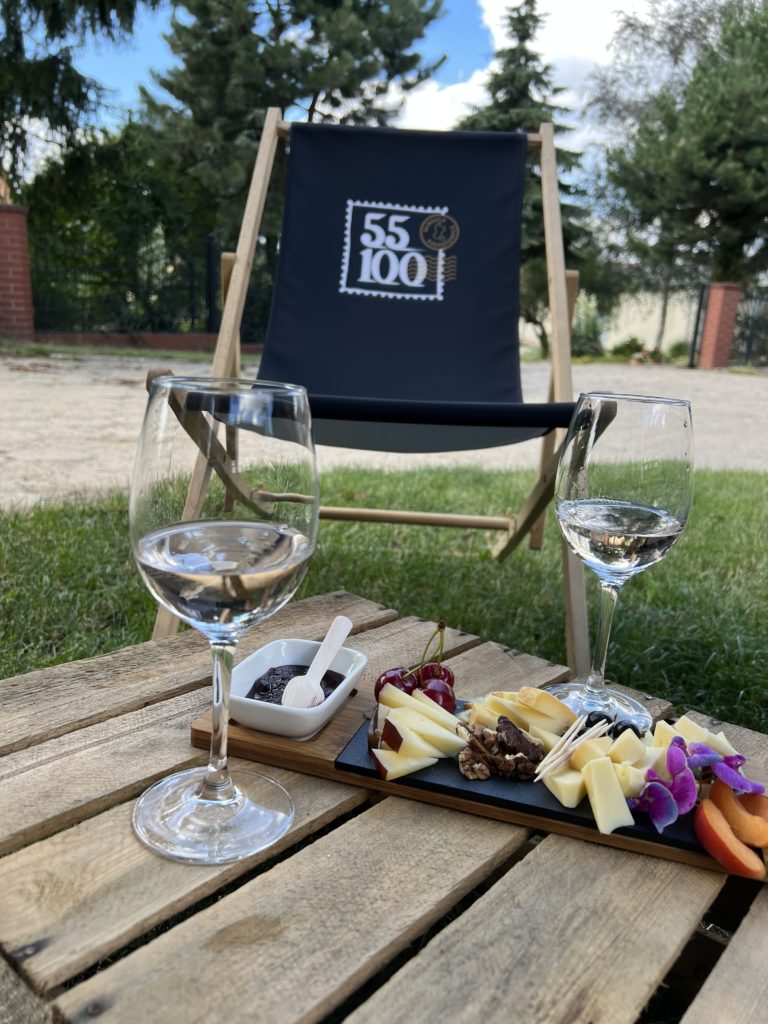 Every weekend, Winnica 55-100 opens the winery to the public and you can comfortably taste a few wines on site, along with cheese platters and salami platters for small appetites (there are no restaurants or shops within walking distance).
With the first harvest in 2019, the 55-100 winery is also a very young project, and with 4 hectares of cultivation area, it is quite manageable in size. This is probably the reason for the focus on a few grape varieties that taste really good: They are growing Muscaris, Solaris and Regent.
Once again, you can get here comfortably by train from Wroclaw. The closest station is Trzebnica, but from there it is still about an hour's walk – alternatively, you can take a taxi.
Again, there is a lot more information directly on the official website:
https://55100.pl
Our recommendation: Combine it with Akademia Kuraszków
When we visited the winery, we decided to spend a night in the area in a small cosy boutique hotel before and were lucky to find exactly what we wanted.
We highly recommend that you spend a night at the Akademia Kuraszków. In addition to 5.000 books and cosy reading corners, they also operate an incredibly tasty restaurant and if you like it, you will get the opportunity to take part in various horse riding courses, fishing courses, etc.
The best way to get there is by train from Wroclaw to Oborniki Śląskie, from where it's a 50-minute walk to Akademia Kuraszków (or a few minutes by taxi – it was raining, that is the option we took). The next morning, it's a leisurely one-hour walk along beautiful footpaths in the Cat Mountains to the 55-100 winery. From there, you can either walk (another hour) or take a taxi to the Trzebnica train station to get back to Wroclaw.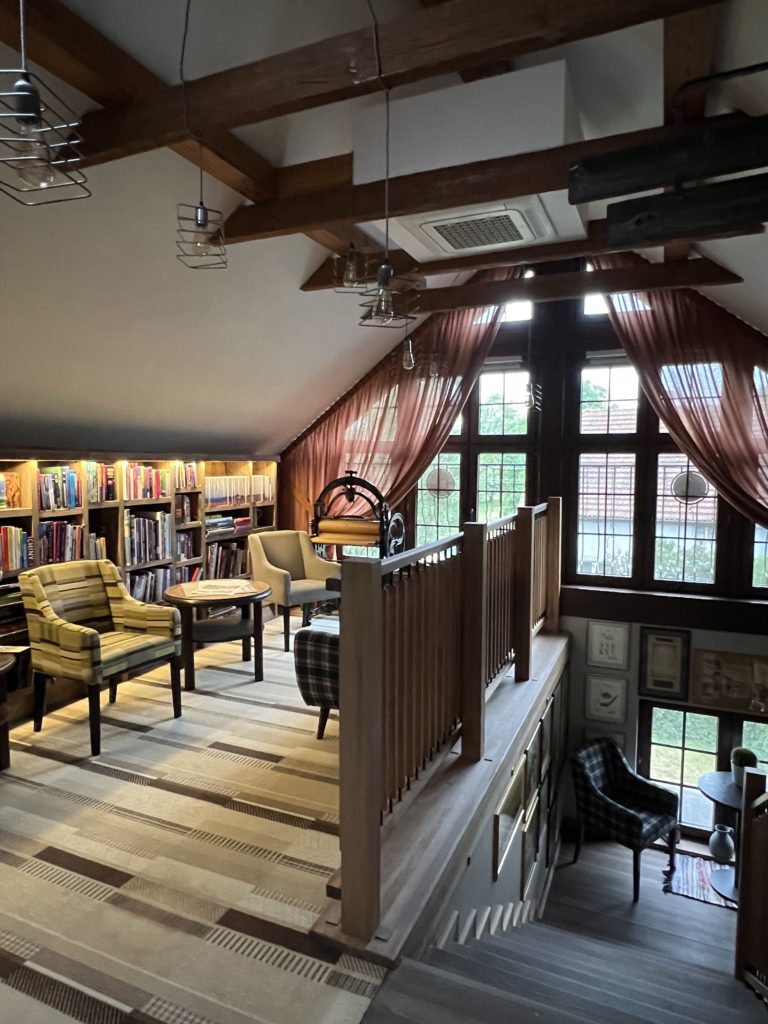 The Winery "Winnica Adoria"
Another winery in the region is the Winnica Adoria, about 20-30 minutes by car, south of Wroclaw. The Adoria winery was founded in 2005 by the American Mike Whitney, who had already lived in Poland since 1995 and therefore is definitely one of the pioneers in Polish viticulture as well.
Because in 2005, wine growing was nowhere near the levels of production there is today – and the bureaucracy was still at a completely different level. Allegedly, he rejected over 300 sites until he found the perfect location, which is sometimes also referred to as "Polish Tuscany". Rightly so? Find out for yourself…
They specialise in Pinot Noir, Chardonnay and Riesling, but occasionally there are other varieties such as Dornfelder or Rose (highly recommended, at least according to our subjective taste). In summer it is a great option to bring your own picnic and taste the wines in their garden, overlooking the grape plantations – sometimes there are special events as well.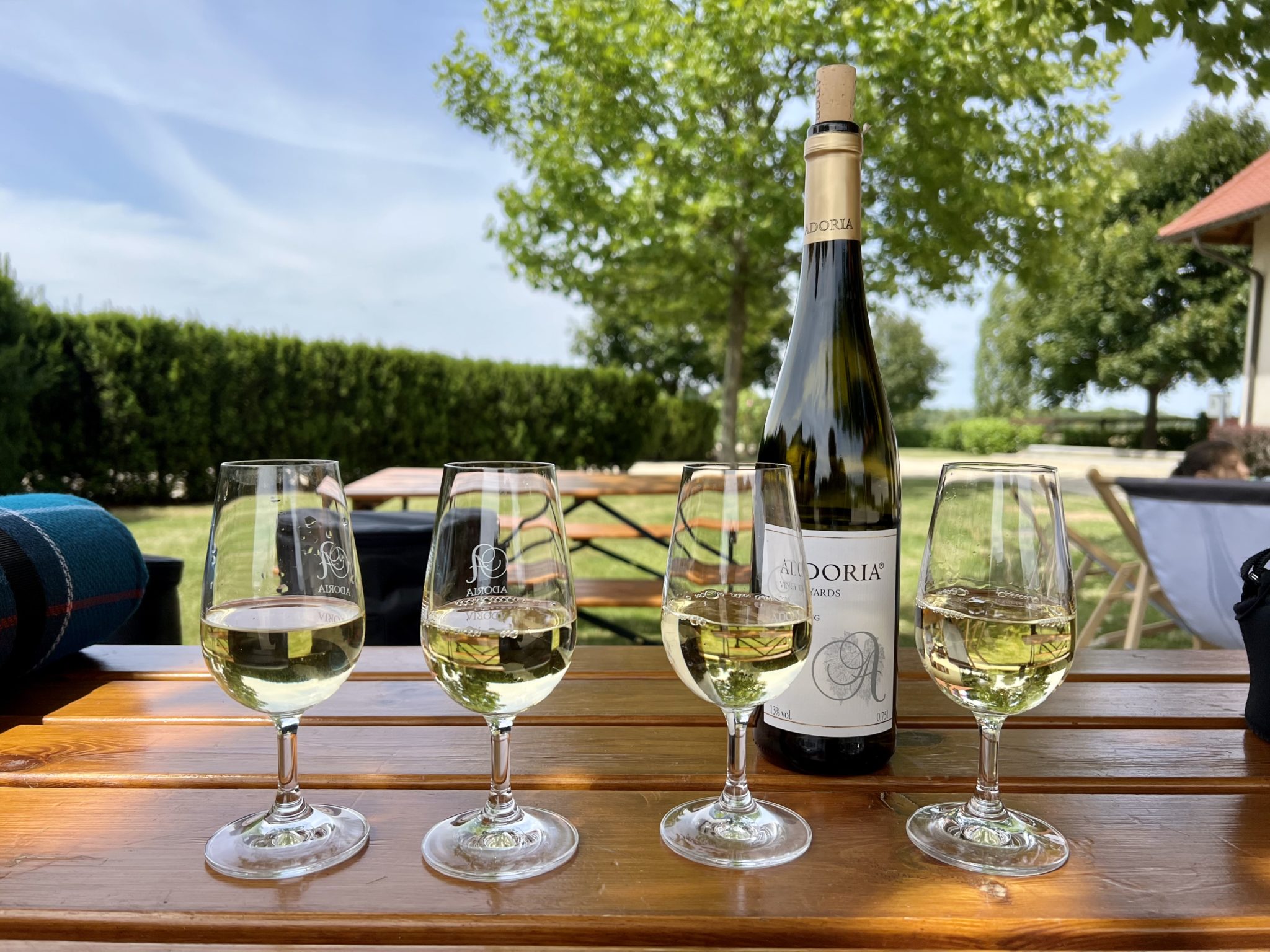 Unfortunately, it is not really possible to get here by train, or only in a very complicated way, so we recommend taking a car service or taxi from Wroclaw – more information on public transport in Wroclaw here. This has cost us about 120 PLN each way in mid-2022 and took about half an hour. On the way back, it's best to order it in advance, otherwise it may take 20-30 minutes before a driver accepts the ride due to the somewhat remote location.
Or you have a rental car or your own car with you and have nominated a driver, then of course that works too 🙂
Here are the official websites from Winnica Adoria.
The Winery "Winnica Jadwiga"
Our visit to the Jadwiga Winery was eagerly awaited by ourselves, as we had already tasted the wines at Nafta – one of the best fine dining restaurants in Wroclaw – and we were thrilled. And what can we say, our expectations have once again been exceeded – because there are some things that work a little differently at the Jadwiga Winery than at others.
On the one hand, the focus is clearly on natural wines, the harvest is absolutely handmade here and almost no chemicals are used (possibly only an absolute minimum of sulphites as an additive). Of course, this involves certain risks: Birds, especially the common starling, could eat the entire harvest in just a few days. That's why a falcon regularly comes "on request" and makes its presence felt – this is also reflected in the logo.
Pet Nat, a kind of natural sparkling wine (here is a detailed explanation!), is produced here in different varieties too. The most popular Polish grape variety Solaris, however, is not on offer – that would be boring. We have to say that we first fell in love with the Cuvée, but this love quickly extended to the Muscaris, Johanniter and to a couple of varieties of Pet Nat. At this point, we have to confess that we went home with no less than 7 bottles.
Since 2015, Marek Janiak has been active here together with the family on a cultivation area of 2 hectares (which is about 5km away from the headquarters, in Mienice), distribution is mainly regional. His enthusiasm for wine is hard to miss and resonated constantly in the conversations we had here. When someone is so passionate about his cause, only something good can come out of it.
The easiest way to get from Wroclaw is by car or taxi. We used an Uber and paid about 60 PLN one way in August 2022. For four people, this is quite reasonable for a journey of about 25 minutes by car. There is no restaurant on site, and it is best to contact them by phone beforehand if you want to visit.
Official tours and events are offered on a regular basis, and we received an absolutely warm welcome even after a quite spontaneous visit on a regular weekend.
Here the official homepage from Winnica Jadwiga.
The Winery "Winnica Moderna"
As promised, we are expanding this blog post with more wineries we are visiting over time. In August 2023 it was a good moment for us to visit the "Winnica Moderna" which is only 20km north of Wroclaw.
Easily reachable by public bus (only one change required) we were even lucky when we discovered we do not have to pay for the public transport. Why, you might ask? It was the one special day every year where public transport is free in Wroclaw while you carry a book (here our post about public transport in Wroclaw if you are not aware).
Winnica Moderna was founded in 2015 by Nestor Kościański and we clearly see that it was a great decision to quit the corporate job at a bank and exchange that into the life at the winery full of passion.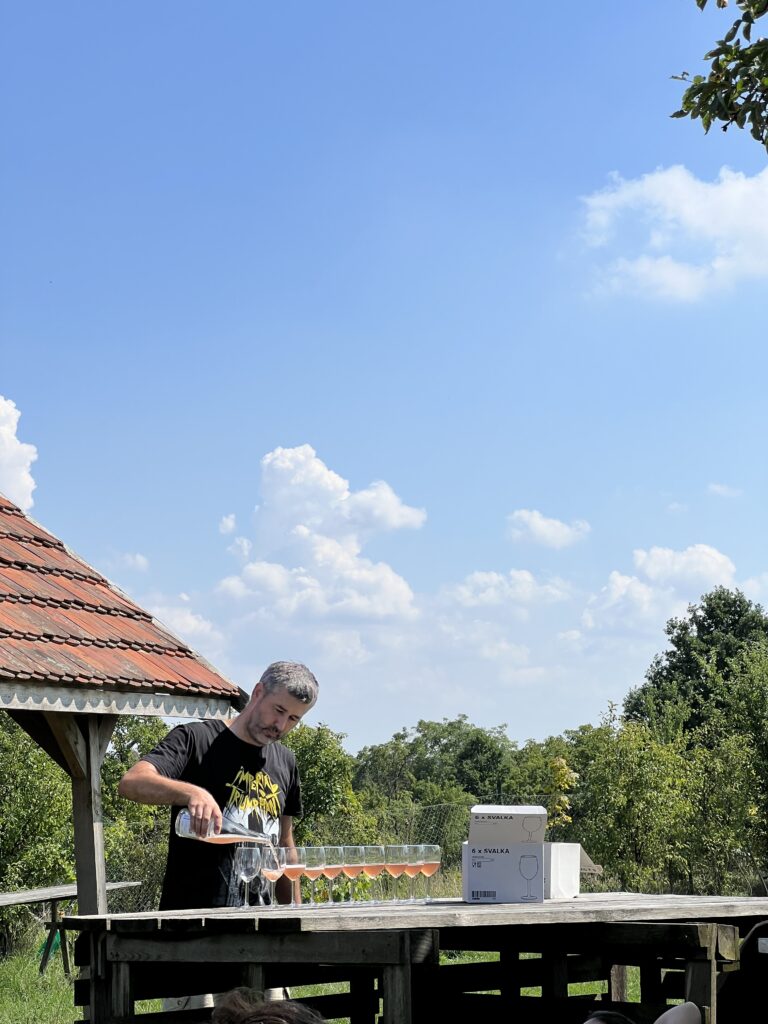 The grapes are enjoying the nice sunlight of the Trzebnica Hills in two different locations close to each other in the village of Krakowiany. Both together make up 2,4 hectares in size. We got to try six different wines, which is just a part of the wines they produce and we loved all of them! The Chardonnay really surprised us with the freshness, the Riesling was "spot on" and the Rose was perfect for the hot summer day. Next time we have to try more of the red wines (we tried only one) – as we usually prefer white and rose in summer.
The labels on the bottles are beautifully designed in a very simplistic and minimalistic way, you will be able to find some iconic buildings from Wroclaw back on the bottles, which we love.
Together with the wine we got locally produced cheese (from Malinowa Zagroda), which was so good that for the red wine we kept for the end only crumbles were left – despite the full plates! We definitely will search for that cheese in Wroclaw.
Also bread and amazing spreads like Pâté, caramelised onions, pulled duck, fruit chutney and others got served. They were produced by the Foundation Mniej Więcej where you can also order them and support a good cause.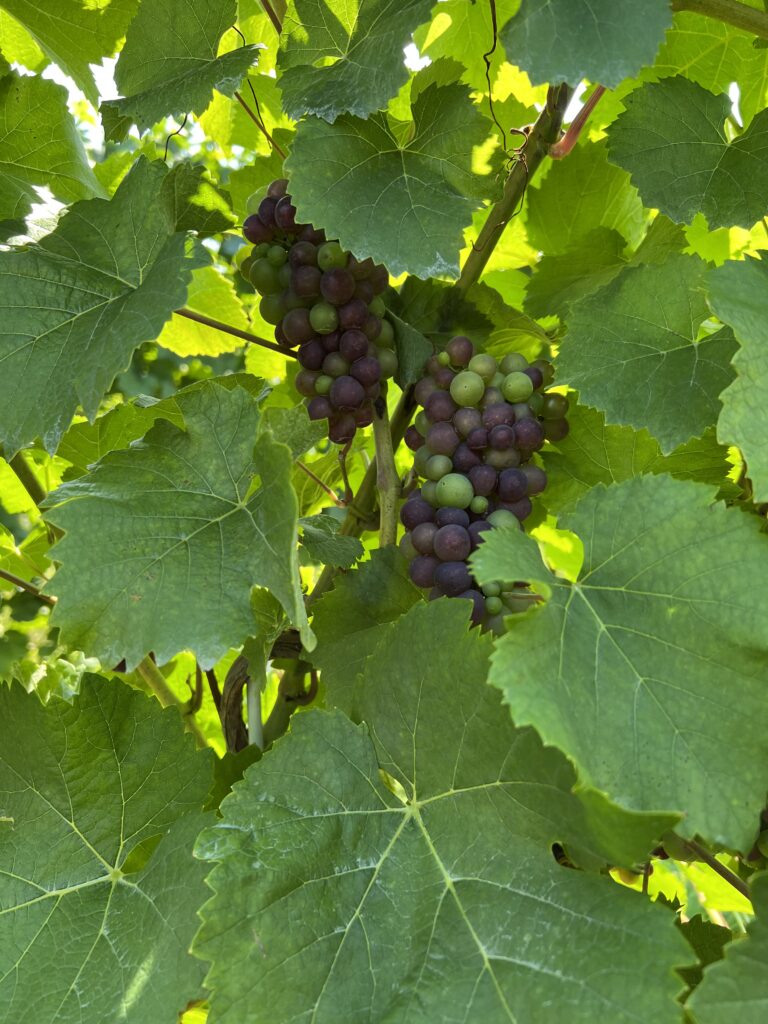 As mentioned above, you can take the public bus and a regular ticket would cost 7 PLN one way. It takes between 60 and 90 minutes, depending on the connection you might catch. There are no regular opening hours, but you can reach out to the Winery and ask for their availability. They also have a wine "food truck" which you can find at some events in Wroclaw, so keep your eyes open.
Here the official homepage from Winnica Moderna.
More Wineries in Lower Silesia and an Overview Map
Unfortunately, we simply don't have the time to visit all the wineries in Lower Silesia and Poland. If you are travelling to other parts of Lower Silesia, you might like to visit one of the other wineries.
A few years ago, the Lower Silesian Office of Tourism created a very good map, the "Lower Silesia Beer and Wine Route". It clearly shows which wineries are geographically located where and has many more than the ones we could see.
Where can I taste Polish wines in Wroclaw or buy them?
And there are also many wine bars in Wroclaw which offer regional wines (the link will take you to our article about wine bars in Wroclaw).
We would recommend two wine bars in particular for Polish wines, as they have the widest selections of regional wines.
The first one is Paulisper Vinum, they have actually many open wines, so you don't have to order a whole bottle – the perfect opportunity to taste multiple different options.
Or alternatively, Cocofli, which also has various Polish wines open, but many more bottles in their offer – for immediate consumption, but also to take home for your own wine cellar. They are a hybrid of bookshop/café/wine bar/wine shop.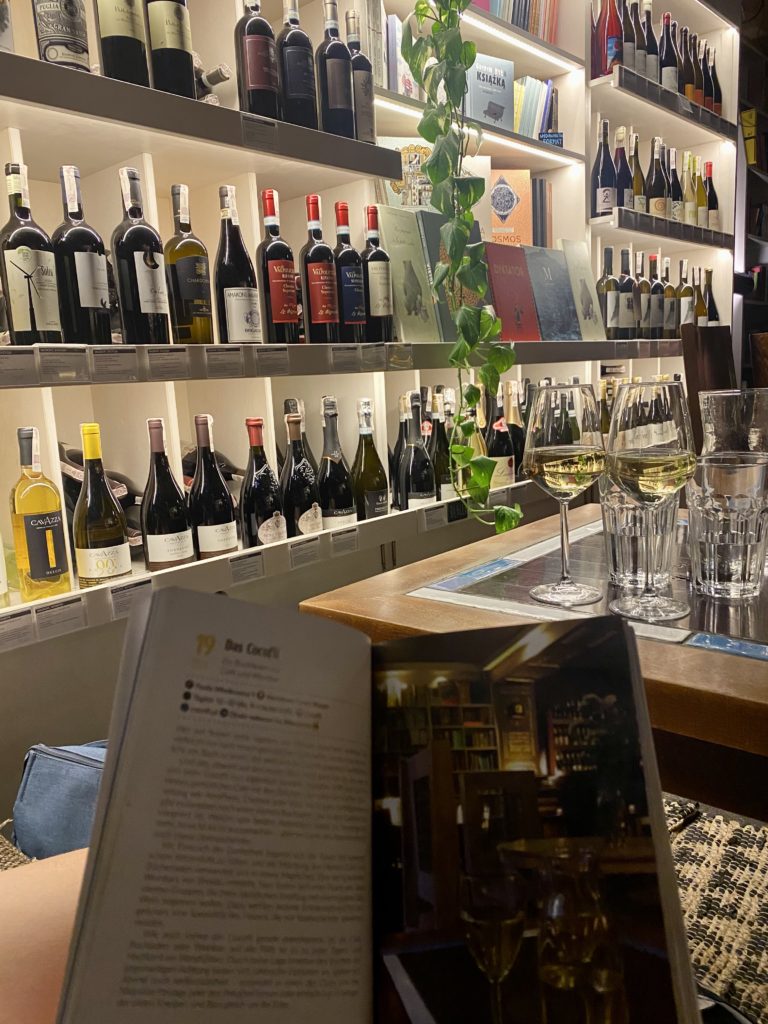 Regional Polish Cider from Lower Silesia
Many people don't know that Poland is one of the biggest apple producers in the world. So, now we have passed on some trivial knowledge – but what do we do with it? That's right, cider! Because you can't eat that many apples, we have to drink them.
Again, we only briefly look at the regional offer and find these two cider producers in particular:
The first one is located around Trzebnica, north of Wroclaw and as the name "Cydr Tradycyjny" already suggests, it is a bit more traditional.
Moving south of Wroclaw, there is a fresh cider start-up with the team from "Cydr Radosny".
We were able to taste both of them and actually personally prefer the taste from Cydr Radosny a little bit more. But as you know, taste is always a very subjective thing 🙂
---
We hope you enjoyed our trip to the Polish vineyards and that you will also have the opportunity to taste one or two wines in Poland. Unfortunately, there are currently no organised tours where you can drive (better: find somebody else to drive) to 3-4 wineries in one day, but we will continue to keep our eyes, ears (and palate) open and will certainly update our post here at the next opportunity.
If you have any additional comments or recommendations, we are always happy to hear your feedback in the comment section below!