Diesen Text gibt es hier auch in Deutsch
The best local markets in Wroclaw you probably never heard of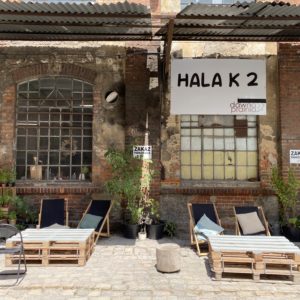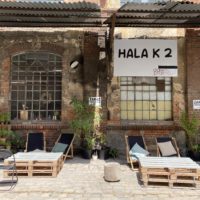 You would love to visit real local markets in Wroclaw but you have no idea how to find them? Then you ended up at the right spot. In this article we will introduce you to some really cool local markets of Wroclaw!
We have not only some really great flea markets for you, but even better, some cool farmer markets where you can buy fresh food directly from the producers. If you don't plan to cook during your visit in Wroclaw, no worries. Most of them actually have some breakfast options where the slogan "from farm to the table" is very true. 
Of course we also can't miss to mention the most popular markets of Wroclaw, like the Christmas Market, the Market Hall or the Flower Market. But we put them at the end as they are mostly known. Let us start with the cozy, secret and local markets of Wroclaw. We promise you that they are real hidden gems!
1. EkoBazar at Browar Mieszczański
Our first recommendation is the EkoBazar, a very cute and small local market which operates in the buildings of an old brewery ("Browar Mieszczański"). You can find good quality vegetables and farm products here.
What we highly recommend is the Syrian breakfast, which is just amazing – don't miss it!
Every Saturday between 8-15h, the EkoBazar welcomes you at Hubska 44, just a bit south of the main railway station. Here you will get to their website.
2. Młyn Sułkowice Wroclaw Flea Market
Looking for a place to buy literally everything? Here you have it. No matter if you are heading for the standard market products like vegetables, fresh herbs, books or antique stuff here, or if you want something more exotic like inflatable boats. You will find it here. 
Your bicycle was stolen and you need a new one? This is the place to go! Apparently there were even cases where victims of theft could get their own bike returned here… 😀 And if you bought a bike that has some issues, bring it to the bike doctor on site – a little bike garage that apparently knows how to fix all kind of different bikes.
For sure the Młyn Sułkowice flea market has a very local atmosphere and rarely any tourists or foreigners are seen here. But even books or boardgames in foreign languages were offered the last time we got there, which even underlines that you can really get everything you need 🙂
3. Wrocławski Bazar Smakoszy
Another market where the food comes pretty much directly from the farm to the table. Meet the local producers and their incredible knowledge about the products. 
We recommend to check out the goat cheese here, the home made pierogi and the Polish wine (yes, there is Polish wine). Usually outside of the market you find a bakery street food truck with amazing sweet croissants and the popular polish sweet bread (ask for chałka, pronounced "hauca").
4. Świebodzki Wroclaw Flea Market
Another huge flea market in Wroclaw with a big focus on clothing, but needless to say that similarly to the Młyn Sułkowice market you will find almost everything you possibly could need here. Located in the old Świebodzki train station which is not operational anymore, this market has two parts.
The first part is the "official" part where the sellers offer really cheap stuff, from bed linen over pillows to dresses, but of course also vegetables, fruits and convenience goods. Did we mention that for some reason German washing powder is highly popular in Poland? 
In the second part you will start to notice that it does not look very organised anymore – let us call it "the illegal part". Going further inside the market (it is really, really huge!) you will notice that at some point just regular cars are selling stuff out of the trunk at the old railway tracks. 
5. The Night Market of Wroclaw
You don't need to travel to Thailand to experience one of the famous night markets – Wroclaw has its own! Okay, to be fair, it probably is not comparable with the Asian counterparts but still it has cool vibes.
From some street food stalls you can get not only Asian food, but also Mexican cuisine or super tasty Argentinian empanadas. Next to some old railway tracks, relaxing chairs are inviting you to enjoy a cold drink and some food.
The pictures were taken in epidemic times after a heavily rainy day, so don't get mislead if you think there are typically no visitors at all – it was just a quiet day 😉
Although it is located a little bit outside of the city centre, we believe it is worth to include this hidden gem of the local markets in Wroclaw. Bazar Dawna Pralnia is opening its doors in an old industrial complex, which in our view still has a huge potential for many more cool places in the future.
You can get really good quality products here from various Polish producers, for example vegetables, meat, oils, bread, sweets, drinks and wine. Most of them have organic certificates and high ecological standards. 
We had a beautiful and very tasty breakfast here which is offered on most Sundays (better check their FB Page, link below), with amazing quiche and bagels that were made in heaven! Easily you can spend the whole Sunday there, just relaxing in the beach chairs, drinking some grape (we mean great, haha) wine and having super healthy food!
7. Christmas Market in Wroclaw
Slowly we are getting away from the real local and mostly unknown markets. It is kind of a rule that every post about markets in Wroclaw has to include the famous Christmas Market of course!
Enjoy the local Christmas vibes around the colourful illuminated Market Square. It starts typically end of November and lasts till 31 December every year. 
Obviously there will be mulled wine and much more to heat you up from the inside. 
8. Plac Solny Flower Market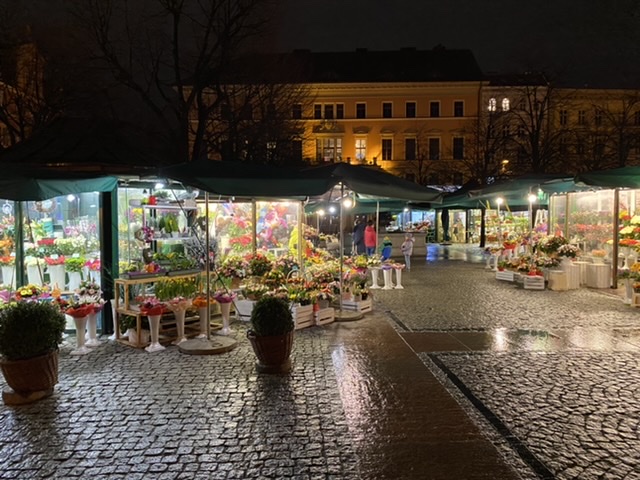 Let us call it a very monothematic market, and the title already solved the mystery about the only goods sold here: Flowers! Yes, all kinds of flowers are available here at every day- and nighttime.
If you have a reason to apologise to somebody in the late night, here you go for flowers then 🙂 
No need to go to Amsterdam for famous flower markets and take the hassle to check opening hours. This might be smaller but is always open 😉
No matter at which hour and day you arrive, we can guarantee you an opportunity to buy flowers at Plac Solny 24/7.
9. The Market Hall (Hala Targowa)
Although Hala Targowa is very likely the most popular market in Wroclaw, yet it is frequently visited by locals and not a pure tourist attraction. 
Many stalls are selling everything from vegetables, fruits, meat, flowers, imported products, but also if you need a key copied or some stuff printed in the copy shop – you will all find it here. Don't miss the famous Café Targowa. Its owner won the AeroPress World Championship – his coffee is amazing! More about it here.
10. The Street Food Hall: Hala Świebodzki
Opened in the middle of the pandemic in 2020 we also have the street food hall in the old Świebodzki train station.
Inside you will find a dozen smaller restaurateurs which will prepare all kinds of dishes for you – whether Italian, Asian, sweet or sour, everybody surely will find something here.
There is also a huge bar so that nobody has to stay thirsty. For mild summer nights, the outdoor area is available with comfortable beach chairs – a bit hipster-like, right next to the train tracks.
You can find the Hala Świebodzki directly at the Świebodzki train station, here you can navigate directly to it.
One of our favourites is the "Chao Bao" Asian steamed buns and the Mexican "El Gordito".
In case you are on the hunt for antique and old stuff, you can't miss this one! Depending on the weekend, it happens either at the Centennial Hall (Iglica) or next to the Magdalena Church.
For 2023 we have not seen any list of dates yet, but last year, it was mostly happening on the last weekends every month, so keep your eyes open 🙂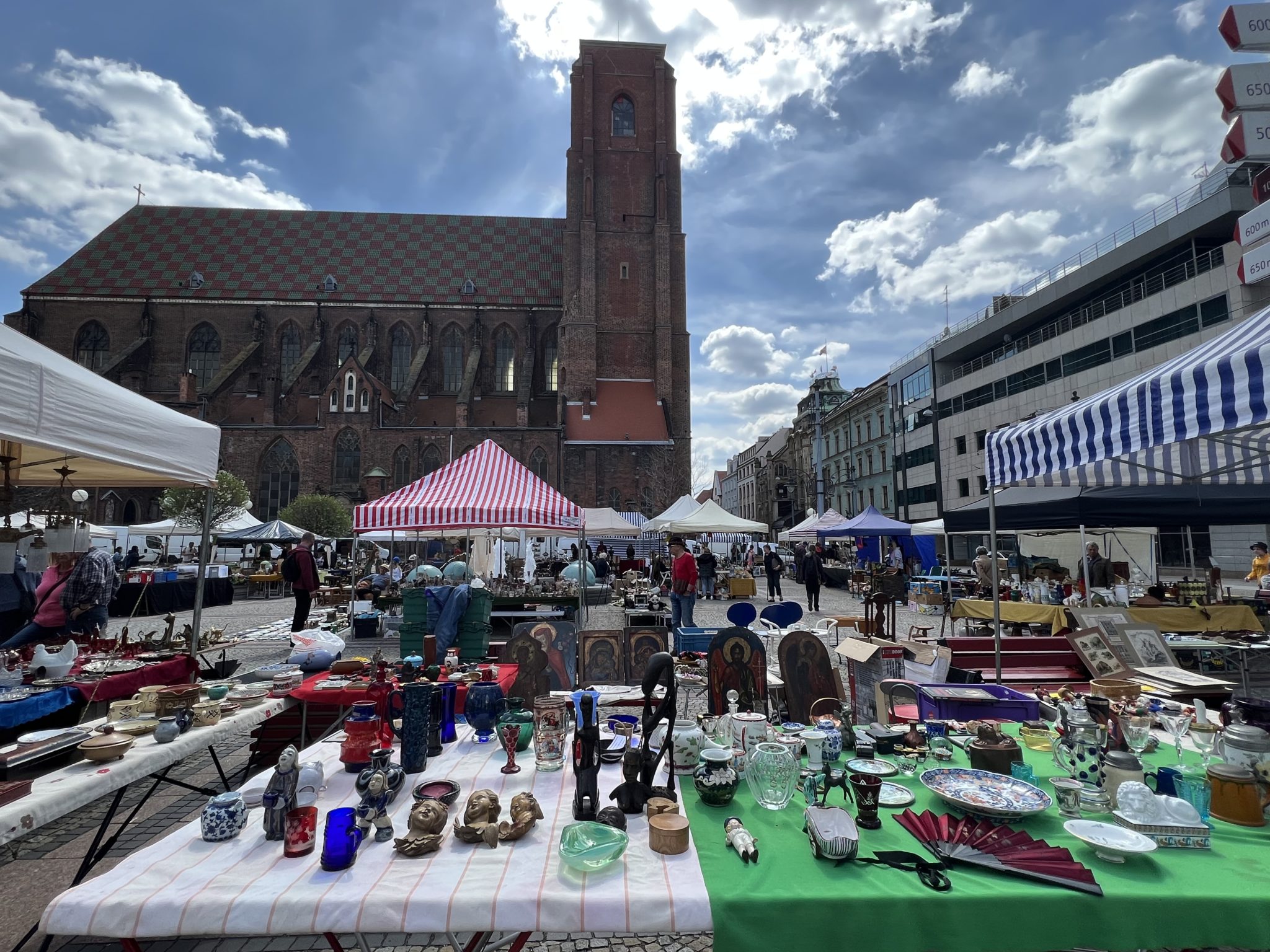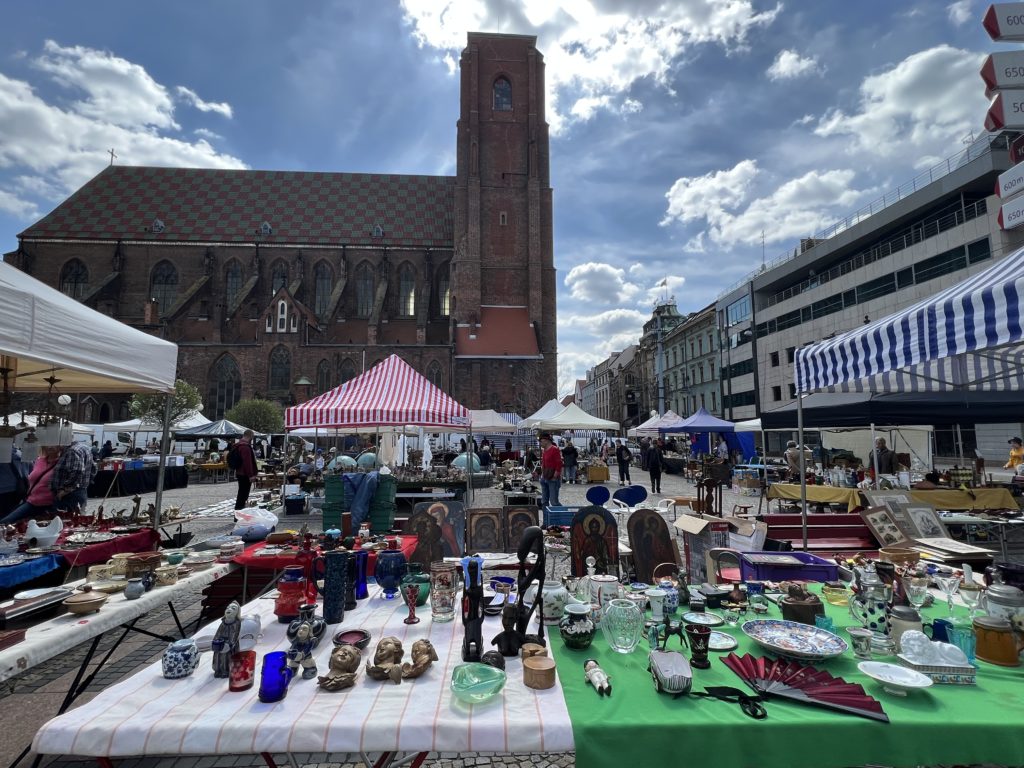 12. Good Design Market at Concordia
Looking for hand made design products from local artists? Then we can recommend you to visit the Good Design Market which takes places in the Concordia building on the Słodowa Island from time to time.
Prints, paintings, ceramics, plants, clothing and more – you can find pretty amazing things here. Great opportunity to find birthday gifts 🙂