Diesen Text gibt es hier auch in Deutsch
Apartments in Wroclaw – Our personal recommendations
If you want to stay in Wroclaw, you have an extensive choice of nice luxury hotels, apartments, camping and many other types of accommodation in Wroclaw. As we already created a very personal hotel guide to Wroclaw here, it is now time to zoom in a bit more on the available apartments in Wroclaw!
Compared to hotels, apartments in Wroclaw can be a great choice for your stay in Wroclaw, if you do not require any special hotel services (well, somebody else doing your laundry, room service, spa, sauna and fitness, etc.). In particular for families and group trips, apartments and similar type of holiday homes became a very popular choice and the available number of them grew significantly over the past years.
Apartments or Aparthotels (combining hotel services with self-catering options) in Wroclaw are generally a little bit cheaper than hotels and you will find yourself a little kitchen to prepare food if you like (or follow our recommendations for breakfast and food in Wroclaw here). Many of the apartments are located in regular residential buildings and equipped with self-checkin options like a secure key box, so even arriving very late is not a problem in most cases.
We will be introducing you to our favourite apartments in Wroclaw based on occasion, while we focus on the apartments very close to the city centre – so you can be sure that you will not need to worry about the location at all.
Apartments in Wroclaw for Couples, Singles and Business Travellers
We would name the following apartments in Wroclaw "the allrounders"… Why? Because these are great for singles, couples and business travellers likewise and will cover most regular occasions to travel. All are located within walkable distance to the city center or right in the middle and enjoy very excellent ratings on the booking portals.
2/3 APARTMENTS Old Town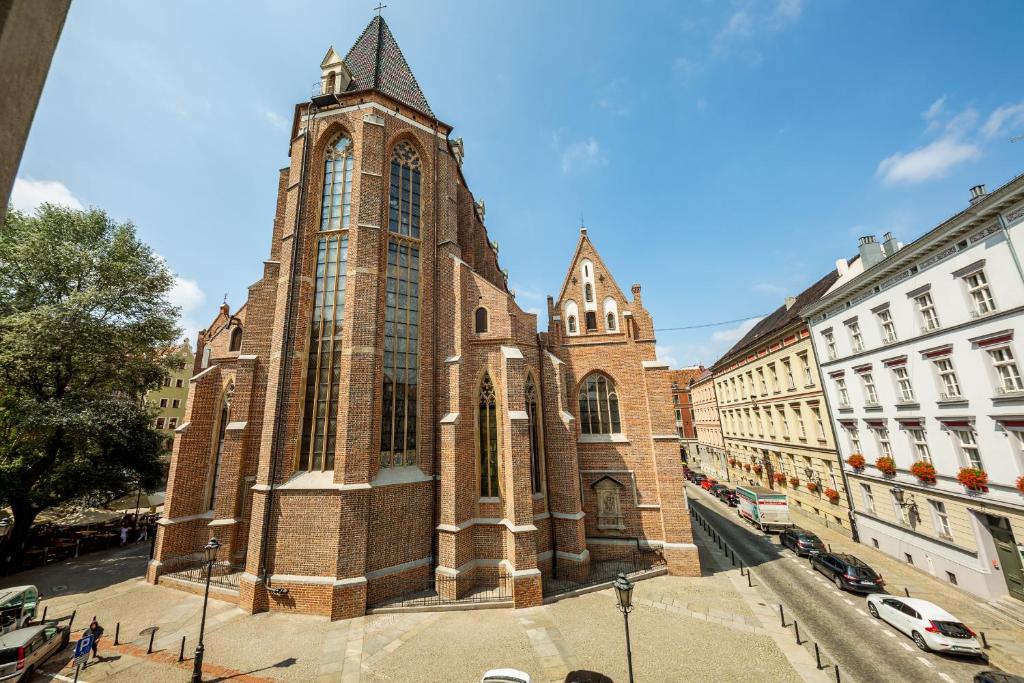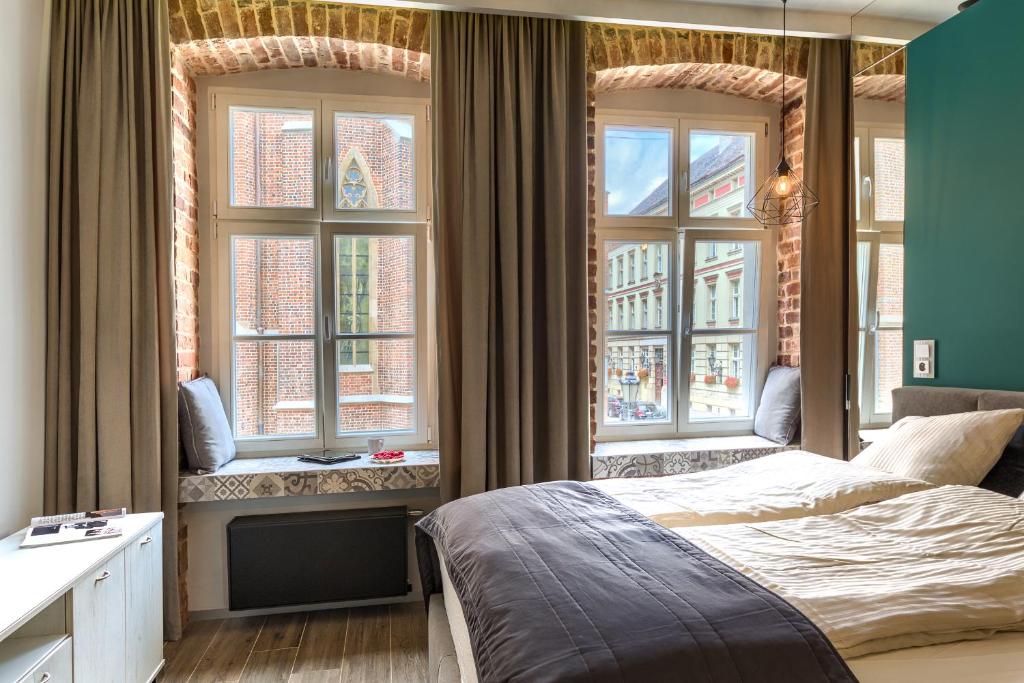 Interested? Check your individual dates and get the price per night here.
Why
These option is one of the best rated apartments in Wroclaw and has a high number of guests stayed at the same time – speaking for a consistent high quality experience.
Location
The location is excellent with just a 2 minutes walk to the Market Square, just in the middle of the Old Town from Wroclaw. The street can be a bit busy though, just to be aware.
Details
The rooms are very modern and in total four apartments are available (2x for two people, 1x for three and 1x for four) in this offer.
GREENY Apartment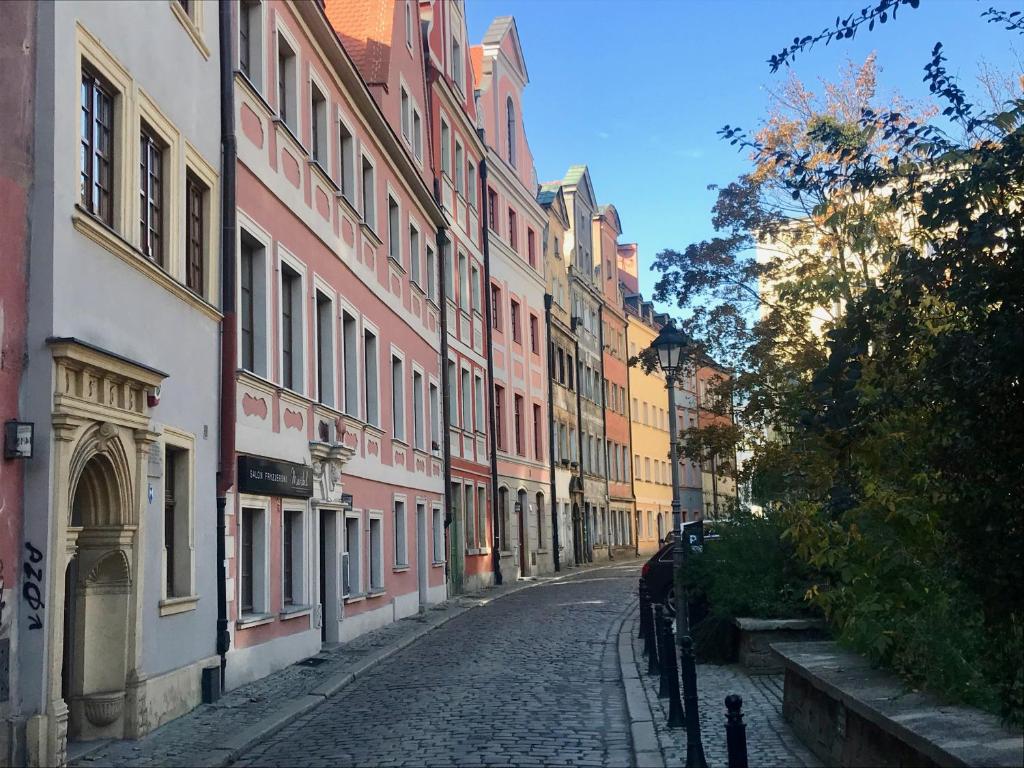 Interested? Check your individual dates and get the price per night here.
Why
Nice, modern and simple apartments which will surely fit for most travellers. Excellent ratings and a great money-value ratio.
Location
Another perfect choice in the old town of Wroclaw, it will take you 3-5 minutes max. to get to the Market Square, but this street is typically super quiet.
Details
Two apartments are available for max. two people each – therefore not recommended by us for families. Very popular, early booking recommended.
ApArt Bulwary Wrocław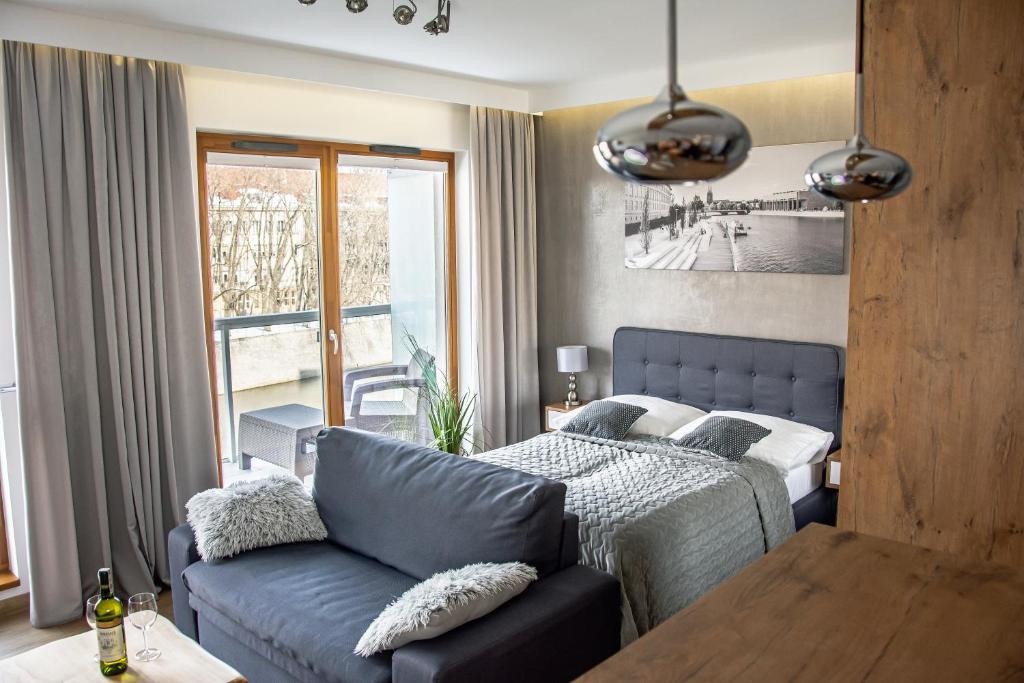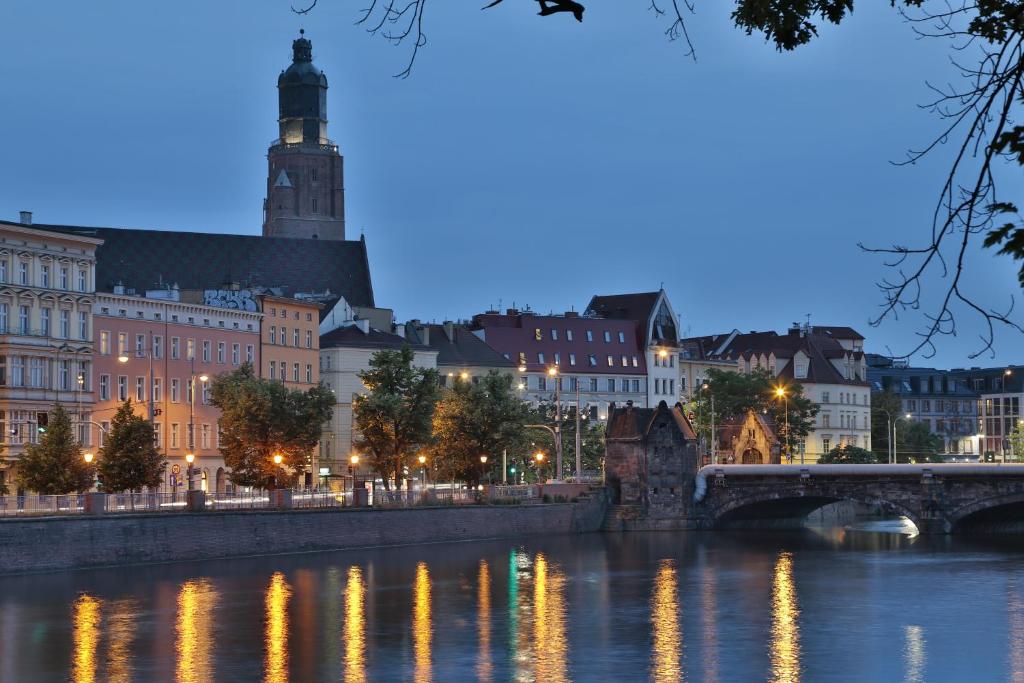 Interested? Check your individual dates and get the price per night here.
Why
Most apartments have a view directly on the Oder River next to them, beautiful for a breakfast on the balcony! Has also the highest ratings of apartments in Wroclaw – consistent great quality.
Location
At the north entrance to the Old Town at the Oder River. It still only takes you less than 10 minutes to walk to the Market Square. Very close to some Fine Dining Restaurants in the City Harbour.
Details
Eight different apartments are available in the modern new building, highly suitable for groups who want to combine multiple apartments next to each other. Likewise for couples and all others!
Odrzańska Residence Old Town
Interested? Check your individual dates and get the price per night here.
Why
Young and colourful apartments in a stylish building. Coming close to an Aparthotel in terms of services, great breakfast served at Dinette in the same building. A great choice for all occasions.
Location
Same street like the first option we recommended – super central with a 2 minutes walk to the Market Square, a bit busy street but in the middle of the Old Town. Public Parking is available.
Details
With a total of 13 apartments available here, you easily should be able to find an availability short term or last minute. Perfect to combine apartments for larger groups and families! A large Penthouse Apartment can be booked as well.
Loft House Premium Apartments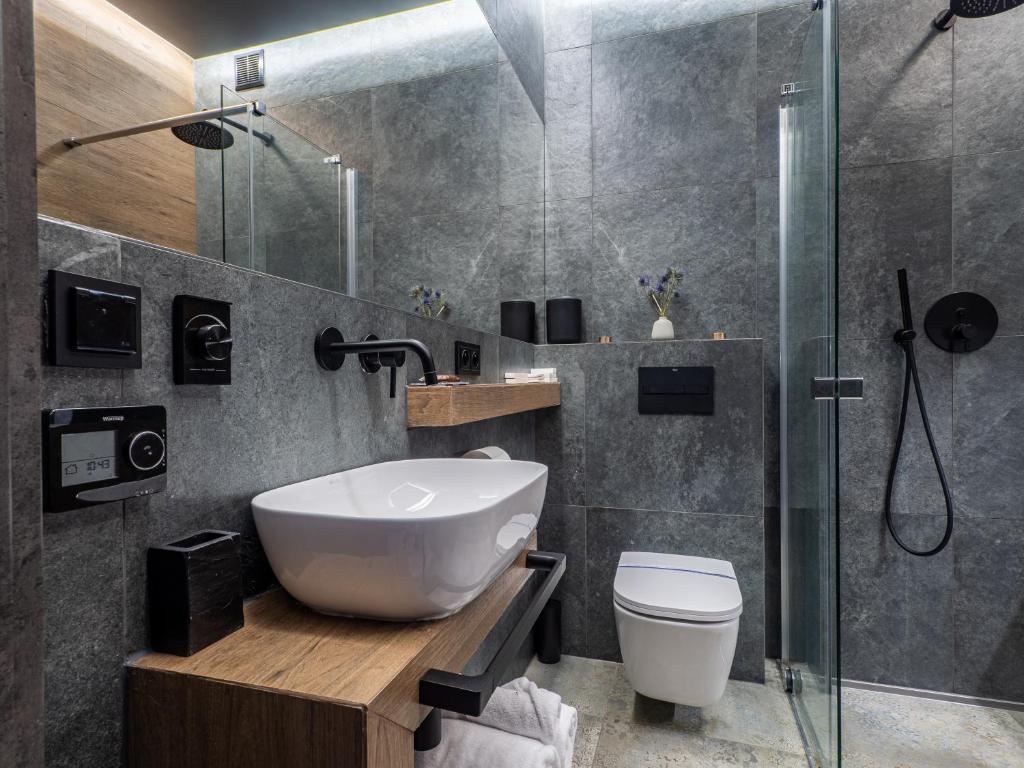 Interested? Check your individual dates and get the price per night here.
Why
Amazing for design lovers who like to stay in apartments with a bit of extra charm. Some apartments feature big terraces to enjoy a summer breakfast outdoors.
Location
Outside of the Old Town, around 20 minutes walk to it with a bit more limited restaurant choices around. Very quiet in a residential area next to a beautiful river.
Details
Highly recommended if you don't want to go out for breakfast, sleep longer, cuddle your partner in the morning, or in other words spend actually more time in the apartment than just to sleep there. Groups can combine easily the ten available apartments in many sizes.
Avoid this one: Absyntapart – Bulwar Staromiejski
Unfortunately we have to also warn you from one specific company renting out apartments: Absyntapart at Bulwar Staromiejski. We were recommending them but recently checked in together with guests from us and found what you can see on the picture – lots of glass coming from the bathroom, opening the door already felt difficult because of it.
After our complaint, they cleaned it, but unfortunately not very well, that still in the shower (where you normally walk barefoot) it was easy to injure yourself as lots of glass was left. Response to that from the manager: "The receptionist cleaned it herself and she is not a cleaning lady". Only after insisting and re-complaining every day, a new apartment was finally provided after two days. As we were present during the complaint and experienced the story first hand, we really advise against this option.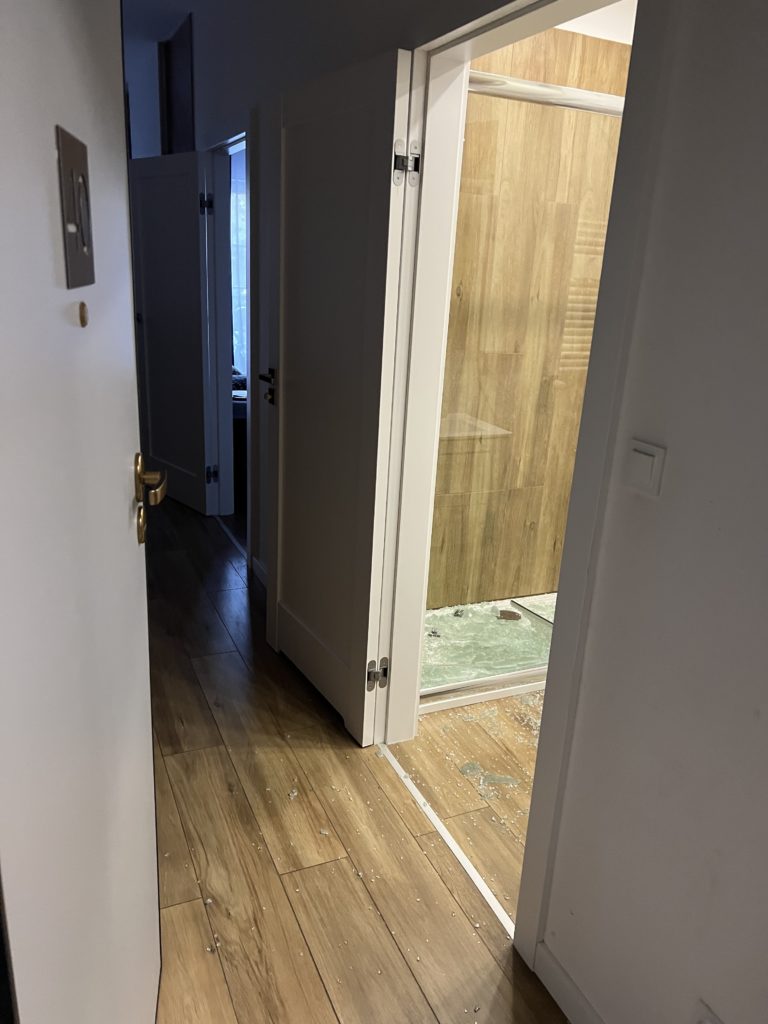 Just to know what you should avoid, it is this company on booking.com
Apartments in Wroclaw for Groups
For group trips to Wroclaw we are recommending some special options here. Either you can book directly a larger apartment for a big group in Wroclaw, or you can book multiple apartments in the same building. With that, you have the full bandwith of privacy options that you might be looking for with your fellow travellers 🙂
Apartementy Plac Solny 20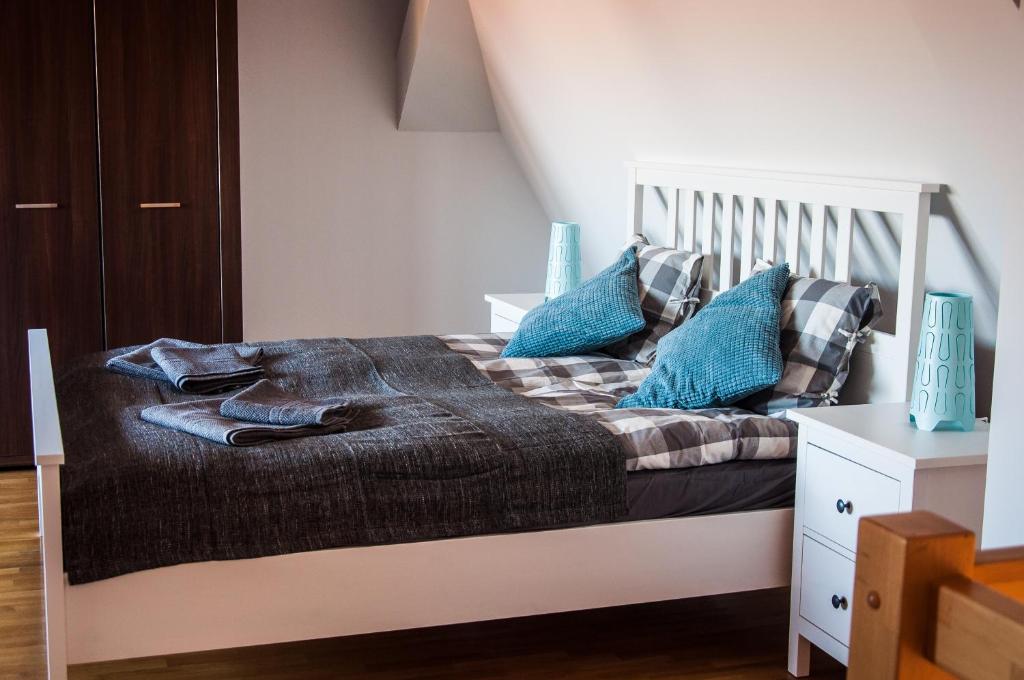 Interested? Check your individual dates and get the price per night here.
Why
Many excellent reviews from groups, huge and spacious beautifully designed apartments in the city center. Very affordable (from 25-30 EUR per person per night if you stay in a group of six). Surely great for bachelor and bachelorette parties as well!
Location
The Salt Market Square is the little sister of the main Market Square in Wroclaw. From here you can throw a stone, and you are there, literally in front of it. Many cafés and restaurants are making it a perfect location for nightlife, sightseeing and just everything.
Details
Perfect if you have 5-6 friends which you want to stay together in one single apartment and not separated. With being located in the middle of all action, you can be very spontaneous if you want to go out or just grab some groceries for a late breakfast in the apartment.
Spacious Apart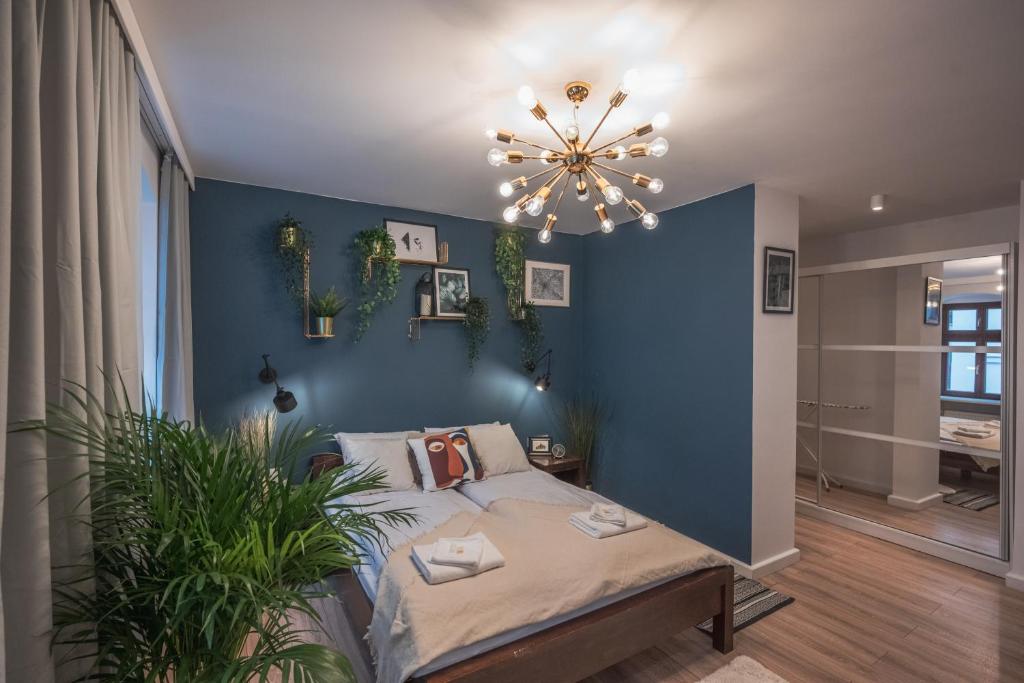 Interested? Check your individual dates and get the price per night here.
Why
Beautiful interior design, super super central location, from a price level slightly above the Plac Solny 20 Apartments we introduced before, but still one of the best choices in Wroclaw to stay with a group and find an accommodation together.
Location
You won't get much closer to the Market Square than with this option (or the previous one). Only 150 meters away from it, there is not much else to say apart from that it is perfect!
Details
Six different apartments are offered, most of them for groups of 5-6 people each. Again a perfect choice for group travels when you know your friends and you want to stay together in one single place.
Unique Apartments in Wroclaw
You are looking for something special? No problem – what about amazing views out of your pool or bathtub from the Sky Tower, the largest building in Wroclaw? Or staying in the city habour just opposite of the University building? No problem, here are some recommdations for special occasions!
Sky Tower Luxury Apartments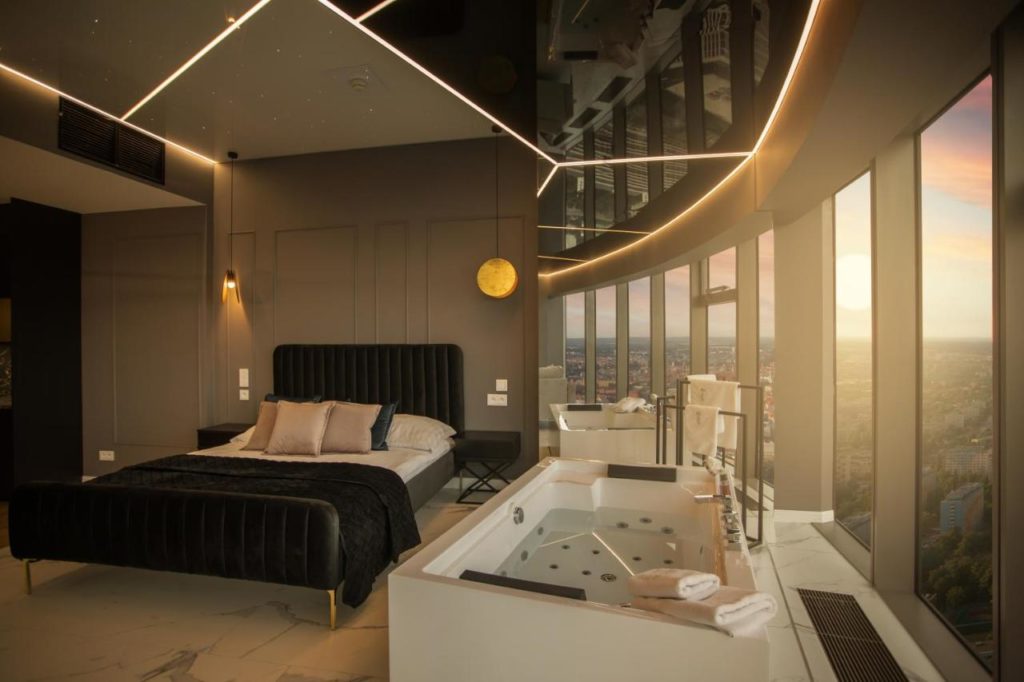 Interested? Check your individual dates and get the price per night here.
Why
This is a true luxury experience, just think about the high windows with the panorama view across the city. Enjoy a glass of champagne from the pool while being in this stunning setting. And the best: It is not really super costly compared to what you get, if you like it, check out the prices!
Location
We featured the Sky Tower in our post on the 25 most impressive buildings in Wroclaw, with a direct tram you get into the city center quickly, walking will take you 20-25 minutes. Many great nightlife spots around at the Embankment which is a 10 minute walk only!
Details
Bachelor and bachelorette parties, family celebrations, proposals, birthdays, or just any ordinary day can be celebrated here. Similar places in cities like Singapore, Bangkok, New York are not affordable for many of us – but this one really can be! Go for it…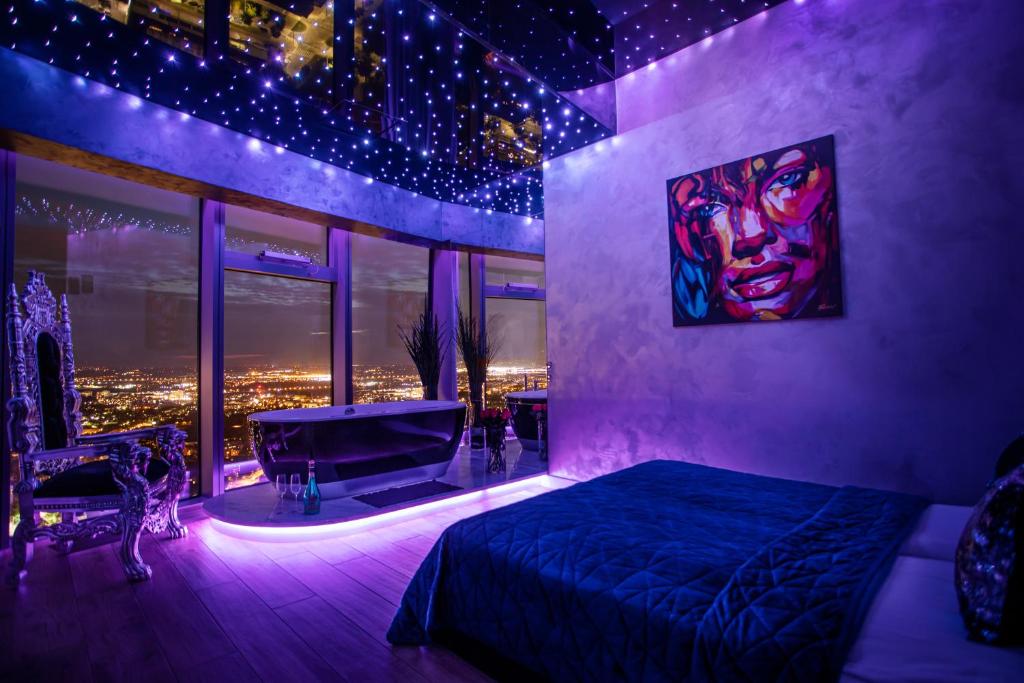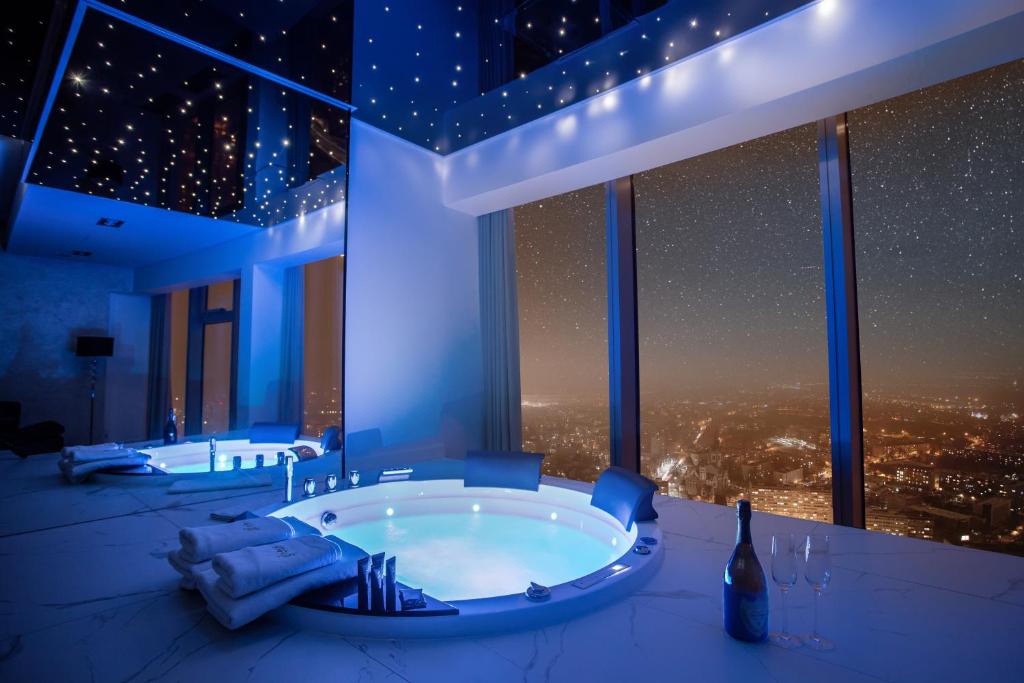 There are two different companies who offer apartments in that style, if the previous option is no longer available, please check also out this one here as alternative.
EXCLUSIVE Aparthotel MARINA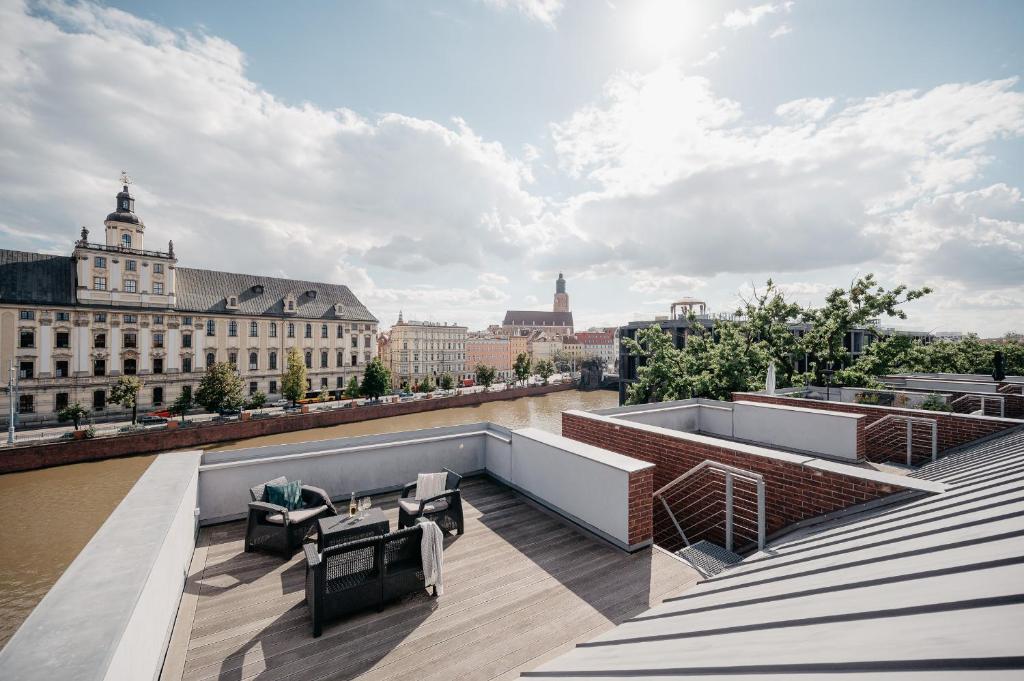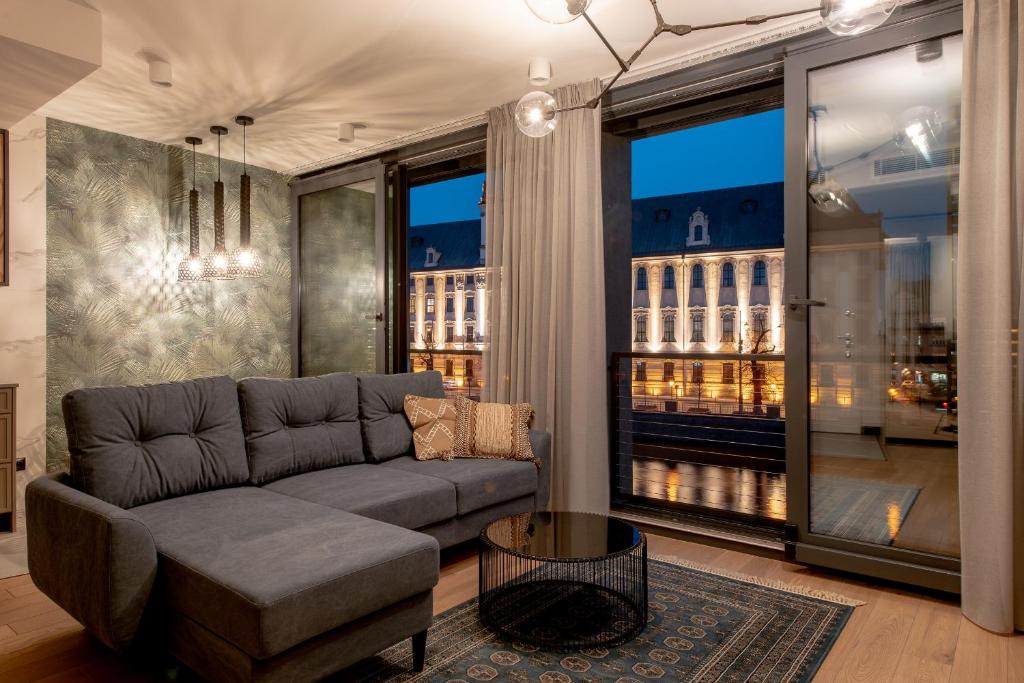 Interested? Check your individual dates and get the price per night here.
Why
The best possible mix of being super close to the city center, having an amazing view around the Oder River, a perfect blend of luxury and style. Very quiet location on a little island and many top restaurants in Wroclaw in close proximity.
Location
Just opposite of the baroque University Wroclaw, lovely located at the riverside. Old Town ist literally in front of the door and in the evenings, you'll get the most amazing sunsets served to your balcony here. A dream!
Details
Often well booked in advanced due to it's superior location. Amazing as romantic location for couples but many apartments with two or three bedrooms made it a great choice for families and groups likewise.
Jungle Apartments
Interested? Check your individual dates and get the price per night here.
Why
In case you like Zoos, Jungles, etc. you probably gonna love that style! We have picked this apartment due to its special vibes, and we believe in particular for couples it is really lovely for a change in the everyday scenery.
Location
Finally we have a recommendation closer to the Train Station! It is just in between of the Old Town and the Train Station. Walk around 15 minutes to the Market Square and 5 minutes to the train platforms.
Details
Come on, look at the pictures… We believe there are only two options: You love it, or you hate it! With 28 Apartments available there are good chances for an availability last minute as well. If you stay here, do not miss the "Kwiaty Kawy" Café in a similar vibe.
A houseboat to rent and stay overnight in Wroclaw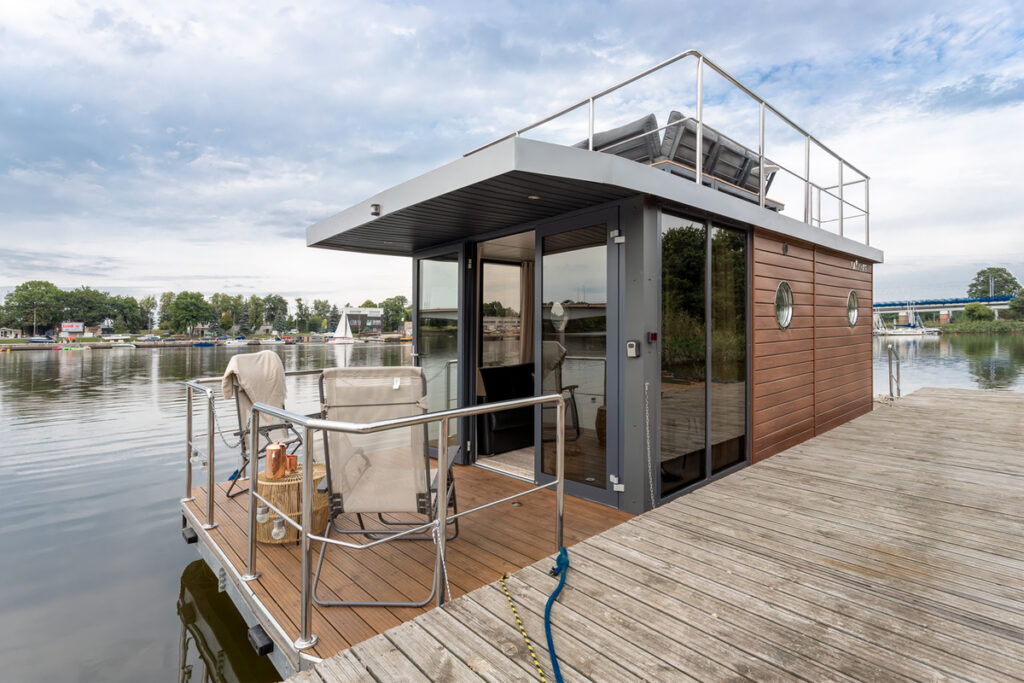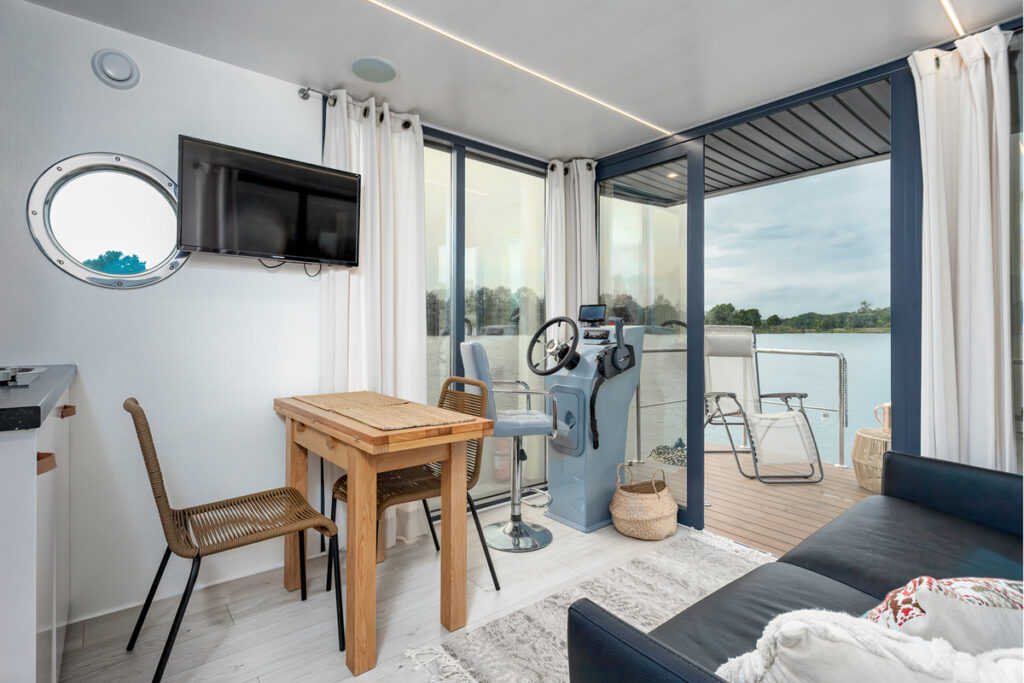 Interested? Check your individual dates and get the price per night here.
Why
Come on, it is a freaking houseboat in Wroclaw! Great for a romantic surprise or if you just like something truly extraordinary.
Location
That depends on you and where you want to take your new home 🙂 It is normally located close to the Millennium Bridge, but just take it where you feel like.
Details
There is only this one houseboat to rent for overnight stays in Wroclaw, so the dates are often well booked in advance. Make sure to book ahead of others!
Apartments in the alternative Nadodrze District
You prefer to stay in a more local, alternative area and explore the city from a local perspective? Then the Nadodrze District (we believe it is one of the most amazing parts of Wroclaw) might be your choice. All of our recommendations are located pretty much between the old town and Nadodrze, so both ways are easily to be started from here, even the old town is no longer than a 5-10 minutes walk away from these apartments.
Odra View Apartments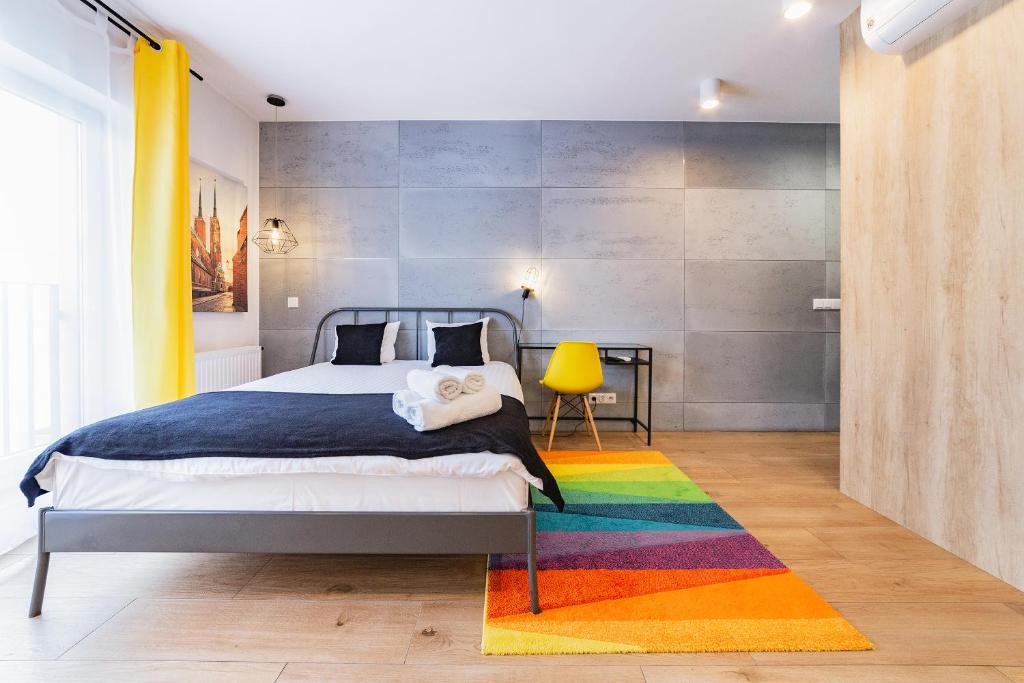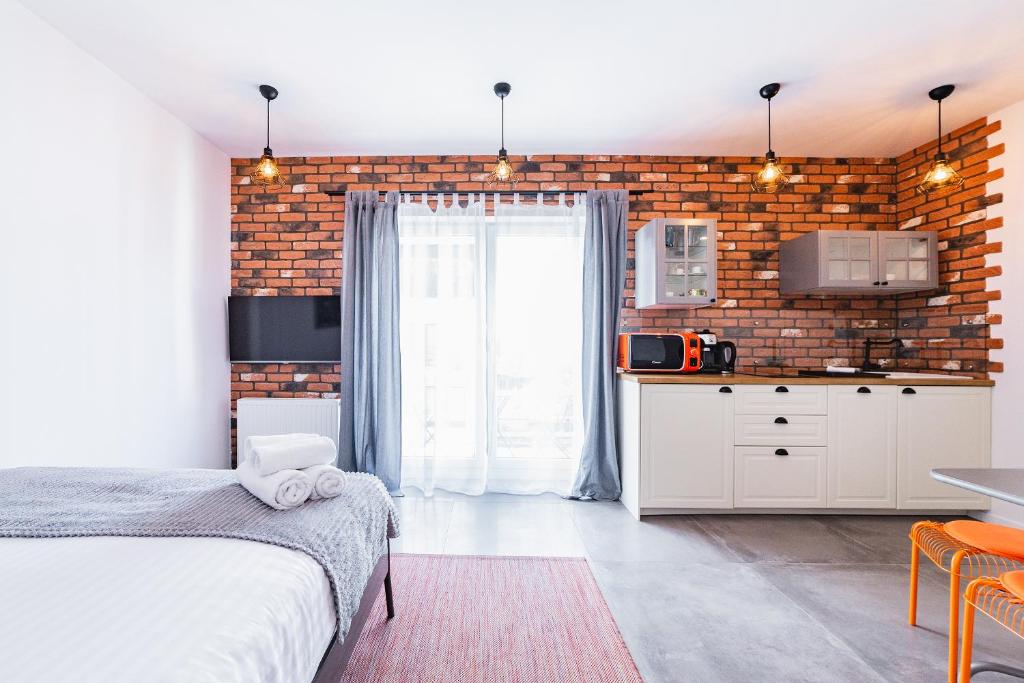 Interested? Check your individual dates and get the price per night here.
Why
As many of our recommendations, modern and stylish, and definitely one of the favourite places to stay for some of our friends – they always keep choosing this apartment! It feels much more local compared to some of the allrounder options from our first section.
Location
With the location at the Oder River in a modern residential building, you not only have a nice view, but can start exploring Nadodrze from here easily. To the Market Square you will walk around 15 minutes.
Details
Three apartments for two people each are available, due to the great location they are often booked well in advance. Check and book early, mostly not available as last minute option anymore.
Wroclaw City Apartments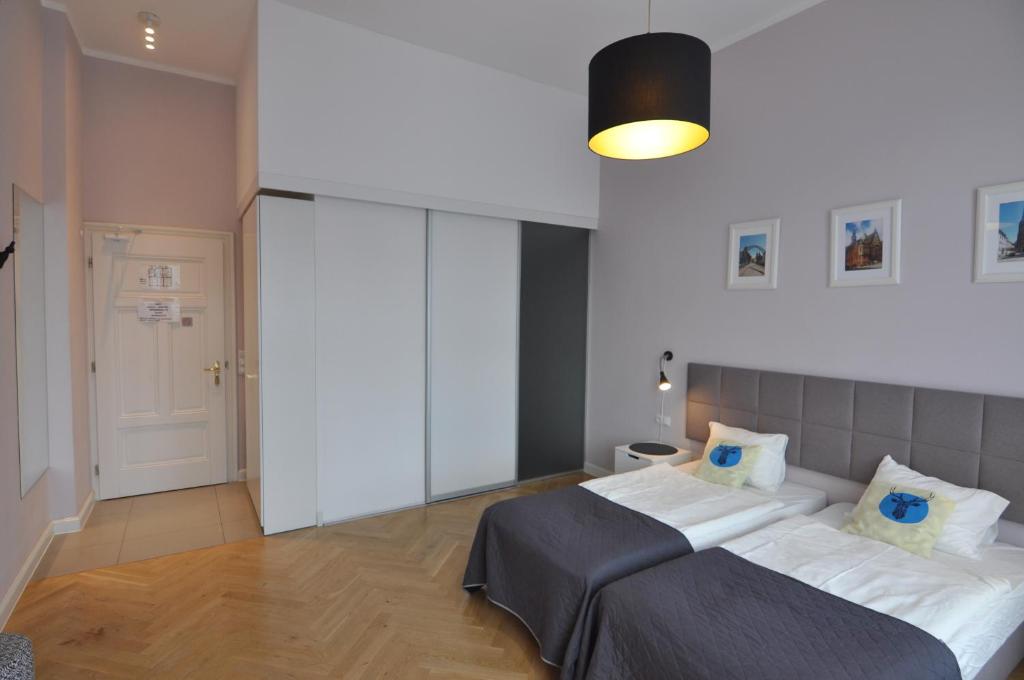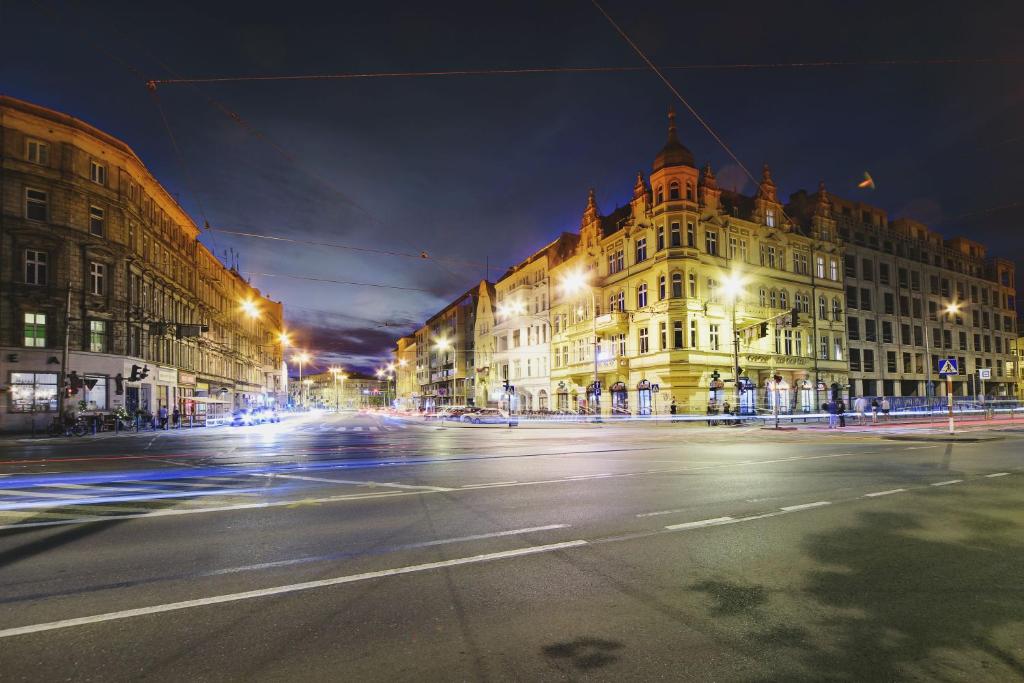 Interested? Check your individual dates and get the price per night here.
Location
A brisk five minute walk away from the University and the entrance to the Old Town. At the same time, on the other side you'll jump right into Nadodrze, super central and a good choice for sure!
Details
With 29 apartments available in the building you could almost call it an Aparthotel as well. Plenty of availabilities, and in particular for families one of the first choices in Wroclaw! Highly recommended.
Prestige Apartaments 79
Interested? Check your individual dates and get the price per night here.
Why
Simple design, very high ratings, and an amazing location define the Prestige Apartaments 79. A solid choice and very comparable to the Wroclaw City Apartments – you just have to decide which you find a bit more cozy 🙂
Location
Pretty much a neighbour of our previous recommendation – the perfect location if you would like to explore Wroclaw in a bit more alternative way but also do not miss the most common things to do in Wroclaw!
Details
Eight apartments in different settings make sure that every group, couple, single, or family will be happy with the choice. Clear and simple design make it a great apartment in Wroclaw!
Familiy Friendly Apartments with Kids in Wroclaw
In case you are bringing your family with kids to Wroclaw, then we would even more recommend to take your own apartment. While we did some scouting for the best apartments with kids in Wroclaw, we have found some of the same ones again, which we already introduced to you before.
These four are our special picks that deserve to be called "Familiy Friendly Apartments in Wroclaw":
Prestige Apartaments 79
Wroclaw City Apartments
ApArt Bulwary Wrocław
Spacious
Apart
Apartments by District – the Overview Map
Like it more visual? No problem, then use this overview map from Booking.com for all possible accomodations and apartments in Wroclaw. The best with this option is that you can easily pick your dates and immediately will see which ones are available and which already might be booked.
Cheap Budget Apartments in Wroclaw
Just a place to sleep, which does not have to be super central but affordable? Then we have our budget recommendations for cheap apartments in Wroclaw here for you. And good news, one of the budget options actually is still located in the city centre but most of the times has really highly discounted and affordable rates. But let us get started with the remote option first…
Wood Creek Apartments
Interested? Check your individual dates and get the price per night here.
Why
Very simple and highly affordable, most of the times one of the best deals available in Wroclaw with really decent ratings. Amazing price-value ratio, sometimes per night from as little as 20-25 EUR!
Location
With the location in Psie Pole, you will definitely need either a car or take the bus/train to get to the city center in Wroclaw (20-30 minutes required). On the other hand, parking won't be a problem here 😉
Details
Options with both shared and private bathrooms available, please pay attention to what you prefer during the booking process. Ten different apartment options available. And surprise: They even have a sauna!
Property Apart – Ruska Centrum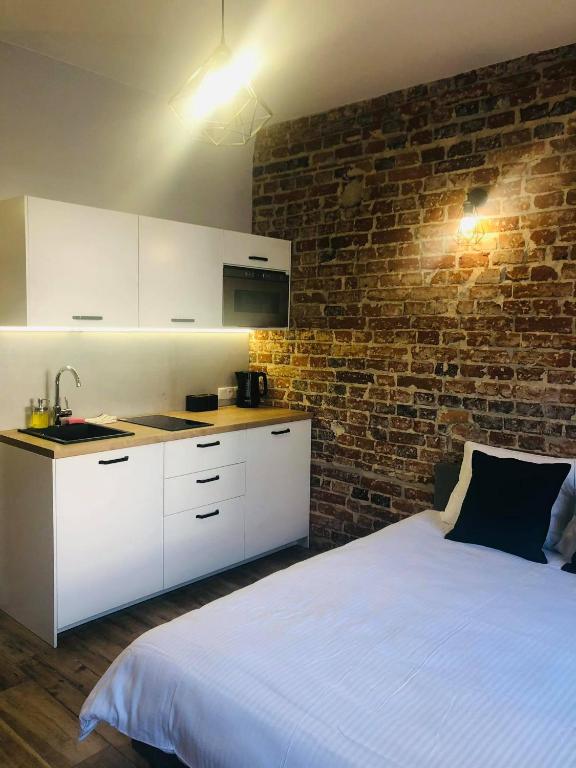 Interested? Check your individual dates and get the price per night here.
Why
The best option to combine a highly affordable (not to say cheap apartment) and super central location. Staying in the city centre at super amazing prices, even in a very modern design.
Location
These apartments are in the Four Denomination District, just two Minutes away from the amazing Neon Side Gallery. Walking to the Market Square won't take more than 5 minutes as well.
Details
Most rooms are quite small, but if you spend most time on sightseeing and just fancy a place to sleep in Wroclaw that is not expensive, here you go. There are 22 apartments available, but due to the value-price ratio, we recommend to book well in advance!
More recommendations from us
We already mentioned that with most apartments in Wroclaw a self checkin is possible and you can check in very flexible even in late evening hours. But still we want to provide you with a bit more information if you decide to stay with this option.
Where to go shopping in Wroclaw?
At almost every corner in Wroclaw you can find a Zabka Convenience Store, just google for the closest one. They have extensive opening hours, mostly up to 23h and in their small selection you can get all important groceries like milk, coffee, eggs and bread. If you want to go shopping a little bit more extensive, then we recommend the Biedronka supermarket chain as they are a bit less expensive than Zabka and have a wider selection.
Breakfast: Better in the city than in the Hotel/Apartment
Frankly speaking, we believe that in Wroclaw there are so many great opportunities for breakfast in the city which are cheaper than a hotel breakfast for sure and simply worth to try. Of course it will be up to you if you prefer breakfast in your apartment at home or if you want to go out, but we really encourage visitors to try these amazing breakfast places in Wroclaw here.
Order Food in Wroclaw
If you want to order some food to your apartment, we recommend Pyszne, there you can get really get food from local restaurants, click here to check the offers. Just take care that during the order process you include the full details of your address, as example "Streetname 123/12" means building number 123 and apartment number 12.
Or should it be a hotel instead?
---
We hope that you enjoyed our recommendations for the best apartments in Wroclaw! If you have stayed in one of them, or you can recommend us other nice ones, please feel free to use the comment box below, we are always happy to get new input 🙂
Copyright for all pictures on this post: Booking.com/the local apartment operators