Diesen Text gibt es hier auch in Deutsch
The 12 best places for coffee in Wroclaw
⇨ Here are some amazing hotel deals for the Christmas Market 2021 in Wroclaw starting from 40 EUR per night - with free cancellation if needed! ⇦
Wroclaw is a city full of vibrant and cozy coffee places. All the students obviously need some caffeine, but not only them – we also spend a lot of our weekends in these cafes in Wroclaw to read, chill, relax and work on our city blog.
This list of 12 best places for coffee in Wroclaw is about our top favourites, but believe us, there is much more and at some point we will need to extend this post to the top 50 places of best coffee in Wroclaw.
Visit Wroclaw and enjoy the Polish coffee culture together with us! At the bottom of this article you will also find a book recommendation about Coffee Spots in Poland which is always with us when we travel to other Polish cities. Of course there is no need to mention that the truly best coffee is in Wroclaw 🙂
If you click on the street names, your maps application should open automatically to navigate you there.
And after this post, we recommend you to check out our compilation of the most unusual cafés in Wroclaw here (open in new window).
At Gniazdo (which by the way means "nest" translated from Polish) you will not only find very good coffee, but also a huge selection of cakes which in our opinion are some of the best in Wroclaw.
They will prepare you excellent speciality coffee (Aeropress, Chemex, Drip), but also serve interesting seasonal experiments, like the tonic coffee in the picture or a chili cappuccino.
During summer time, it is a must to enjoy their backyard. Also, Gniazdo is a very laptop friendly place and often you will meet students and digital normads.
Świdnicka 36 , just a 5 minutes walk from the city centre
Located between the city centre and the entrance to the alternative and hipster Nadodrze district, this cafe has some special vibes. It does not have a huge selection of speciality coffee, however you will feel welcome immediately and the cappuccino is super delicious. Poland might not be known as the country of big smiles, but here they are doing the best to change that perception.
For art lovers, various exhibitions are shown here and change pretty much every month, which is another good reason to come back.
Pomiędzy is the Polish word for "in between" and so is the food menu, you will also find excellent snacks and some cakes – do not miss the Banoffee here and try the smoothies! And if you want to see how breakfast looks like, check out our article about the best breakfast in Wroclaw.
Stanisława Dubios 2 , just between the city centre and Nadodrze, walkable 5-10 minutes from the centre
Our next recommendation is a bit more outside of the Wroclaw city centre. But even though you will need to take a tram it still is worth a visit as the coffee is just amazing. You will find a great selection of speciality coffee and also delicious cakes. You should not leave here without trying the Tiramisu.
As they also roast their own coffee, the beans from Mała Czarna actually are a popular source for a lot of other amazing cafes in Wroclaw.
We are back in the vibrant Nadodrze district to recommend you a visit at Food Think Tank. Actually they are much more than just a place to drink coffee. On regular basis they host workshops on food and coffee, so with the right timing you might be able to join a barista session or a wine tasting.
You will find a very cosy space where time is just flying by. During summer time, they will pull up a special construction that you can actually sit outside in the window. Do not miss to stroll around the Nadodrze district after the coffee and discover the traces of German history.
Władysława Łokietka 6, directly at the entrance of Nadodrze district and just 10 min away from the centre
One of our all time favourites is the Paloma Coffee. Centrally located it is the perfect meeting spot to make plans for the evening, work on a little bit of stuff and of course just enjoy a great coffee.
They roast their own beans which are available for use at home of course too. Don't miss the hummus which is a little but very tasty lunch option. 
Plac Solny 8/9, located at the salt square which is just next to the main market square.
Located in the Wroclaw Market Hall "Hala Targowa" this tiny but very lovely place is the perfect cafe to have a rest and enjoy the atmosphere.
When first opened, many people were not convinced about the location. However, now it is one of the best cafes in Wroclaw without any doubt, if not the best. The owner won the World Aeropress Championship in 2016 and of course you can order your Aeropress coffee prepared according to the famous recipe only here.
Check also their facebook page for cupping events!
Piaskowa 17, inside of the Wroclaw Market Hall ("Hala Targowa"), get in through the main entrance and then go to the left end corner, just before you will find it. It is just a 5 min walk from the city centre.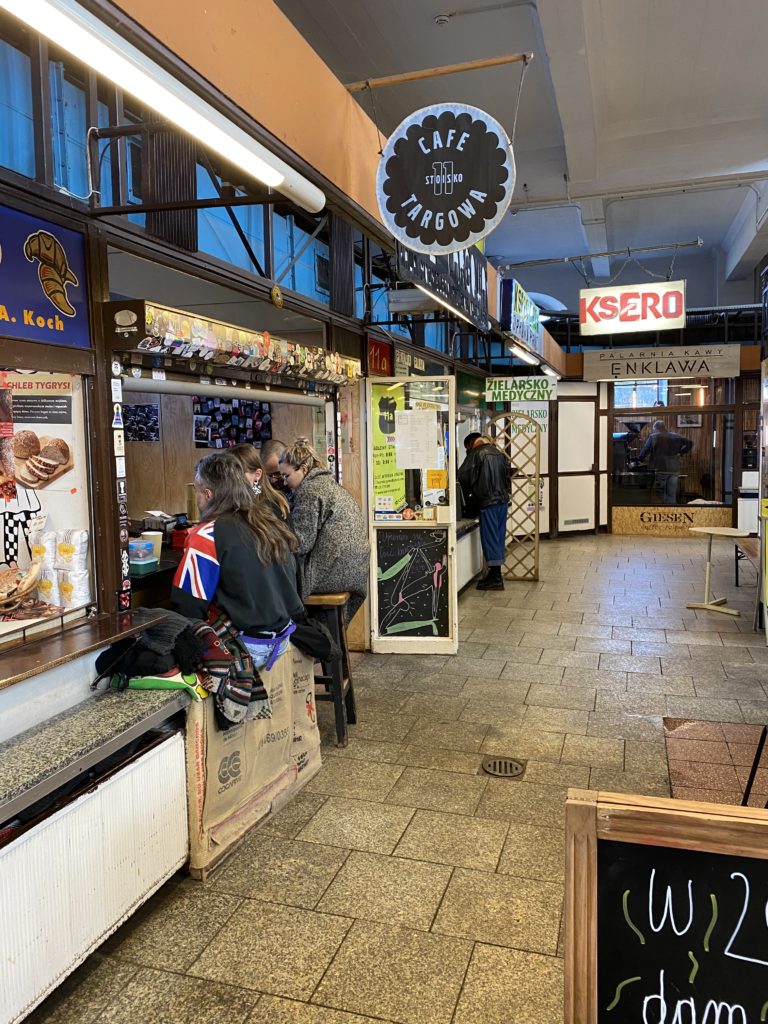 People originally from Wroclaw say that this is probably the place with which Nadodrze started its transformation. Nowadays often it is compared with Berlin-Kreuzberg as it has turned from a dangerous and shady area into the vibrant artist district. It used to be a garage and the name Rozrusznik in Polish literally means the "starter".
Also the building in which you will find this cozy cafe is very special and unique. You can find a piece of street art which creatively used two windows. They became eyes… See it yourself!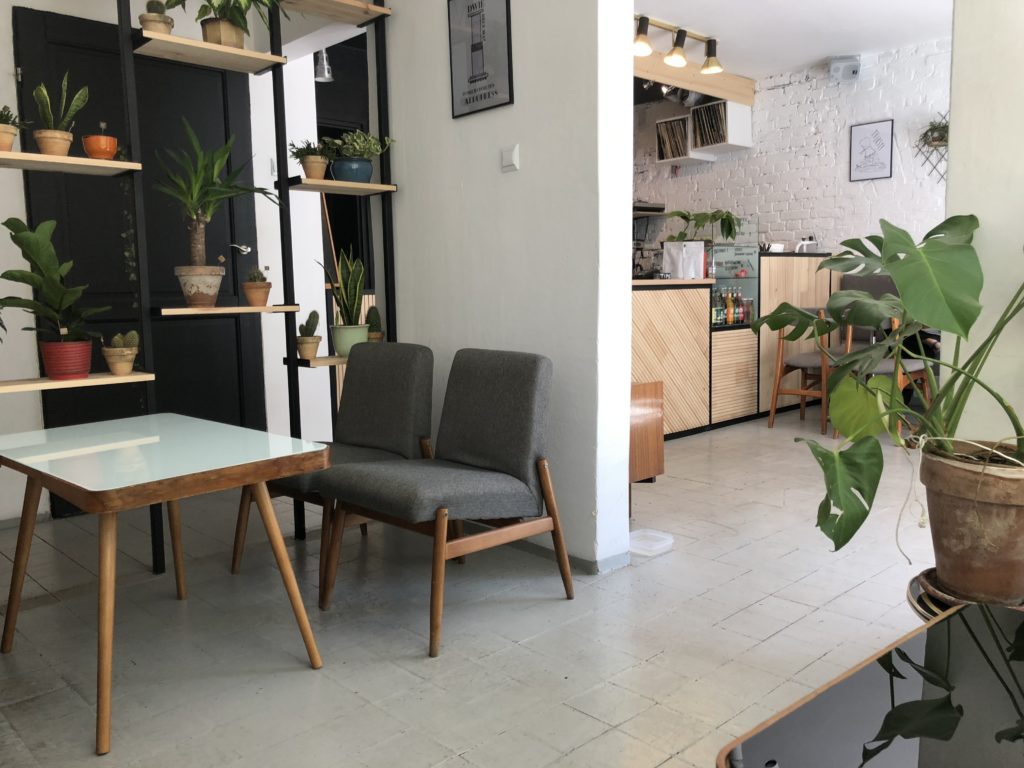 Welcome to the best sky bar in Wroclaw!
Okay, well, it is the coffee sky bar and sky is not really sky either…..  But here you will most definitely appreciate your coffee on the cool rooftop and enjoy some sun & views from the top. You might think that typically roof top bars are very expensive, and but for some reason, this one still has absolutely reasonable prices.
Świdnicka 38A, opposite of the Renoma shopping mall and just 2 minutes away from our other favourite cafe Gniazdo, so when one of them is crowded, you know where to go.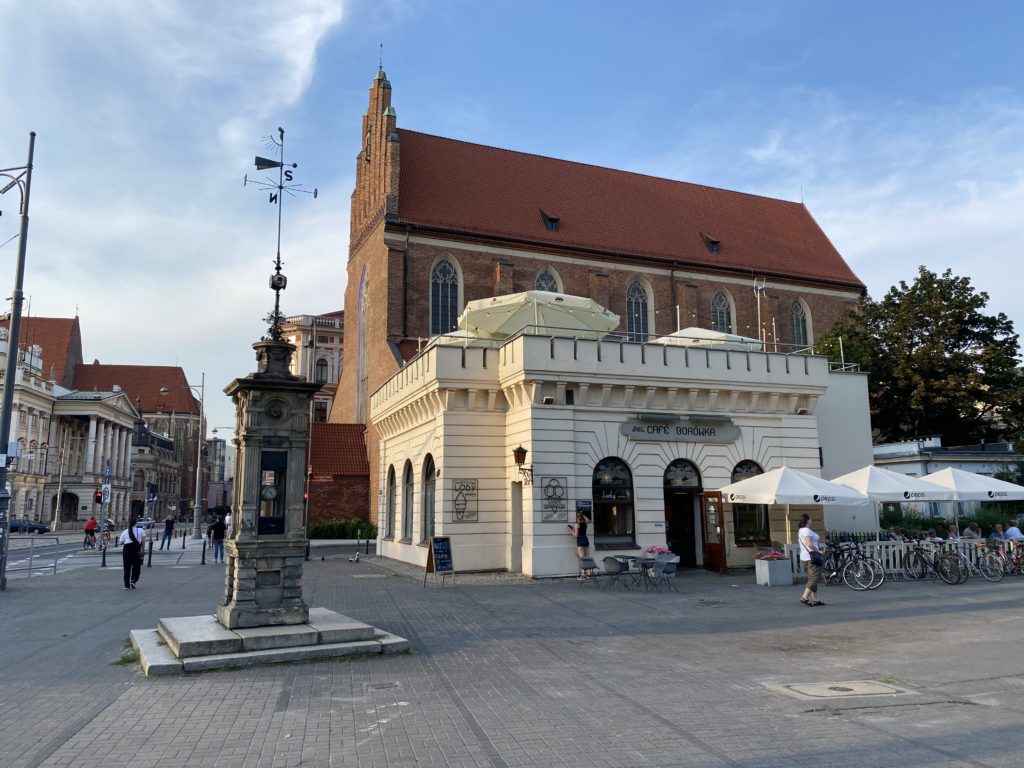 Another cafe in the city centre, but not in the shopping streets as you might expect. It actually is far away from noise and could be described as little break from the city within the city…
You will find Cherubinowy Wędrowiec in a little but absolutely beautiful garden ("Ossolineum Garden") right next to the Św. Maciej church. On purpose we do not upload a picture of the garden here. We leave you the nice surprise that you can discover it yourself.
It is the ideal place to read a magazine or newspaper and even do a little bit of work – which you hopefully do not have to do when you visit Wroclaw. If you actually need to work, this will be a place full of inspiration for sure while you enjoy the garden.
Almost redundant to say but the coffee is amazing and super delicious, also the sweets are highly recommended by us!
plac Nankiera 17a, just inside the city centre, close to the Wroclaw Market Hall ("Hala Targowa").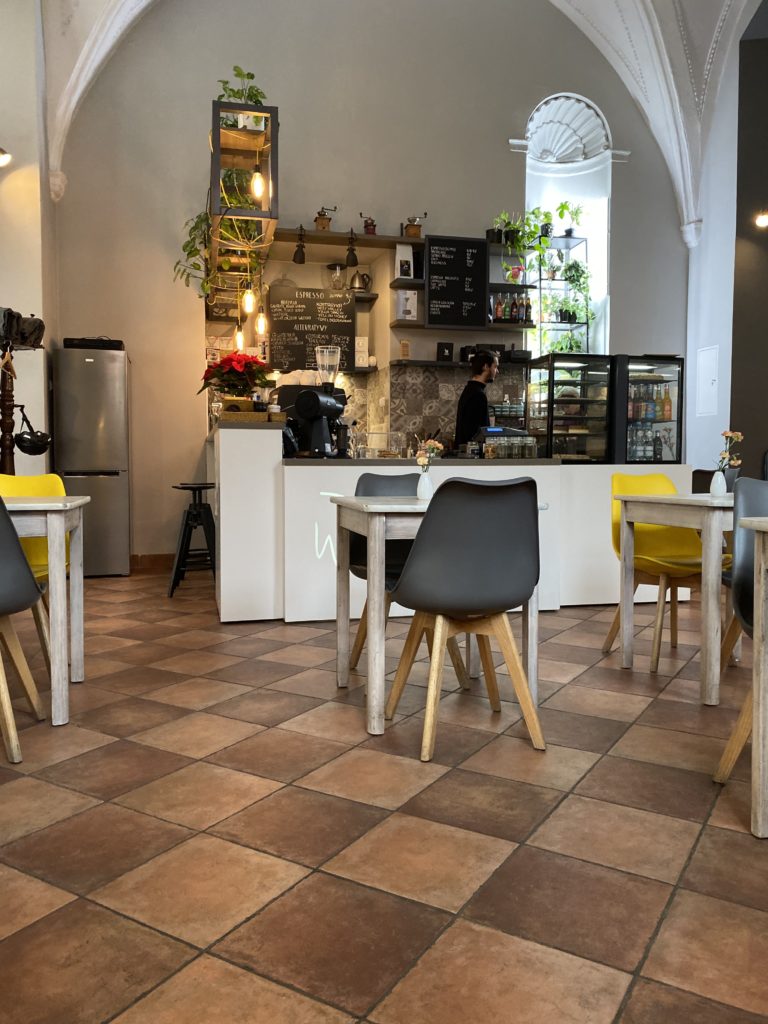 Kawalerka is located directly in the heart of the students area due to its proximity to Politechnika Wrocławska and Uniwersytet Wrocławski. Once you arrive and get in, it feels like a little living room where you can have a good time seeing friends.
Needless to say that also the coffee is really worth it, but the atmosphere is truly what makes this cafe so cozy that especially on a rainy Sunday you never want to leave. Well, and just next door there is the best place for hummus in the city ("W Kontakcie"). Read more about it in our article about the best breakfast in Wroclaw! So in case of a rainy day in Wroclaw we recommend just switching between those two places.
Benedykta Polaka 12, getting here from the city centre is actually a beautiful walk as you can go along the promenade and then cross the most famous bridge "Most Grunwaldzki". You will reach your destination just in the middle of the so called "Manhattan Skyscrapers", which are an architecture gem of Wroclaw.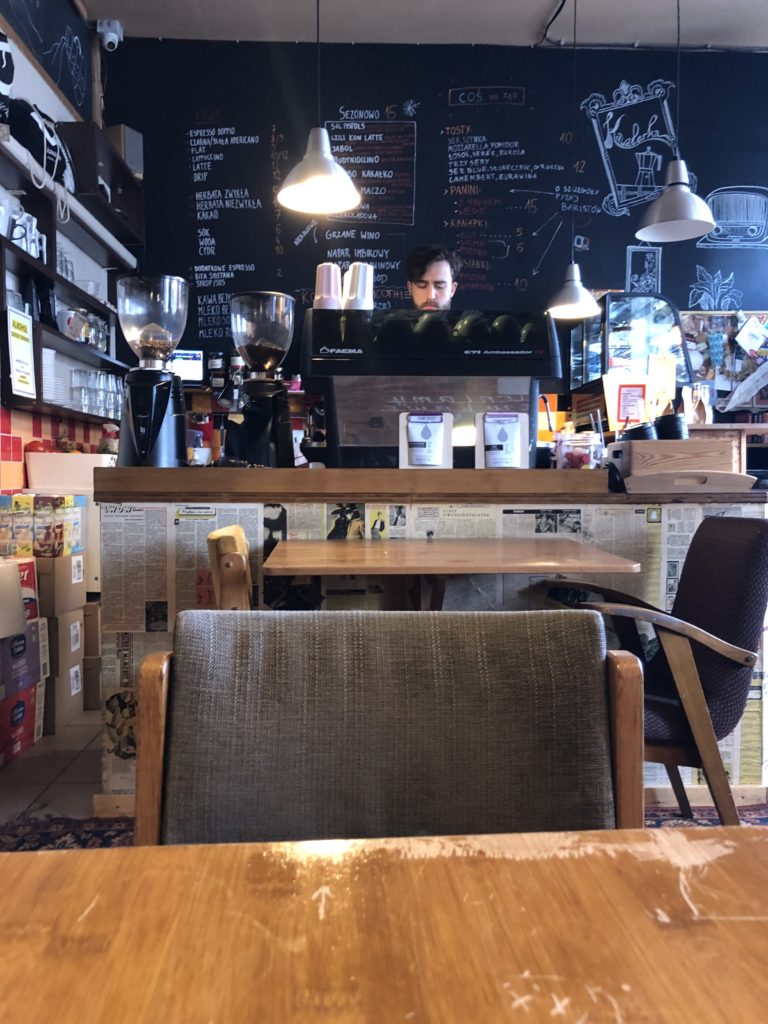 Wait, you remember that we recommended you Cocofli already as a great place to drink wine in our post regarding nightlife in Wroclaw?
That is true – but Cocofli is equally great for coffee and books as the transition to a wine bar is happening more towards the afternoon and evening.
Amazing drip coffee, Aeropress or Chemex are just some of the specialities you can expect here in terms of coffee. Sitting on the cozy couch in the middle of wine bottles and books makes you feel like in your own living room. 
Try it yourself in the middle of the Four Temple District here at Cocofli at Pawła Włodkowica 9.
P.S. Very easy to stay for a whole day, start with coffee, end with wine 😉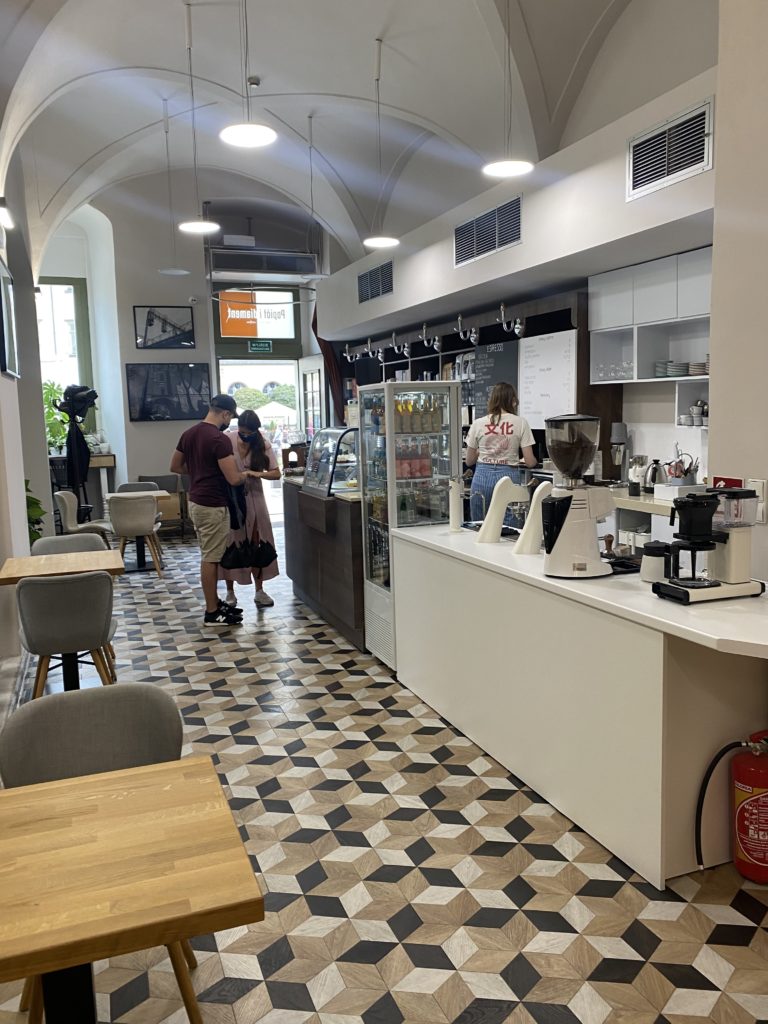 We are convinced that you will enjoy those places as much as we do. If you want to continue with coffee, you should not miss our post about the most unusual cafés in Wroclaw here with parrots, cats, movies, architecture and much more! Or maybe you want to check out the best breakfast in Wroclaw now? 
If you want to know more about the Polish coffee culture we recommend you the following book that we always take with us when we travel within Poland. Actually it also can be purchased in some of the coffee places that we recommended, we got it at Cafe Targowa. 
"Coffee Spots Polska" ISBN 978-83-948378-2-2 
Do you have some comments on this article? Help us and also help other visitors by leaving your feedback in the comment section below!