Diesen Text gibt es hier auch in Deutsch
How to get from Wroclaw Airport to the city centre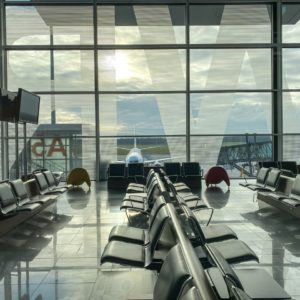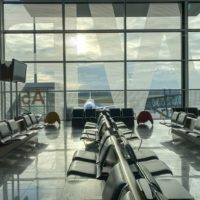 You made it to the airport, but don't have any idea how to get to Wroclaw city centre, the beautiful old town? No worries, we will help you and show you all options.
The location of the airport is around 10km west of the city centre. There is no direct train or tram connection but the airport is well connected by bus. You also have a good choice of ride sharing applications in Wroclaw that you can use. 
The fastest option is to go by car which will take around 20-30 minutes depending on traffic. Nevertheless the least expensive way to get to the old town of Wroclaw is to use the public bus.
Some more (but unpopular) options are to use the bicycle or carsharing applications, but let us check it one by one.
If you are looking for information on transportation within the city, you will find more valuable information in our article on how to get around within Wroclaw.
Taxi and Ridesharing Apps
There is a big chance that we all got scammed a few times in our life by taxi drivers taking advantage of our non existent local knowledge. Well, here it is not different than in any other place in the World. Generally taxis are safe to use, but most likely you will end up paying something between 40 and 200 PLN if you are heading to the old town.
That is why we always recommend to use ridesharing applications in Wroclaw. They are cheap, convenient and the risk of getting scammed is almost zero. It will take you around 20-30 minutes to get into the old town, typically you will not need to wait longer than 5 minutes at the airport to be picked up.
Currently there are three ridesharing applications that we are using in Wroclaw:
Save 10 PLN on your first ride with the coupon code GQ4JT
Save 10 PLN on your first ride with the coupon code mirko216ue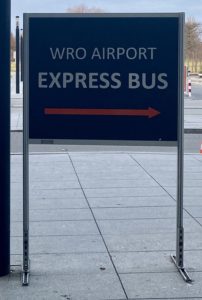 You want to save money? You are looking for the least expensive option? The public bus number 106 then is most definitely your best choice. It takes around 40 minutes depending on your destination.
The ticket costs currently 4,60 PLN (as of January 2023). Later at night, the bus number is changing from 106 to 206 which is the night bus with the same route. It departs every 15 minutes during the day.
There also used to be the Express Bus, but since 2020 and the pandemic it is no longer in service and it is still unclear if it ever will return.
Take a rental car in Wroclaw
Actually it is quite cheap to rent a car in Wroclaw too. You can either book directly from the large companies like Sixt, but we have even a better recommendation for you. We normally use the comparison tool from MietwagenCheck/DriveBoo. No worries, there is an English page available too 🙂 This tool is comparing many different rental car companies and provides the cheapest options – we even got results as low as 5,99 EUR per day.
Sharing Economy (Bike & Carsharing)
Well, to make this article complete, there are two more options that we also used in the past but might not be suitable for everyone.
Actually you can rent a bicycle from the city bike rental in Wroclaw and go from and to the airport by bike. It will take you 45-60 minutes depending on how fast you will be cycling, and the cost is around 5 PLN. Definitely you should not have too much luggage if you decide to go for this option.
You also have the option to use the car sharing options in Wroclaw, here more details about it. However most of the times via ridesharing application you will be better off. The cost is around 60-80 PLN depending on traffic and final destination. Similar to the taxi and ridesharing option, you will need 20-30 minutes.
Hotel close to the airport in Wroclaw
If you have an early departure from Wroclaw, we recommend that you consider spending the last night directly at the airport, as there can sometimes be waiting times for taxis early in the morning – alternatively you should plan enough time and buffer.