Diesen Text gibt es hier auch in Deutsch
The best vegan and vegetarian Restaurants in Wroclaw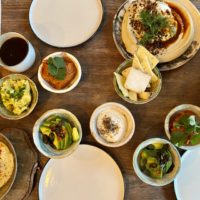 Once, in one of the cool cafés in Wroclaw we had a very interesting experience. A group of young German tourists was talking about how difficult it is to find vegan and vegetarian food in Wroclaw. We were just looking into each other eyes and thought: This is simply not true! The challenge is just to know where to find all those great places for vegans and vegetarians in Wroclaw. 
By finding and opening this article, you actually became a member of the circle of people who will know about them 🙂 It looks like there is an increasing demand for healthy and sustainable food, and we are happy to share our recommendations here. 
Ready to read about the best places for vegetarian and vegan food in Wroclaw?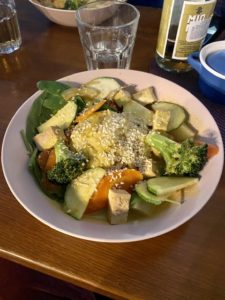 Welcome to our journey through vegan and vegetarian Wroclaw, which starts right in the middle of the city centre. At Bez Lukru you will get 100% vegan dishes, including many gluten free options too. We heard that even meat loving people are falling in love with this place. If you are looking to turn some friends into vegans, take them here and the probability will increase significantly 🙂
We promise you that you never will get bored of Bez Lukru as their menu is changing every day. For lunch we recommend you to take the special menu. With this you will get the soup of the day and a really tasty vegan main dish, guaranteed. 
In the picture we present a super delicious curry with tofu and vegetables. It is hard to describe all the spices and put it in words, so you have to try it yourself! We also love the interior with the soft Indian touch. 
You can find Bez Lukru directly around the corner from the Wroclaw Market Square at Igielna 14.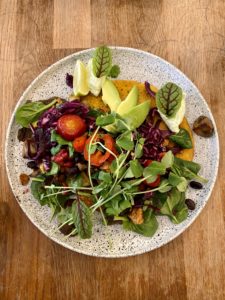 Wilk Syty means "the full wolf" and you can be sure to be full when you get out of this great vegan and vegetarian restaurant again. Not sure if you will turn into a wolf, but let us know if so!
Most options here are fully vegan, and the menu is changing every month. Many times we went it was hard to believe that the dishes made by Wilk Syty really are vegan. There is no reason for any doubt, but the tastes they craft with their creative inventions are above any expectation.
Just thinking about their interpretation of the Vietnamese Pho soup here, which was extraordinary. Here in the picture you can find a Mexican pancake that is covered by avocado, champignons and beans – just delicious!
Wilk Syty is cooking for you in the vibrant Nadodrze district at Trzebnicka 3. At lunch time it gets crowded fast, so you better arrive straight at noon when they open their doors.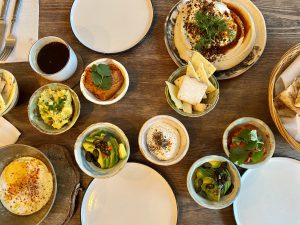 We have talked about w kontakcie already in our article about the best breakfast in Wroclaw. But not only for breakfast this is an amazing choice. Any other time of the day you are looking for vegan and vegetarian food in Wroclaw, you should try it out. 
At w kontakcie you will get many different kinds of hummus and probably the best avocado in Wroclaw. The pita bread is super soft and delicious, there simply is no wrong choice at all to make.
Don't forget to try the smoothies, our favourites are the ones with beetroot and if you plan on going for sports later in the day you should have the peanut butter option.
You better get to w kontakcie early in the morning, they stopped taking reservations. It gets crowded very quickly and there might be some waiting time.
The best hummus in Wroclaw is available at Michała Wrocławczyka 42/1u, in the Grunwald student district. Just on the opposite on the big roundabout you find one of our recommendations for best coffee in Wroclaw.
Many of our vegetarian or vegan friends who went to Asia, actually had a hard time sometimes. It is quite difficult to figure out sometimes if a dish a really vegetarian, not even talking about vegan.
At Tajfun all fans of Asia don't have to worry as here all dishes are vegan (some vegetarian) for sure. You can expect excellent Asian-Fusion-Cusine.
We suggest to start with the summer rolls and then take their signature dish which is the mango pad thai you can see in our picture. Getting hungry now?
Tajfun will be happy to serve you at Wojciecha Cybulskiego 3/1a. It is very close to Greenbus, just to mention again if you need a backup.
Located at the market square, Vega is actually the first vegetarian and vegan restaurant we have ever been to in Wroclaw. While the dishes here are not very special or very creative, we still believe it is worth to be mentioned as the quality of food is decent and the location is very central if you want to have a quick bite. 
The dishes are a bit canteen style. You will find some options around hummus, falafel, burgers, salats, pizza, but also quesadillas. 
There is no location that could be more central. Literally in the middle of the market square you can find Vega at Rynek 27a. If you are at the market square, we would recommend you to try Bez Lukru first and if there is no space available get over to Vega.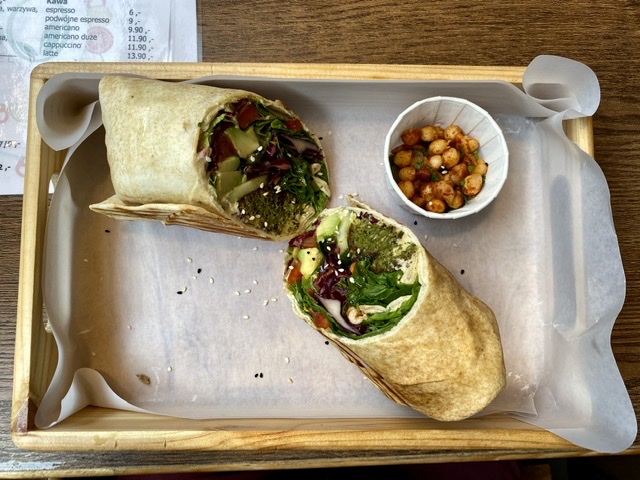 The best falafel in Wroclaw, let us introduce you to him. He is living in the city centre of Wroclaw, after he had a long journey from a random Middle Eastern country…
In the picture you can see the avocado wrap that is worth to try and for sure the reason that iBO Falafel made it to our list of the top vegan and vegetarian places in Wroclaw.
We couldn't find any better Falafel yet, but are still hoping that one of our friends will open his kitchen for public… While he has not opened his own place, we will send you to Świętego Mikołaja 15 in the heart of the beautiful and historical old town of Wroclaw.
We already recommended the embankment (Nasyp) to you in our Wroclaw nightlife post here. There you will find plenty of bars and restaurants just under train tracks.
An addition there (Spoiler: a very pleasant one!) is "Talerzyki", a restaurant that serves arab vegetarian and vegan snacks. Like with Spanish tapas you can just order plenty of plates to share – with three people we took five dishes and did not regret it.
On the menu you find classics like hummus, falafel and shakshuka but also dishes like Labaneh and Mfarakeh which normally would be hard to find in Wroclaw.
Everything was super tasty and hence we absolutely recommend this one to you! You will find Talerzyki at Wojciecha Bogusławskiego 34, very close to the main train station.
Have you ever tried vegan sushi? Well, we do eat "regular" sushi and were highly surprised by the vegan version of it, some of the creations were far beyond our imagination!
We definitely recommend it also for non vegan and vegetarians, some people really prefer it over the traditional sushi from what we heard. 
Make sure to try the Taco Rolls – these instantly became our favourites! And don't miss the seasonal dishes, in autumn they got pumpkin ramen soup or lot of mushrooms specials. And as desert definitely take one of the Mochi!!
There are two locations, one is in the street food hall in Wroclaw, which has only a limited menu, and we normally would recommend you to visit their location close to the Market Hall.
We hope that you enjoyed the best vegetarian and vegan food in Wroclaw as much as we do! Don't forget to check out some other very hipster things to do in Wroclaw!
Another recommendation we have for you is the application Happy Cow. When you travel and are looking for healthy food, we only made the best experience with it so far! 
You are bored of vegan and vegetarian food? Also in this case we are able to help you – check out our other recommendations for good food in Wroclaw.
Do you have some comments on this article? Help us and also help other visitors by leaving your feedback in the comment section below!