Diesen Text gibt es hier auch in Deutsch
What are the current Coronavirus restrictions in Wroclaw 2022?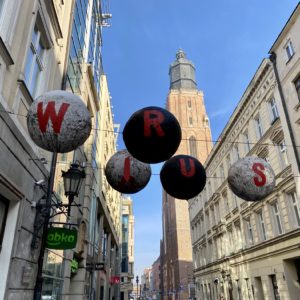 You want to visit Wroclaw soon but are wondering how the current situation in terms of covid-19 looks like? Then this is the right post for you – we will be updating you here now frequently on the current situation in terms of Wroclaw and Coronavirus. 
Are restaurants and cafés open in Wroclaw? Can I book hotels in Wroclaw? Can I even cross the border to Poland? Do I need to wear a mask in Wroclaw? Well, some time back we never would have thought that we will ask ourselves such questions, but yet here we are. 
We will be starting with getting into Poland during Covid times and then zoom into Wroclaw and check the local restrictions because of Coronavirus here.
Update as of May 2022: ALL (yes, absolutely all) restrictions in terms of covid were removed, you only need to wear a mask in medical facilities, that is it. No masks indoors, no special entry requirements, etc.
The current situation on the Polish border
Before talking about the rules in Wroclaw itself, it might be interesting to see if you are even able to get into Poland during Covid-times. Of course we cannot replace any official information and just point out to the official sources here, but at least want to try to summarise the situation as well.
For EU citizens generally speaking, there are absolutely no requirements anymore for quarantine upon entry, all these restrictions and rules have been lifted effectively on 28 March 2022.
Please also note that you should check with your home country if there might be a quarantine on your way back home.
Here is official information on the current Polish border situation with further details:
Coronavirus Restrictions in Wroclaw
You want to know what is open in Wroclaw, what is closed, has limitations and what are the public rules? Let us start with the rules in terms of masks. 
Do I need to wear a mask in Wroclaw?
No, since the 28 March 2022 you do not need to wear a mask anymore – not indoors, not in public transport, nowhere. There is only one exception: In medical facilities you still need a mask!
Are Hotels, Restaurants and Cafés open in Wroclaw?
Here is our quick overview of the current covid status in Wroclaw in terms of the most common things people have asked us for:
Is visiting Wroclaw during the pandemic a good idea?
Well, the summer of 2021 was fairly normal as infection levels was low and most parts of the life happened outside. During the summer actually many tourists were in the city and except for wearing masks here and there, everything was "quite" normal.
Since November 2021 the situation of course has changed with rising covid-levels in whole Europe. At the moment we are keeping our fingers crossed that with vaccination efforts and current measurements taken by the gourvenments in Europe we will be able to get through the winter without too many restrictions.
Let's hope the best for 2022!
However, even the future might not be certain, at the moment a lot of hotels and holiday apartments in Wroclaw have offers at price levels normally unseen. Some hotels are as low as 30 EUR per night.
If you want to look forward to something nice, we also suggest to book some accommodation in uncertain times as this is a way to secure the best rates! Just make sure, you book with free cancellation options and you only have to pay upon arrival. That means no risk for you then.
👉 Click here to check the latest rates for hotels with free cancellation in Wroclaw (via Booking)
Has Wroclaw changed because of Covid?
Generally speaking, like everywhere the virus has left it traces in the city. It is quite sad to see that many, many shops and also smaller restaurants in the city centre had to close. In many windows you see huge "for rent" signs now. In the picture you see a restaurant that did not make it with a poster: "Tomorrow you could be closed too!"
We ourselves are trying to keep getting stuff from the places we like, no matter if coffee to go or ordering some food from restaurants via Pyszne or other food ordering apps.
Yet we have to see how big the impact on the city, tourism and the daily life will be, it is hard to estimate that before it is really over. In any way, we will keep you up to date here. Don't forget to subscribe to our newsletter here and follow us on Facebook to receive the latest news from Wroclaw!