Diesen Text gibt es hier auch in Deutsch
The Best Restaurants in Wroclaw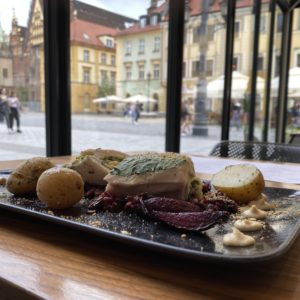 1. Restauracja Wrocławska
Alright, now we are starting with some more traditional dishes that are connected to Silesia and Poland.
No matter if you are looking for Hekele (Tatar made from Hering with eggs, bacon, onions and pickles) – here you will find the classics of Silesian cuisine perfectly prepared.
In the picture we are showing you the real Wroclawian Bigos with different kinds of meat, red cabbage, raisins and apple. Highly recommended!
But of course there are many other traditional options available, just be aware that it is very meat-heavy cuisine and vegans better find another place here.
It is located directly in the city center, easy to find and navigate here.
Directly located at the main square of Wroclaw, is this another option for the meat lovers from our readers.
Who likes the loud buzzing of steaks on lava stone, found the matching church in Wroclaw to his/her religion just here. Great sides as well (you have to try the beetroot with feta cheese!) are completing the experience here.
Of course – where steaks are, burgers are normally not far away and the same goes here. We also highly recommend the burgers! And did we mention the Whiskey-Cocktails yet? Of course, have one of these – many variations are created just for you….
Although in normal times it is quite touristy and not the most local spot, we like it and keep coming back. This way to Whiskey in the Jar please!
When it comes to Mexican food, we have quite some standards after being in that beautiful country mostly to experience it's food culture…
Having said that, it makes us very happy that in Wroclaw we finally have a restaurant with really great Mexican cuisine! Soft taco shells as they should be, spicy salsas, great guacamole, and many other dishes worth to try like the Flautas (rolled up tortillas) filled with shrimps. 
Drinks are amazing too, if for example you fancy some mezcal cocktail, this is your place. Their plan is that the menu is going to change every 2-3 months, which means that we will be back frequently 🙂
Check them out here, the location is close to the Grunwaldzki Square – the interior and vibes make you feel like in real Mexico, we love it!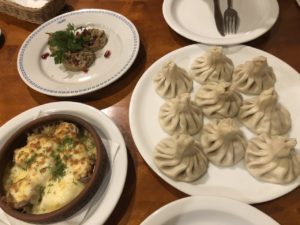 You might have already read about our love for Georgian food in the best street food of Wroclaw. It is one of the few countries that does not have hundreds of pizza, kebap, burger and fries places all over. Georgians love their regional food culture and there is a good reason for that.
At Chinkalnia you can taste the unspoiled food culture from this beautiful country. We recommend to start with the eggplants & walnuts cream, served with pomegranates. As main dish you can pick between some traditional meet based dishes or try the special baked oven bread. This is typically prepared and baked on the wall inside of a big stone oven.
One of the main delicacies similar to Polish cuisine are Chinkali. These dumplings are typically filled with meat, spices and coriander. In the filling you have a little bit of broth. As you eat them with hands, you can find a little manual on the table instructing you how to eat them. For vegetarians there are also options with cheese filling. All are super tasty.
Two locations of Chinkalnia are available in Wroclaw:
#1 at Plac Wolności 9 very close to the four denominations district, next to the national forum of music
#2 at Sukiennice 6 located directly at the Market Square in the city centre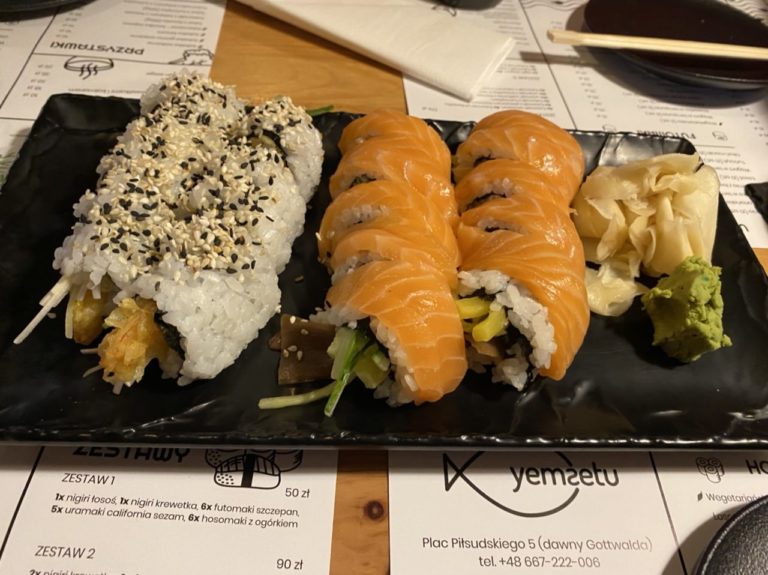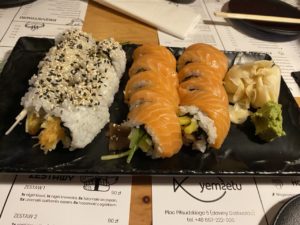 You are looking for the best sushi in Wroclaw? Well, after Noriko on our fine dining list this is the spot where you can find it. It is not exactly located in the city centre around the most famous attractions of Wroclaw, but a visit is highly recommended.
Yemsetu is one of the true local hidden gems that you most likely would not find in the tourist information maps. The restaurant only has four (or five) tables, is very cozy and intimate. You better call them for a reservation 🙂
We recommend you to share some of the sushi sets, where you get plenty of different options straight to your table. As starter the miso soup is amazing. The desert menu is changing depending on availability but our all-time favourite is the mango sticky rice.
Don't miss the tea selection if you have to drive back home or are just not into alcoholic beverages. You best navigate to Yemsetu by bus and get off at Kasprowicza. Alternatively taking a car or taxi will be the best option. See more details on how to get around in Wroclaw here.
If you want to use google maps to navigate, just click here: Plac Piłsudskiego 5. In summer, a nice walk along the Odra river towards the best sushi in Wroclaw is a great idea too! Remember, there are beach bars on the way to have a little break…
The brewery of the hundred bridges is certainly a great spot to enjoy beer. But also at the highest levels of gourmet experience is their kitchen! You might expect typical bar and brewery food like burgers, fries, and similar fast food. But not at all!
With their tiny kitchen they are delivering an always changing menu, which never disappoints. Well, it disappoints only if you get there because you want to try some dish again and then the new menu is already there. But even then, you will be amazed by something new!
As starter you have to try the malt pretzel which is a consistent part of the menu. It is served with caramelized onions and a cream cheese that must have been made by god himself. Also don't miss to go for some of the tatar appetizer options. A picture of the pretzel is available in our article about the best craft beer in Wroclaw.
As the main menu is changing, we do not want to recommend you a dish here where you might be disappointed to not get it. But be assured, every choice is a good one.
Browar Stu Mostów is located at Jana Długosza 2. That is a bit outside of the city centre, but by tram you will get there perfectly fine. As it is not far away from Yemsetu, the same comment is valid here: In summer, we recommend to have a walk along Odra, enjoy a break at a beach bar. And then finally arrive to the best brewery in Wroclaw.
Did you know that there are food tours available in Wroclaw, where you can discover the local cuisine?
7. Ragu Pracownia Makaronu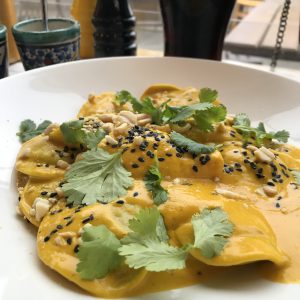 Slowly we are getting to the favourite cusine from many many people. Italian! Of course we could recommend you lots of pizza spots in Wroclaw, but if you are looking for pasta, Ragu Pracownia Makaronu is your choice.
All the pasta is home made and you will find lots of options. We love the ones that combine Italian and Polish cusine – try some options with mushrooms! And of course, as it is Italian food – do not miss the cannoli as desert! 
The best pasta in Wroclaw is available at Sienkiewicza 34A. Best combined with a nice walk during the sunset across Ostrów Tumski. From the city center it will take you 15-20 minutes to get here.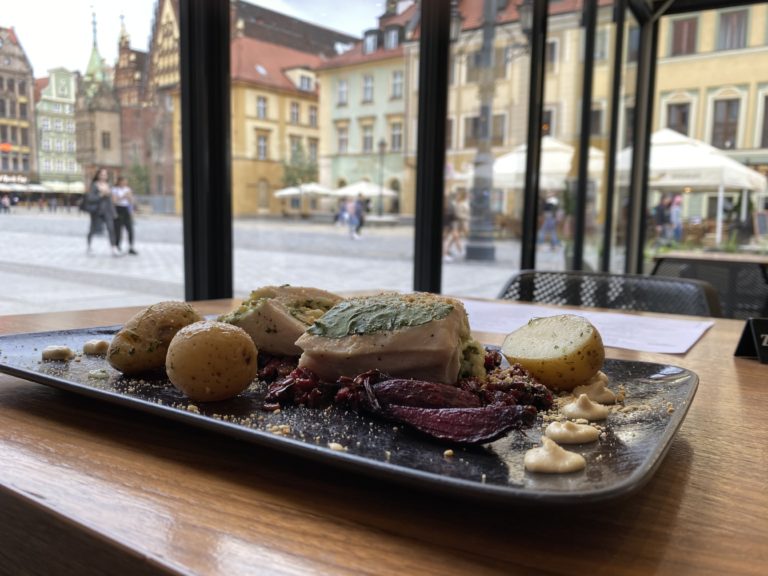 Obviously most restaurants at the market square have a bit higher prices than the average and normally the quality is only average. 
Nevertheless, there is one hidden gem that we can highly recommend if you want to enjoy a view on the historic and beautiful townhall. With Bernard, you will be served with great Czech dishes, interpreted in a modern way.
Together with the view and a great selection of beer and wine, it is a really cool spot for business dinners in Wroclaw but also any other special reason to treat yourself.
Find it at Rynek 35, just opposite of the townhall. Don't miss the cozy wintergarden.
As already written in our recommendations for the best pubs in Wroclaw, we were looking forward a lot to the reopening of the Piwnica Świdnicka and now, at the beginning of July 2022, one of the oldest restaurants in Europe with roots dating back to 1273 finally re-opened its doors!
The design became very clean and elegant, you could almost say that some character may have been lost inside, but of course it fits well with the new concept – and in this central location directly on the market square, the restaurant has to bring in a lot of money somehow, only with traditional food and beer it is probably not so easy, so you want to have a certain audience and be different from the others…
This is what seems to be working well here! There are many traditional dishes, but with a modern twist, for example we tried the herring on gingerbread and the currywurst with spaetzle as a small snack. Even with the fish soup which we had as the main course, the quality of the food is really on an absolute top level. Great!
Soon there will be their own beers as well, but so far we were very satisfied with our degustation set of four different beers 🙂
We decided to add the Piwnica Świdnicka to our "normal" restaurant recommendations and not to the fine dining in Wroclaw, although the price level is already certainly in that top area for Wroclaw. With that it will be very unlikely that this place is made for locals, and you will surely find mostly tourists and business people here.
It's great that this place could be revived, especially with this great quality, and we are happy that it is not just another tourist trap on the market square, but a fancy restaurant in the upper price range…
You don't need a navigation here, you just go to the market square and there to the townhall, it cannot be overlooked 🙂
Looking for real comfort food? Something unique that we haven't found somewhere else? Then you should check out Culto – probably not a good place for vegetarians as they are famous for their raw meet recipes. 
The tatar burger in a sweet bun is amazing, and with parmesan fries on the side, the perfect meal if you feel like something more heavy… Nice vibes and if you are into tatar, definitely worth it!
We recommend Dinette already as one of our favourite breakfast places in Wroclaw, but likewise it is a great choice for lunch or dinner. 
The food is definitely high quality and more on the upper side, you'll find nicely and thoughtful combined ingredients – perfect for a healthy and more lighter meal.
On the side, you can enjoy some cocktails but regional wines from some of the Wineries around Wroclaw are available as well. 
There are two locations in the city:
Looking for more recommendations?
If you want to find some more basic options or if you are looking forward to a romantic date in Wroclaw, then check out our other recommendations for great restaurants in Wroclaw here:
€€ – Restaurants, if you want to spend a nice evening with friends in a cool restaurant in Wroclaw (here)