Diesen Text gibt es hier auch in Deutsch
The Culture Train from Berlin to Wroclaw (2023 Update)
Have you already heard about the culture train from Berlin to Wroclaw and vice versa? Although it is running already since 2016, the year of Wroclaw being the European Capital of Culture, it is surprising that many of our friends were not aware of this special offer.
The idea for the culture train was born with the idea to attract visitors from Berlin. As in 2016 there was no direct train between Berlin and Wroclaw anymore, creating a direct connection would enable the Berliners to visit the numerous cultural events carried out in Wroclaw at that time. The daily connection available till 2014 was cancelled as it did not seem profitable enough. That said, establishing a service only on the weekends was a great idea to make a first step in connecting Berlin and Wroclaw again.
This train is not a train to just bring you to your destination
But this special culture train from Berlin to Wroclaw is not just a regular mean of transportation. It is so much more and we are going to tell you why. This train actually well deserves the prefix of culture as there is an ever changing program with focus on German-Polish culture and of course this supports the friendship between Germany and Poland.
There are not only concerts or other live music performances on the train. You will also be able to participate in karaoke sessions, dating-events, language classes, dancing parties and much more. Have you ever been part of a silent disco on a train? This is your once in a lifetime opportunity!
Update from September 2023:
The Culture Train is on the tracks again this season since 16 June 2023! We have already updated the schedule below in our post. Fortunately now the funding for next year has been secured as well and we are very happy to see the Culture Train operating in 2024 again. More details here in German.
Don't miss the library on the train 🙂
You might have read already somewhere that in 2023 we have published our alternative guide to 100 extraordinary places in Wroclaw finally in it's English edition… On the Culture Train you will be able to browse through it as well!
And if you don't want to wait, you can read the free preview here and order it with worldwide free shipping, or get it in Berlin from the lovely Buchbund book store which is one of our favourites in Berlin. 
Where can I find the program?
The latest program can be downloaded here. Alternatively you can follow the culture train on facebook here. This for sure is one of the main reasons that the train is still operating – originally it was planned only for a few months. Because of the incredible success it then was extended year after year.
But it is even more than just the program. Every journey will be accompanied by multilingual moderators who will guide you through the journey and provide useful information about Berlin, Wroclaw, Poland and Germany. You will also find boardgames, a library, little exhibitions and opportunities to learn some basic words of Polish (or German) on the train.
When is this cool Berlin to Wroclaw train running?
The times are optimal for a great weekend stay in Wroclaw. You can leave Berlin on Friday at 14:43h and arrive at 19:18h in Wroclaw. The alternative is to on Saturday morning at 8:00h from Berlin and arrive at 12.35h in Wroclaw.
The journey will take you just a little bit more than four hours, but trust us, time is flying on this train. The saying "the journey is the destination" is very true here. You can hop on the train in Berlin-Lichtenberg where it starts or 5 minutes later in Berlin-Ostkreuz.
The return journey departs on Sunday evening at 17:30h from Wroclaw and you will be back in Berlin at 21:58h. With this timetable you truly make the most out of your weekend!
If you want to combine the Culture Train with other train connections, certainly that will work too. To check out more details on what else is available, we prepared a dedicated post about the best train connections from Wroclaw. For example you will find the EC Wawel and ÖBB Nightjet information there.
Also from Cottbus to Wroclaw the culture train is simply the best option. There are some more stops on the way and shortly we update the full timetable here.
And what about going from Wroclaw to Berlin?
Great question, thank you for that one. You like to party? Then maybe you have heard that Berlin is the party capital of Germany (and for sure one of the top party cities in whole Europe as well). With the culture train you can spend a great night in Berlin!
You leave at 19:32h in the evening from Wroclaw, enjoy the program on the culture train to warm up (check out the silent disco!), and then arrive at 23:58h in Berlin! Right at the best time to go out and start the nightlife. You do not need to worry about a hotel as your return journey starts at 7:43h on Saturday morning again 🙂 
If the worst case happens and you miss the return train, no need to worry either. With the ÖBB night train connection you can get back even on Saturday or Sunday evening, more about that in our article on how to get best to Wroclaw.
The clue is that in case you take the so called "Clubnight-Ticket" for the train from Wroclaw to Berlin, the ticket price is even discounted and you will benefit from a special offer. More on that in the next section!
How much is this amazing culture train?
The regular ticket fare in 2023 is 24,90 EUR for a one way trip. The Berlin-Clubnight Ticket comes with a 50% discount. If you decide to leave Wroclaw on Friday evening and return Saturday morning, the fare will be only 79 PLN for both ways (information for this fare is still from 2022)!
Another amazing advantage is that the ticket is valid for all public transportation within Wroclaw too. This goes for both directions, when you leave Wroclaw and when you arrive in Wroclaw too.
You can buy the ticket on the train with a little surcharge of 2 EUR. Alternatively from Berlin you can purchase it online from Deutsche Bahn directly here or at a DB ticket machine. In Wroclaw you can buy it from Koleje Dolnośląskie counters.
Now… What should we do in Wroclaw? 
Oh wait, another great question! To answer this question we have prepared these beautiful website 🙂
What about going with us through your potential weekend in Wroclaw now? 
Departure from Berlin
The Culture Train from Berlin to Wroclaw departs every Friday at 14:43h from Berlin-Lichtenberg. If you prefer to start early on a Saturday morning like we did here in the picture, the departure is 8:00h every Saturday.
Travel from Berlin to Wroclaw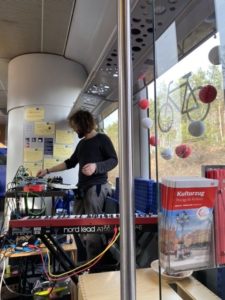 Enjoy the performances on the train, learn a few basic words of Polish, play some boardgames or check out the books from the train library. You won't be bored on the train!
Arrival in Wroclaw
After just a bit more of four hours train ride from Berlin to Wroclaw, you arrive! Did you know that the railway station used to be the largest one in Germany once? 
---
Checking in at your accommodation
You might be slowly getting hungry, but of course you want to drop your luggage first. If you do not have an accommodation yet, check out our recommendations on where to stay in Wroclaw – just click HERE.
---
Grab some food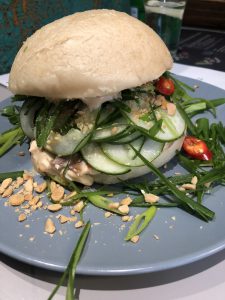 For sure you must be hungry by now! Clicking HERE will guide you to our restaurant recommendations. Those are actually our favourites and some are not well known among the regular tourists… As you want to see a lot of things on the weekend, have a little walk around the city and get ready for Saturday!
It is time for breakfast!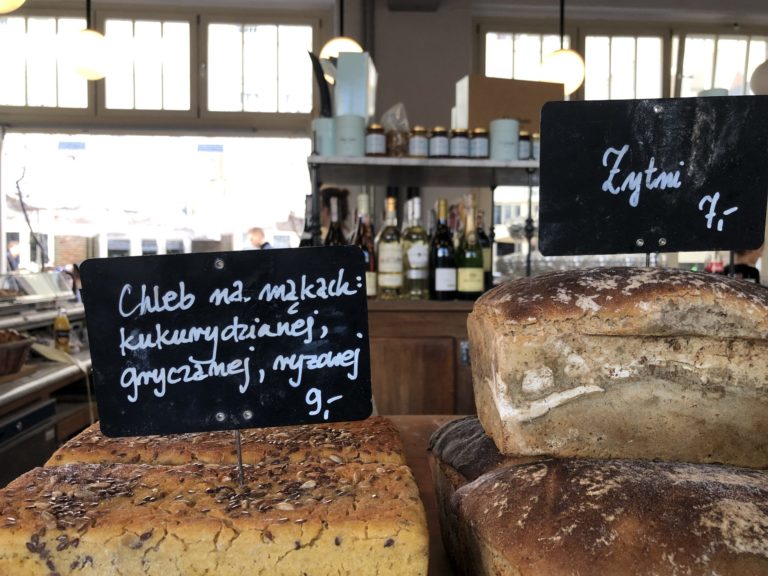 Honestly, most of the hotel breakfast options are just overpriced everywhere in the world. If you have an AirBnB Apartment or didn't order hotel breakfast, it is time to check out the incredible breakfast recommendations by clicking here!
Sightseeing!

Saturday is a great day to explore Wroclaw and breathe in all the city vibes. We suggest to read about the most important things to see in Wroclaw! If you want to get an overview first, we recommend you to join for one of the free walking tours in Wroclaw!
What about a coffee break?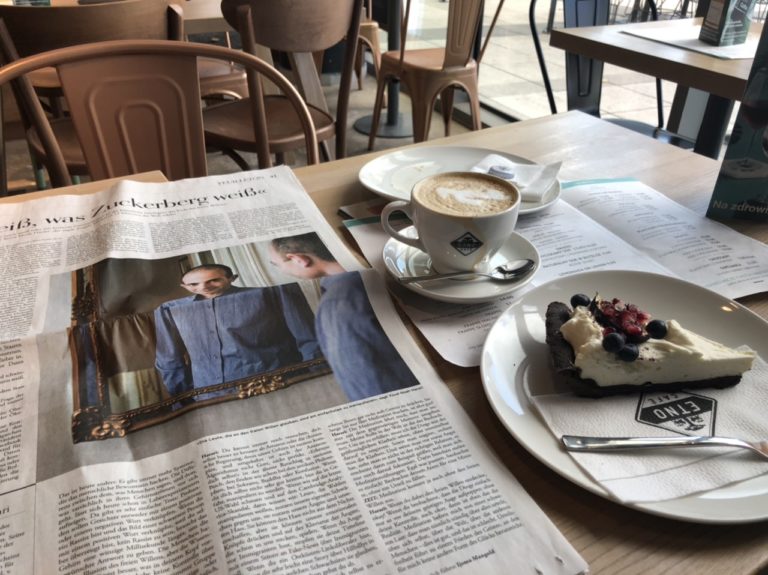 You might have walked a lot to explore the city and deserve a little break… With a cake! Have you seen our post on the best cafes in Wroclaw? 
Drinks and Nightlife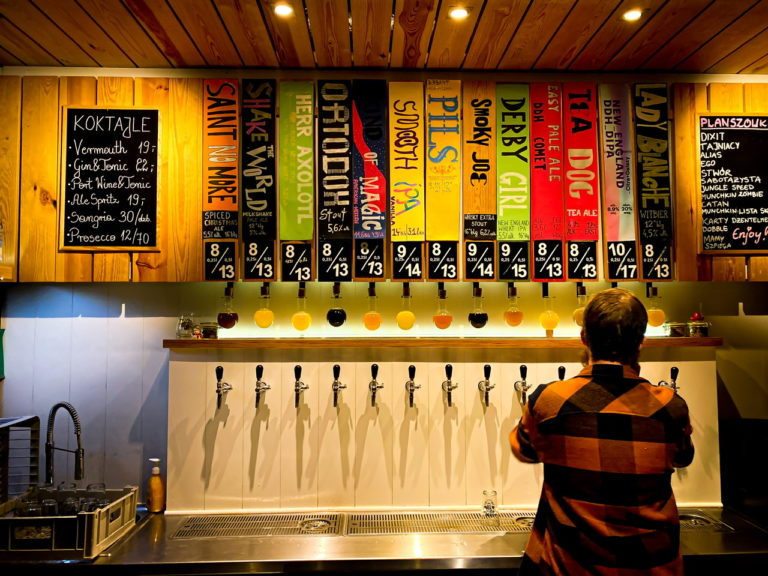 Of course the nightlife in Wroclaw is totally vibrant – around 20-30% of the population are students! Check out our nightlife section that we will update more and more 🙂
Repeat: Breakfast, Coffee and Sightseeing!
You already know where to find the information about the best breakfast and best coffee in Wroclaw. What about exploring the vibrant neighbourhood of Nadodrze today? Or checking out the most alternative things to do in Wroclaw?
Get back home
It is going to be a hard goodbye, we know that. Your train from Wroclaw to Berlin departs at 17:30h and you will be home again in Berlin at 21:58h. We hope that you enjoyed your stay in Wroclaw and of course the culture train too! Please also don't forget to stay in touch with us and subscribe us for updates. You can either like us on Facebook here or sign up for our newsletter.
We can easily say that the ride on the culture train from Berlin to Wroclaw was one of the fastest train rides ever. Not because our other train rides would be longer in time, just because the time was flying due to all the entertainment.
If you do not live in Berlin and can't use this amazing train, check out the Deutsche Bahn Website for more train connections to Wroclaw. Alternatively of course we recommend to read our article about how to travel to Wroclaw.
Do you have some comments on this article? Help us and also help other visitors by leaving your feedback in the comment section below!