Diesen Text gibt es hier auch in Deutsch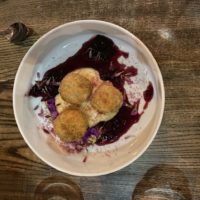 Fine Dining – The best Restaurants in Wroclaw
⇨ We made a pre-selection of the best AirBnBs, Hotels and Hostels to stay in Wroclaw, no matter if you look for budget options or some luxury - check out our post with recommendations here ⇦
It is incredible to see how the food scene has taken off in Wroclaw. From traditional Polish cuisine towards neo-bistros with high class food to even hidden restaurants… Wroclaw has become the meeting place for foodies and fine dining in Poland.
In this article we will introduce you to the best-in-class Restaurants that Wroclaw has to offer. Most of them are priced above average but we assure you, they all are worth it! The higher price range of our recommendations is justified by the quality of the food, otherwise we wouldn't add them to this list. Again, we tried all of them ourselves and are frequent customers 🙂 
Nevertheless, if you look for more decent priced and options, check out the best street food restaurants in Wroclaw!
Let us explore the top restaurants in Wroclaw together and enjoy being foodies!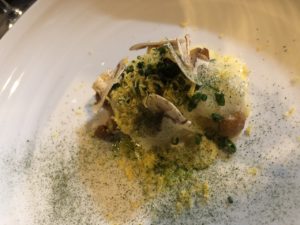 The first time we visited the Bistro ODA, we came without any expectations. A friend told us about this great place and just mumbled something along very tasty food. He was right! This is definitely one of the few restaurants in Wroclaw that is able to compete with some of the finest restaurants in the world.
We love surprises, and were very lucky when we discovered the tasting menu. You can choose between a different number of courses. Those are changing every day depending on what is available. ODA is using regional ingredients but interpreting them in a very modern way. Expect to receive culinary masterpieces instead of just some food. Of course you can also order from the regular menu.
Some of the most memorable things we had were a combination of herring, local cheese and apple. And we wish we could buy one particular desert all year round. We will never forget the pumpkin desert, which was pumpkin prepared in sweet pumpkin sauce with pumpkin crackers. Wow!
It is fair to say that this restaurant is in our personal worldwide top 5, even after being in Enrique Olvera's famous Pujol in Mexico City. However, we are not sure if we should recommend ODA to vegans/vegetarians as the choices were a bit limited when we had a vegetarian friend with us – just to be aware.
The team from Bistro ODA is waiting for you at Wojciecha Cybulskiego 17/1a, just at the entrance towards the vibrant Nadodrze district but also only 10 minutes from the city centre away.
Update from July 2020: Due to the Corona-Virus, the restaurant is closed for now. We will still keep it on the list for some more months as we heard that they will re-open in another location soon.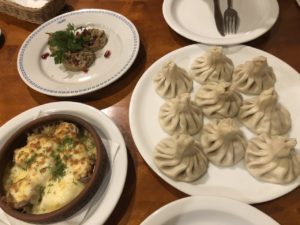 You might have already read about our love for Georgian food in the best street food of Wroclaw. It is one of the few countries that does not have hundreds of pizza, kebap, burger and fries places all over. Georgians love their regional food culture and there is a good reason for that.
At Chinkalnia you can taste the unspoiled food culture from this beautiful country. We recommend to start with the eggplants & walnuts cream, served with pomegranates. As main dish you can pick between some traditional meet based dishes or try the special baked oven bread. This is typically prepared and baked on the wall inside of a big stone oven.
One of the main delicacies similar to Polish cuisine are Chinkali. These dumplings are typically filled with meat, spices and coriander. In the filling you have a little bit of broth. As you eat them with hands, you can find a little manual on the table instructing you how to eat them. For vegetarians there are also options with cheese filling. All are super tasty.
Two locations of Chinkalnia are available in Wroclaw:
#1 at Plac Wolności 9 very close to the four denominations district, next to the national forum of music
#2 at Sukiennice 6 located directly at the Market Square in the city centre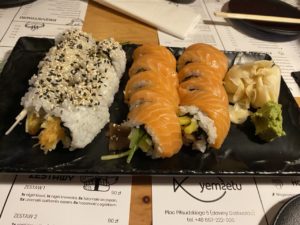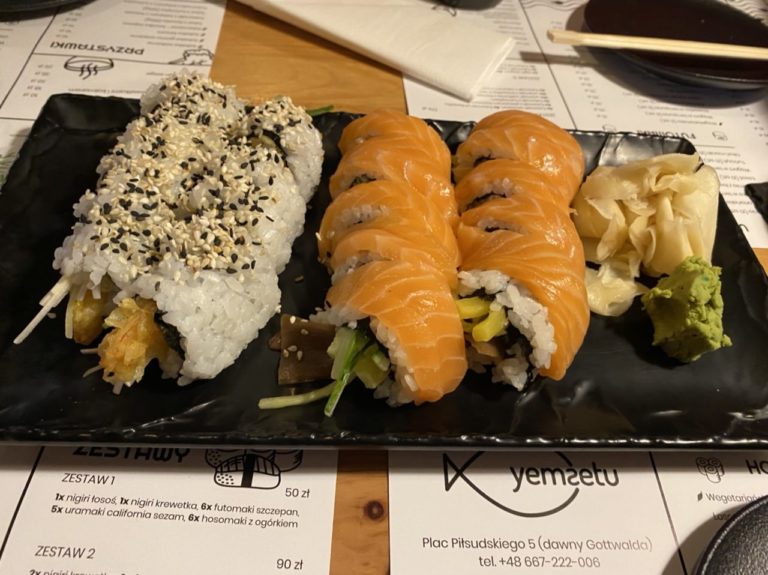 You are looking for the best sushi in Wroclaw? This is the spot where you can find it. It is not exactly located in the city centre around the most famous attractions of Wroclaw, but a visit is highly recommended.
Yemsetu is one of the true local hidden gems that you most likely would not find in the tourist information maps. The restaurant only has four (or five) tables, is very cozy and intimate. You better call them for a reservation 🙂
We recommend you to share some of the sushi sets, where you get plenty of different options straight to your table. As starter the miso soup is amazing. The desert menu is changing depending on availability but our all-time favourite is the mango sticky rice.
Don't miss the tea selection if you have to drive back home or are just not into alcoholic beverages. You best navigate to Yemsetu by bus and get off at Kasprowicza. Alternatively taking a car or taxi will be the best option. See more details on how to get around in Wroclaw here.
If you want to use google maps to navigate, just click here: Plac Piłsudskiego 5. In summer, a nice walk along the Odra river towards the best sushi in Wroclaw is a great idea too! Remember, there are beach bars on the way to have a little break…
The brewery of the hundred bridges is certainly a great spot to enjoy beer. But also at the highest levels of gourmet experience is their kitchen! You might expect typical bar and brewery food like burgers, fries, and similar fast food. But not at all!
With their tiny kitchen they are delivering an always changing menu, which never disappoints. Well, it disappoints only if you get there because you want to try some dish again and then the new menu is already there. But even then, you will be amazed by something new!
As starter you have to try the malt pretzel which is a consistent part of the menu. It is served with caramelized onions and a cream cheese that must have been made by god himself. Also don't miss to go for some of the tatar appetizer options. A picture of the pretzel is available in our article about the best craft beer in Wroclaw.
As the main menu is changing, we do not want to recommend you a dish here where you might be disappointed to not get it. But be assured, every choice is a good one.
Browar Stu Mostów is located at Jana Długosza 2. That is a bit outside of the city centre, but by tram you will get there perfectly fine. As it is not far away from Yemsetu, the same comment is valid here: In summer, we recommend to have a walk along Odra, enjoy a break at a beach bar. And then finally arrive to the best brewery in Wroclaw.
Did you know that there are food tours available in Wroclaw, where you can discover the local cuisine?
Now it is time to get excited again. After Bistro ODA, this is the second restaurant in Wroclaw where you can expect to get a best-in-class food experience. But NAFTA is not a regular restaurant… As officially it is sort of secret restaurant and you only get the location on the day of your fine dining experience. Well, with a little bit of research, you will still find it easily online, but we do not want to spoil the fun.
When you arrive, you will be wondering if you got into the right place. You might feel that in the very industrial area they order you to go, sketchy things might happen at night. But there is no reason to be worried, the opposite is the case.
In terms of food you can expect the highest quality and a very creative menu. Think about exploring tastes like wontons with pork cheeks and tapioca. Or steamed buns with rabbit and teriyaki sauce. The service is very attentive and can consult you in an excellent way what you should choose.
Together with ODA Bistro, NAFTA is defintely the choice for special occasions like birthdays 🙂
Call +48 450 050 180 for reservations (required!). You will receive the address on the day of your reservation. Most likely it will be slightly east from Wroclaw centre.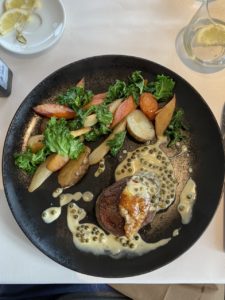 The Przystań restaurant is the perfect combination of many different factors. You will get excellent food from a regional but also international kitchen. The service has a high standard and of course the location is just one of the best in Wroclaw. In summer you can sit outside and enjoy a view towards the university – one of the largest baroque fasades in Europe. But even in winter times, the view on it is just amazing and compliments the food.
We recommend the duck breast as main dish and the salmon tatar as starter. If you are around in the cold winter season, watch out for the hot ginger & cranberry drinks, they will make you feel like home.
The mix of guests is typical for multicultural Wroclaw. You can observe business meetings, family celebrations and romantic couple dinners at the same time.
Located at Księcia Witolda 2 with a wonderful view on one of the main landmarks of Wroclaw, the beautiful university. 5 minutes from the city centre.
7. Ragu Pracownia Makaronu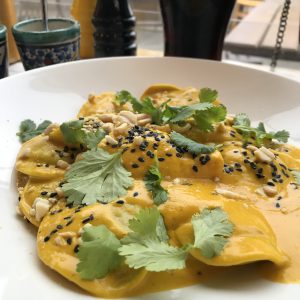 Slowly we are getting to the favourite cusine from many many people. Italian! Of course we could recommend you lots of pizza spots in Wroclaw, but if you are looking for pasta, Ragu Pracownia Makaronu is your choice.
All the pasta is home made and you will find lots of options. We love the ones that combine Italian and Polish cusine – try some options with mushrooms! And of course, as it is Italian food – do not miss the cannoli as desert! 
The best pasta in Wroclaw is available at Sienkiewicza 34A. Best combined with a nice walk during the sunset across Ostrów Tumski. From the city center it will take you 15-20 minutes to get here.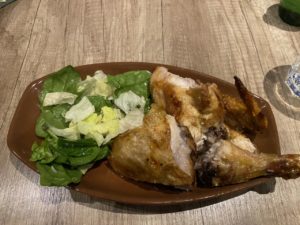 Have you ever heard about francesinha? It is the Portugese answer to being hungry. Why? Because this sandwich has everything in it. It has sausage, steak, ham and is covered by cheese and a dark tomato beer sauce. Sometimes you might also get an egg on top of it. And this might not be enough, so fries come along with it too.
Okay, we did not start with our favourite dish here, but if you are really, really hungry, you should give it a try 🙂 Apart from that, at Pinto Peri-Peri you will get amazing codfish or the famous piri piri chicken. We recommend those options and to go with a traditional portugese soup as starter. Finish the evening with the best vanilla tarts in the world: Pastel de Nata.
The prestigious address Uniwersytecka 11/12 is already suggesting where you can find the best Portugese food in Wroclaw. Just on the back side of the university. Almost zero minutes from the city centre 🙂
UPDATE from October 2020: Currently this restaurant is closed (Covid). We will observe the situation and then decide if we need to remove it or if it will re-open.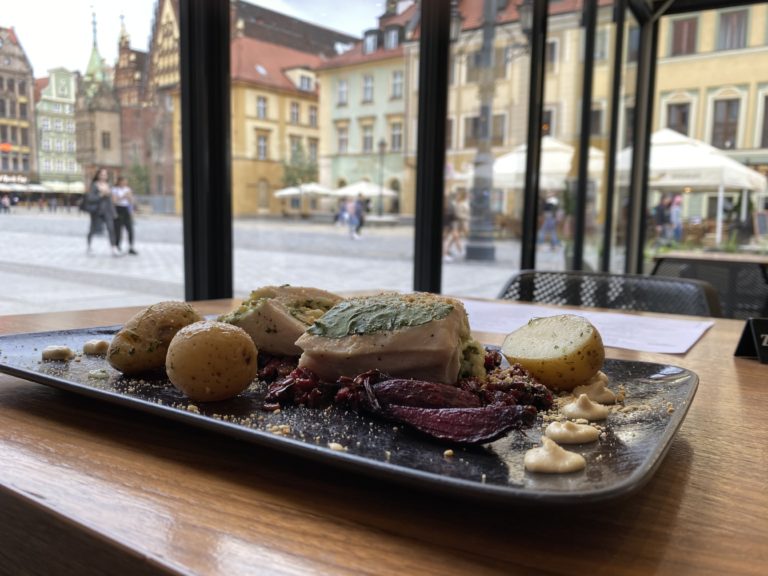 Obviously most restaurants at the market square have a bit higher prices than the average and normally the quality is only average. 
Nevertheless, there is one hidden gem that we can highly recommend if you want to enjoy a view on the historic and beautiful townhall. With Bernard, you will be served with great Czech dishes, interpreted in a modern way.
Together with the view and a great selection of beer and wine, it is a really cool spot for business dinners in Wroclaw but also any other special reason to treat yourself.
Find it at Rynek 35, just opposite of the townhall. Don't miss the cozy wintergarden.
Super fresh ingredients, amazing vibes and outstanding Italian food – all can be found at AULA. 
This is one of our latest favourite fine dining restaurants in Wroclaw. As you see, we were lucky enough to try their fabulous black pasta with seafood.
The richness in taste can hardly be described with words, hence we encourage you to try this gem which is not in the city centre but more south. Just next to the water tower, one of the most impressive buildings in Wroclaw.
In terms of service this place is certainly in our top 5 in the city, very attentive and super friendly. Whatever you want to celebrate here, you will be in good hands.
AULA is located at Sudecka 96, click here to navigate.