The alternative Travel Guide to Wroclaw — 100 extraordinary places you should not miss
Happy Publishing Day! On 20th November 2020, we released our first German-language alternative travel guidebook to Wroclaw. If you happen to speak German or want to make some of your German friends happy, this might be a good option 🙂
Scroll down to find out more about it!
Wrocław (Breslau) – An Alternative Travel Guide
100 extraordinary places, that you should not miss
Covertext translated from German into English:
Hotel recommendations? Shopping tips? — You won't find them here. 100 well-known and lesser-known, some bizarre, some romantic, but in any case extraordinary places in Wroclaw that should not be missed are included in this alternative guidebook.
Let's be honest, who already knows the acoustic mirrors or the old city port? What is up with the huge dinosaur skeleton in the city center? Why is the most beautiful street in the city hardly known? What happened that night when the naked man lost his clothes in the fencer fountain? Why did a cleaning lady pick the color of the probably ugliest building in town?
An alternative travel guide that does not overwhelm its readers with compressed information, but selects 100 places of the present and the past and tells exciting, dramatic and grotesque stories. In addition, it breaks with the tradition that only the author has something to tell! Numerous Wroclovers, known and unknown, reveal their three very personal favorite places!
Publishing Date: 20th November 2020
ISBN: 978-3-98223388-8
Price: 16,95 EUR (Softcover) and 8,95 EUR (E-Book)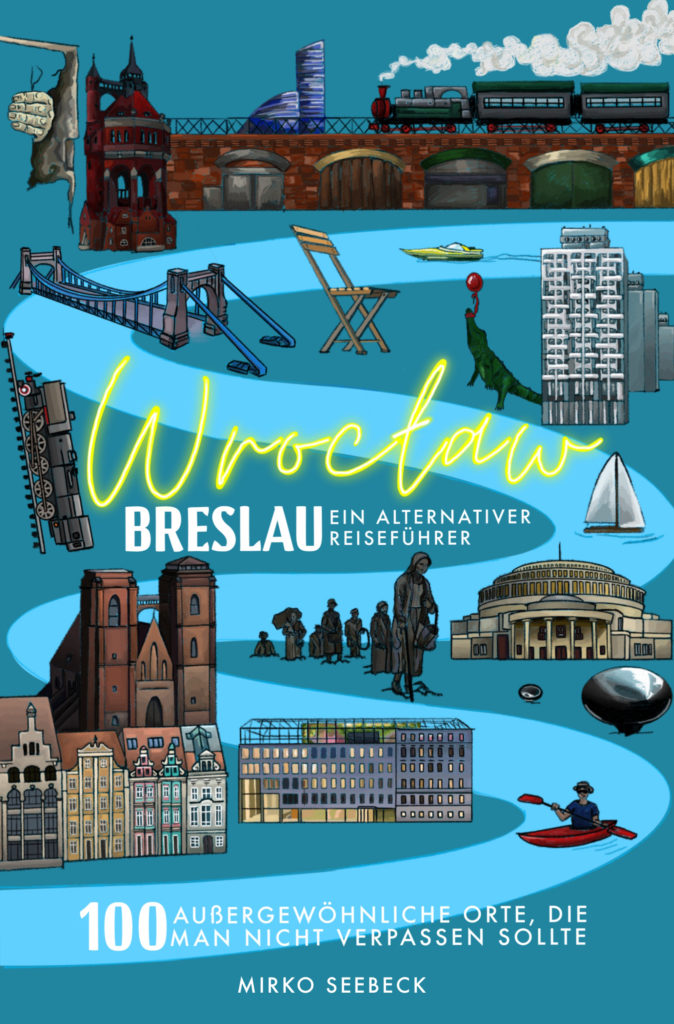 How about a look inside the book?
Where else to purchase it?
With the ISBN 978-3-98223388-8 every German bookstore will be able to order it for you as we are listed in the VLB directory. Of course it is also available on Amazon.de here.
You don't want to wait? Just curious?
In the following bookstores, our alternative travel guide is available for sale:
VIA NOVA
ul. Włodkowica 11
50-072 Wrocław
Hours: 
Monday to Friday 10 – 18h
http://www.vianova.com.pl

Why visit: 
You will find the largest selection of books about Wroclaw here, in Polish, English and German!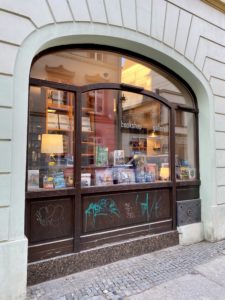 Pomiędzy cafe&bistro
Stanisława Dubois 2
50-208 Wrocław
Hours: 
Daily 9:30 – 18h
http://www.pomiedzycafe.pl

Why visit:
With the book you will get amazing cakes and coffee, plus art exhibitions inside!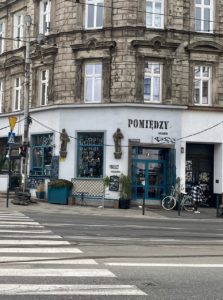 Księgarnia Podróżnicza S.C.
Wita Stwosza 19/20
50-148 Wrocław
Hours: 
Monday to Friday 10 – 18h
Saturday 10 – 15h
https://ksiegarnia-podroznika.pl
Why visit:
Great selection of books related to travelling, for sure a source of inspiration!
If you live anywhere in Poland, you also have the option to order it directly from us for 74,99 PLN with free shipping, just scroll up this page again to find the order-button.
Berlin (DE):
BUCH|BUND Deutsch-Polnische Buchhandlung
Sanderstr. 8
12047 Berlin-Neukölln

Hours: Mon – Fri 10 – 19h, Sat 11 – 18h
Phone: +49 (0) 30 61 67 12 20
Dresden (DE):
Der Reisebuchladen
Louisenstraße 38
01099 Dresden-Neustadt

Hours: Mon – Fri 11 – 19h, Sat 11 – 15h
Phone: +49 (0) 351 8996560
Görlitz (DE):
Schlesische Schatztruhe
Brüderstr. 13
02826 Görlitz
Hours: Mon – Fri 11 – 15h, Sat 11 – 17h
Phone: +49 (0) 3581 41 09 56