Diesen Text gibt es hier auch in Deutsch
Send a real free postcard from Wroclaw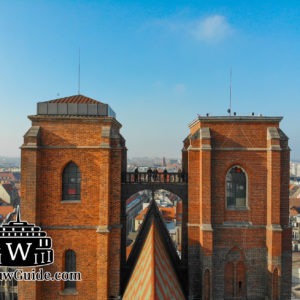 Update from 14 April 2020
After some technical issues, the discount code is now working again with 100% discount for your first postcard. If you experience any issues, please comment below.
Let us be honest to each other. In today's busy world we are getting hundreds of notifications all the time on our phones and laptops. It is really difficult to be focussed on anything without being distracted and even sending greetings from holidays via WhatsApp or Facebook is the new standard. 
Wouldn't it be nice sometimes, to receive a real postcard from time to time? Not sure about you, but the things that we can mostly find in our real physical mailbox are bills, advertisement for pizza deliveries (even they do targeted advertisements now!), insurance documents and similar unwanted stuff. But the last time a love letter was hitting the mailbox is quite some years back….
You can change that! Today! Now! 
Send some physical greetings to someone special for free
You are very lucky as today we offer our help to make this world a little bit better and spread some love. We organised a special deal for you with Postando which will enable you to send one free post card to anyone around the globe. 
To do so, you can either choose to use one of the beautiful pictures we prepared below, or take your own pictures.
Select a free postcard template from us:
We are very happy that we can offer you to use some of the beautiful pictures we made in Wroclaw for free. Just click on your favourite picture below (it will open the image file) and then save it onto your phone. You will be able to upload it then into the Postando-Application to prepare and send your real postcard. 
Or just use your own pictures you made:
You don't like our pictures that we picked for you? Or you made some selfies of you from some of the sightseeing places we recommended? Maybe you have a picture of you together with one of the hundreds dwarfs? No problem at all!
Of course you can also use your own pictures, and even make some nice collages with more than just one picture. The process will be the same, you just don't need to download any of the pictures above (unless you want to use them as background for your computer).
How to send a free postcard from Wroclaw:
1. Download the Postando-Application
You can visit the Postando Webpage here and click on download the application. Or alternatively, you just open the App Store on your smartphone and search manually for "Postando" to download and install the application.
2. Design your Postcard
Follow all the steps in the Postando-Application to design and create your own postcard. Upload either your own pictures or use the ones we have prepared for you on top of this page.
3. Use our Voucher Code
After you have designed your postcard and added the recipient address, the application will be asking you for payment information. Here you will be able to use the voucher code "wroclawguide" and your first post card will be completely free, no matter where you will be sending it.
You made someone happy!
We are quite sure that just a few days later you will receive a nice text message from your beloved ones that just picked up your postcard from their mailbox 🙂 
After sending your free postcard, you might want to visit Wroclaw again soon yourself? Check out our recommendations on how to get to Wroclaw and also the best places to stay in Wroclaw.
Do you like this special offer? Should we organise more like this in the future or are you not interested? Let us know 🙂 Help us and also help other visitors by leaving your feedback in the comment section below!