Diesen Text gibt es hier auch in Deutsch
Great AirBnB Accomodation in Wroclaw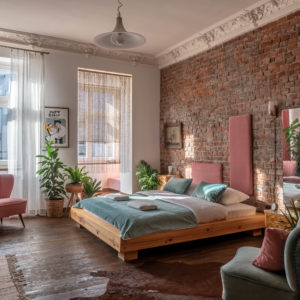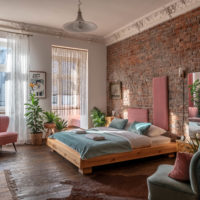 You are looking for a good alternative to a hotel in Wroclaw? Then check out the AirBnB apartments now.
The concept is pretty similar to holiday apartments as you are responsible yourself for food but on the other hand you will be home in your own kingdom, most of the times in pretty normal buildings where the residents are living too. For sure this is a great way to experience the real local city life of Wroclaw! 
A cheap alternative to hotels in Wroclaw
The price range normally is around 170-220 PLN per night, even in really amazing locations. Of course per night per flat and not per person… Sometimes you will find AirBnBs for as little as 130 PLN per night too, but it always depends on the dates when you visit Wroclaw.
In this little post we want to make life a little bit easier for you and prepared a pre-selection of really nice AirBnB apartments in Wroclaw. For all of them you can be sure that the location is amazing as of course we have considered that!
If you prefer hotels, here we have our personal hotel recommendations for Wroclaw.
*** Attention: This post will no longer be updated, as we have created a new blog post about the best apartments in Wroclaw here.
Overview of AirBnB in Wroclaw
Before we are going to start with our pre-selection, we want to provide some general information, along with the full map of available apartments in Wroclaw where you can browse for your own favourite location.
You are able to perform a self-checkin at most apartments. Most likely you will receive a code for the door to get into the building and in front of the apartment there is another lock which you can open with a second code – there you find the keys.
That makes it very easy and convenient if you want to be flexible or if you just will arrive very late.
Even in the core of the city centre you will find many apartments that have a quite cheap rate. That is why first you find the whole city overview if you have already a preference regarding the location. If you want to check the pre-selections that we have made, even better! We created four different lists:
Apartments in Wroclaw for Couples
Cheap but still central Apartments
Luxury Apartments in Wroclaw
Best Apartments for Groups
We also recommend to check the Booking.com options available as most apartments in Wroclaw are listed on Booking.com as well and compared to AirBnB, no booking fees apply to you:
AirBnb in Wroclaw: Best for Couples
In this little pre-selection we focussed on apartments which are either directly in the city centre of Wroclaw or very close to it. This means for us, that within max. 10 minutes you can reach the city centre by walking.
All of them are really beautifully made and are equipped with everything that you will need. Yes, ladies, there is a hair dryer available 🙂
Also most important sightseeing places in Wroclaw are very close and make our recommendations here a perfect starting point to explore the city.
From a budget perspective they are all pretty average and reasonable, mostly within 170-220 PLN per night. 
Of course we have paid attention to the reviews and only picked apartments that got enough positive feedback from previous visitors. In some of them actually friends from us already have stayed 🙂
Cheap but still located in the centre
Here we put together a selection of cheap apartments in Wroclaw which are still in a quite good location – you can still reach the city centre by walking distance within 15 minutes.
However, the equipment might be only second class and probably the design is just medium. Still these apartments are great if you plan to spend most time outdoors anyway and basically you are just looking for a bed to sleep. Don't expect anything super fancy 🙂
In terms of reviews, we were still careful and took only good ones, but of course everybody will understand that with a little price you might get a little bit less of comfort and service. 
Maybe some luxury for you?
Poland is still a relatively cheap country to travel to. Why should it not be a little bit of luxury then? 
Here we have picked some very special apartments to stay in Wroclaw for you. They all are quite extraordinary and apart from a great travel experience in the city itself, these cool apartments will make your stay even better and more comfortable. Feel like a king!
Of course there are also some luxury hotels in Wroclaw that we can recommend, but you will find them in our separate post on the best places to stay in Wroclaw here.
If you want to surprise somebody for a birthday, wedding anniversary or just treat your better half in the best possible way, you should check out these luxury options. Also for larger groups they might be very affordable options!
Of course, everything that you possibly will need is available in those flats, but for more details please check the offers itself to be up to date. 
AirBnB in Wroclaw for Groups
Especially when you travel in a group of four people, an apartment from AirBnB is a very good choice as you easily can split the cost – already directly in the booking process.
That is why in this section we focus on apartments which a really nice location, again less than 10 minutes to the city centre, if even.
But more important for groups: You will find two separate beds. Most of them have their own bedrooms, and sometimes the couch in the living room will be used. This means the perfect choice if you get along well and want to share a space.
For more details again, please check the detailed offer. But we really hope that our little pre-selection will help you already in the jungle of offers to find a really nice place.
The price per night here is normally around 250-300 PLN per apartment. That means as little as 60-70 PLN per person per night in a group of four!
Find more available AirBnBs in Wroclaw
If you are looking for an even more extensive selection of AirBnBs in Wroclaw, then we also recommend the following booking.com search widget to directly see all available options. Many places are also available on booking.com with the advantage that compared to AirBnB there is no booking fee:
More useful stuff for AirBnB in Wroclaw
We already mentioned that with most apartments from AirBnB in Wroclaw a self checkin is possible and you can check in very flexible at any time of the day. But still we want to provide you with a bit more information if you decide to stay like this.
Where to go shopping in Wroclaw?
At almost every corner in Wroclaw you can find a Zabka Convenience Store, just google for the closest one. They are open very long and in their small selection you can get all important stuff like milk, coffee, eggs and bread. If you want to go shopping for groceries a little bit more extensive, then we recommend the Biedronka supermarket chain as they are a bit cheaper and have a better selection.
Breakfast: Better in the city than in the Hotel/AirBnB
Frankly speaking, we believe that in Wroclaw there are so many great opportunities for breakfast in the city which are cheaper than a hotel breakfast for sure and just really worth to try. Of course it will be up to you if you prefer breakfast in your apartment at home or if you want to go out, but we really encourage you to try these amazing breakfast places in Wroclaw here.
Order Food in Wroclaw
If you want to order some food to your apartment, we recommend Pyszne, there you can get really get food from local restaurants, click here to check the offer. Just take care that during the order process you include the full details of your address, as example "Streetname 123/12" means building number 123 and apartment number 12.